Vancouver Theatre Workshop: A TRIpTYCh OF ImPARiTieS asks, "Where Is the Line?" Three short plays written and directed by Jax Smith and Helene Taylor, JBA Studios Black Box Theatre, Floor B2, 788 Beatty St., Vancouver. Friday, Nov. 29, at 7 p.m., Saturday, Nov. 30 at 7 p.m., Sunday, Dec. 1 at noon and 4 p.m. Doors open 30 minutes before each performance. Tickets are by donation and 50% of the proceeds will be donated in honour of Dante De Cubellis to the Movember Canada Foundation, for men's mental health and suicide. Cash donations will be accepted at the door.  Tickets are available at eventbrite.
Like all the best insults, it was smuggled in a compliment.
At a table in a cocktail bar the conductor chats with a young musician who is also his job applicant. He tells her she has a gift.
"You blend nicely," he says. "Very capable of not being heard."
She thanks him. And then, sensing the slight buried in his tone, reconsiders.
"Actually, I don't know if I like that."
The exchange is part of DISCORd, one of three short plays about gender roles, mental health, and those moments when maybe, you finally hear what's really being said.
The show was written by Argyle Secondary grad Helene Taylor and Jax Smith (Smith co-wrote two of the three playlets) and stars Ashley Alexander.
The two met shortly after Taylor returned to Vancouver after 15 years in New York where she worked as a script reader, writer, and researcher. She acted on television shows like Law & Order, 30 Rock, Mercy and Nurse Jackie (she was sometimes credited, sometimes not) and studied playwriting with Tony Award winners and Oscar nominees. But after a decade and a half, it was time to leave.
They say too long in L.A. makes you soft and too long in New York makes you hard, Taylor explains.
"Coming home is a soft place to fall."
She enrolled in Capilano University's creative writing program as a mature student.
"I promised my mom before she died I'd finish my degree," she says.
Taylor also attended a Women in Film and Television Vancouver event where she met Alexander.
An Alberta-born performer who lists kickboxing, Ukrainian dancing and curling as her special skills, Alexander was looking for a show that could showcase her range. She introduced Taylor to Smith and a partnership was formed.
Taylor is the duo's story engine while Smith writes the realistic, flowing dialogue and finds value in quiet moments. But that said, Taylor doesn't always know who wrote what.
"There's a point where you merge and you don't know where the secret sauce comes from," she explains.
The beginnings of Taylor's secret sauce began at her childhood home in Lynn Valley, planted in front of the television.
"Always, always TV," Taylor laughs.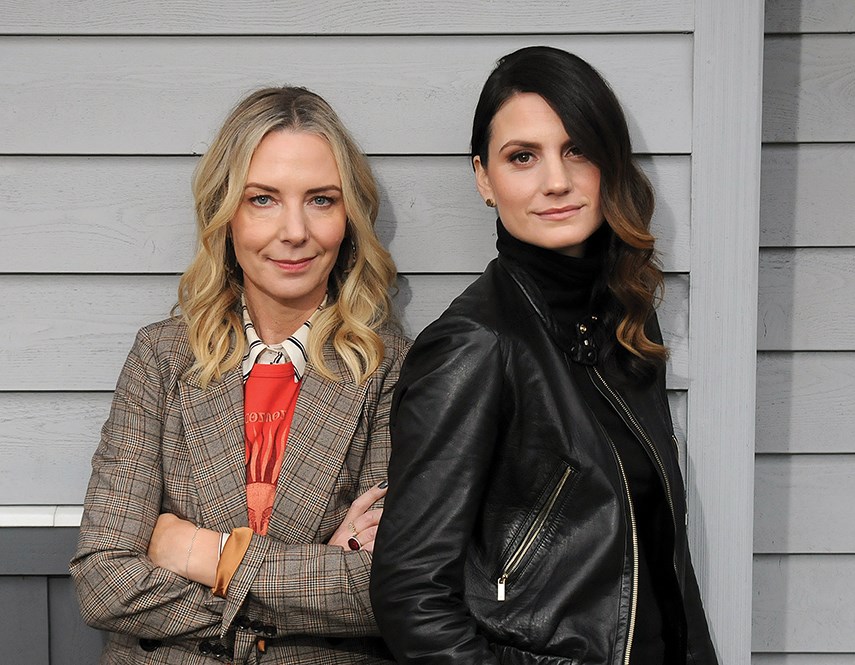 Speaking to the North Shore News from a Car2Go after spending much too long on the Ironworkers Memorial Second Narrows Crossing, Taylor recalls slipping out of bed at 4 a.m. and watching black-and-white syndicated shows until cartoons started. Then there was the Love Boat, Fantasy Island and Fish, a Barney Miller spinoff with Abe Vigoda.
"I watched everything. I didn't care if it was just full-time commercials."
But she also spent a fair amount of time with a pen in hand. English was a second language for her German-speaking father and so he often recruited his daughter when he wanted to cajole, critique or even compliment the District of North Vancouver.
"He was one of those guys," she says fondly.
Taylor also recalls writing a letter to Santa Claus that was published in the Vancouver Sun.
"As soon as I realized I could get attention from my writing, that was the beginning," she laughs.
As an adult, her career bloomed when she was writing funny public service announcements for the Delta Recycling Society (now Earthwise Society). She eventually won an award from the Canadian Cable TV Association.
"That's when I realized that writing . . . I might be OK at it."
Like many other Lynn Valley performers, Taylor credits the tutelage of Argyle drama teacher Lloyd Burritt, who also taught actors Jason Priestley and Graham Shiels.
"Mr. Burritt was great!"
Taylor is still in touch with friends from the school's drama department, one of whom is planning to bring her actress daughter to the show.
"It's a real full circle moment," Taylor says.
The show is intended to be timely, weighty, and sometimes farcical.
"We kind of trick you into learning a few things. But it's funny," Taylor promises.
The works delve into "the hidden toll of emotional labour, and the negative effects of rigid gender-roles on both sexes" Smith explains in a press release.
"It's easy to stay in your house and in your living room these days," Taylor offers. "But when you go out and see theatre, you're seeing honesty at a different level."
The show is also a tribute to Smith's late husband Dante De Cubellis, who died following a long struggle with mental health. Tickets are by donation with half the proceeds earmarked for the Movember Canada Foundation in the hopes of helping men suffering depression and other mental health issues.
The workshop performances star Ashley Alexander, Jeb Beach, Robyn Edwards and Alex Krstich and are produced by Alexander. The production notes the plays deal with adult subject matter and are suitable for those over 16 years of age.