Sḵwx̱wú7mesh Nation Basketball: Photographs By Alana Paterson, Polygon Gallery. Opening reception Saturday, April 13, 1 p.m. (thepolygon.ca).
Alana Paterson first picked up a camera when she was 13-years-old. Today, she has worked for acclaimed publications such as the New York Times, Toronto Star and the Globe and Mail.
For the past year, Paterson has been working on a new project, Sḵwx̱wú7mesh Nation Basketball (2018). She was invited by the Squamish Nation to photograph the young women of the Junior All Native Basketball Tournament (JANT), held in Vancouver in 2018.
Her series was picked up by Capture Photography Festival and the Polygon Gallery. Paterson is a North Shore photographer, currently based in North Vancouver and Squamish.
Paterson has spent the last few years tapping into women in sports and through her research has come to realize how vastly underrepresented women are still portrayed in sports. It was through this insight that she has done projects that focus on bringing young women to light through the lens of her camera.
"The tide is starting to turn, I think we can all see that, but it just needs to be talked about more so that people get it," Paterson says.
She has been a professional photographer for the past five years, and has been doing it full time for the past two years. She has been immersing herself into the world of women's sports and hopes that her work will speak about the larger story at hand that through her work people will come to realize that sport is an important part of anybody's childhood, male or female and that nobody should be left behind.
"I want my work to be bigger than me," she says. As grateful as she is for this opportunity, she wants her project, Sḵwx̱wú7mesh Nation Basketball (2018), to be more about the girls. She wants it to be about "how much strength they have in face of some of their unique challenges being Indigenous."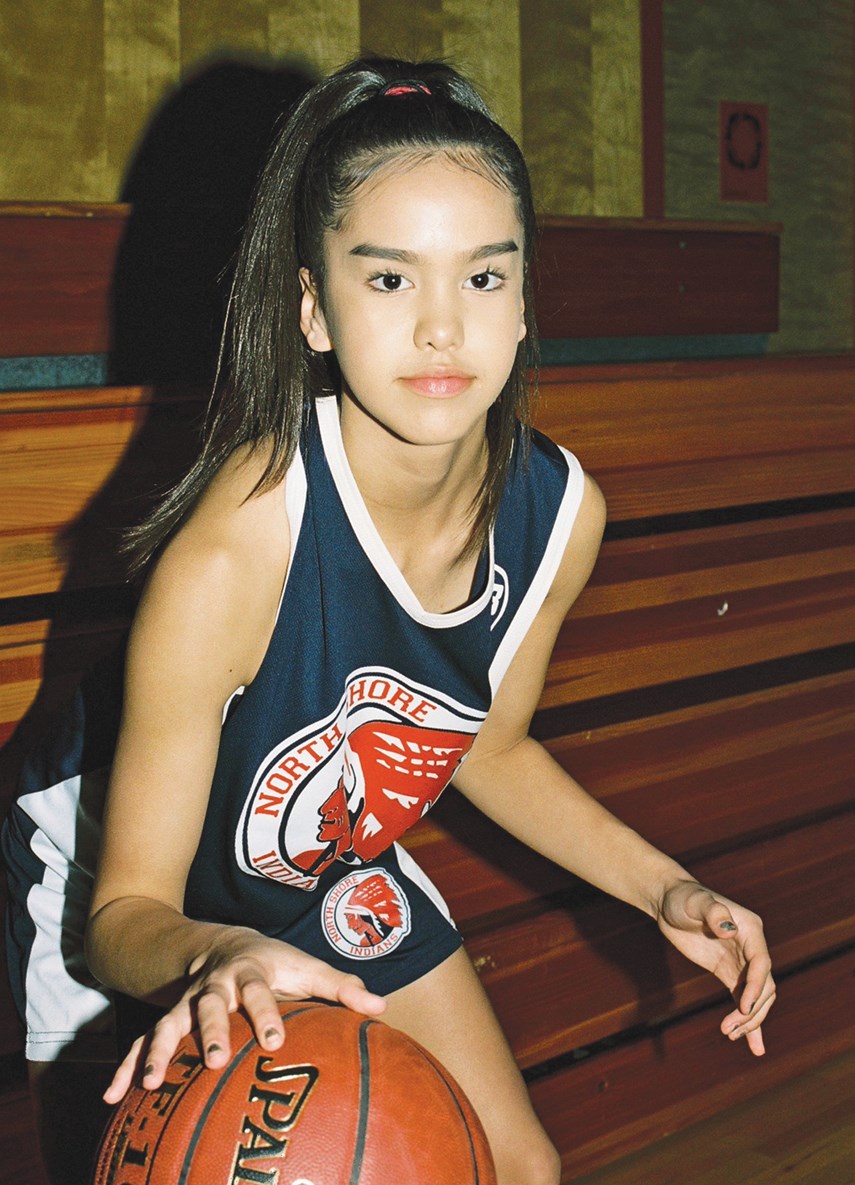 Paterson talks about the girls on the basketball team fondly. She has worked closely with them over the past year and has gotten to know them well. "They're just so awesome," she says.
Paterson says that currently seven per cent of women in sport are represented in the media, four per cent focusing on women-only coverage. Her work has focused on empowering women through sport, particularly younger women.
She says that it's important for girls to stick to doing sport because it propels them into a stronger future. They're more likely to be hired in a male-dominated field, their mental health is better, they are stronger physically and their confidence is higher.
"Yet we're constantly trying to squeeze them in between the boys' schedules. [The boys] get all the best coaches, they get federal funding that girls don't get," she says.
Justin Ramsey, assistant curator at the Polygon Gallery says that it is really exciting for them to be exhibiting and supporting Paterson's work. "Women are so underrepresented in sports and I think that it's amazing and timely that Alana has tapped into this."
Polygon Gallery celebrates photography and media arts and it works closely with Capture Photography Festival each year.
"We've shown some of the most significant and influential photographers that have ever picked up cameras and used them," Ramsey says. The gallery has displayed works by Ansel Adams, Andy Warhol and renowned Vancouver photographers Stan Douglas and Fred Herzog.
Presentation House Gallery was founded in the late 1970s, located on Third Street and Chesterfield. The idea behind building a better, purpose-built facility for the organization was on City Council's books since 1996.
The organization has a rich history in capturing and displaying works of art through the medium of photography and bringing that history to the public.
"Photography is a very exciting medium but I think that a lot of artists, regardless of how they work, respond to in some way because of course photography saturates our image culture," Ramsey says.
Paterson's series will be displayed at the Polygon Gallery from April 13 until May 12. Images from her series will also be shown on eight large boards at the Stadium-Chinatown Station SkyTrain station in Vancouver until 2020, as part of the Capture Photography Festival.