Scattered. Directed by Ellie Harvie, March 25 at 7:30 p.m. at the Maple Ridge Festival of BC Film. For more information visit theactmapleridge.org/festivalofbcfilm.
The 52-year-old actress Ellie Harvie dives into directing with her short film Scattered, written by Audrey Martin, which will be screening at the Maple Ridge Festival of BC Film March 25. 
Shot entirely by the Capilano River, Harvie boasts about the North Shore being "the most beautiful place to shoot."
"I don't come (to the North Shore) often but it's kind of the place where when you have people in town you bring them to Lynn Canyon, Capilano Suspension Bridge, and Grouse Mountain, so I knew the beauty of it," she says.
Harvie is pleased Scattered is getting some recognition. Being played at a local film festival is meaningful for her because she says there's a lack of Canadian productions being produced in Vancouver.
"It's nice to have something that's locally done and being supported locally," she says.
Scattered is just one of the films shot on the North Shore that's going to be screened at the festival, including a feature film called Drone that's filmed in West Vancouver playing March 24 at 7:30 p.m., and another feature film, The Prodigal Dad, was filmed in Squamish and will be playing March 23 at 8:00 p.m.
Scattered is a dark comedy about two women, Amy and Cynthia, who go into the forest to scatter their friend Barb's ashes. Harvie was approached by Deb Sears, who plays the character Cynthia, and asked if she was interested in directing.
Sears and Harvie pitched the story to Storyhive, an initiative by Telus which funds productions across Canada, and they received $10,000 to produce the film as part of the organization's mandate to encourage female filmmakers.
Although she's been in the Vancouver film industry for 25 years, Harvie says directing opened up another side of filmmaking that she never got to see on set.
"The biggest learning curve for me was the post-production stuff, which I was never a part of," she explains.
"I mean there's so much to put together that brings the feeling of the movie together that was way beyond my experience and it was really cool, it was really creative and there was a flock of people that I hadn't been exposed to that are part of making something to go on screen."
Harvie says her transition into directing came naturally, though with Scattered she's learned being behind the camera comes with its challenges.
 "There were a couple of mistakes I made on Scattered, I'm not going to point them out, but I know what they are, and I know how I can make it better. It's almost like you have to make a few mistakes to learn from," she says.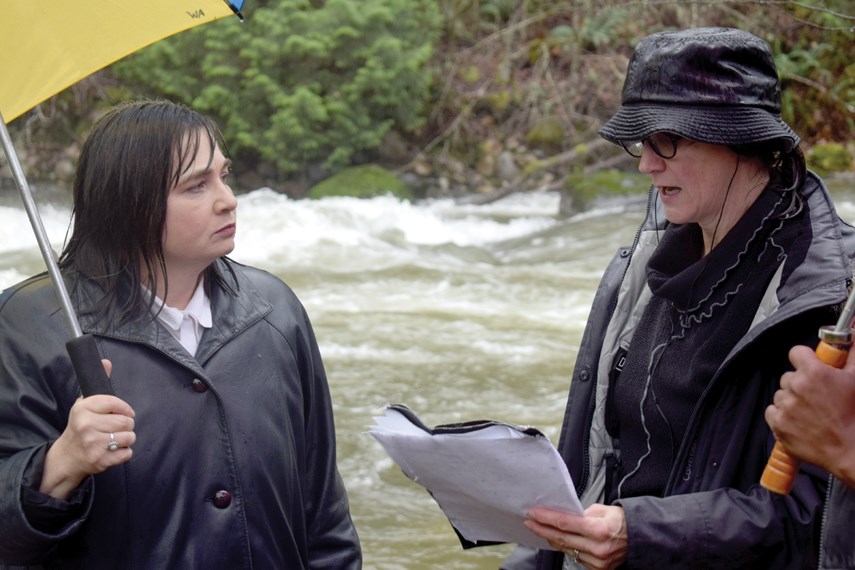 To take her directing skills further Harvie plans to apply to Women In the Director's Chair, a mentoring program to develop female directors. But she's best known for her lead role in The New Addams Family show from 1999, where she played Morticia Addams, and her recent role as Candace Wheeler and Mrs. Bubkes in the 2016 kids' show Some Assembly Required, and because of this says coming from a comedic background "is one strike against her" with the minimal recognition comedy has in the industry.
She shares how there's a lack of comedies being locally produced which holds her back in her career and mentoring opportunities.
"This is once again the old story that comedies never get the academy awards … (but) it's as specialized and unique as being able to tap into the darker feelings," she says.
In a time when gender inequality in the film industry is being highlighted, Harvie is optimistic about the future for women in the film scene.
Over the years, she has seen firsthand how the industry is changing, coming from a time when there was barely any women doing comedy to walking into a set with a predominantly female camera crew, as opposed to an all-male one.
 "I think we're going to find in the next 20 years an entire generation of women who will just step into the roles beautifully," she says.
Harvie plans to direct another upcoming film funded by Storyhive and also hopes to start producing her own written stories with the goal of one day going into single-camera TV directing.