32 Years of Nardwuar the Human Serviette trying presents… "Nard gets a Star," plus Nardwuar's Video Vault, The Evaporators, Nardwuar Meet 'n' Greet, Commodore Ballroom, Sunday, Sept. 29 – Doors: Noon / Show: 1 p.m. Free admission.
A conversation with Nardwuar is like getting to chat with a historian of stuff nobody else bothers to dig into.
A maestro of the extensively-researched interview, Nardwuar simultaneously dazzles, impresses, disarms and scares his subjects when he presents them with meaningful gifts, precious ephemera from their past, or dishes out obscure facts about the individual's former life before stardom struck. When he interviewed Questlove in 2013 and gave him an old poster from the musician's formative days, the Roots' drummer could only laugh with reverence. "Where did you find this?" Questlove asked, before trailing off, lost in the poster's nostalgic glow.  
Sometimes the questions are charmingly irreverent, silly, but always somehow forge a higher, hilarious purpose. When Nardwuar interviewed rapper Travis Scott in 2015, he asked the hip-hop star: "How do you keep your pants up when you're performing? It's incredible." Scott's drawn out, monosyllabic response ("Belt"), delivered while staring directly into the camera, has since become the stuff of meme and internet legend – so popular in fact that scores of young and extremely online teens have taken to mimicking the interaction on the popular TikTok app, which allows people to make short music and lip-sync videos.
"That totally blows me away. I love that," Nardwuar – also known as Nardwuar the Human Serviette – tells the North Shore News recently from a booth at his beloved Tomahawk Restaurant, as he swipes through his phone and shows off some of the creations people have made in his honour on the video platform. People signal their admiration for Nardwuar in other ways too – it can range from the photographs people take and post online of their costumes imitating Nardwuar's signature red-checkered pants and askew tartan tam every Halloween, or even those who encounter him out in the wild and tell him they've followed in his footsteps by seeking their own gigs at CiTR radio station, where he has hosted a weekly show since 1987. "If I can do it, anyone can do it," he says.
After 32 years of "trying," as he puts it, the honours keep coming. Nardwuar is being inducted into the BC Entertainment Hall of Fame. For someone who has spent the last three-plus decades meeting and interviewing some of the biggest names in music – not to mention startling plenty of politicians along the way– his mother is the main one who comes to mind in relation to his induction.
"I immediately thought I have to dedicate this to my mom, who's unfortunately no longer here, but I know she'd be very stoked," he says. "She actually inspired me by taking me to the North Shore Historical Society when I was younger, so she instilled this sense of history – and she wrote a book about Gastown's Gassy Jack!"
A campaign was led by friend and fellow West Vancouver musical maven Grant Lawrence to assemble Nardwuar's closest friends and confidantes, including Tomahawk owner Chuck Chamberlain, to secretly nominate him. In addition to a shiny new bronze star on Granville Street baring Nardwuar's name, the local media icon is also organizing a celebratory all-ages show, called Nard Gets A Star!, on Sept. 29. The free event, which kicks off at 1 p.m. at Commodore Ballroom, will feature a video vault showcasing a compilation of some of Nardwuar's most notable interviews, a live performance featuring Nardwuar and his band, the Evaporators, as well as a meet-and-greet with the man himself.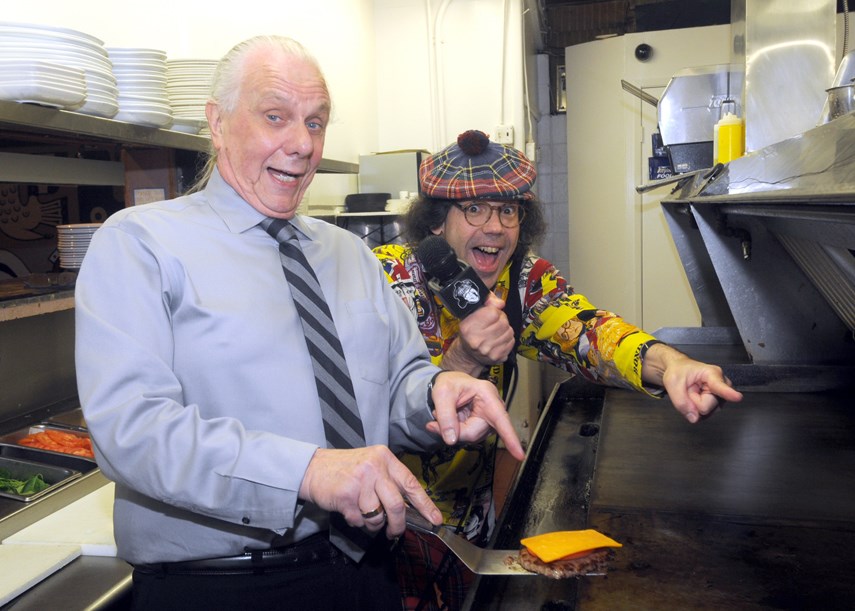 Nardwuar, a graduate of Hillside Secondary in West Vancouver, organized his first all-ages gig in 1987, when he was 19 years old. Described in an August '87 edition of the North Shore News as a "six-band blowout" called Barbarella Psycadella, the concert wouldn't have been so far removed from the type of live performance Nardwuar strives to organize or promote today. "I'm still doing it to inspire people," he says.
And while his star status is literally cemented due to the Hall of Fame induction, Nardwuar still wants more. "I'm still trying. I'm still trying to win the Juno, I'm still trying to win the Emmy, the Academy Award. I'm still trying, just in life."
He reflects just as much on the big fish he hasn't landed yet as he does on the amazing interviews – Snoop Dogg, Lady Gaga, former prime minister Jean Chrétien – he's already pulled off.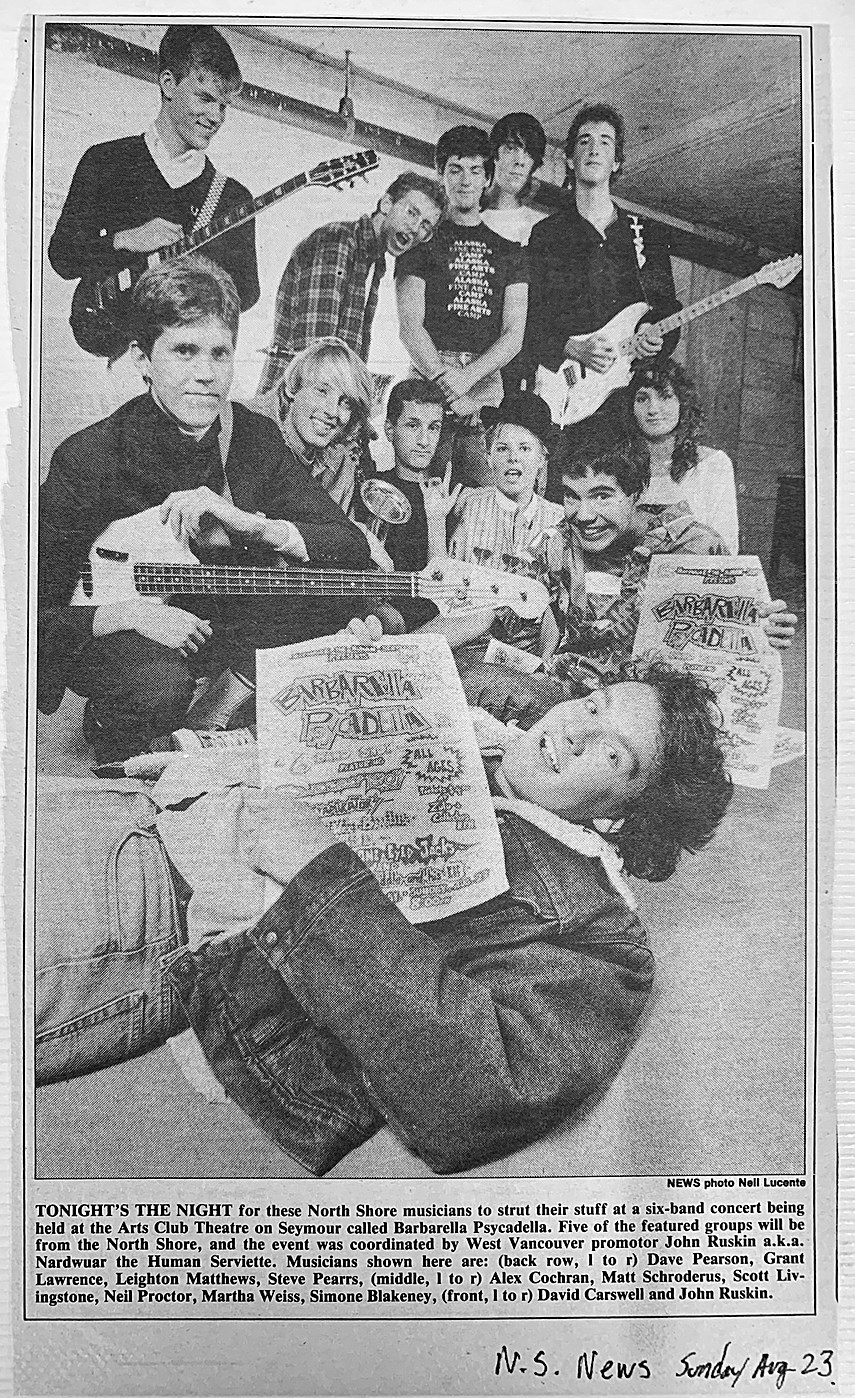 "I'm still no closer to that Paul McCartney interview, or Kanye West interview, or Little Richard interview, or Barack Obama interview," he says, stopping to note that Questlove was "this close" to getting him connected with Obama's people.
On possibly nabbing McCartney for an interview, a Fab Four member who has been interviewed "many, many times," Nardwuar promises he'd be himself. Like a historian leafing through the back pages of history, he would do his best to snuff out the stuff that most might never think to ask Sir Paul.
"I would like to ask him about some of the 78 records that inspired him," he says. "John Lennon's dad made a record and I would love to bring him that record and say, 'What do you think of this?'"
But as Nardwuar, now 51, looks ahead following his Hall of Fame induction and towards the future as a performer, organizer, promoter and interviewer, he notes it's not celebrity that matters – his own or anyone else's. He keeps striving for more, but as long as he can continue to inspire and delight others, he'll stay happy, he says.
"My mom instilled in me that the next door neighbour has just as many interesting stories as Paul McCartney," he says. "Everybody has a story. It's up to the interviewer to bring that person out."