On March 11, 1970, Joe Cocker arrived in L.A. ready for some downtime.
Fresh off the road and his success at Woodstock the previous summer, the working-class Sheffield soul singer was riding high in the music charts and looking forward to re-energizing during a much-needed break in the California sunshine.
The next day his stateside manager Dee Anthony (who specialized in introducing U.K. artists to the American market and was rumoured to have ties to the Genovese mob family) informed Cocker that he had booked him on a seven-week (48 shows in 52 nights) tour that was set to begin the following week in Detroit. He gave the singer eight days to find a band or face the collective wrath of the American musician's union, immigration authorities, concert promoters and music fans everywhere.
Cocker turned to the producers of his last album, Denny Cordell and Leon Russell, to see if they could help him out of the jam. They went to work that day organizing the Mad Dogs and Englishmen tour.
"(My friend) Sandy Konikoff called me up because he didn't drive and asked if I could take him over to the A&M Sound Stage," recalls photographer Linda Wolf. "He needed to go to rehearse for this impromptu tour that was taking off with Joe Cocker. I took him over there and went into the rehearsal room at A&M Records and the place was jam-packed with vibratory delight. It was just like the place to be if you were in music at that moment. I looked at Denny Cordell when I was introduced to him and I said, 'I want to go.' He said, 'What can you do?' and I said I could be a photographer. He said, 'Show me something,' and like magic there was a guy standing listening to the conversation who said, 'I have a darkroom.' I looked over at Jim Gordon who had gone to my high school but who I really didn't know and I saw that he was carrying a camera and I said, 'Hey, can I borrow your camera?' He had film in it so I shot rehearsal that night and we went over to this guy's darkroom, developed the film, made a couple of proof sheets and I brought them back to Denny at something like two o'clock in the morning and he said, 'OK, you can go.' And that was how I got on to the Mad Dogs tour."
Wolf says she had been drawn to the music scene since she was 13 years old, when she met Mick Jagger and the Rolling Stones at the TAMI Show, in 1963. "My teenage heart and budding body led me to believe the only way I could be part of the scene was to become a musician's girlfriend, but I soon saw that one-night stands were the norm and I wanted much more from a boyfriend and for my life. In 1969, I met June Millington and the girls from Fanny, and that changed everything. I immediately moved into Fanny Hill, the house Warner Brothers rented for them and became their photographer. We were a sisterhood, supporting each other in our crafts.
"Because Fanny was such an anomaly (an all-girl rock band) lots of musicians came by to jam. Lowell George came often, as did Chris Williamson, Bernie Taupin and Rick Danko. By the time I went to the rehearsal for the Cocker Tour, I had honed my chops as a photographer with Fanny."
A&M Records' Jerry Moss liked the energy that was building around the group and gave Cordell free rein to make things happen. A five-man film crew was hired to document the action.
"It was a wild magic carpet ride of immediacy," says Wolf. "People were getting up on stage from that first night. I just became part of the circus."
People went back to Leon Russell's house on Skyhill Drive to sleep between rehearsals. "I only went home one night on March 17 because it was my birthday and my parents were throwing a party," says Wolf. "That's why I'm not in the main photograph because that photograph happened that night."
Otherwise, Wolf camped out at Russell's with the rest of the Mad Dogs crew. "Joe was at Leon's, Chris was a Leon's, Peter Nichols – those three had come out from the U.K. together. They were all at Leon's house. Sandy Konikoff, Bobby Jones, all the women were there, I don't think Denny was there yet, there was just a ton of people. The women were making breakfast in the morning. It was just constant rehearsing and staying up all night."
One day the entire group went en masse to a doctor's office to get shots for a proposed side trip to the Bahamas that didn't happen. Afterwards they went to The Plantation, where Delaney and Bonnie and Taj Mahal lived for a jam session. Most of the Mad Dogs were Tulsa musicians from Delaney and Bonnie's band.
"I was wrapped in the rapture of being part of this group," says Wolf. "Every minute of the day was an event; driving anywhere, going anywhere in public, hanging out at Leon's, because we were completely out of the box, visually and energetically bombastic. We stood out even then."
Wolf says she was enchanted because she had always wanted to be part of the music scene. "My only way in as a girl back in the 1960s was maybe to meet the musicians, until I took up the camera and found my role… Because I had lived and worked with the band Fanny and knew other musicians, such as Jackson Browne at 16, it had just ramped up by the time I got to the Cocker tour where I really felt like I was a legitimate part of the scene because of the camera that I was using and not my body."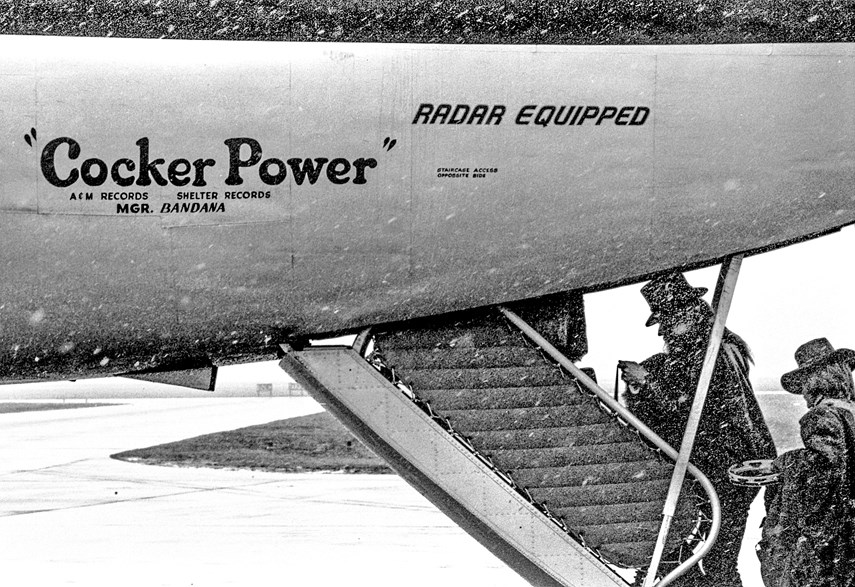 On the tour Russell gave some of the women cameras without film in them. Wolf says he wanted to create a spin that the relatively unknown musicians were all famous by having photographers run around after them with cameras.
With Wolf and Andee Cohen as official still photographers and a film crew every move was well-documented.
The filmed version of the Mad Dogs and Englishmen tour opens with the 43-member touring party departing LAX for Detroit on a Central American Airways propeller-driven, four-engine airplane dubbed "Cocker Power" for the summer. The Lockheed L-749 Constellation, built in the late 1940s as the first transcontinental airliner, had seen better days.
"It wasn't like being on a plane," says Wolf. "We were all stoned a lot. I was taking uppers to get up in the morning and downers to get to sleep at night because we had all kinds of crazy hours and I just could but mostly it was pot and acid. I don't know what happened with the pilots. They got us there and back. There were no seatbelts on the plane. You didn't sit still on the plane it was a party plane. People slept a lot."
The tour established its own rhythms that everybody followed, says Wolf. "Plane then bus then hotel then bus then event then bus then plane. It was always that way except in New York where there was a pilot's strike so we were there for a while. I really don't know how the management worked things out. I was so unaware of management. I didn't have to be aware of any money transactions. Nothing. We had a minder. Smitty, he was a Shakespearean actor – he could recite Shakespeare to us and he kept everybody together."
Wolf had a Nikon camera her father had given her and three lenses. She gave her film to Cordell who sent it to Prolab in Los Angeles where Andee Cohen had a friend who developed it and sent it back on to the road. "I got a chance to look at them," says Wolf. "I only know this because of a scene in the movie where I'm looking at my proof sheets sitting next to Joe. You have to remember my mind was pretty much in present time constantly and I was also probably getting tweaked out because of having no schedule. There was no going to bed at night and get up in the morning – it was all over the map."
During performances, Wolf and Cohen were up on stage shooting all the action. "There were no prohibitions," she says. "Leon was clearly the Master of Space and Time: He was the conductor of the music and the energy. Joe was channelling the voodoo of rock and roll."
Everybody was welcome to participate in the concert experience.
"That's another thing that speaks to my own value system around this whole idea of fame," says Wolf. "Without the grace of the man who drives the truck that arrives at the stage door and all of the men and women who carry the equipment (nothing would happen). We are all part of the same dream and we are all making it happen. If it weren't for that (fact) there would be no show. Some of the people you think are the least important in the story become the most important in the story - they have an understanding and perspective that goes deeper than anyone's. To dismiss anyone as being lesser than is creating the same problem that is at the root of all of our social ills – which is the system of power-over rather than power-with. That's what I loved about being part of the Cocker tour to begin with - that we were all one."