Little Shop of Horrors, Presentation House Theatre, June 12-15. Tickets $13 available at phtheatre.org/little-shop-of-horrors-june-12-15/ or at the Presentation House Theatre box office.
 "Drama class scares away people who aren't ready for vulnerability. This is why the theatre attracts those who are searching for or are already engaged in their community." These are words that Rob Walker, Carson Graham Secondary drama teacher says as we watch a rehearsal of the finale piece for the upcoming musical, Little Shop of Horrors.
Walker comments on how the community found in a theatre is often polar opposites to that found on "social" media platforms like Facebook or Instagram. It's a supportive environment that gives hugs, not likes; communicates, but doesn't comment; and keeps in contact, but doesn't merely follow.
Sitting in a squeaky theatre chair we watch as nervous laughter meets ambitious and playful choreography. The anxiety-ridden faces of the students melt away. The tension dissipates as a common realization is made – they are all in this together. 
Pretending to be another person can teach us a lot about ourselves. Little Shop of Horrors' Kaylan van der Marel says, "I cannot fully become a character until I can relate to it. I don't have to be the exact same, I just need to find some similarities with them." She plays the main antagonist and alien lifeform come to earth in the form of a plant. 
Although van der Marel doesn't relate to the violent tendencies of the character, she sees herself in the confident and well-spoken nature of Audrey II. This confidence she attributes to theatre. It keeps her from lying about the life that she has on the internet, and searching for validation through likes, like others that she's observed. It is a confidence that keeps her safe from the often hurtful speech or identities that populate social media spaces.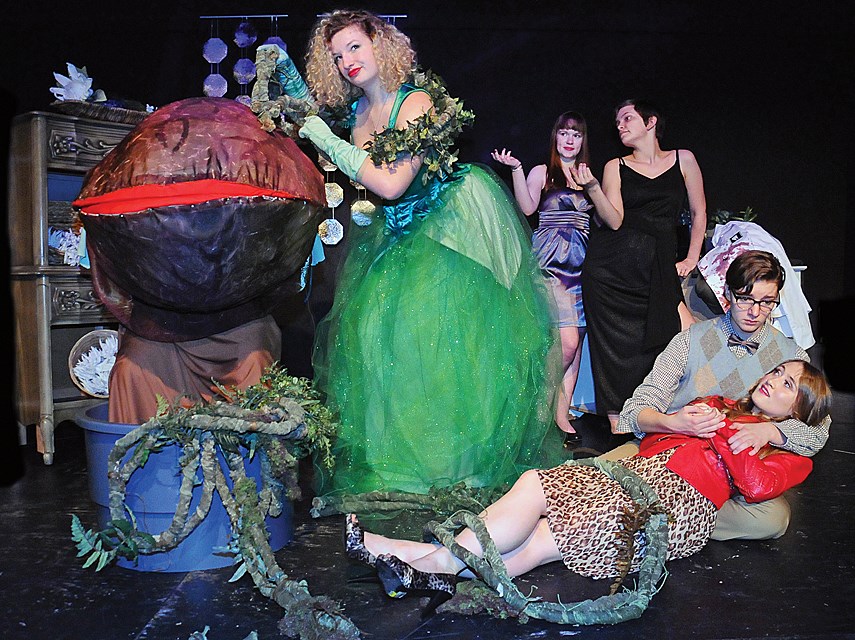 Everyone plays characters. Kamran Houle says that drama has helped him understand that people play different versions of themselves depending on the group they're with. This is especially true in modern days with social media.
"It's not that people lie about who they are," says Rowen van der Marel, "But when we're online, we sometimes leave out stuff we don't like." It can be hard to find yourself in an online world. Suddenly talking points become what you saw last, not what you did last. A like can be equivalent to an experience, and a text can become equivalent to a conversation over lunch.
Personal identity and self worth is a struggle for youth in and of itself, and social media can create a pocket of anxiety and self doubt. Carson Graham's theatre department is making an effort to combat these struggles, by making theatre a safe environment for connection, making mistakes gracefully, and coming out of your shell. 
The school's upcoming production takes the audience on the journey of a young florist and his colleague and their struggles of finding themselves, being comfortable with who they are, and standing on their own feet. The production personifies anxiety through the alien plant arriving to Earth, bent on domination, and legitimizes the effects that anxiety has on the body. Although it contains serious themes, the characters are easily relatable as they search for themselves, because personal identity is a struggle many youth face.