qaʔ yəxʷ – water honours us: womxn and waterways: Guest curators ReMatriate Collective reveal the unique connection between womxn and water in the matriarchal societies of the Northwest Coast, Bill Reid Gallery of Northwest Coast Art. Until Oct. 6 (billreidgallery.ca).
Throughout the summer months the Bill Reid Gallery has been presenting an exhibition of work by nine Indigenous artists exploring the theme of women and waterways.
The show is guest curated by four members of the ReMatriate Collective, a group of Indigenous women who initially got together in 2014 as an online social media campaign to combat stereotypes.
"The campaign was essentially our response to the negative images that you see in mainstream media of Indigenous women," says Denver Lynxleg, one of the curators involved with the exhibit and a member of the Tootinaowaziibeeng First Nation, an Anishinabe band in Manitoba. "It's usually hyper-sexualized and it's often through a stereotypical or inappropriate lens. At that time it was very hard to see positive role models or positive representation. The collective tried to focus its first campaign on social media to give voice and agency to Indigenous women to tell their own stories in their own words and through their own images. The whole campaign is directed through a collaborative relationship with the women who submit."
Lynxleg joined the collective in 2015 shortly after the first campaign went online. "When ReMatriate was launched I was promoting it in Toronto because I really understood the values that the collective was formed under. We were on the same wavelength."
Branching out from image campaigns on Facebook and Instagram the collective started doing in-person activities. "We wanted to step out of just being an online presence because we saw the strong capacity for coming together," says Lynxleg.
Events the Rematriate Collective hosted included a fundraiser for the Downtown Eastside Women's Centre in 2016. They curated their first exhibition in 2017 at the Yukon Art Society.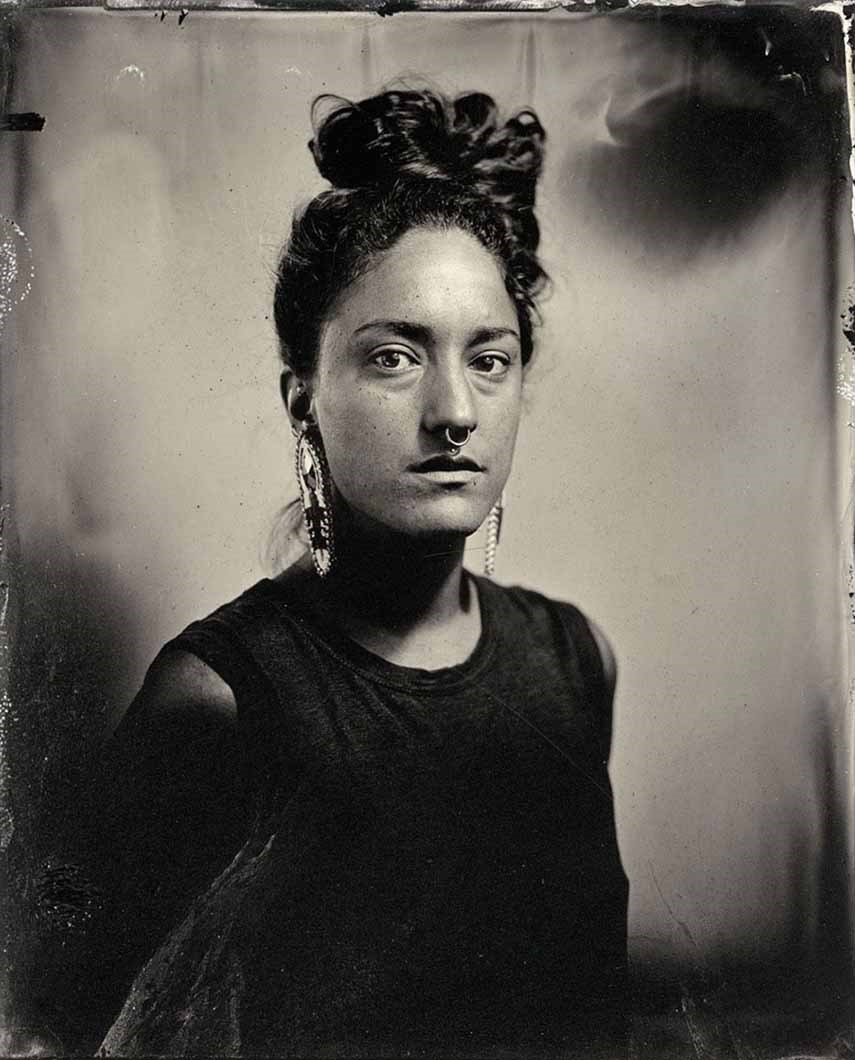 qaʔ yəxʷ– water honours us: womxn and waterways came about during discussions between Lynxleg and the other guest curators.
"Women and waterways was our initial concept and our initial callout," says Lynxleg. "We wanted to explore the concept of the relationship that we inherently have across our communities to our matriarchal societies and our responsibilities that we can hold within our society that make us inherent advocates and activists. The two concepts are interlinked when it comes to Coast Salish territory because water is intrinsically a part of the landscape but it can also be shared among a lot of Indigenous people – for myself, I'm Anishinabe and Scottish mixed in my family, and in Anishinabe 'Tootinaowaziibeeng' means the 'People of the Valley River.' A lot of Anishinabe people are named after water sites because we also share a very close connection to water and water protection. [The ReMatriate Collective] thought it would be a nice way to promote the concepts behind repatriation and also a chance to curate work from artists who we thought were probably working within the framework of arts education and advocacy in their own practices."
The artists involved in the show include: Richelle Bear Hat (Blackfoot/Cree); Krystle Coughlin (Selkirk); Lindsay Katsitsakataste Delaronde (Mohawk); Alison Marks (Tlingit); Dionne Paul (Nuxalk/Sechelt); Kali Spitzer (Kaska Dena); Marika Echachis Swan (Nuu-chah-nulth); and Veronica Waechter (Gitxsan). The exhibition will also feature Audrey Siegl (Musqueam) as a contemporary Water Keeper.
Some of the artists included in the exhibit are not from the West Coast but all are connected through their work despite their different cultural backgrounds. "We do have shared concepts and shared understanding of ceremony that can be cross-related," says Lynxleg. "We felt there were a few artists who were speaking to strong concepts of Indigenous feminity that turn to the traditional ways that we can talk about our bodies or our relationships to ceremony that challenge the patriarchal views that have been imposed on our communities that don't honour Indigenous women in the same way that we are maybe traditionally taught to honour ourselves.
"We thought there were these great themes that started to come out that kind of interact with Bill Reid's work as well, because even in his story his mother is his relationship to his community – it's his mother that's not often highlighted so we wanted to have different artists who were speaking to that kind of hidden or quiet work that often happens in our community. The people who don't get the acknowledgement who have maybe created the relationships."
By incorporating the Hun'qumi'num expression qaʔ yəxʷ ("water honours us") into the title the ReMatriate Collective introduces a Musqueam element into the show as a way of paying tribute to the host territory.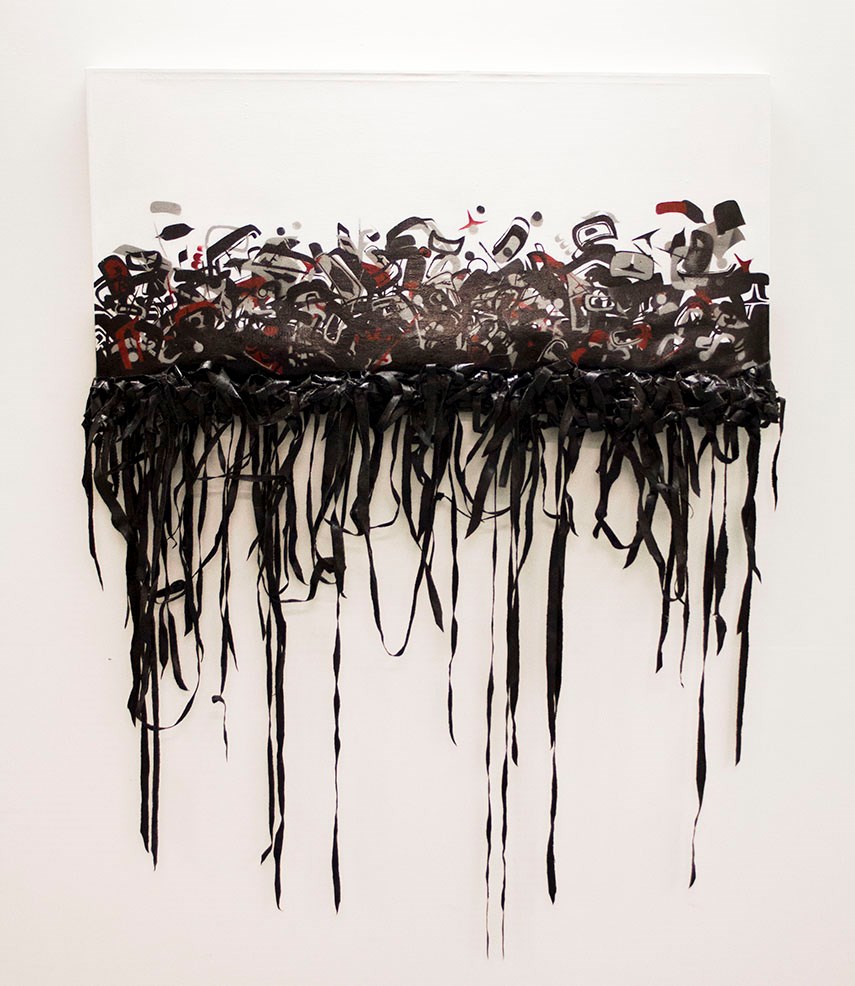 "We came to the work as guests and we wanted to honour Coast Salish women and the territory," says Lynxleg. "We landed at the possibility of exploring language through different language holders. We explored that through an elder and also through Vanessa Campbell (who's a member of the Musqueam band and a teaching assistant in First Nations and Endangered Languages Program at UBC)."
Campbell (the great-great-granddaughter of James Point, one of the main sources for Wayne Suttles' Hun'qumi'num study Musqueam Reference Grammar) did some research and found the phrase qaʔ yəxʷ ('water honours us') in the audio tape of a traditional story.
"We wanted to bring forward a Musqueam perspective that could influence us in a way that would make us better guests," says Lynxleg. "Vanessa talked about her relationship to water through being a member of Musqueam and living close to the water and also the way that phrases work and the way that the language works. It was out of that dialogue she told me about listening to a tape where the language holder said 'it honours us.'"
To hear the phrase qaʔ yəxʷ pronounced in Hun'qumi'num go to the audio file https://soundcloud.com/user-382195416/qa-yx. For an interview with Vanessa Campbell about Hun'qumi'num and Musqueam language studies at UBC visit nsnews.com/entertainment.
qaʔ yəxʷ _ water honours us: womxn and waterways, at the Bill Reid Gallery "features video, photography, carving, printmaking, beading, and performance by artists affiliated with various Indigenous peoples of the Northwest Coast and the interior of British Columbia. Each of the nine artists considers a unique experience with the life-giving element of water, and creates innovative works based on culturally specific practices."
The gallery provides bios on each of the nine artists featured in the exhibit:
Richelle Bear Hat (Blackfoot/Cree) is a Calgary based artist and a member of Siksika Nation and Blueberry River Nation. She graduated from the Alberta College of Art + Design with a BFA in 2011. Bear Hat's artistic practice investigates ideas surrounding family relationships and the types of knowledge that are capable of being passed through them.
Krystle Coughlin (Selkirk) is currently an MFA candidate at Simon Fraser University's school of contemporary arts. Her artistic practice blends different materials, methodologies, and symbols to create conceptual works. She is influenced by Indigenous feminism, post-structuralism, anti-colonialism, and activism.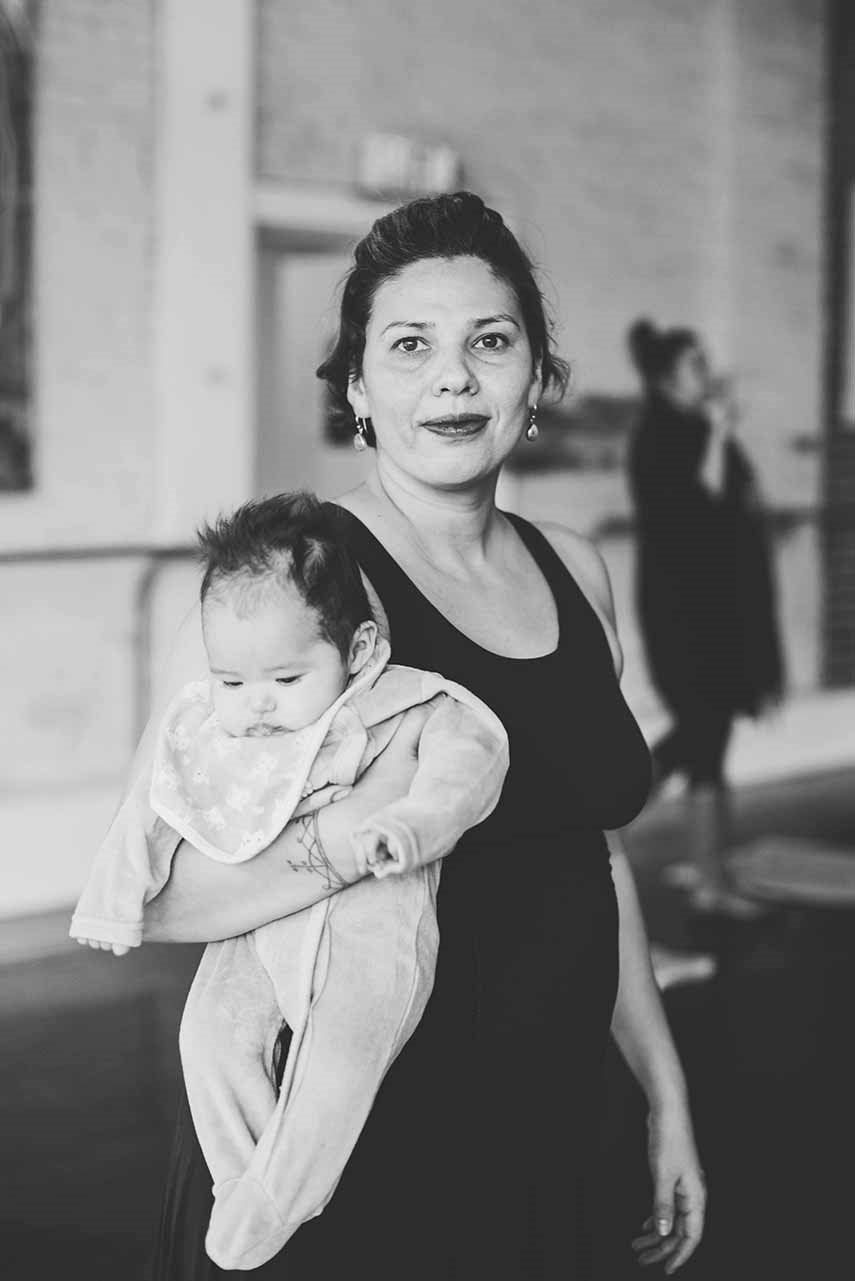 Lindsay Katsitsakataste Delaronde (Mohawk) was born and raised on the Kahnawake reservation. Delaronde is a professional multi-disciplinary visual artist who works in contemporary Indigenous performance and as a facilitator of traditional workshops, such as moccasin making, beadwork, and Iroquois corn husk dolls. She is currently the Indigenous Artist in Residence for the City of Victoria.
Alison Marks (Tlingit) was born and raised in Southeast Alaska. She studied under master artists David R. Boxley and David A. Boxley in Kingston, Washington. Painting, woodcarving, regalia, and digital collage are a few of the mediums the artist employs. Marks is committed to the revitalization of the Tlingit language and creating works for traditional and ceremonial use.
Dionne Paul (Nuxalk/Sechelt) has a Masters of Applied Arts at Emily Carr University of Art + Design. Her thesis research focused on traditional special effects in potlatch performances. Paul's work creates a unique lens to view Northwest Coast art, and opens a window to new possibilities of art objects and the relationship to performance.
Kali Spitzer (Kaska Dena) is from Daylu (Lower Post, BC) on her father's side and Jewish on her mother's side. Spitzer is currently studying at the Institute of American Indian Arts in Santa Fe, New Mexico, and works with film — 35mm, 120mm, and large format. Her work includes portraits, figure studies, and photographs of her people, ceremonies, and culture.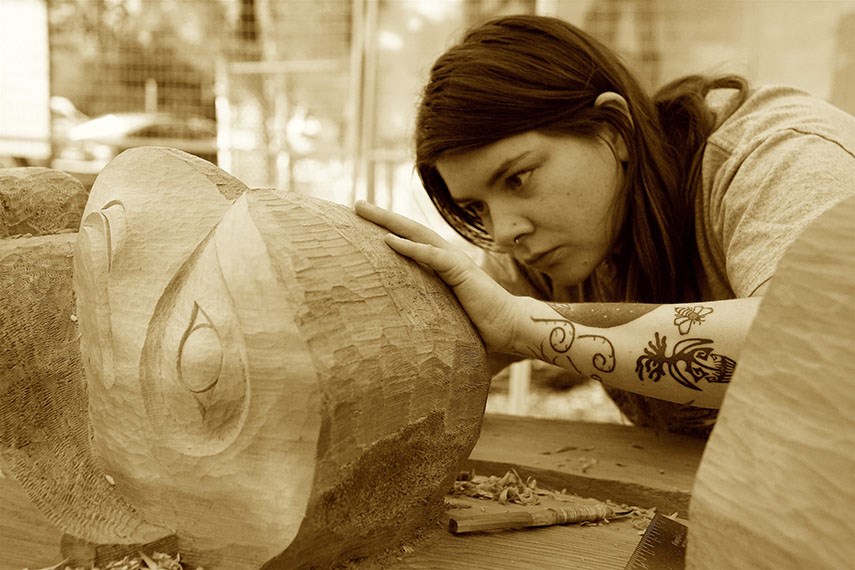 Marika Echachis Swan (Nuu-chah-nulth) is a mother, artist, and community arts organizer of mixed Tla-o-qui-aht, Scottish, and Irish descent. Her main creative practice explores feminist Nuu-chah-nulth values through woodblock printmaking, often layered with other visual arts techniques such as carving, stencil, and photography.
Carrielynn Victor (Sto:lo) from the Chi:yom (Cheam) First Nation currently manages an Environmental Consultancy. Victor's art is focused on maintaining Coast Salish design principles, while utilizing modern tools and mediums. Her work revolves around protection, preservation, and conservation of culture and the landscape.
Veronica Waechter (Gitxsan) grew up in Terrace, BC, on Tsimshian territory. In 2018, she graduated from Emily Carr University of Art + Design with a BFA, and soon after began working on totem pole carving with Gerry Sheena in different locations around Vancouver. Most recently, Waechter worked one-on-one under master carver Dempsey Bob.