New song, "She is R-EVOLUTION," released on video by Tunisian singer Ghalia Benali through her MWSOUL Art Foundation.

Benali is performing tonight at the York Theatre in Vancouver with Montreal's Constantinople, "In the Footsteps of Rumi."

Kiya Tabassian, artistic director of Constantinople, has set Rumi's work to music, in collaboration with Benali. On the band's website Tabassian says, "Since childhood, I have read Rumi's words in Persian, regularly losing then finding myself in them, always with considerable emotion. His poems, in their profundity and linguistic refinement, their rhythm and contagious enthusiasm have frequently inspired me, and I have been setting them to music for many years now. Yet the In the footsteps of Rumi project took shape more concretely after I met the artist and vocalist Ghalia Benali, whose art touched me deeply, with its capacity to transform each moment into a state of wonder and each note into a fascinating story. I felt that she embodied the ideal voice for singing poems such as these, and the necessary drive for bringing together this ensemble of virtuosi who would musically communicate all the symbolic significance of Rumi's work.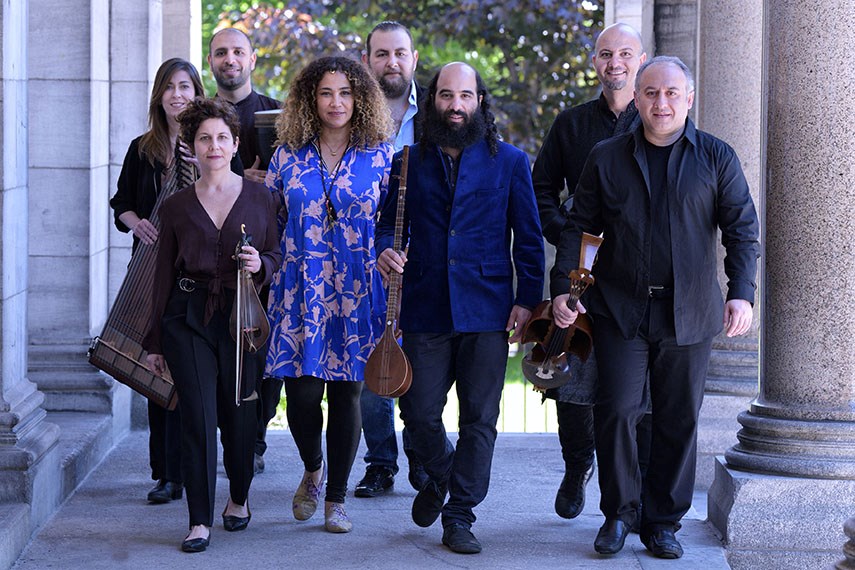 Together, Ghalia and I chose a selection of poems, both in Persian and in Arabic. Rumi lived several years of his youth in Damascus, where he studied with the master Ibn Arabi, so in his volumes of poetry, some were originally written in Arabic. These are much less known and have almost never been sung; this is why we chose to showcase them. As it happens, Rumi always refused to be labelled and associated with one nation in particular, saying that he was neither of the East nor of the West."

Born in Brussels, Belgium, and raised in Zarzis, Tunisia, Benali uses her cultural roots as a basis for exploring many musical worlds. Her YouTube channel has archived many of her projects, including her interpretations of Om Kalthoum's material (collected on the 2010 album, Ghalia Benali Sings Om Kalthoum, released on the Dutch label, Music and Words) and a concert of Arab cabaret, shot in Cairo, Egypt, in 2015.

Constantinople, featuring singer Ghalia Benali, "In the Footsteps of Rumi," York Theatre, 639 Commercial Dr. Gordon Grdina's band The Marrow (performing their mix of Arabic maqam, Persian dastgah and avant-garde jazz) are also on the bill. Tickets: $30-$45 plus service charges. The show is co-presented by Caravan World Rhythms and the Vashaan Music Society.