Celebrating 30 Years, Ferry Building Gallery, Mixed media invitational featuring artists who have previously exhibited in the gallery, until July 28. For more details visit ferrybuildinggallery.ca.
From passenger pit stop, to artist launch pad, to First Nations focus: The Ferry Building Gallery in West Vancouver just keeps reinventing itself.
This month, artists and the public are invited to celebrate both the ferry building's ever-evolving presence and its roots in the past.
Community Arts Supervisor Juliana Bedoya notes the Ferry Building Gallery is the centrepiece of Ambleside Landing, and with the building itself more than 100 years old, the gallery's 30th anniversary is significant — especially for the approximately 5,000 artists whose work has been featured within its storied walls.
"Many of the Canadian artists who are now internationally recognized had their first shows here," she says, "for example Bobbie Burgers, Cori Creed, all the Kiss family, and more."
Bedoya, an artist herself who came aboard the FBG in 2017, is proud to be taking the gallery to the next level, pointing out her predecessor – Ruth Payne, the visual arts coordinator for 22 years – was an "arts champion who really brought the gallery to what it is today."
The Ferry Building packs a powerful punch for a pint-sized public gallery. Operated by West Vancouver Cultural Services and partially funded by the district, it welcomes more than 500 visitors each week and hosts up to 20 exhibitions annually. Bedoya says that over the past three decades, that's added up to more than 500 exhibitions viewed by over one million visitors.
"And our incredible volunteers have donated more than 100,000 hours with a lot of heart and commitment," she says.
In addition to acting as the first public canvas for many emerging artists, the gallery has inspired a generation of budding art aficionados.
Diane Fairey, a retired North Shore school teacher, says tours of the historical site never failed to inspire her students – in one case with far-reaching results.
In 1997, Fairey brought a group of students to the gallery to see an exhibit. For many, it was the first time being exposed to an art display of any kind.
"They had such a wonderful time that on the bus ride home, one child said, "That was great Miss Fairey. Next time, you should take us to the Louvre'."
"What's a Louvre?" asked another.
"I told them about the most famous gallery in Paris," Fairey says, "and the students said if the band can go to Japan and the Rugby team gets to go to Australia, why can't art students go to France?"
And so they did.
"We fundraised for two years and for spring break 2000, I took 11 students to Paris, where we had the time of our lives."
Fairey retired last month after 30 years of teaching and says that the Paris trip, inspired by the visit to the ferry building, was the highlight of her career.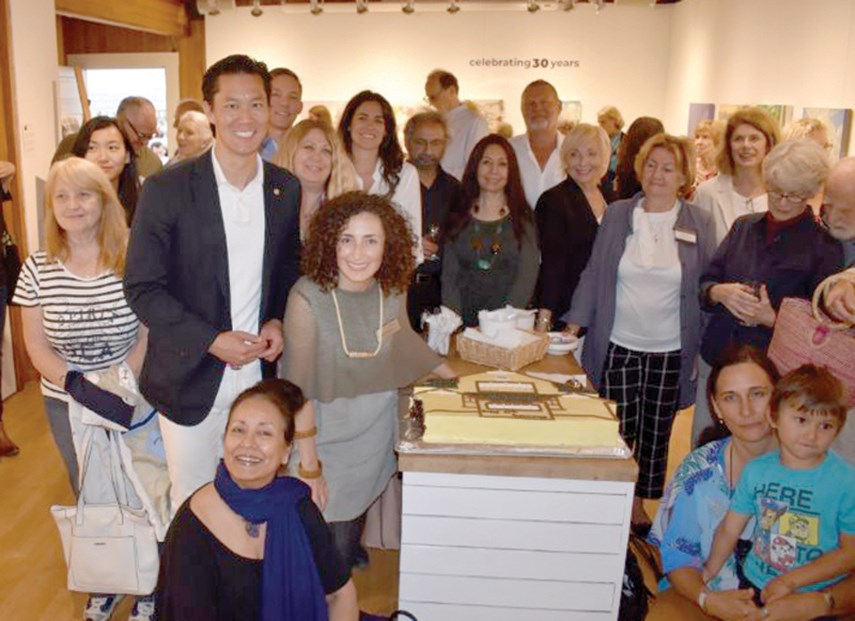 Landscape painter Liz Chrzan, who has lived and worked in Horseshoe Bay for 26 years and whose sumptuous shorelines are quintessentially West Coast, has exhibited at the gallery since 1992.
She recalls that after she was offered a solo show at the gallery in 2013 (In the Presence of Light), her art career – and confidence – received a huge boost.
"I was so thrilled. The experience was amazing," Chrzan says. "The Ferry Building Gallery is a much-needed space and has launched many careers of leading B.C. artists. I appreciate every opportunity I have had to exhibit there [and I am] very grateful for the gallery and for being included in this joyous [30th-anniversary] show."
The Ferry Building Gallery isn't just an artsy name; it actually housed operations as the Ferry Building at Ambleside Wharf in 1912, where the newly incorporated Municipality of West Vancouver operated the West Vancouver Ferry Co. Ltd., shuttling passengers from Burrard Inlet to the West Van dock at the foot of 17th Street.
After operating as a bus depot from 1947 to 1986 when the wharf was closed (The Lions' Gate Bridge opening in 1939 scuttled the ferry service), the ferry building was saved by the wrecking ball by concerned citizens and artistic associations which lobbied for its heritage status, a move to dedicated parkland at 14th Street, and extensive renovations.
On July 11, 1989, the Ferry Building Gallery opened its doors to the community as a public art gallery.
"I think this is a very special place for all the artists of North and West Vancouver," Bedoya says. "I think it holds a very special place in their hearts."
As for the future, she says plans are in the works to bring more ancestral knowledge and Indigenous artists  into the spotlight, such as Coast Salish artist Splash (Aaron Nelson-Moody), Squamish Nation artist Xwalacktun (Rick Harry) and mixed-media artist Melanie Rivers, also Squamish Nation. All are included in this month's special celebration.
"It's kind of the tone that I'm trying to do with the ferry building, with these new generations … a new era," Bedoya says.
30th  anniversary
Until July 28, the Ferry Building Gallery is marking its 30th anniversary by showcasing the works of artists who have previously exhibited in the gallery. Included are: Carole Arnston, Claire Babcock, Elspeth Bradbury, Ray James Bradbury, Colette Chilcott, Lil Chrzan, Jane (Adams) Clark, Pierre Coupey, Elizabeth Cox, Joanne Frewer, Tania Gleave, Jytte Kiss, Peter Kiss, Zoltan Kiss, Ruth Leithal, Ron Love, Lesley MacGregor, Jill McRae, Sally Michener, Splash (Aaron Nelson-Moody), Freda Pagani, Ross Penhall, Isabelle Procter, Melanie Rivers, Barry Shelton, Monica Shelton, Sylvia Tait, Margaret Thoma, Tannis Turner, Shirley Claire Williams and Xwalacktun.
Meet the artists
– Saturday, July 13 (2-3 p.m.): Colette Chilcott, Pierre Coupey, Joanne Frewer, Jytte Kiss, Jill McRae,  Isabelle Procter and Sylvia Tait.
– Saturday, July 20 (2-3 p.m.): Elspeth Bradbury, Ray Bradbury, Jane Clark, Ruth Leithal and Freda Pagani.
The gallery is located at 1414 Argyle Ave. Admission is free.
Share your story
The FBG wants to hear about your memorable experiences at the gallery. If you are an artist, volunteer, or visitor, or have participated in any programming over the past 30 years, you're invited to submit your story online at ferrybuildinggallery.ca.