A Handful of Dust: from the Cosmic to the Domestic, Polygon Gallery, Feb. 8 - April 28. For more information visit thepolygon.ca.
It's hard to know exactly what Man Ray saw when he noticed a collection of dust forming on a sheet of glass belonging to his friend, artist Marcel Duchamp, but he knew he had to photograph it.
In October 1922 that image was published in an avant-garde French journal with the deceptive title View from an Aeroplane. To the naked eye, Ray's photograph of Duchamp's artwork might have resembled an aerial viewpoint from high above the ground, the scene below encumbered by flowing shrubbery, a network of roads and wide open plains. Or perhaps the photo might have conjured for the viewer a more alien landscape, or an abstraction of an idea, or the idea of abstraction, or something else entirely.
Whatever viewers decided to take away from it, then or now, in reality the photo wasn't taken from an aeroplane – it's of mere dust clustered on a panel of glass.
For years, David Campany, a U.K.-based curator, critic and educator with a focus on photographic works, has been fascinated by Ray's photograph.
"It's such a peculiar picture," says Campany. "What is it? Is it an artwork? Is it a document? Is it micro, is it macro? Is it figurative, is it abstract?"
He admits that as a young student of photography the image initially left him feeling cold, but like a long-term relationship that takes times to develop and mature, he eventually built up a strong, lasting rapport with the miniscule-meets-abstract image.
"I just noticed other artists and photographers referring to it," he says. "Somehow it became important to debates about what photography really is, and can we really know what the world is from the way the camera shows it?"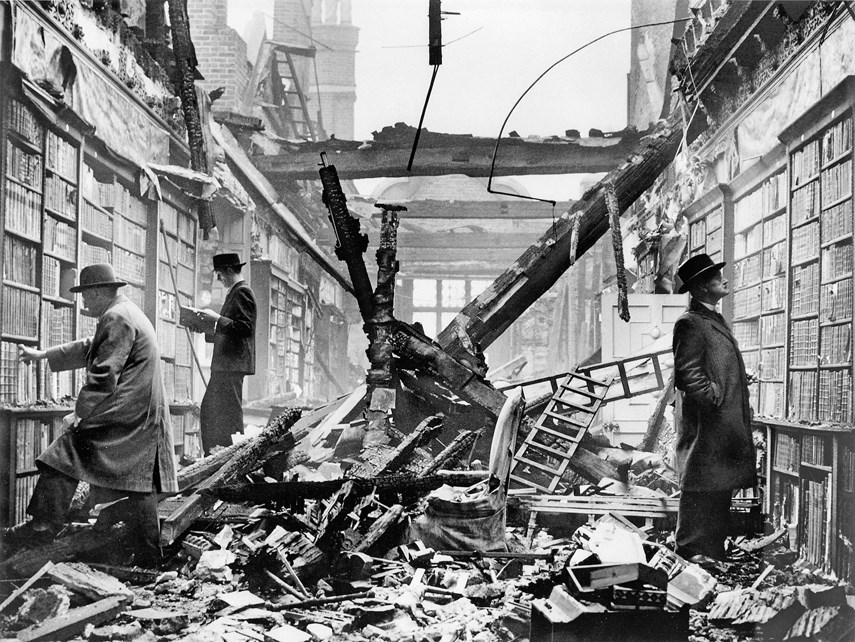 Campany's current exhibition, showing at the Polygon Gallery, doesn't set out to answer that question exactly, but it does "set people free to make connections between things" involving a number of images and photographs related to the theme of dust.
In A Handful of Dust: From the Cosmic to the Domestic, Campany has gathered works over a roughly 100-year period which together present a speculative history of the 20th century.
"There's been a lot of destruction in the last half century. We create a lot of dust," muses Campany. "It's what we come from, it's what we're going to."
Dust can range from the mundane to the destructive to the cosmic, notes Campany. "The show's built around exploding the implications of that one [Man Ray] photograph," he says. "I think in all the works there's something slightly mysterious about them."
Images of the American dustbowl, aerial reconnaissance, the wars in Iraq, or the collapsing of a building are all featured in Campany's exhibition, all dusty and all open to interpretation.
A range of works by artists like John Divola, Walker Evans, Gerhard Richter, Sophie Ristelhueber, Xavier Ribas, Jeff Wall, as well as Duchamp and Ray, along with many others will be on display, in addition to a hodgepodge of anonymous press photos, postcards, magazine spreads and movies.
"I'm really interested in photography and its present and its past, I don't care if it's made as art or not. The interesting thing about photography is great, fascinating things got made as high art, but they also got made as postcards or pages or posters," says Campany. "Photography has penetrated every aspect of our lives. There's no reason why you couldn't have a show that brings together all different kinds of images."
Scenes from Hiroshima and Nagasaki showcase the idea of "dust and ruin and disaster," and a series of severe dust storm pics from the 1930s by unknown photographers show the immensity of nature even though the photos themselves are quite small.
 "They're terrifying. It's interesting that Hollywood loves recreating this kind of thing," says Campany. "The notes on the back are very interesting, people would say: 'Came out of nowhere!'"
Campany is aware of the inherent irony of the exhibition, that dust can evoke larger ideas of death, destruction and chaos while still being essentially mundane – dust must be kept away from camera equipment, yet it's still very photogenic.
"When audiences are in the room, you notice them looking at the corners of the galleries. Even the idea of the white cube gallery – pristine – is premised on the idea that dust will be banished."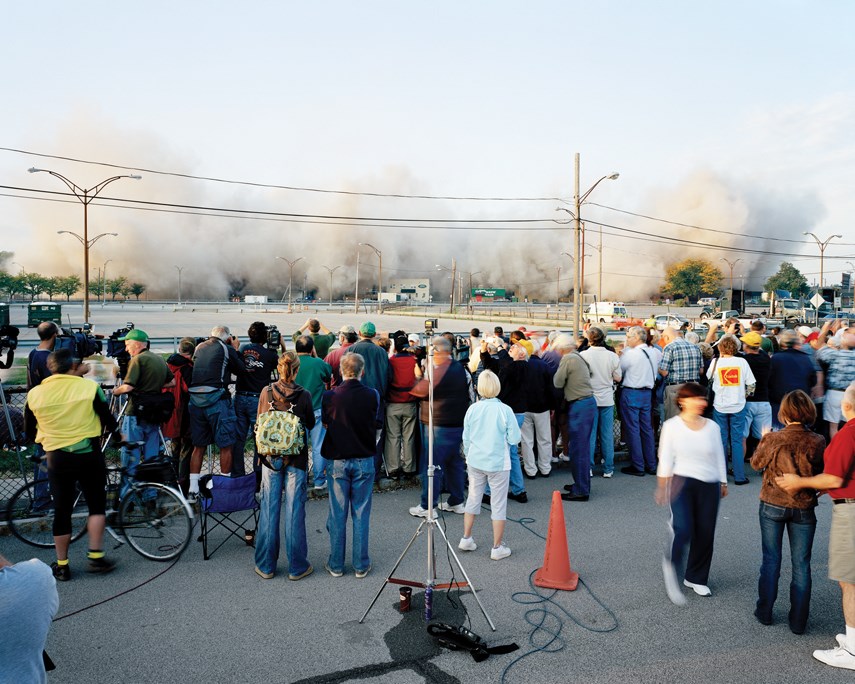 In one of the most current works on display, Canadian photographer Robert Burley documents the blowing up of the Kodak buildings in Rochester, N.Y. In the photo, a group of people – some former Kodak employees – gather at a distance, many documenting and photographing the demolition of the building for themselves. Many are using digital cameras to record the event. A large plume of dust is visible where the building once stood strong.
"They're mostly using digital," says Campany. "And [Burley] shot on Kodak film, so this is a certain kind of photography recording the end of its own era."