Shakespeare's Antony and Cleopatra, Langara College Studio 58,  until Oct. 13. Tickets from $12.50 at ticketstonight.ca or call 604-687-2787  (langara.ca).
The Roman general was instantly won over by the Egyptian queen.
It's said that when Mark Antony summoned Cleopatra to the ancient city of Tarsus for a meeting, the young ruler arrived by way of the Cydnus River in an extravagant barge replete with purple sails. Her outfit was extenuated with the robes of Aphrodite, the Greek goddess associated with love and pleasure. For reasons both personal and professional, Antony, who considered himself a bon vivant in the same vein as the Greek god of wine, was instantly drawn to her charms.
The couple's story has been told countless times before – the political alliance-making and intrigue, the impassioned love affair, the brutal deaths at the hands of Octavian – on stage, in literature, and on the silver screen. But barring the right creative vision, Shakespeare's classic tragedy Antony and Cleopatra can still take on new resonance and meaning.
In Studio 58's new retelling of the play, it's a little more Cleopatra and Antony than Antony and Cleopatra, suggests Heather Kemski, a West Vancouver resident and sound designer for the production's creative team.
"She really takes centre stage in this adaptation," says Kemski. "It doesn't feel like traditional Shakespeare – it feels contemporary, it
feels fresh."
After working on last year's contemporary and experimental Studio 58 offering, Incognito Mode, Kemski is thrilled to be working for the Langara College production company again on its season opener. Even though the Shakespeare source material was decidedly older than the genre-bending piece she worked on last year, she knew Studio 58's treatment of Antony and Cleopatra would be anything but antiquated.
"Having worked at Studio 58 before, I think one of the most beautiful things about it is that it's really a place of genuine experimentation and collaboration. That was my expectation of this one too," she says.
Kemski was convinced she and her team would be putting together a "fresh, modern adaptation" as soon as she knew Cameron Mackenzie was set to direct. Mackenzie, a Studio 58 graduate and the founder and artistic director of Zee Zee Theatre in Vancouver, has channeled Cleopatra's energy in the past when depicting his drag show alter ego, Isolde N. Barron, or the Queen of East Van.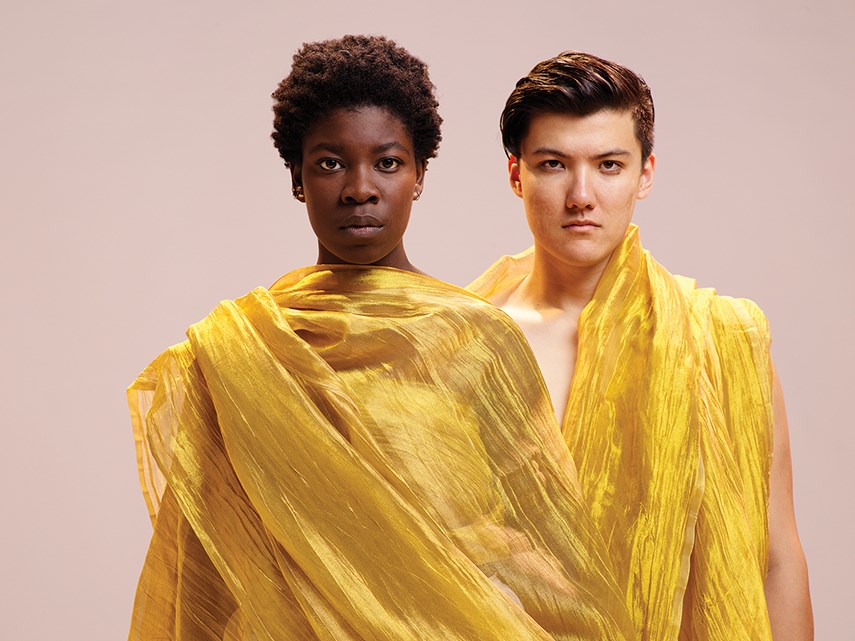 "She is one of Shakespeare's most complex characters and one of history's most fascinating figures," states Mackenzie in a press release.
"In the original Antony and Cleopatra, there's lots of battles, there's lots of Antony, and Cameron's really trimmed it so that you hear a lot more of Cleopatra's voice throughout the play," adds Kemski, noting that Mackenzie's vision features the ghost of Cleopatra – who was crowned queen at age 18 and brought peace and stability as she ruled Egypt for the following 22 years – as she looks back on her life.
As the production's sound designer, Kemski says it's her role to serve the story and "support and augment the narrative in a musical way." In the case of Mackenzie's version of Antony and Cleopatra, that meant honouring the spirit of Cleopatra throughout the ages, according to Kemski.
While many sound designers don't produce original music for a production, Kemski is a trained classical musician and a composer. Knowing that this Shakespearean production was going in a modern direction, she took the opportunity this past summer to write a guitar-driven score for the show, one that she describes as noisy, messy and distorted.
"After the first read, I realized the female voice needed to have a really strong role in the score as well," she says. "I decided that I would record all of the female voices of the ensemble and use all of their voices as the basis for my score and really as the thread that ties this whole thing together.
In a more pop-music orientated moment of the show, Kemski wrote a number called "Turn Around, Tony" about Cleopatra wanting Antony to come back to her after he departs home for a period.
"There's a big dance movement sequence to that," she says. "That's honestly my favourite part of the play – it's this big, fun, goofy, playful, light, lively sequence."
While those who have seen other iterations of the play before, or studied it in high school, they'll likely know how this one ends, but the journey to getting there is different, says Kemski.
While the play deals with the passage of time and involves many scene changes, Kemski says she uses sound and music to foreshadow and help steer the audience in the right direction.
"I want there to be a lightness and a liveliness to it, as well as to really highlight the messiness of war and the battles with really noisy guitars," she says.