Two Lions Public House presents The Blue Boa Burlesque Cabaret, Sunday, June 2, 7 p.m., featuring Ava Lure, Ginger Avenue, Ariel Helvetica, Melody Mangler, and Cherry Ontop with host Gidget Gravedigger. Tickets $20 advance, $25 at the door: https://www.eventbrite.ca/e/the-blue-boa-cabaret-sunday-night-live-at-two-lions-public-house-tickets-61822936066.
 The dancer walks on stage, ready to turn hyperbole into reality.
"She put the 'I can' in Can-Can! Kryptonite is vulnerable to her!"
Day to day, she works as a costume buyer for TV and film. Life is "pretty basic," she says. But on stage she gives herself licence to be something else – and someone else.
"I'm not saying she kicks high but her last pair of stilettoes died of altitude sickness. Beckham bends it like her. Her G-string is so famous they named a theory after it. Ladies and gentlemen, the only dancer offering full-fontal – Ariel Helvetica!"
Going on stage is a metamorphosis, Helvetica explains.
"You do transform into this badass, sparkly person," she says. "And let me tell you it's pretty addicting to be in that world."
Her journey to that world started in Alberta, where Helvetica dreamed of being a ballerina. She had a different name back then as well as a different outlook.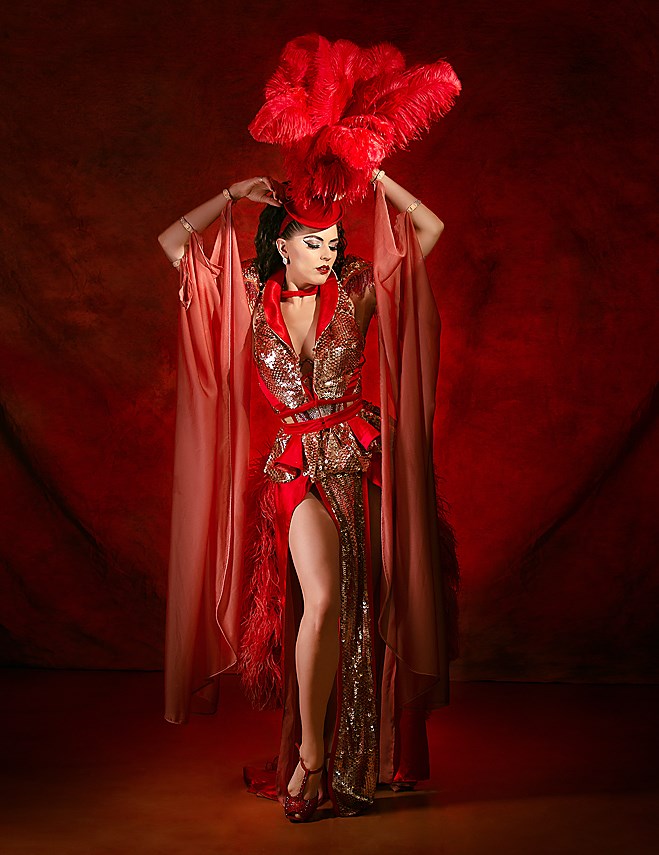 Back then, being a performer meant fitting into the costume – not designing it. It meant following, not creating, the choreography.
It was all part of being a "serious" dancer, she says, a concept Helvetica regularly puts in quotation marks.
Helvetica worked as a showgirl dancer on cruise ships for five years before heading home and finding that, while you can go home again, sometimes you shouldn't.
"There's not too much going on in the dance world in Alberta," she says.
Helvetica moved to Vancouver and had her first real exposure to burlesque.
A few too many birthdays or a couple extra pounds could derail a "serious" dancer's career but a different set of laws applied in burlesque, where performers of various ages and different body types could be funny and racy in front of adoring crowds.
"Why the heck can't I?" she wondered.
Still, burlesque was something she only dabbled in at first, much to her regret.
"There were some struggles with my family understanding what burlesque really is," she admits.
She cared what her parents thought. She wanted their support. And as long as she waited for that support she was timid.
"I was going with one toe in as opposed to headfirst," she says.
But she soon realized that while she might want familial support, she wasn't willing to put her career in stasis until she got it.
"I actually really love this and it's changing my life for the better," she recalls thinking. "I'm over what you think . . . and I'm going to go be my best self ever."
And with her newfound resolve came a new identity.
She didn't want to be Kitty, Kiki or Vixen. Forget Jessie Belle or Virginia Werewoolf. She needed something unique.
Leafing through a heavy metal encyclopedia, she found little-known Swedish thrash band Helvetica. Following a friend's suggestion she adopted the first name Ariel; a tribute to both a sans-serif typeface and a mermaid.
"Just something about it sounded awesome to me," she says.
Ariel Helvetica would be a cheesy showgirl, she decided, adorned with "feathers and rhinestones and super over-the-top glamour."
Her esthetic grew from her cruise ship experience but her performances, she realized, had to be about more than flawless technique.
"I might have a nice leg extension and pointed toe – that doesn't mean you're going to be a good burlesque performer. It's so much more than that."
There are still mischaracterizations of burlesque, Helvetica says, sighing softly before mentioning the Christina Aguilera film Burlesque.
"There's this movie," she begins. Her tone is like someone looking at her shoe and announcing: "There's this rock."
The 2010 film may be fine in its way, she says, before explaining: "That's not what we do."
As an art form, burlesque can be comic or dark or sexy or irreverent. It can also be empowering, she says.
Helvetica, who also teaches at the Vancouver Burlesque Company, has seen how transformative it can be.
Students walk in nervous, maybe a bit inhibited. But between the feather boas and sparkles they see a part of themselves they've denied. They can be fabulous, Helvetica says. And, even if they never get near a stage they can change the way they view themselves in the world, she says.
"In burlesque we're very lucky to do more or less whatever the heck we want," she says. "I'm the boss of my own burlesque career."
Burlesque is also great for date night, Helvetica says.
"It's really great for anyone," she says, stopping for a moment before adding: "over legal age."