The Thrilling Case of Martha Kane, May 7-10 and May 13-16 at 6:30 p.m. at The James Buchanan Theatre, Argyle Secondary. Tickets: $12, argyledrama2019.brownpapertickets.com.
There's been a murder and there's been a revival.
In The Thrilling Case of Martha Kane, an original production showing soon at Argyle Secondary, audiences are invited to take a look at the fictional town of Silver Lake, where the apparent murder of Martha Kane, coupled with a revolving cast of colorful suspects, begs the question, "Who dunnit?"
But there's more going on here with the opening of Martha Kane at the North Vancouver high school than just the entrances and exits and grand wizardry of the stage, according to Argyle drama instructor Grant Featherstone, who suggests the arrival of the new production marks the return of large-scale theatre at the school in general.
Noting there's been "nothing on this scale" performed at Argyle in terms of a production similar in scope and size to Martha Kane in approximately a decade, Featherstone lauds the newly reformed Argyle Drama Association – a mix of students, parents, teachers and community members devoted to jumpstarting theatre at the school – with helping to see the project through to completion.
"I think that in the Argyle community there's always been a want and a love for theatre, and it's just been a matter of taking the reins and getting it started up again. There's obviously a plethora of talent," says Featherstone.
Argyle has "a rich history of theatre," explains Featherstone, harkening back to the 1980s and '90s when instructor Lloyd Burritt – whose tenure with Argyle arts saw such future stars as actor Jason Priestley and singer-songwriter Bryan Adams pass through its doors – put on many large productions, "sometimes a few a year," and theatre was generally thriving.
"During that time he launched the drama association, which was a bunch of parents who'd come together to support the program. That kind of fell out and over the years there wasn't the drama association until this year," says Featherstone, adding that with the support of the new drama association at least one student's dream of putting on a full-school production will be realized.
Featherstone says that last year Argyle student Arsham Farasat approached him with the idea of writing and putting on a "big play" for the school.
Under the tutelage of Farasat and classmate Gracie Davis, who together wrote and directed Martha Kane alongside Featherstone with support from an Argyle alumni, auditions were held last fall to great reception and huge crowds.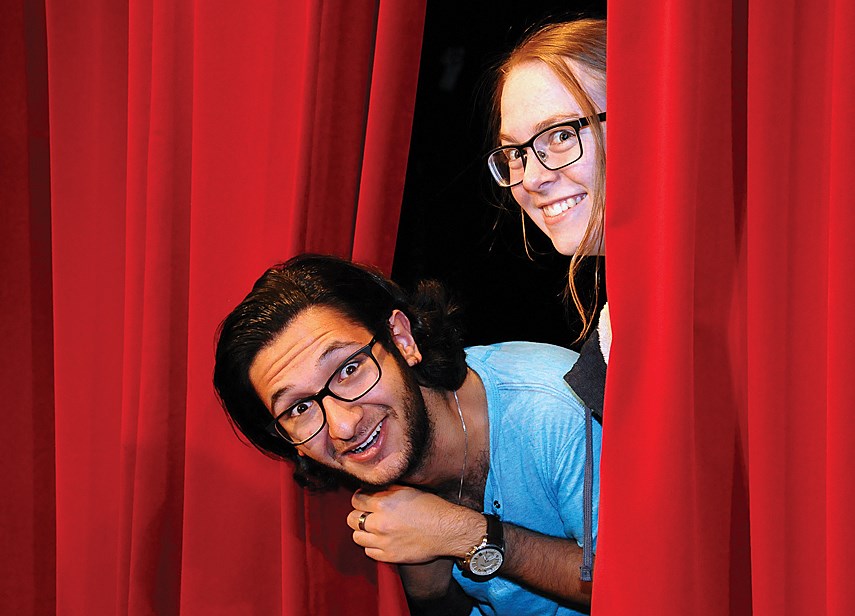 "We had lineups going out the door," says Featherstone. "I think that that was an indicator that there's obviously a strong interest in theatre here. Students want to get involved."
With Martha Kane set to premiere next week with an eight-night run at the school, Featherstone says he's excited for audiences to see this "murder mystery in the style of film noir with a hint of Batman."
"It's a really fun play, there's aspects of a thriller, there's obviously mystery, there's comedy mixed in there. It's got something for everyone, that's for sure," he says.
Concerning that "got something for everyone" premise, the play offers an intriguing setup in that audiences could conceivably see the show every night during its run and witness a different ending each showing, as Farasat and Davis have written five different endings to the show – each revealing a different suspect as the "real" murderer on a given night.
Will the murderer turn out to be the Greedy Groom? The Broken Brother? The Manic Mother? You'll have to wait and see. But no matter how the show ends, Featherstone insists the evening's great reveal is his favourite part.
"The reveal will be awesome at the very end. We have all the suspects lined up in a police lineup, all of the different clues are brought to attention as to who it could have been, which highlights the faults in each of the characters. And then there's obviously that big moment when we do the reveal. …"
Ultimately, the play speaks about the theme of the bonds of family, and the importance of communication, according to Featherstone.
As Argyle is in the midst of a school rebuild that will see it move into an upgraded and newly minted space next year, Featherstone is looking forward to carrying on the tradition of the school producing large-scale productions which get students from all grades involved.
"I'm very, very grateful for all the hard work that the association has put into this, we've had parents come in to build set pieces, to help renovate parts of the theatre, to build costumes, all sorts of different things," he says. "The show would not have come together without their help."