As the closing credits roll at one North Shore movie theatre, it's lights, camera, action at another.
After 20 years without moving pictures in West Vancouver, Cineplex Cinemas Park Royal and VIP is officially open for all movie-lovers, cinephiles and film fans looking to take in a little extra razzle-dazzle when it comes to their silver screen experiences.
The opening of the new state-of-the-art Park Royal location arrives soon after it was announced that the six-screen Esplanade Cineplex, also owned by Cineplex Cinemas, would be officially closing on April 2. The Esplanade had been in business in North Vancouver's Lower Lonsdale neighbourhood under various operators since 1990.
"It's a new era," said Sarah Van Lange, executive director of communications for Cineplex Entertainment, during a tour of the new Park Royal location given to media the day before Wednesday's official opening. "Really when you come here it's all about options."
Located on the third level of Park Royal Shopping Centre's south side (right above the Brick), the theatre features luxury recliner seating in each of its 11 auditoriums, along with a host of "enhanced movie-watching experiences" like UltraAVX, D-BOX motion seats, and an adults-only VIP section where moviegoers can order food and beverages, from fresh salads (starting at $10) and burgers (starting at $15) to artisanal pizzas (starting at $13), which are delivered right to their seats.
"(Moviegoers) want an experience they can't replicate at home," said Van Lange, who noted when pointing out the theatre's sizeable game's area that Cineplex was also "one of North America's largest suppliers of arcade and redemption equipment as well."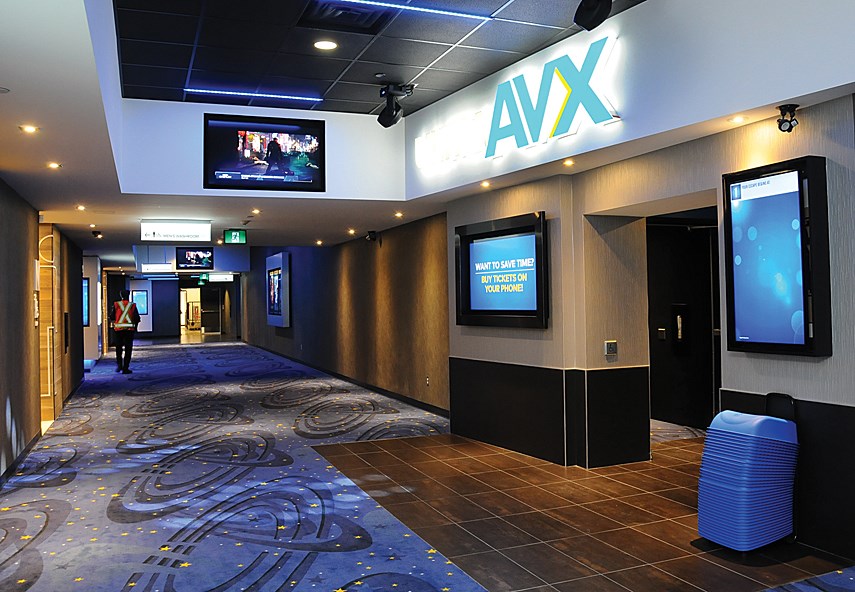 Cineplex is in the process of getting its four VIP auditoriums at the new theatre fully-licensed, according to Van Lange, but guests can still purchase a selection of cocktails, wines and craft beers for consumption in the VIP lounge prior to and after showtime, with classic cocktails starting at $12, a six-ounce glass of red wine starting at $9.50, and on tap you can get yourself an 18-ounce craft beer for $8.50.
While dining in the VIP lounge, guests will find themselves surrounded by monuments to Tinseltown's grand history replete with black and white photos culled from the likes of Mean Streets, Ocean's Eleven and many other flicks.
The addition of the Park Royal Cineplex could hopefully bring some more exciting options for West Vancouver and North Shore residents looking for a night out, said Ken Mont, executive director of B.C. operations for Cineplex Entertainment, adding that he imagines the movie theatre would also likely entice moviegoers from nearby Vancouver.  
"We're hoping that this does generate people coming out a little bit later and staying out a little bit later, and that's part of the experience with the VIP," said Mont.
The theatre will have capacity for nearly 1,000 moviegoers, he added.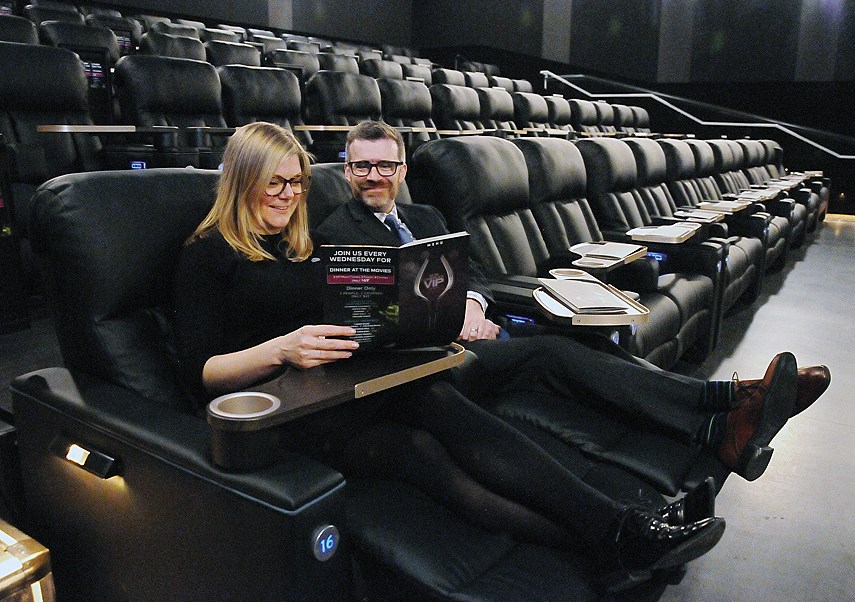 This isn't the first time Park Royal has played host to a movie theatre. Famous Players operated the Park Royal Twin Theatres from approximately the mid-1960s and into the '90s, according to an email statement from Christine Piers, marketing director at Park Royal. Shortly thereafter the shopping centre officially took over the theatre and operated it under the Park Royal Cinemas banner – exclusively screening second-run movies and repertoire films – until it finally closed in 2002 and the shopping centre went forward with plans for the Village at Park Royal expansion.
"We are thrilled to bring one of the newest and most state-of-the art movie houses in Metro Vancouver to West Vancouver and the Squamish Nation lands. This is part of our continuing evolution to create a neighbourhood that provides the best in shopping, dining and entertainment," stated Piers in the email.
Cineplex operates 165 movie theatres across Canada, including 25 in B.C. The addition of Cineplex Cinemas Park Royal and VIP in West Vancouver brings the total number of VIP Cinemas in the province to four, with others located in Abbotsford, Coquitlam and Marine Gateway in Vancouver, respectively.
General admission and non-VIP tickets are the same price as other Cineplex theatres, typically ranging from $9.99 for children under 13 years of age, $13.99 for adults and $10.99 for seniors. Access to VIP Cinemas typically range from $19.99 to $25.99 depending on the day.
Visit the Cineplex website at cineplex.com/Theatre/cineplex-cinemas-park-royal-and-vip for full West Vancouver showtimes and admission prices.