I remember that sometime back in 2013 I asked the principal of a recently opened North Shore brewery at what point he thought the craft beer market would reach its saturation point. His answer was emphatic: there is so much more room for craft brewing in Canada that we may never see a time when a new operation fails, assuming the quality of beer remains high.
The rationale was that back then, the established macro breweries, with their huge nationwide distribution, still accounted for 97 per cent of all beer sales and so if craft breweries collectively cut into even two per cent more of that near monopoly, there would be ample business to go around.
Today, estimates suggest there are more than 800 craft breweries and brewpubs across Canada accounting for six per cent of domestic beer sales. Steady growth is still predicted despite the fact that provincial government licensing through highly regulated, cumbersomely bureaucratic liquor control boards presents a real barrier to entry for new players. I spotted a social media post from this time last year by Wildeye Brewing's co-founder and principal, Samantha Lindeman, celebrating the receipt of a development permit for work on her brewery, 11 months and 23 days after application. This is not an uncommon story among our local beer and spirits purveyors, which makes it all the more remarkable that right now, the North Shore is home to seven craft breweries, one hybrid craft brewery/distillery, and two craft distilleries.
Happily, none of the breweries that have opened since my time writing this column (more than six years now, people!) have closed and each seems to occupy a unique enough niche to sustain its business. I wish them all much success, just not too much success.
You see, there is a craft beer industry phenomenon known as "the valley of death" in which a small brewery grows to a size that begins to alienate the emphatically anti-establishment, craft beer drinking loyalists but still cannot compete with the distribution and marketing reach of the big players; the brewery effectively dies in an infertile limbo between the beer industry's two extremes. It's a tightrope and I, for one, am glad to be on the consumer side of the craft beer revolution, admiring the work of this brave new set of brewers from afar.
As a guy with a thirst for good libation, a passion for locally made fare, and a general live-like-there-is-no-tomorrow mindset, I am a regular patron of all of the North Shore's various beer and spirits operations, favouring a few in particular due to relationships with their owners, exceptionally compelling offerings, or proximity to home. I was eager to check out the lounge at the newly opened Wildeye Brewing facility down on Main Street at Harbour Avenue, even though it is a ways from home for me. The first major positive aspect of my visit was the parking situation; Wildeye had some real foresight on this matter, creating ample parking along the west side of the building, making it a breeze to pop in for a bite and a brew or just stop by for a growler refill.
The next big win was the ample space; Wildeye has a lot of seating and even though the place was hopping (pun intended) early on a Sunday evening, I had my choice of spots, from seats at the bar or along the windows to communal tables down the middle of the room. A handful of booths leant themselves to more intimate conversation. High ceilings and bright lighting give the space an open, airy feeling, while knotted wooden table tops and accents add an organic, rustic element. Giant stainless steel brewing tanks can be seen to the right of the room, where brewmaster Michael Friesen helms production. Patrons order beer and food from a central bar at the back of the main room and are given a numbered wedge of wood to facilitate meal delivery.
For such a new business, Wildeye is dialled. This is a well-planned, smooth operation that is clearly the product of extensive research into what works and what doesn't in a craft brewery setting that hosts guests on premise. Yes, there is undeniable charm to that little hole-in-the-wall neighbourhood brewery with plastic patio furniture and hazy ales served in Mason jars, but now and then you want a pint of clean, crisp Pilsner and a creative bite prepared in a kitchen that doesn't double as a supply closet.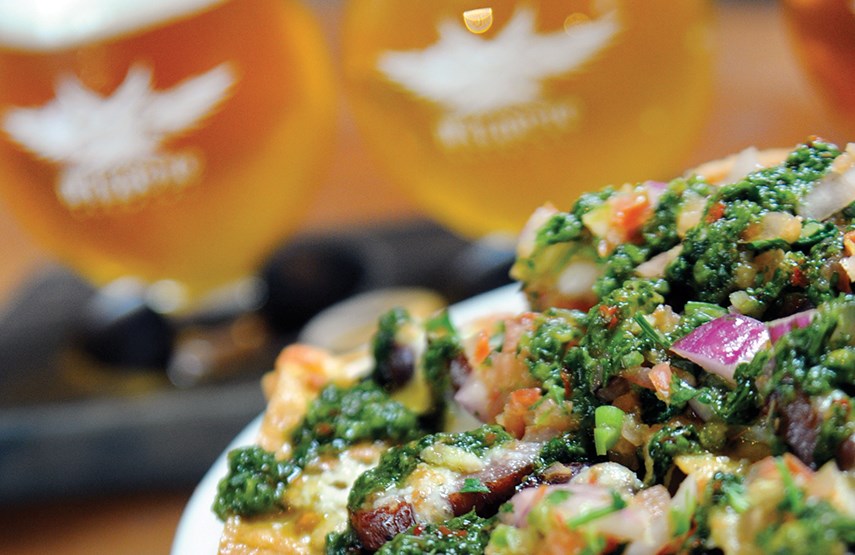 I was impressed with both the extensive beer list on offer during my visit and the ambitious food menu, which includes a selection of smart, beer-friendly snacks, sandwiches, salads, and flatbreads. As I sipped on a fragrant, hop-forward, crystal clear Champagne ("Brut") IPA  at a window seat, I watched enviously as a board of sausages was delivered to the couple next to me. Two sizeable Two Rivers sausages sat at one end of the board, accompanied by slices of dense-looking bread (a beer bun from Lift Bakery, according to the menu), pickled vegetables, a hearty portion of Italian coleslaw, and a dollop of mustard. I'm not sure how I missed that item on the menu, but I will definitely be back for it.
Perhaps I overlooked the sausages because I was both surprised and excited to see Wild Sole Ceviche on the menu. As it is far from your typical brewery dish, I jumped at this item that is described as a limited quantity offering on the menu. The sole, cut into small rectangles, was presented in an oblong ceramic dish set atop a board with tortilla chips. The preparation here was simple, the fish tossed with coarsely chopped green pepper (which I surmised was either poblano or anaheim, given its colour and mild flavour), Spanish onion, and cilantro. Wildeye's ceviche was a drier interpretation of the dish than I am used to, the citrus curing liquid for the fish barely forming a few droplets at the bottom of the bowl. Nevertheless, the fish was fresh and mild, and the aromatic cilantro paired nicely with the similarly perfumed Brut IPA.
As a main, I chose a Cubano sandwich, here prepared with slow cooked pork shoulder, capicola, sliced pickles, and Dijon mustard, all served on the aforementioned beer bun. The densely-packed sandwich was served with Italian coleslaw (fine ribbons of purple and green cabbage with onion, carrot, and parsley in a light vinaigrette) and a handful of potato chips. Now look, I have had the pleasure of eating Cubano sandwiches from a humble roadside stall in Miami that was still lined up with eager, regular patrons at 2 a.m., so I feel like my expectations for this sandwich are quite high. For the most part, Wildeye executed the sandwich admirably, its contents weighty and well seasoned, lifted by the pickle acidity and mustard heat. While I fully appreciate the on-the-nose appropriateness of a beer bun in a brewery, I would say that the bread choice was the one miss on the sandwich. Authentic Cubano sandwiches are made with pan Cubano, a soft but dense, ever-so-slightly sweet white bread that lends itself exceptionally well to grilling in a press. I suspect that the excellent Lift bakery whence the beer bun was sourced may have a suitable substitute.
A final pint of fresh, crisp Czech-style pilsner completed my meal, which was $38 before gratuity. Other beers on offer during my visit included kolsch, black lager, pale ale, Belgian-style single, and nut brown ale.
Wildeye Brewing hosts a grand opening party on Saturday, July 13 from 1 p.m. to midnight with live music (Monty Biggins at 2 p.m. and Aaron Ross of The Boom Booms at 7 p.m.), Big Shucker Raw Bar at 1 p.m. and Tacofino food truck at 6 p.m.
Wildeye Brewing, 1385 Main Street, North Vancouver. Wildeyebrewing.ca. 604-988-1900.