Convinced they've been magically teleported to an Italian piazza, guests might do a double take when they arrive at the Luxury Home & Design Show at BC Place next week.
The Renaissance themed event offers home design enthusiasts a window to view craftsmanship in its truest form. It's also a chance to acquire curated, bespoke décor from some of the world's top artisans who work in stone, glass, metal, ceramic, wood, lighting and interior design.
One of the selected exhibitors is a West Vancouver architectural technologist who has been drawing international attention for his modern and Old World home designs.
Marque Thompson of Design Marque has specialized in bespoke residential design for more than three decades.
Many of Thompson's clients have an eye for timeless architecture that incorporates traditional European elements, so he creates a masterpiece for them in a West Coast setting.
For Thompson, it's creating beauty in a challenging setting that make his design work exciting.
"Each project has its objectives and limitations, whether that is financial or the geometry of the lot," Thompson tells the News. "Some lots (on the) North Shore can be very challenging because of their topography and often-restrictive building bylaws."
Thompson recalls one particular project that involved taking the path less travelled and exercising creativity in design.
Instead of putting in a stacked stone retaining wall – the obvious choice – the design team looked at planting mature trees on landscaped banks.
"We understood that before we started West Vancouver had one very rare Garry oak," says Thompson. "Well, now they have three."
Thompson started his career in South Surrey, where he designed his first home, "and it just grew from there."
 In the late 1990s, Thompson created a home in Langley called "Copper Stone," which has appeared in a number of Hollywood TV shows and movies, including RV starring Robin Williams.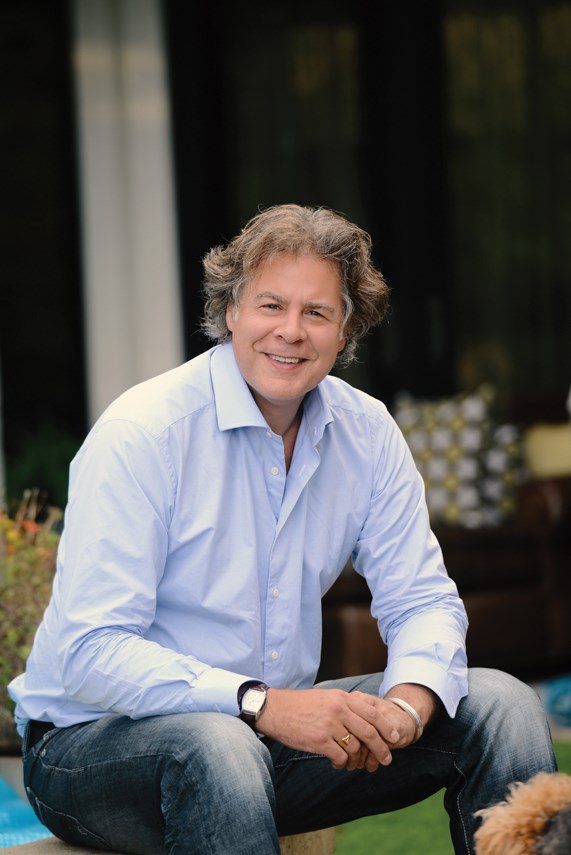 Asked what's trendy in local home design at the moment, Thompson says it's European or cosmopolitan-style homes.
"People generally are a lot more travelled and there are styles that reflect their knowledge and understanding of a world beyond B.C. and Canada," explains Thompson.
"We have seen a greater introduction of materials and styles that reach beyond the typical offerings North America is known for. This is exciting to us as it allows us more range. As one client reaches out, another is more willing to try the same."
Thompson was given the honour of being the principal designer for the last Luxury Home & Design show in 2015.
Unlike a regular consumer or trade show, says Thompson, the Luxury Home & Design Show is a curated event.
"The work you'll see at the show is from people like our company, who create bespoke and exclusive home decor and custom luxury design – the kinds of things you won't find in a store or made though mass production," explains Thompson. "Our customers are looking for that level of luxury design when we work on their properties."
The Luxury Home & Design Show will feature private shopping for limited edition and exclusive items, along with artwork never before sold in Canada.
An exclusive Tea Pavilion designed especially for tea ceremonies with Taiwan's world-famous pottery master Tian Chengtai is another show highlight.
Also appearing at the luxury design show are Vancouver-based John and Laura Gilroy of Gilroy Stained Glass – the last apprentices of the ancient method of making stained glass.
The Gilroys trained at the storied James Clark & Eaton studio in Bristol, established in 1788, and now create each piece by hand with great precision and care.
"Frankly, this is not a show for those looking for ordinary manufactured home décor items," said Luxury Home & Design Show director Wendy Guo, in a release.
"Our show resonates with those who want to shed the confines of the mass-market mentality. We combine the ancient wisdom, ideals and spirit of traditional Chinese culture and marry it to modern innovation, heritage and craftsmanship of Western culture. For those looking for only the most-exclusive home and decor items, this show is an absolute must."
Thompson invites guests to step into the Old World at BC Place during the event which runs June 21-24.
"You will literally feel like you're in Italy when you go through the doors," he says.
Tickets for the 2018 Luxury Home and Design Show are available on a single-day admission basis at lhdshow.com. Tickets for the Tea Pavilion are available separately.