She went looking for fabric and found the community.
Over the past month and change Kerry Strongman has been in garages and living rooms across the North Shore, foraging for cotton and stuffing all she can into her Ford Explorer.
And once her seven-passenger SUV is "filled to the brim," she trucks the cotton to North Shore Hospice where a team of her fellow volunteers are standing by with sewing machines at the ready.
From there, the volunteers have been sewing, serging, ironing and ultimately creating colourful gowns for the patients at North Shore Hospice.
The initiative started when nurses noticed the patient's gowns were faded, worn, and in some cases, ripped.
Like the brown shoes at the black-tie ball, the gowns went against "the whole vibe" of the hospice, explains nurse Tamaryn Brown.
There was a mention of buying new gowns but, "like anything in health care, there's always a [budget] shortfall," Brown says.
So she reached out to her mom.
"I can't really sew, but can't you and I just make 20 gowns for the hospice?" she remembers asking.
Her mother, Rina Brown, had been volunteering at the hospice for seven years and seen the toll an industrial washing machine can take.
She wanted to help, but she also knew what her daughter meant when she used the word: "We."
"We being me, because she can't sew a stitch," Rina laughs.
At the very least, Rina reasoned, she could put the request "out there."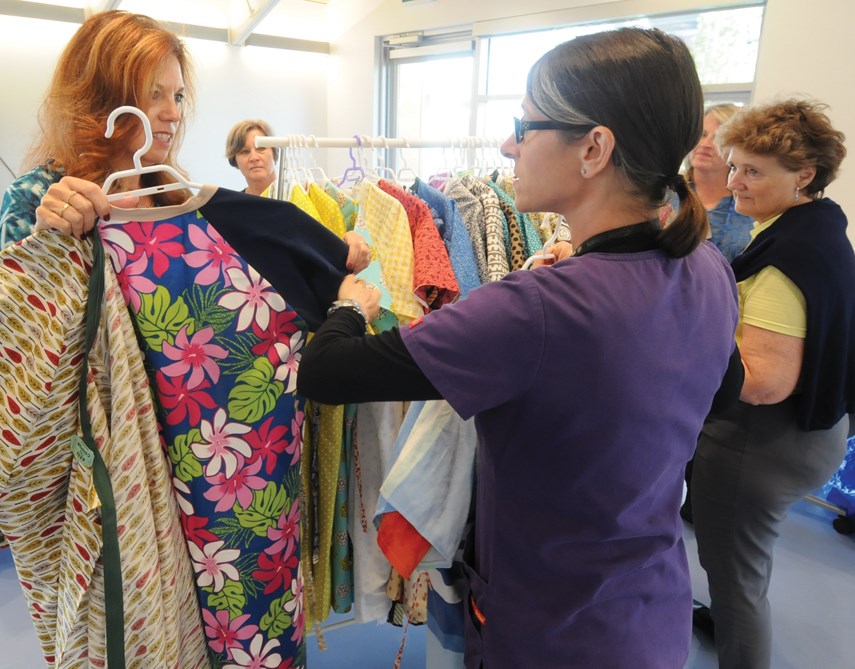 She was committed to making the gowns but at the next meeting of volunteers Rina asked if anyone else would like to sew or donate fabric.
"The response was absolutely incredible and overwhelming," she says. "And so started our project."
Thanks to Strongman and a few other gatherers, the volunteers started turning a "mountain of fabric" into 52 gowns.
Rather than "conventional, boring old gowns," they mixed and matched sleeves, chose different patterns and created a variety that could appeal to a range of patients.
The work was done over five Fridays from 11 a.m. to 4 p.m. They had a "no skill" policy, Rina says, explaining that those who couldn't sew would cut, those who couldn't cut would iron, and those who couldn't do any of those things would make coffee or bring fabric to the group.
What started with a simple conversation turned into something beautiful, according to Brown, who reports that the patients are pleased with the gowns, particularly male patients who might have been uncomfortable sporting a Hello Kitty pattern.
There's a different emphasis on a gown in a hospice as opposed to a hospital, Brown explains.
"Our patients know when they come in there, they're never coming out."
And so, for those days or weeks, the hospice becomes a home. Patients can have pets. They can play music or even crack a beer on occasion.
Gowns that are comfortable, colourful and distinct are part of that effort to help patients feel like they're home, Brown says.
The gowns can also serve as a conversation starter for a reticent patient as well as a signal to the patient's family that their relative is being cared for. When all gowns look the same, relatives sometimes question when the patient was last changed or bathed, Brown explains.
Originally from South Africa, Strongman says the sewing initiative was a chance to thank the community for being so good to her.
"Living in such an amazing place, one wants to give back."
Rina, whose mother passed away in a hospice in South Africa in 1999, was motivated by a similar impulse.
"I always said when the time was right in my life I would give back in the same way that we received," she says. "If you've ever been touched by the hospice, in any way, it's a very special place."
The project is ongoing, Rina says, noting they plan to start sewing again in September.
Strongman, who praised Janice Agar and the Made By Me sewing studio for their generosity, says she still has some fabric in her car. She's also ready to renew their Craigslist ad when necessary. "We don't want to be too greedy about it."
Nurses at the hospice are blown away by the volunteers, according to Brown.
There's an expression at the hospice, Brown says: "Only love lives here."
The gowns, she offers, are an expression of that love.