The Lobby Restaurant at the Pinnacle at the Pier Hotel supplied one of the best meals of the year and hands-down the best vegetarian meal of 2019 for my wife DJ.
I have remarked over the years that I cannot understand the continued paucity of vegetarian options on local menus. It used to be the case that "serious" restaurants scoffed at the idea of vegetarian dishes, chalking up vegetarians generally as food-hating zealots seeking to impose their unfathomable asceticism on normal eaters.
I think this perspective is wildly outdated and is, thankfully, increasingly rare. We have access to some of the best produce in the world from our nearby valleys and so much innovation has happened in the world of meat alternative proteins that there is no excuse for roasted vegetable stacks or mushroom risotto to represent the only veggie options on a contemporary menu.
In Vancouver, many celebrated chefs are employing unusual foraged ingredients to provide tremendous depth of flavour to their veggie dishes, and increasingly, chefs are challenging themselves to create unforgettable meals that don't rely on reduced meat stocks for complexity. If you doubt this, go visit the epically great Acorn on Main Street in Vancouver or Andrea Carlson's award-winning Burdock & Co. down the road from there; your world will be forever changed.
The Lobby, an underrated gem of elevated West Coast cooking, has an entire subsection of their menu devoted to plant-based dishes.
On my recent visit to The Lobby with my family in tow, my wife DJ selected the Avocado Energy Bowl ($16.25) from this section, a vegan, gluten-free eater option (DJ is neither) that proved shockingly satisfying. It was comprised of strips of crispy Cholula-basted tofu, perfectly ripened avocado, kale, spinach, black bean and corn salsa, grape tomatoes, bell peppers, cucumber, fried chickpeas, braised quinoa, and pickled purple onion, all in a silky avocado vinaigrette. The brightly colored dish was a sensory assault of distinct but complementary flavours and textures and each of the vegetable ingredients was exceptionally fresh. The braised quinoa was nicely seasoned and provided a smart foundation for the rest of the ingredients. The star of the bowl, however, was the Cholula tofu, which resembled tempura, but with a pinkish hue. The popular Mexican hot sauce was ingeniously employed to lift the typically generic flavour of the tofu, which boasted a crisp and indulgent-feeling batter yielding to a soft centre. DJ had a nince-ounce glass of straightforward Danzante pinot grigio ($18) with this dish.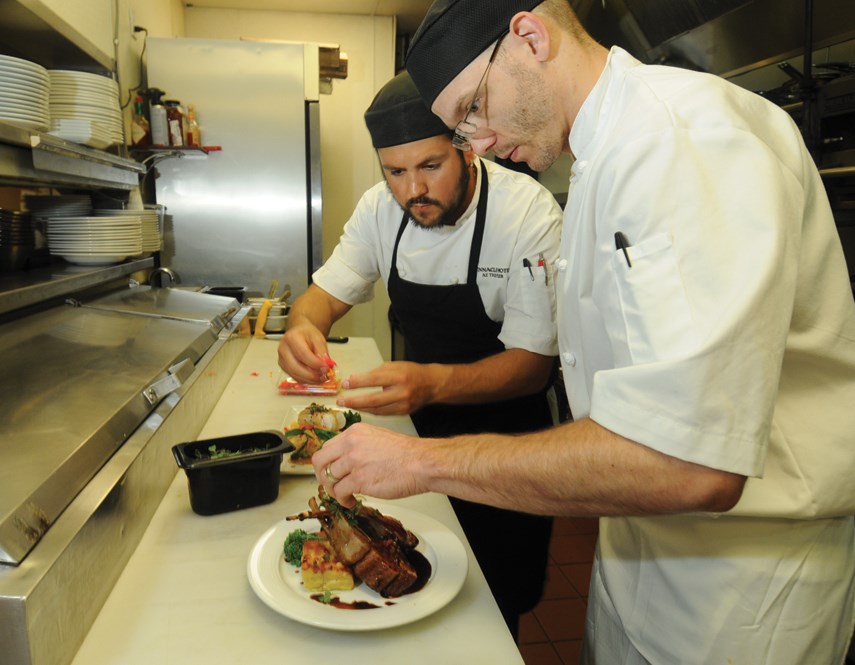 For those not swayed by my profuse praise of this dish out of strict omnivore principle, fear not, the meaty goods at The Lobby are also worth celebrating. A starter of pulled pork bao ($14.50) was tremendous and prompted a good-natured battle for the last bite between my two eldest kids and me. The dish featured three puffy, spongiform steamed buns (the bao proper, resembling inflated soft tacos) stuffed with chestnut-brown, Hoisin and five-spice-flavoured tender shredded pork topped with pickled banana pepper strips, scallions, and pickled purple onions. In addition to its Hoisin notes, the pork offered a considerable spicy kick that was nicely tempered by the sweetness of the bao.
A second appetizer of spicy Creole calamari ($14.75) was similarly deftly prepared with sizable tubes of tender, expertly spiced squid that was deep fried and presented with a ramekin of house-made tzatziki, a wedge of lemon, and a subtle brunoise of green chillies.
I enjoyed a prawn cocktail ($12.25) all to myself, relishing the plump, fresh tiger prawns presented in classic fashion draped over the side of a martini glass partially filled with tangy, horseradish-heavy cocktail sauce. I paired the dish with a six-ounce glass of buttery, toasty Burrowing Owl Chardonnay ($16).
In addition to DJ's unexpectedly winning vegan find, we tried a truly outstanding pappardelle pasta topped with slow braised Angus beef short rib and its braising jus ($26.75). The thick, al dente noodles were discolored through absorption of the Cabernet-centric braising liquor. A still-crunchy roasted carrot and wedge of turnip added some earthiness to the dish, which was decidedly rich and rewarding, the dense square of short rib meat falling apart with the softest touch of a fork.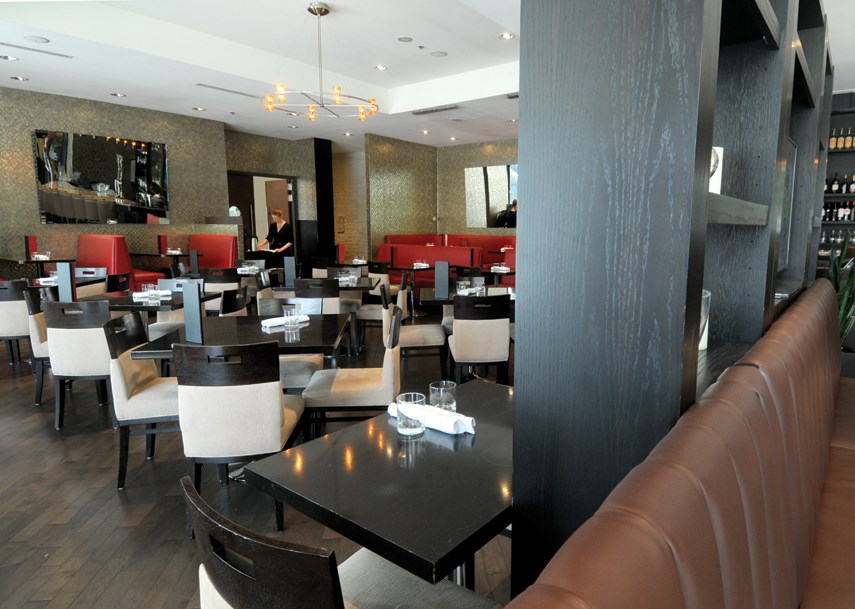 My daughter Blondie went classic French bistro on us by ordering steak frites ($22.75), a simple, can't-go-wrong dish served here as a six-ounce flat iron steak finished with a generous pat of garlic and herb compound butter. The weighty, generously portioned fries were prepared wedge style, with a pleasantly salty seasoning and crispy outer layer.
For my main, I chose grass-fed rack of lamb ($29.50), a decadent dish with about five ounces of succulent lamb chops served on their immaculately Frenched bones, accompanied by a square of intensely rich, multi-layered leek and emmental potato gratin with roasted carrot and turnip. The lamb, cooked to an ideal medium rare, was subtly flavoured and tender, benefitting from its accompanying, concentrated Shiraz demi glace. This felt like a winter dish in the height of summer, but I enjoyed the incongruity and finished every last bite, even gnawing lamb scraps directly from the bone, which if I recall correctly, I read in some etiquette book from yesteryear was an all right thing to do in a restaurant. I enjoyed a nine-ounce glass of fruit-forward, mildly tannic Sandhill syrah ($22) with the lamb.
My youngest devoured an appropriately simple kid's penne in cream sauce ($8) with a side of fresh fruit ($5).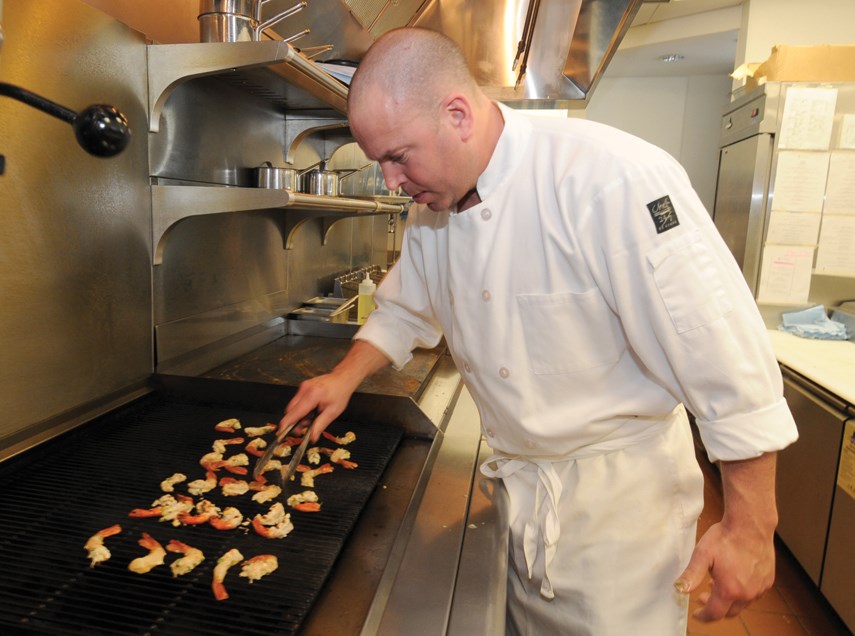 I suspect because it is located in a hotel, The Lobby Restaurant and Lounge remains largely overlooked by North Shore locals, many of whom have likely walked right past it many times en route to the Shipyards Night Market or to one of the neighbouring LoLo restaurants. I urge you to give The Lobby a try. Executive Chef Joel Green and his team clearly have a handle on regional ingredients and are evidently deeply versed in both West Coast and classical techniques. To say I was surprised by the outstanding quality of the meal perhaps overstates my reaction; indeed, I had a very good brunch here a few years ago when I stayed in the hotel for a birthday treat. Nevertheless, I did not expect this meal to rise to the company of the top dinners I've experienced this year. 
Located in the Pinnacle at the Pier Hotel. 138 Victory Ship Way, North Vancouver. Lobbyrestaurant.ca. 604-973-8000