Tequila Cocina, the newly opened casual eatery in Central Lonsdale, feels to me like it has a significantly more authentic seaside Mexican vibe than most places in town that use the term "authentic."
I have wrestled with why I thought this ever since visiting last weekend during a busy dinner service. Perhaps it was because I could so easily imagine the front, sidewalk-facing wall completely open in the height of summer, like you might encounter at eateries along the Pacific Coast of Mexico. Or maybe it was because the food was so unfussy, exceptional in its unapologetic simplicity and commitment to big flavours, and unencumbered by dramatic culinary flare.
Could it have been the raucous din of the place, the aggregate effect of so many parties letting loose over a Margarita or two, tucking into generous plates of shareable fare? I think more than any of this, my impression of authenticity was fostered by the sense that Tequila Cocina was not overdoing it, not trying too hard to deliver against some popular culture notion of what a Mexican restaurant should be.
I didn't spot any stylized Dia di Muertos iconography anywhere, for example, and the soundtrack of the evening didn't contain a single Mariachi note. Instead, dishes were plated on traditional earthenware platters, tortillas were presented in colourful woven baskets, and discreetly-placed, geometric floral ceramic tiles gave some distinctly Mexican flavour to the interior design. On one wall, an intriguing painting depicted a Jimador tending to a mature agave piña (the pulpy, bulbous core of the plant) with his signature coa (flat bladed tool), a design element that spoke to the name of the restaurant.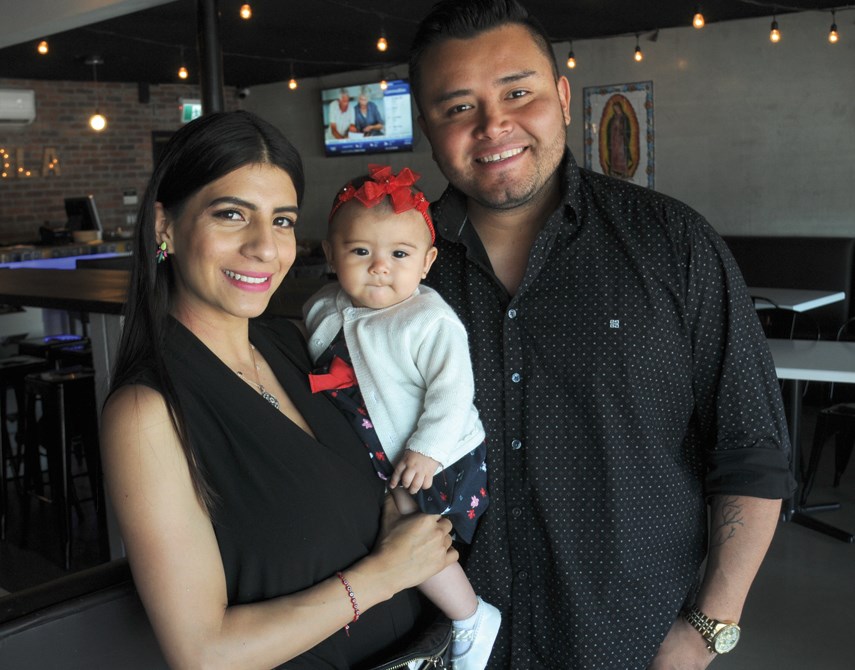 The restaurant occupies a unique niche on the North Shore, with its focus on cocktail-supported, sit-down Mexican meals in a spacious room. While there is a taco section of the menu, there is a lot more on offer here than the de rigueur street food that has dominated the North Shore Mexican experience to date.
Among these non-taco items is an excellent prawn ceviche that was seemingly bottomless, so generous was the portion. I love ceviche; it reminds me of the languid, sun-baked feeling I get after hanging out on the beach for hours and retreating for a bit of shelter and a casual bite to eat in one the various palapa bars that populate the not-so-touristy beaches just north of Manzanillo, where the sound of crashing waves creates a soothing white noise that becomes conspicuously absent upon return to reality.
Ceviche should be made from ultra-fresh seafood (ideally from the day's catch), and should contain notes of acidity, aromatics, and spicy heat imparted by some combination of lime or lemon, onion, chillies, cilantro, and salt.
In Peru, where it is considered a national dish, the peculiar citrusy-spicy native pepper, aji, would be a mandatory ingredient. Tequila Cocina put out a legitimate effort with its prawn-based ceviche, which was absolutely loaded with tender chunks of exceptionally fresh prawn and handfuls of perfumed cilantro, cucumber, concasse tomato, onion, and lime. Hand made tortilla chips, which are ubiquitous here and feature on many dishes, accompanied the ceviche, which was worth every penny of its $15 pricetag.
I had the Dagenais clan in tow for this visit and we gave the menu a thorough sampling. Another appetizer of Queso Fundido was unusual in that the cheese had not been thinned out with anything, arriving simply as a pool of melted cheese in a cast-iron pan with accompanying tortilla chips. While it was still sizzling hot, the cheese was malleable enough to put on a chip, but as soon as it began to cool, it adopted a dense, rubbery texture and a knife was required for further consumption.
I have learned to make exceptional Margaritas at home (using Cointreau instead of Triple Sec was a game changer), so I found Tequila Cocina's version adequate but unremarkable (they use a lime pre-mix instead of freshly squeezed lime), while my wife DJ's Mojito proved bright and lively. I noticed many patrons partaking in Tequila Bulldogs, an odd-looking drink, popular in all-inclusive resorts, that involves a Coronita (small bottle of Corona beer) inverted into a cup of Tequila and lime slush. Beers here include Pacifico and Negra Modelo, an excellent Dunkel-style lager.
Tequila Cocina offers well-priced and very generously portioned kids' options, which include a burrito with your choice of protein (chicken, pork, beef, or fish) and a chicken quesadilla. My girls chose one each of these items and were bested by the portion around the half-way mark. I was particularly impressed with the burrito, which Blondie chose to have filled with Tinga de Pollo, or chicken slow-cooked in chipotle tomato stew. The meat was succulent and moist and had just a subtle hint of chipotle smokiness.
The Boy went to town on some tacos that included an excellent Pescado prepared with large morsels of breaded, fried white fish topped with chunky pico de gallo, and a most excellent rendition of Carnitas, the slow-cooked, shredded pork finished with a deep, high-heat caramelization.
DJ chose a fresh, sizeable Taco Salad, thankfully served devoid of gimmicks (read: no taco shell bowl), which contained Romaine lettuce, corn, black beans, tortilla chips, avocado, lime, and a cilantro chipotle dressing. Optional meat add-ons are $4, which bring the dish up to a still reasonable $12. I'd be inclined to try this salad out with the aforementioned Pescado.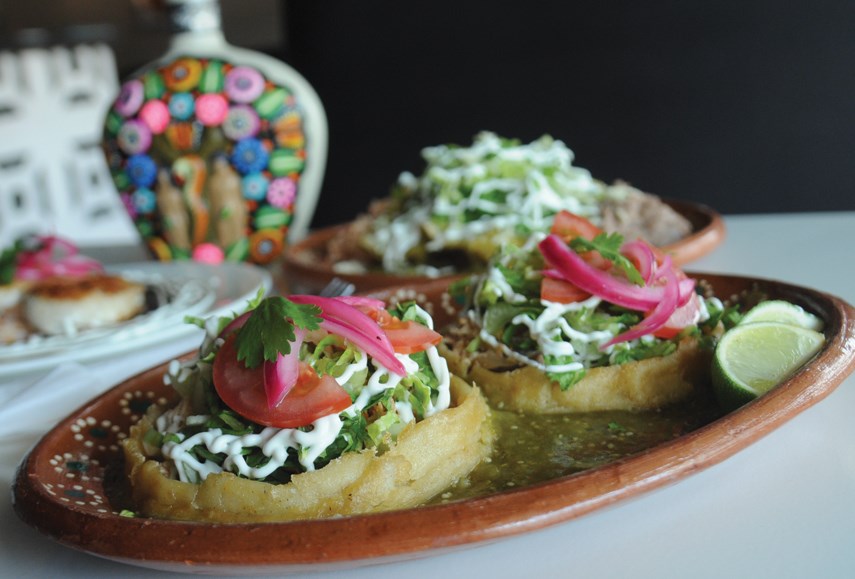 My meal was a filling, feels-like-you-should-be-making-healthier-food-choices, version of Chilaquiles, a nacho-like dish comprised of a hefty base layer of tortilla chips that is then topped with cheese, onions, sour cream, and salsa. Like the salad, meat can be added for $4, so I opted for Barbacoa, or shredded roast lamb, supplied here in abundance for under a fiver. I made it through all of the lamb and all of the cheese, a solid 70 per cent of the chips and most of the spicy, tart salsa verde before tapping out, the ceviche weighing too heavily from the appetizer course. I would recommend the Chilaquiles as a shared appetizer for the table, especially with the aforementioned Carnitas as the optional add-on.
We rounded out the filling meal with an order of fresh fried Churros, mostly because we had seen these go out to other tables and the kids were excited by the presentation: five or six piping hot churro strands are placed in the basket of a miniature steel shopping cart, complete with bumper panel and functional wheels. It is an odd, eccentric presentation, to be sure, but it certainly works as a piece of suggestive marketing. The churros were served with a ramekin of chocolate hazelnut spread.
Our meal, which in addition to the dishes described above, included two beers and two virgin pina coladas, was $135 before gratuity.
Tequila Cocina, 1933 Lonsdale Avenue. Tequilacocina.org. 604-770-4433.