Like an only Italian son, the restaurant at 1 Lonsdale Ave. has an impermeable place in Antonio Corsi's heart.
Before there was Gusto di Quattro, Lower Lonsdale had Corsi Trattoria – an intimate Italian restaurant started in 1980 by two brothers, Antonio and Mario, from a small town outside Rome.
For the uninitiated, eating at Corsi's was the closest thing to Sunday sugo at Nonna and Nonno's house.
"My dad loved the idea of doing family-style [dinners]. It was rustic. It was real," says Antonio's son Patrick, a full-time fixture in the family business since he was 18.
Four decades ago, Lower Lonsdale was defined by dilapidated shipyards and desperately needed a taste of la dolce vita.
"As you can imagine, in 1980 there was nothing down here. There was the Seven Seas restaurant. No Lonsdale Quay [Market]," says Patrick.
SeaBus service had only started three years prior.
The Corsis got in on the ground floor, opening a restaurant in the area before the retail boom kick-started by Expo 86 – the year Lonsdale Quay Market opened.
Sitting last Friday at a window table at Gusto, on a site slated for redevelopment, Patrick sees the same potential in Lower Lonsdale his father and uncle did 40 years ago.
Patrick marvels at how, over the last three or four years, the area has "just exploded" through revitalization efforts and the creation of The Shipyards District.
The table he is sitting at now boasts a view of the Vancouver skyline, achieved through the opening up of the Lonsdale waterfront.
"It really is remarkable," says Patrick.
At some point this summer, most likely June depending on the construction schedule, the Corsi family will pack up the memories and move on. But not too far. The plan is to carry on the Corsi tradition in the bottom of a new, three-storey building planned for 1 Lonsdale Ave. and Carrie Cates Court.
Because if there's one thing the Corsi family loves – it's creating new restaurants.
The Corsi brothers' restaurant roots can be traced back to 1968 in Germany. Antonio and Mario were cutting their teeth at the famous Parkhotel Adler in Hinterzarten, a resort village in the Black Forest.
Mario was the maître d' at the Adler, and Antonio, a busboy.
"The long and the short of it is, they met their wives there," says Patrick.
It was truly a serendipitous stint.
During his time entertaining guests in the German resort town, Mario met a Canadian couple who owned the Park Royal Hotel. They convinced Mario and his family to come to Canada.
Soon after, Mario became the maître d' of the Park Royal Hotel – in the early 1970s. Then, Antonio and his family, including one-year-old Patrick, came to Vancouver from Rome for a visit – and never left.
The two Corsi brothers settled with their families in Upper Lonsdale, a few blocks away from each other.
Antonio kept a beautiful Italian-style garden at the family home, framed by fig trees.
When he first arrived in Canada, Antonio worked alongside Mario at the Park Royal Hotel.
Patrick delights in seeing photos from that bygone era when dining was an experience.
Park Royal Hotel patrons will remember the vintage, silver Rolls-Royce parked out front of the hotel.
"There's some crazy stories about the Rolls-Royce," says Patrick, with a laugh. "It looked very good, but I don't think it worked very well. I remember we used it one time to pick up relatives from the airport, and, if I'm not mistaken, it broke down on Granville Street."
By 1980, the Corsi brothers were well-prepared to open the first of many restaurants – starting with Corsi Trattoria.
"It was a real mom-and-pop shop," says Patrick. "My mom [Edith] would come in at six in the morning and make the pasta by hand. My dad stands by the fact that we had the very first pasta machine to make homemade pasta in all of Vancouver. He's good friends with Umberto [Menghi] and Umberto sometimes says he was [the first] but my dad is like: 'No, it was us.'"
Many Italian restaurateurs are very close in Vancouver, competitive but good friends, according to Patrick, who says his dad and uncle, along with Umberto, gave a face to Italian food in the city.
Encouraged by the success of the trattoria, the Corsis created another successful restaurant concept, Charley Potatoes Oyster Bar & Grill, on Esplanade Avenue.
In 1984, they reinvented the restaurant as Café Roma, a more upscale companion to the popular Corsi Trattoria.
Located just behind Sailor Hagar's pub, Roma was the place to be on Saturday nights in North Vancouver in the mid-1980s. There were parties that would linger until the early hours of the morning. Movie stars would frequent the restaurant.
"I remember everybody going crazy because Tom Selleck kept coming in," says Patrick.
The Corsi brothers went on to open four restaurants, including one in Edmonton.
Antonio always started off as the chef at every Corsi establishment, but made sure there was someone next in line ready to stir the sauce.
"Obviously, I am bias in saying this: He is the best chef, in my opinion," effuses Patrick. 
Antonio's mantra is to cook simple, and never complicated, a sentiment infused in menu mainstay, Spaghetti Quattro (for Italians only). This most popular dish was conceived at two in the morning.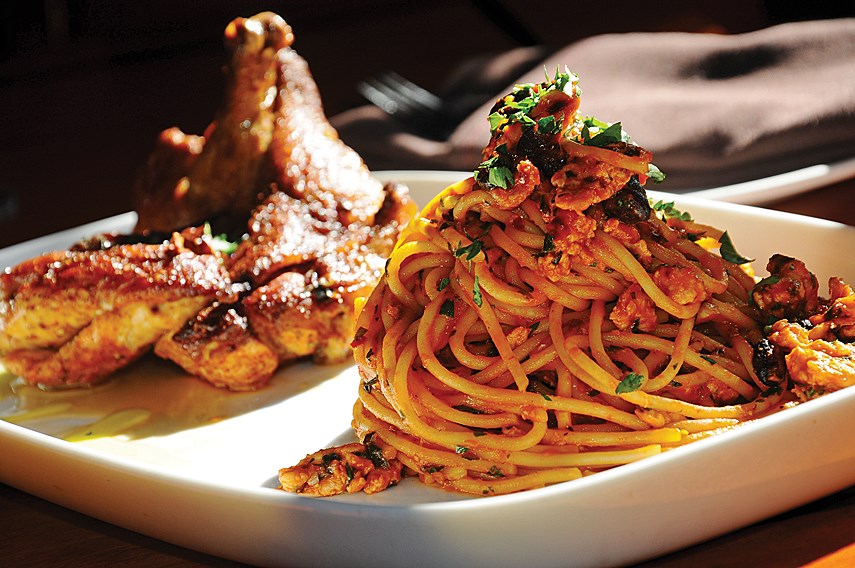 While Antonio was in the kitchen unwinding, he hastily threw some ingredients together: minced chicken, black beans, lots of garlic, tomato sauce, parsley and some chili flakes – all kissed with olive oil.
"And the staff was like: 'Antonio, this is unbelievable,'" recounts Patrick.
Still, Antonio was incredulous, wondering if it was the wine talking.
But he put it on the menu and called it Spaghetti Trasteverini – an homage to one of Antonio's favourite areas in Rome, called Trastevere.
"The pasta never sold," says Patrick. "So my dad came up with this great idea. He said: 'Listen, this pasta is great – we've got to sell it.' So, he called it Spaghetti Quattro (for Italians only)."
The pasta has such a cult following, explains Patrick, that former Quattro on Fourth patrons will drive to the North Shore for it.
Quattro on Fourth was Patrick's "baby."
After taking hospitality management courses out of high school, but, more importantly in his opinion, learning the restaurant ropes from his dad and uncle – in the summer of 1994 Patrick placed a late-night phone call to his father.
"Dad, it's time to go big in Vancouver," he said. "Let's open the restaurant we've always dreamed of."
This marked a new era for the Corsis, one where Antonio started a new chapter with his son.
Mario would took over the Edmonton and Esplanade restaurants – and later co-own the Red Lion Bar & Grill in Dundarave.
Father and son, meanwhile, along with another business partner, opened Quattro on Fourth, in Kitsilano.
For two decades, it was a magical and prosperous time, recalls Patrick, with lineups out the door even during the typically sluggish period in November.
Once again, when Antonio was cooking, the movie stars showed up.
"Goldie Hawn became a fixture [at Quattro on Fourth], says Patrick. "I must have catered at Goldie and Kurt's [Russell] house at least 20 times."
Two year after starting Quattro on Fourth, Antonio couldn't resist bringing his Italian cooking to Whistler, where he opened Quattro at Whistler. In 1999, Corsi Trattoria was renamed Gusto di Quattro to bring all the restaurants under the same brand.
Quality control and upholding the Corsi's fine reputation is achieved by cultivating relationships as staff are brought into the Corsi family fold.
Over the past 25 years, staff have taken culinary tours with Antonio and Patrick, eating and drinking their way through Italy.
"We've been very lucky," says Patrick.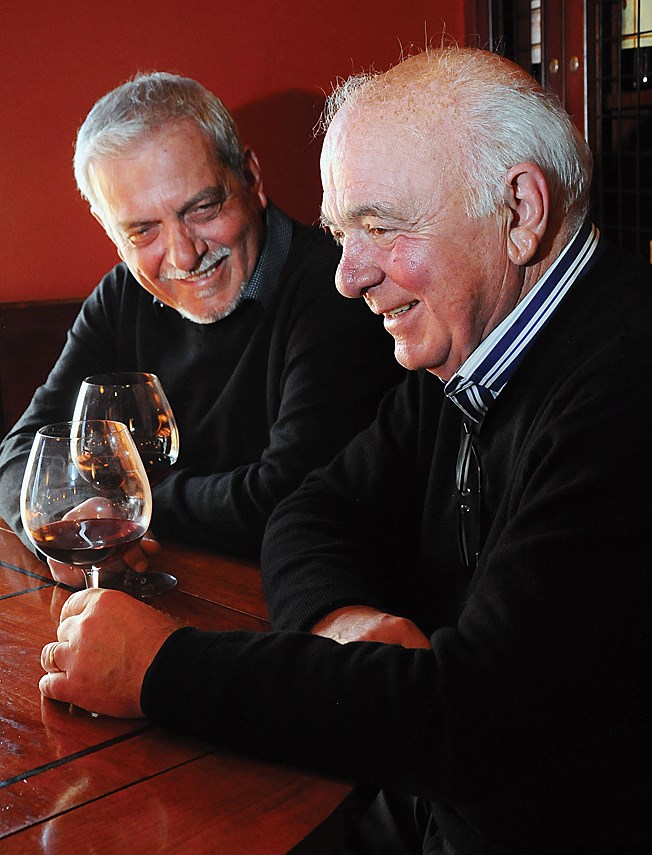 As he waits to takes the family restaurant in Lower Lonsdale into the next generation, Patrick is cautiously optimistic about the temporary closure during construction.
"The thing that I think we have going for us is we've been here for close to 40 years and I think that people know who we are," offers Patrick.
Big-time business deals have been brokered over Antonio's pasta.
"I never forget, for years and years and years, that back round table every Thursday night at five o'clock would be Jimmy Pattison and his wife," says Patrick.
The bartender would have a martini shaker at the ready to fill the couple's standing drink order.
For now, the plan is to lean on the thriving Corsi catering arm. Patrick is currently looking for a pop-up space on the North Shore, so customers can still get their Spaghetti Quattro fix during the year of construction. 
Patrick has been told by the city and his landlord they will be given 60 days' notice to vacate the current restaurant. Those 60 days will be the Corsi's time to pay tribute to the past.
Patrick is determined to get his dad, who stepped away to spend more time with the grandchildren, back in the kitchen a couple of nights before this chapter of Corsi history closes.
The new restaurant will not boast a modern room, promises Patrick. Loyal customers crave the intimate and rustic feel, paired with Antonio's tried and true recipes.
But one thing will change when the restaurant opens – the name.
It will be called Corsi's.
"This restaurant was always our family restaurant," says Patrick.