The Executive Group of Companies is a privately held, diversified real estate and hospitality properties business. It owns the Vancouver-based Executive Hotels and Resorts brand, under which some 17 properties are operated from New York to Seattle.
The Le Soleil hotel in downtown Vancouver has long been a good value property, in my opinion, with a comfortably modern boutique vibe, while the Exchange Hotel, a four diamond, LEED Platinum venue, made a splash when it recently opened following a lengthy, wholesale renovation of the Vancouver Stock Exchange space on Howe Street.
Most recently, Executive Hotels and Resorts launched the Seaside Hotel down at the endlessly growing Shipyards at the foot of Lonsdale. I learned of the hotel from a recent press release announcing the grand opening of the property's polished, seafood-forward restaurant, Seaside Provisions. Seaside Provisions is the latest hotspot to emerge out of what feels like a North Shore dining renaissance. To wit, Ancora Waterfront Dining, Heirloom Ambleside, Earls Ambleside, Nicli Antica, Bufala, JamJar, Tacomio, Hachiro Ramen Bar, a re-imagined Rusty Gull (The Gull), Wildeye Tasting Room, the ethereal and elegant Van Cha tea room, an expanded BLVD Bistro, Deuce Diner, the overhauled Beach House at Dundarave, the progressive Larry's Market, and the dramatically renovated Bowen Island Pizza Co. have all burst onto the scene in more or less the space of a year. The result has been an explosion of dining options for locals and solid reason for diners from across the water to hit up the North Shore, a phenomenon that was evident throughout this past summer when Friday night crowds in Lower Lonsdale seemed to reach fever pitch.
Competition is a good thing as it creates appetite for the whole category. On the other hand, it makes for a tough landscape for operators as they must compete for the finite dollars of local patrons. For all the McLaren and Ferrari owners that get their status symbols impounded for using the Lions Gate Bridge or the Upper Levels Highway as their private speedways, Vancouver remains Canada's most indebted city. Last year the CMHC reported that more than 80% of Vancouver's debt is directly linked to the exorbitant price of real estate. Perhaps this is why the city has never been able to support a true fine dining scene, failing to sustain high profile rooms from the likes of Daniel Boulud, for instance, who in Manhattan alone operates 10 very successful restaurants and cafes. I suspect a significant portion of the North Shore dining audience is heavily leveraged and acts very intentionally with their disposable income.
It therefore strikes me as exceptionally bold when a new restaurant player enters the space with a "refined" dining concept. Seaside Provisions, with its on-point cocktail list, stylish plating, and oceanic menu fare, definitely tows a polished line. However, here's the catch: the price tags, relative to the quality and sophistication of what is on offer here, are remarkably modest. With the exception of the impressive seafood towers, intended to share among multiple diners, the most expensive item on the dinner menu is $29, and that's for notoriously pricey wagyu beef. The vegetable, jamon (acorn-fed Ibirico ham), and seafood towers, $24, $39, and $99 respectively, are replete with thoughtful selections and make for good conversation pieces for the table.
I popped into Seaside for Sunday brunch, only the second time the restaurant had tackled this deceptively complex meal service, and took a seat at the open kitchen bar to watch the action. Other seating options were available at the bar proper, to the far left of the room, or in the intimate, moodily lit dining room. As a solo diner, I like to engage with a venue as much as I can and the seat looking into the open kitchen, from which I exchanged casual banter with the kitchen team, proved to be the ideal spot for my needs.
Within seconds of taking a seat I was approached by a courteous but thoroughly professional server who would, it turns out, anticipate my needs throughout my meal, keeping me well stocked with libation, fresh cutlery for my various courses, and recommendations on the best menu items. My various plates were set in front of me directly by the kitchen team that I watched prepare them, giving a familiar immediacy to the experience, almost like eating at a friend's house.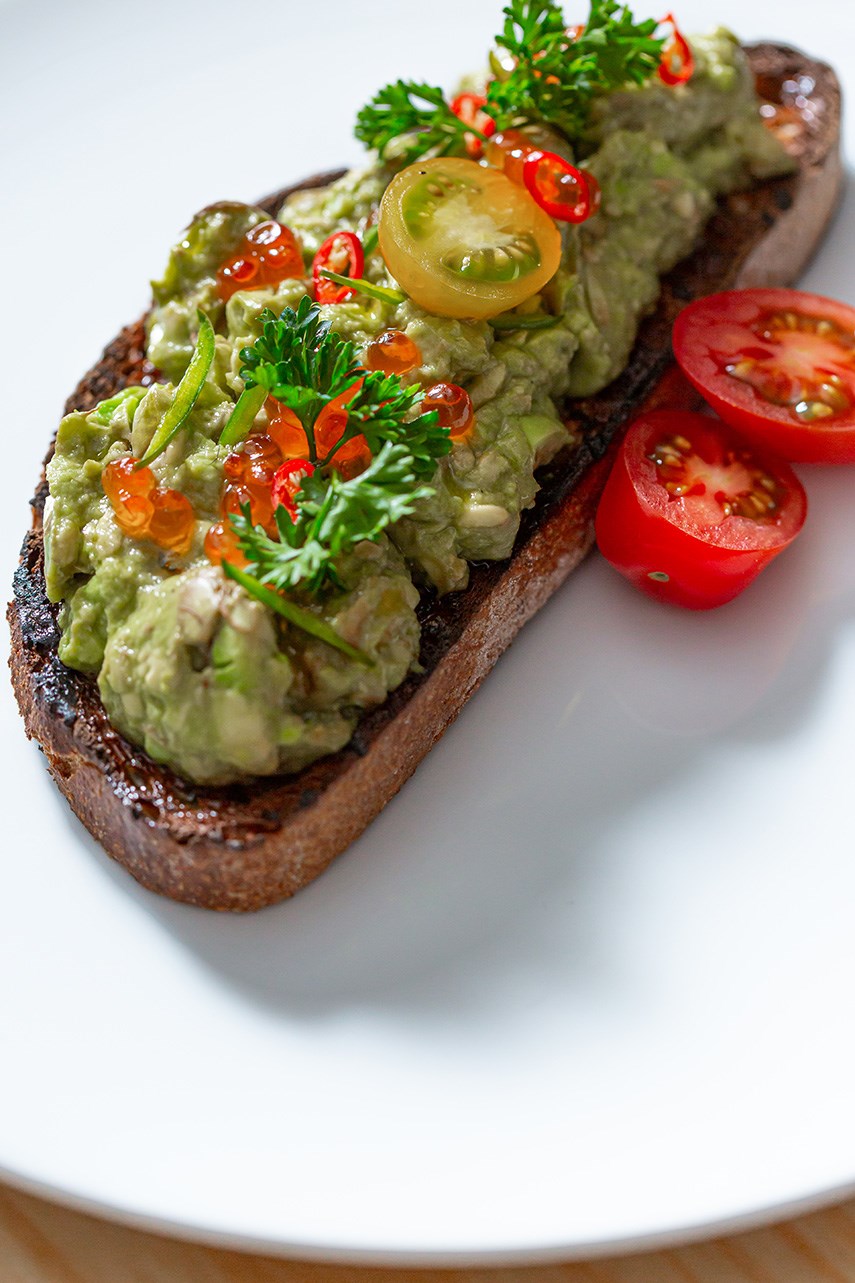 I sipped a wonderfully potent Americano as I considered the brunch menu, split nearly equally between appetizers and mains. A trio of oysters ($9) caught my attention and I was soon trading my coffee for a pleasantly toasty, ripe and round Chardonnay-based Cremant de Bourgogne sparkling ($14), a long-time personal favourite indulgence the best examples of which rival their more famous Champagne cousins in complexity and nuance. The sparkling paired nicely with the Denman Island oysters, served on the half shell in various interpretations, including one with jamon mojito (a subtle garnish of crispy Ibirico lardons and tart lime juice), lemon and ginger beer mignonette, and an unadvertised but ingenious iteration with smoky, heady wisps of bonito (smoked tuna flakes).
Next up was a delicate dish of Striped Bass Ceviche ($13), the tender morsels of ultra-fresh fish served at a perfect not-too-cold temperature, allowing the fish's subtle buttery flavours to shine through. The bass was garnished with thin ribbons of cucumber, lemon, pollen, and spicy chilli oil. The menu lists nduja, a fiery, spreadable pork salume traditionally from Sicily, as an ingredient in this dish, but beyond the orange-hued oil, I could not identify any plate elements that fit the bill. No matter, the dish was not lacking in any way and proved a great palate revitalizer.
A final appetizer of Jamon Iberico ($12) was a treat, though the combination of the generous portion of the ham and the low price tag (as well as the not quite melt-in-your-mouth texture) lead me to conclude this was not the famed Iberico de Bellotta, which I have seen command as much as $40 an ounce on Vancouver menus. But you see, once again, Seaside Provisions reveals a smart, unpretentious approach by selecting a very good quality ingredient (the jamon was still outstandingly succulent) that supports a sophisticated menu, without breaking the bank. The ham was thinly shaved by hand and presented with tangy cipollini onions, salty parmesan, and a drizzle of olive oil. Not listed on the menu, but more than welcome on the plate, were slices of castelvetrano olives and bright, piquant marinated chiltepin peppers. A two ounce pour of rich and round Oloroso sherry (regrettably served in a brandy snifter) paired nicely with the Ibirico ham.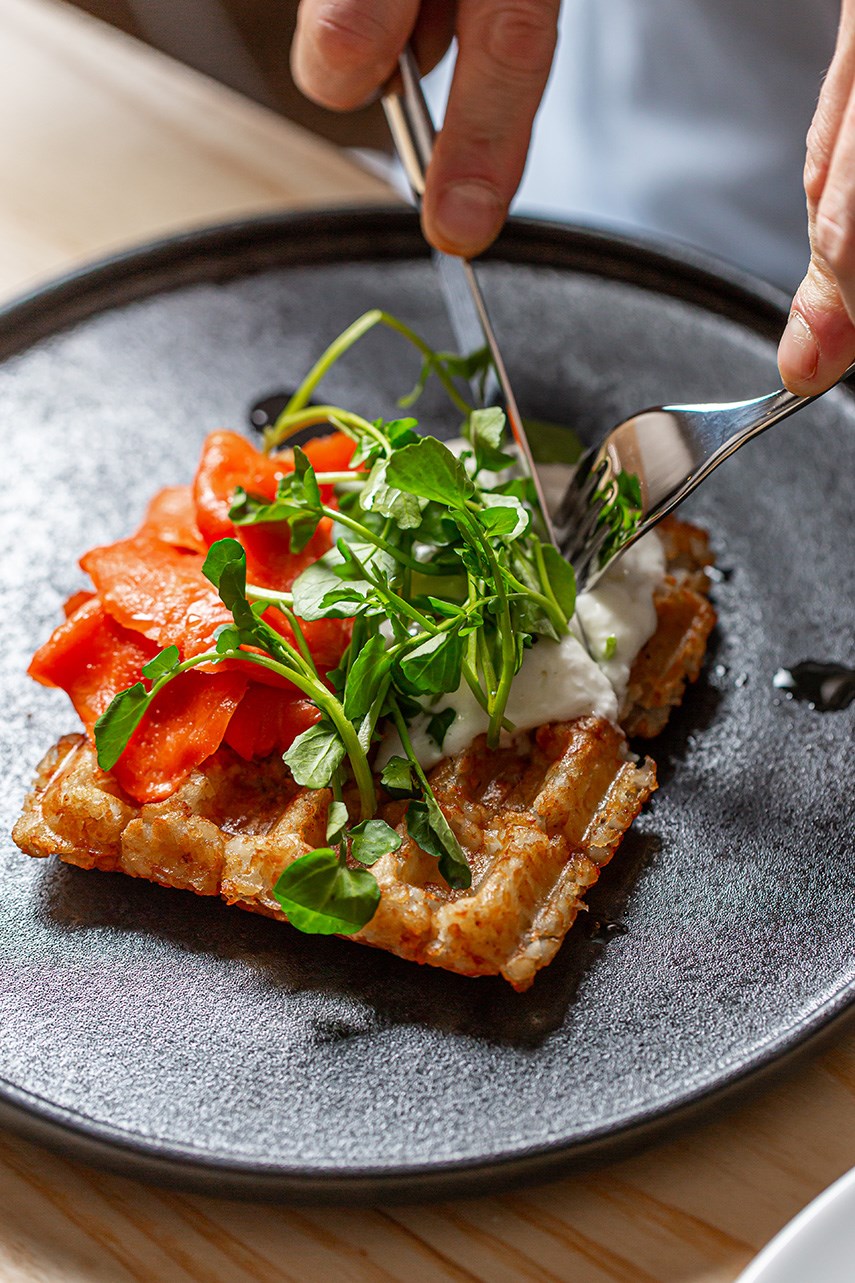 For my main course, I chose a Tot Waffle with smoked salmon ($19). The listed waffle toppings (smoked salmon, capers, shallot, crème fraiche, salmon roe) clearly betrayed that this was a savoury dish, but to be honest, I had no idea what Seaside meant by "Tot". That is, until I watched a member of the kitchen team carefully place little barrel-shaped potatoes (yes, Tater Tots) one by one onto a hot waffle iron, filling all the waffled gaps of the appliance. The lid was then closed and what emerged from the iron a few minutes later was a firm, heavily textured Tater Tot "waffle" which served as a base for the ingredients listed above. It was a novel dish and on aggregate I would say I enjoyed it, though I tired of the potato component once I had exhausted the salmon topping, which was about 2/3 of the way through for me, and the appetizers were, frankly, of a much higher quality. The chef working the line explained to me that on future menus, Seaside will likely swap the tots (which are not made in house) for grated potato from which will be fashioned latkes, or potato pancakes, for use as a foundation for similar toppings. Other Tot Waffles on the current menu include Ibirico Ham, and Wild Mushrooms with Burrata. I paired this smoked salmon dish with a glass of mineral-rich, nicely acidic Verdejo ($21 for nine ounces), a straightforward Spanish white. 
I watched the kitchen prepare a delicious looking avocado toast with soft poached egg that seemed like a winner to me and will draw me back for another meal, perhaps even before the tots have exited the menu.
Seaside Provisions, 125 Victory Ship Way (at the Seaside Hotel in the Shipyard District). 604-973-1477.