There is a dire shortage of cooking labour in Vancouver.
I have spoken to countless chefs and restaurateurs in and around this city over the course of many years and they all tell me the same thing.
Along with the homogenization of menus and the cannibalization of independent business at the hands of inexplicably popular juggernaut restaurant chains, lack of kitchen staff is the biggest threat facing the industry today.
This crisis does not exist because there are not enough facilities to teach the necessary skills for the industry.
Indeed, our city has some heavy hitters, from career-track programs at a secondary school level like the North Shore's very own Carson Graham Culinary Arts program (in co-operation with Vancouver Community College), to other long-standing institutions like the Pacific Institute of Culinary Arts or The Northwest Culinary Academy of Vancouver.
No, the reasons are myriad. For many young, would-be chefs, the realities of an operational kitchen are eye-opening. Fresh from school, green cooks have visions of heading up a kitchen straight out of the gates, advancing their principles of micro-gastronomy, and guest judging on the latest TV cooking competition.
Instead, in reality they encounter 16-hour workdays, commensurately low pay, relative anonymity and a pecking order inherited from the commercial kitchen's militaristic origins (think of the hierarchy implied in a work structure that includes a chef and sous-chefs, a chef de partie, saucier, entremetier, mise en gard, commis, etc.).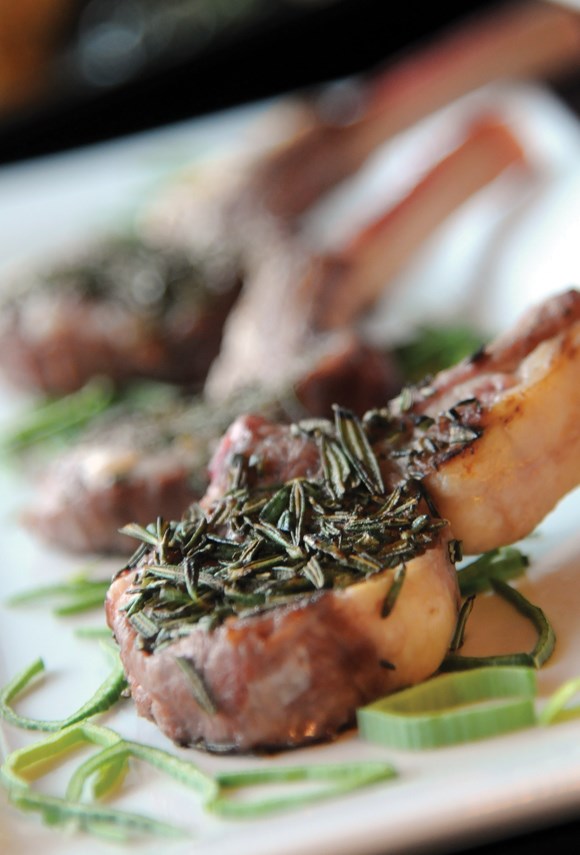 It's all a bit too much work and too little glory for many and they either leap from one minor, perceived advancement opportunity to the next, or leave the industry entirely.
Either way, cook retention in Vancouver is a nightmare.
I have been on the receiving end of numerous meals prepared by novice self-declared chefs; they tend to be highly academic with a penchant for design over substance and, I suspect, ultimately account for no small share of failed restaurant ventures.
In the hands of a master, someone who has worked through the ranks and understands the delicate relationship between ingredients and the sensory experiences they impart, a meal can be flawless without calling too much attention to itself or intimidating the diner with showy technique.
As I sat on the airy patio at Louis Gervais Bistro on Harbourside Drive one recent weekday, basking in the early rays of spring sunshine and greedily spooning up every last drop of the bistro's signature Tomato Vodka Soup, it was evident I was in the hands of a master.
The eponymous chef was on hand during my visit and had actually arranged an extensive tasting for me (the bistro and catering menus are different, so I could not experience the latter on an anonymous review visit). He had the sleeves of his chef's whites rolled up in the mid-afternoon sunshine, revealing a blue fleur-de-lis tattoo worn proudly on his left arm.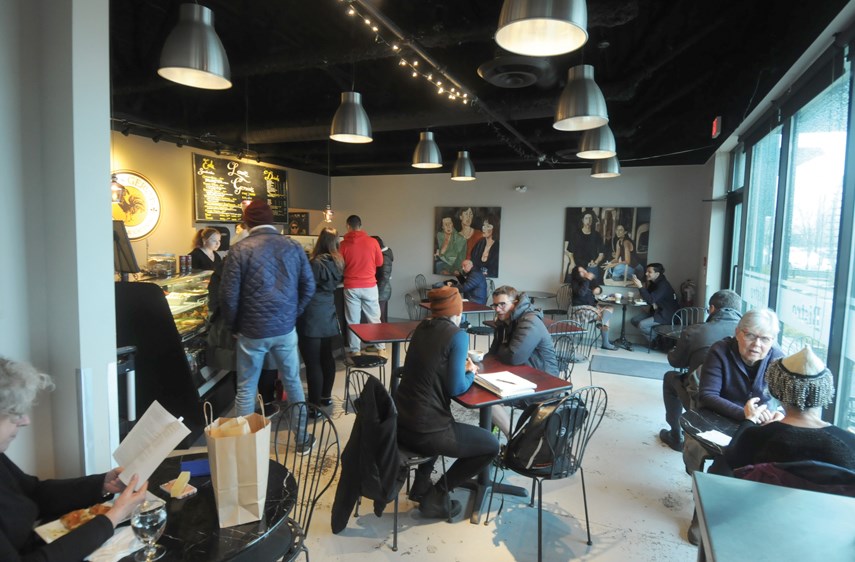 You see, Gervais started in kitchens in his early teens in Montreal and worked himself up through the ranks of restaurants and major hotels before doing an about face and focusing on his own small, family-run catering operation.
He cites watching his family prepare meals of traditional Quebec fare as a child as inspiration for his career path.
On the topic of pursuing an independent catering company rather than a top-of-the-heap hotel job, Gervais is disarmingly earnest.
"I just want to talk to people," he explains. "We have these big roll-up doors in the back, I keep those open so I can interact. I want to be hands-on still, in my business. I still wash dishes."
Chef Gervais (let it be said, he has more than earned the designation) is an industry lifer who is clearly comfortable with how his food and approach to business has given his creativity expression.
His dishes obviously draw on a lifetime's experience with numerous styles of cuisine and countless hours spent on all of the traditional kitchen line stations (he holds master saucier status), and yet they remain, somehow, thoroughly grounded and accessible.
Gervais explains that 80 per cent of his business is in catering, which is a particularly impressive statistic when you consider that nearly every seat in his bistro was occupied mid-week in March.
He handles everything from bridal showers and weddings to corporate lunches, team events and high-end, in-home dinners.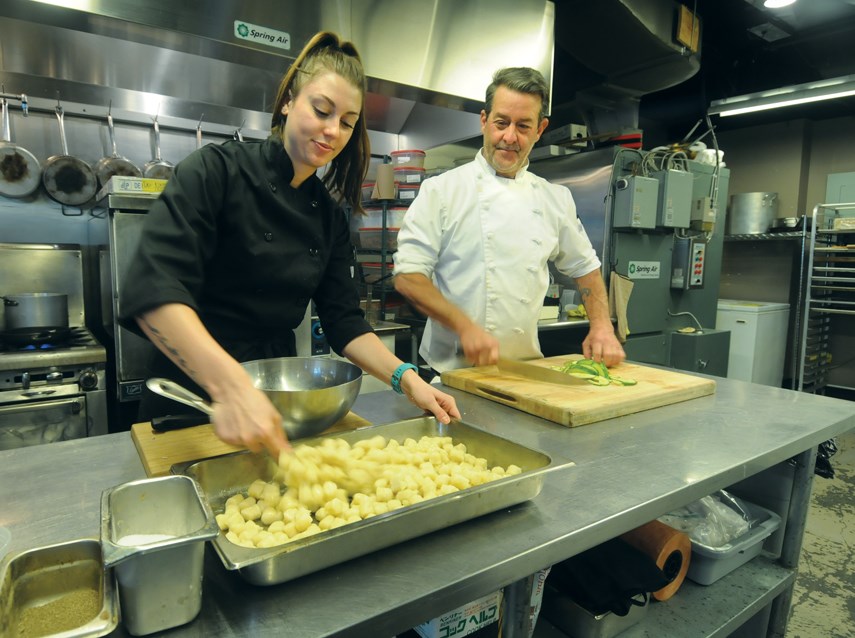 His nicely appointed Harbourside Bistro space, with its open kitchen concept, also hosts cooking classes where participants can bond while they realize a tasty meal over a glass or two of wine.
From the catering side of the operation, I sampled three meaty lamb chops, the bones of which had been immaculately stripped ("Frenched" is the term). The lamb, which was tender and moist, had been subtly lifted with lavender, a traditional Provence herb the perfumed notes of which for me foreshadow summer.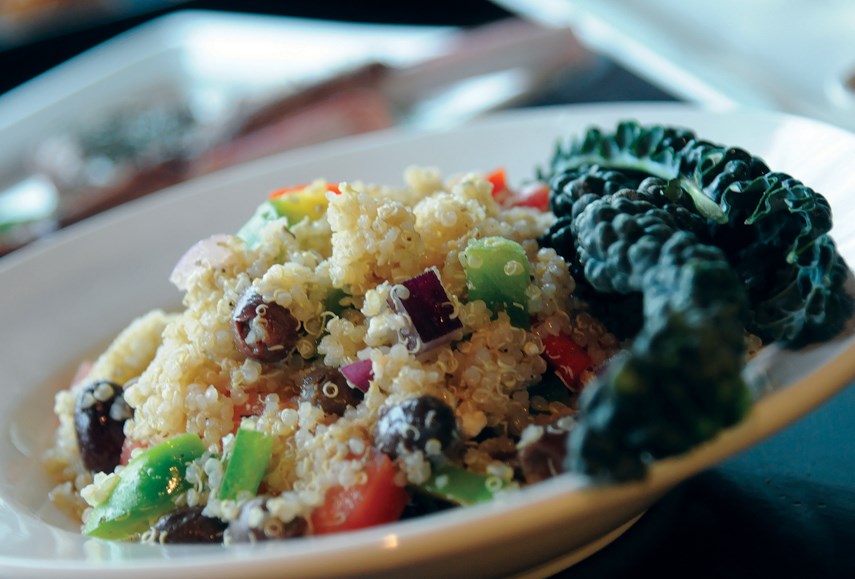 A second soup, this one made of celeriac with a quenelle of Bosc pear and quince jam (the quince grows on the tree under which I was sitting) was bright and warming, at once earthy and light.
Dainty morsels of ultra-fresh tuna poke were presented atop sliced cucumber and topped with a dollop of just-right salty, tangy, slightly spicy mayo and toasted black sesame. Chef Gervais employs a blend of 18 spices he makes in house to season the tuna and add some complexity to a popular dish, but once again, exercising learned restraint so as not to overwhelm the central ingredient.
Golden brown, rich, crispy-on-the-outside, creamy-on-the-inside croquettes of mac and cheese sat atop a spicy aioli and revealed decidedly adult flavours of white wine, garlic and herbs, while housemade vodka-cured salmon was a buttery, delicate treat wrapped in springy crepes with scallion crème fraiche.
From the Bistro's daily special menu, I tucked into a hearty and delicious square of focaccia topped with charcuterie (coppa ham, prosciutto, and maple ham from nearby Two Rivers) as well as an extraordinary wrap filled with the pinkest, most buttery and understated ahi tuna I've had recently outside of a sushi restaurant.
The nail in my coffin came in the form of an exquisitely moist, nicely spiced carrot cake (Gervais chooses to make rustic comfort sweets given his proximity to patisserie master Thomas Haas) and a stellar latte.
Louis Gervais Bistro is open Monday to Friday from 8 a.m. to 4 p.m., although the space (with its truly wonderful patio) can be booked out for catered evening events.
Louis Gervais Catering and Bistro is located at 850 Harbourside Dr. in North Vancouver (parking in the back). Get in touch with Louis Gervais for catering enquiries at 604-904-7720 or visit louisgervaiscatering.com.