For better or for worse, budding cartoonist Evan Panton wants to be like Lynn Johnston when he grows up.
"I admire Lynn Johnston because she is Canadian and produced one of the best comic strips ever," says Panton. "Her characters are interesting too because she made them grow up over the years and get old." 
When the Grade 5 Cleveland Elementary student first looked at a newspaper, he says he was attracted to the political cartoon because it was the easiest thing to read – a drawing right in the middle of a page of words.
"Some of them were obviously funny if they had physical comedy, but some of them I didn't quite understand," admits Panton, adding he also likes the newspaper cartoon because it is "cleaner and neater" than some other published comic strips.
Calvin and Hobbes piqued Panton's interest after he got the comic book as a birthday present.
"Then I discovered my dad had some other comics from when he was a boy like For Better or for Worse, Far Side and FoxTrot," says Panton. "I have always liked drawing, so I tried copying them and then started with my own characters and stories."
Panton usually picks the kitchen table at home on the weekends to do his drawings so he can ask for some spelling help if he needs it. 
"Sometimes I like just doodling and drawing characters and pictures instead of a full strip with a story, and I like copying characters from comic strips which are funny or really well-drawn. But sometimes I get inspired with an idea and I like to draw a series based around one storyline," explains Panton.
Panton says he draws inspiration from the kids in FoxTrot and For Better or for Worse who are often getting into trouble or into silly situations because he can relate to them.
If Panton is feeling inspired, it can take him just 20 minutes to carve out a cartoon. 
"It depends," he says.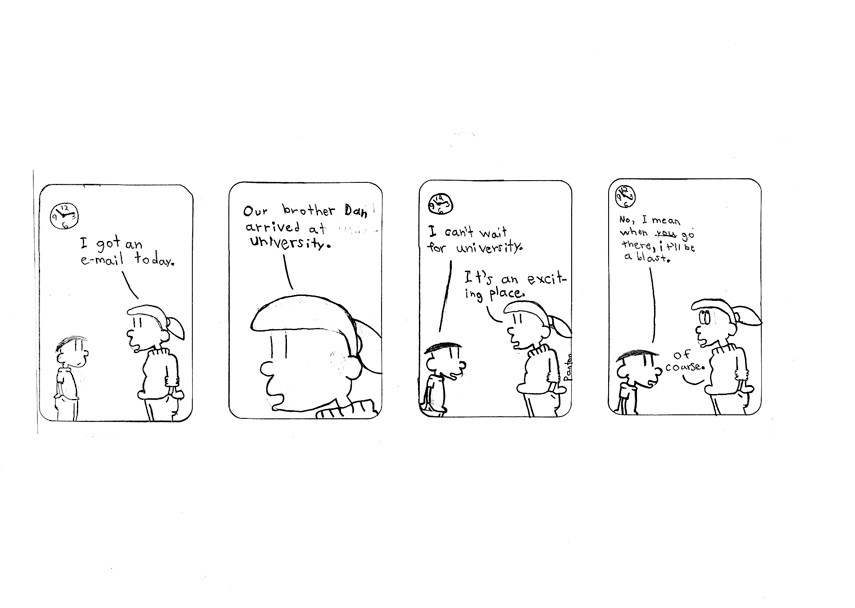 Using some proper drawing paper that his mom gave him, Panton selects a pencil for the first draft. 
"If I like it then I use a black pen to fine-line the dialogue and drawings," he says.
Panton is currently taking an art class that teaches different drawing strategies including the use of shading.
"I usually don't colour my comics yet because I like how clean black and white looks," explains Panton. "Using felt pens can sometimes smudge a good comic. Pencil crayons work but they don't give a solid colour like in published strips."
If Panton could draw his future career, it would involve art in some way.
"I would love to be a cartoonist if possible but I know it would be a lot of work if I had to make a funny cartoon every day of the week," he says.