Ande Axelrod's colourful jewelry is a deceiving treat.
South American tagua palm trees bear diamonds in the rough that are at the heart of Axelrod's designs for her company called Treats Designs.
The tagua seeds are dried, carved, dyed and polished into beautiful beads for Axelrod to create necklaces, bracelets and earrings that are lightweight and comfortable to wear.
"You can wear a bold statement piece and not end up with a headache or sore neck at the end of the day," says Axelrod.
The North Vancouver artist first saw tagua seeds in 2011 when Axelrod and her husband took a trip to Ecuador and the Galapagos Islands.
"We went to a market town in the Andes, called Otavalo, and I saw tagua made into jewelry, buttons and small carvings," recalls Axelrod. "I was struck by the texture, feel, shapes and the amazing colour of the beads made from the seeds of the tagua palm tree."
Axelrod peeled back the layers to learn, when polished, natural tagua looks and feels identical to elephant ivory. The artist saw vast creative potential in the unusual medium, as well as an opportunity to express her commitment to ethical and sustainable values in her artwork.
"It's so versatile," says Axelrod of the tagua seeds. "The pieces can be carved into regular shapes like discs, circles and round beads, or left more natural and organic. It's lovely in its natural ivory colour … ."
Known as "vegetable ivory," the off-white coloured tagua seeds can not only be made into stunning carvings and jewelry, but they are also helping to save some elephants from being poached for their ivory.
"Harvesting tagua causes no harm to animals or the ecosystem, and provides an economic incentive for local communities to protect the rainforests," explains Axelrod, who in 2015 established a fair-trade partnership in the village of Sosote, Ecuador, where she sources her tagua from.
Having spent a fair amount of time in Sosote, from what Axelrod has seen, the living and working conditions are good for the residents of the village.
"I know their business seemed to be doing well when we first met, and I feel good about contributing to this business, opening a new market for them in Canada, and how it offers work for many people through the various activities involved in harvesting the nuts and crafting the beads," says Axelrod.
Thousands of miles to the north of Ecuador, Axelrod designs and handcrafts her tagua jewelry from her home studio in Upper Lonsdale. She uses sterling silver, hemp, leather, and latex-free rubber to finish her colourful jewelry.
A string of tagua seed jewelry can add a unique pop of colour to a little black dress or darker attire for a formal event.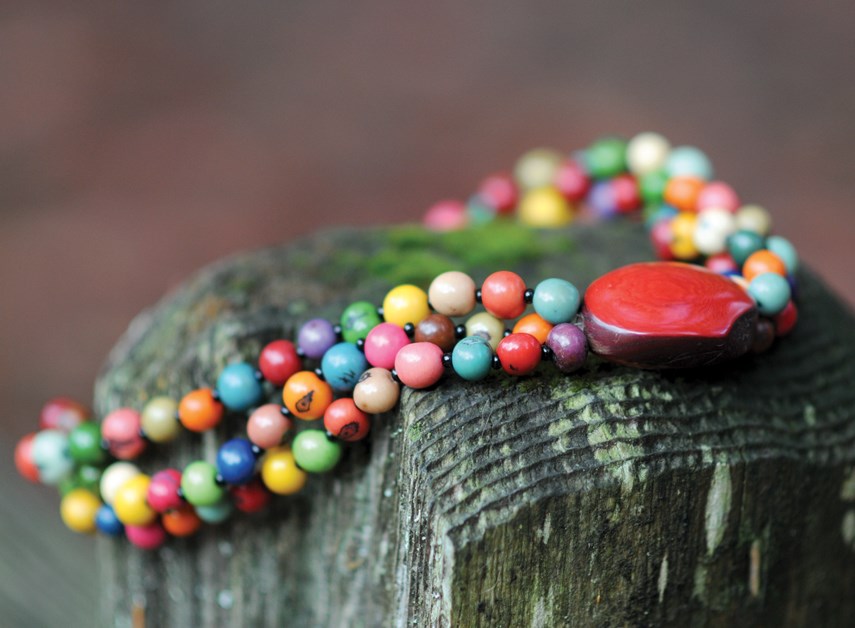 The designs, many of which are adjustable in length, are also fun to wear with a T-shirt and jeans.
Prices range from $20 for a stretchy bracelet to $129 for a sterling and tagua necklace.
A full-time artist, Axelrod is gearing up for a busy holiday season selling her colourful baubles – starting with Circle Craft Christmas Market, Nov. 7-11, at the Convention Centre West in Vancouver.
Treats Designs' jewelry is also included in the Great Gifts pop-up shop at the Ferry Building Gallery in Ambleside, featuring work from a selection of local artisans.
Year-round, you can find Axelrod's handiwork at 32 Books in Edgemont Village, the End of the Line General Store at the top of Lynn Valley Road, or online at treatsdesigns.com.