North Vancouver French immersion students got a chance recently to learn how knowing a second language can open up future career opportunities.
Over 20 francophone professionals were invited to come to the francophone career fair, to speak to Grade 10 Windsor and Handsworth secondary French immersion students taking the school district's new careers and leadership course.
The event, organized by teachers Laura Stewart from Windsor and Handsworth's Tara Aberneth, took place earlier this month at the Education Services Centre on Lonsdale Avenue.
Grade 10 Windsor student Kade Steffen said he hopes to use French as an advantage in his future career in nursing.
"I'm so happy that we're doing this because a lot of us, my classmates and myself, don't get to really see the perspective of how much learning French can helps us. It's just a couple classes in high school and we usually don't use it much in our lives but we could end up using it for our careers, for the rest of our lives, and I think that's really great to see that," the 16-year-old said.
The event was part of one of the new courses that came out of a 2016 school district review and revision for French immersion programs.
Joanne Robertson, the district's director of instruction, said they found students wanted more opportunities to have authentic communication and interactions with the language and to have relevant courses they could use outside of school.
"We really wanted to align with the new curriculum in terms of giving kids more relevant, authentic and meaningful learning experiences in their second language program," Robertson said.
French immersion teacher Laura Stewart said these courses aim to give students an authentic communication experience and to bring the francophone community into the school.
Students cold-called and invited every professional who came to the event.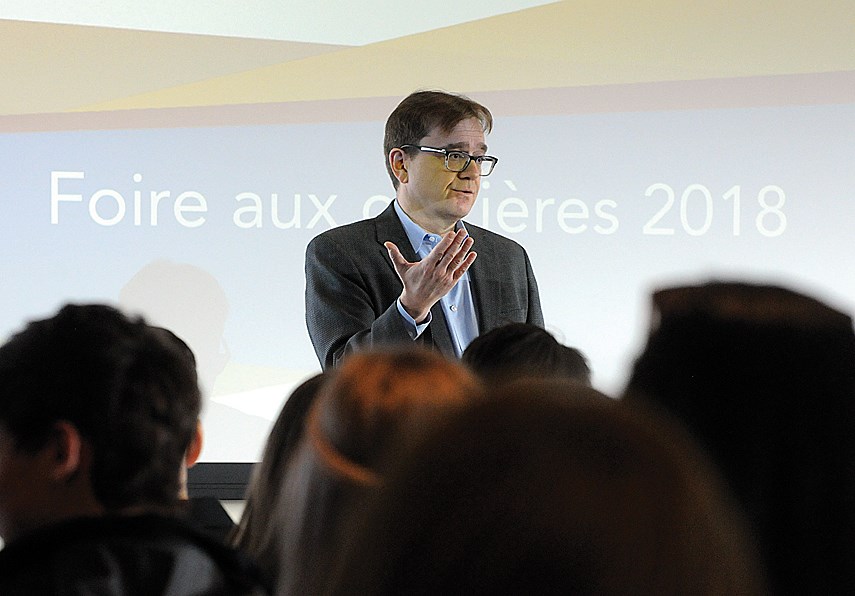 Lawyers, real estate agents and artists are just a few of those who came to the fair to talk about how they use French in the workplace.
 "The goal of this event is to show kids just how much of a francophone community there is in Vancouver and how it's used by professionals and their daily lives across the city and across the province," Stewart said. 
North Vancouver Liberal MP Jonathan Wilkinson was one of those who attended the event.
During the question and answer portion of his talk he answered questions in English and French.
Early in his education, Wilkinson learned a bit of French, but since he was elected in 2015 he has been working to improve his second language skills by taking lessons every week, he said.
"Learning French is important for a few reasons. First of all, it opens your eyes to a whole range of different cultures around the world and makes those cultures more accessible, whether that's French or another language, so I think learning more than one language really enables you to be a much more engaged global citizen," Wilkinson said.
"Many of these kids when they take time off and travel at some point, this will enable them to actually be participants in a world that they wouldn't see otherwise."