I grew up watching the TV show M.A.S.H., some of it as first-run and then all of it again, several times over, as re-runs.
So much about that show appealed to me as a kid, from the irreverence of the two main characters to the idea that humour and humanity could still be found in the darkness of war. These are my adult interpretations, of course, applied retroactively to my childhood viewing, but still, I think I had a sense of those core themes when originally watching the antics of Hawkeye Pierce, B.J. Hunnicutt, Radar O'Reilly, Frank Burns, Major Houlihan, etc.
I remember in particular being struck by the ingenuity and roguishness of the glass still that Drs. Pierce and Hunnicutt devised out of army-issue medical equipment, affording themselves a taste of home in the form of high proof alcohol that they consumed up and neat in Martini glasses. There was an element of mad science to it all, tempered by sophistication and ingenuity.
The Woods Spirit Co., a fascinating addition to our craft beverage scene, reawakened my admiration for the can-do attitude  of M.A.S.H.'s insouciant surgeon-distillers as I dropped in recently for a taste of their wares and a glimpse of how they are made.
I met with co-owner and chief distiller Fabio Martini, a man with a unique approach to craft spirits that includes using a custom-built vacuum still that comes into play heavily in the provision of the bright and fresh flavours of the botanicals that are employed in the operation's two current products: a complex and conversation-worthy amaro and a bold, spicy, juniper-forward dry gin. We'll come back to those spirits in a minute, but for now, I'd like to back up to consider how The Woods came to be, as the journey clearly informs the products. Martini hails from an Italian background and remembers being around the distillation of grappa throughout his youth, as well as surrounded by traditional Italian spirits. He pursued an early career in the trades, which, he explains, has come in very handy in the equipment-dependent distilling business, where near constant adjustments and repairs are the reality of the game. He eventually tired of the journeyman life and pursued organic agriculture at UBC, from which he embarked on an entrepreneurial business leading foraging sessions in the local woods, as well as time spent learning about the local drinks landscape working for a craft brewery. An amateur mycologist, Martini finds deep pleasure in spending the day unearthing nature's treasures under the forest canopy, allowing a basket full of the day's finds to inspire a great meal.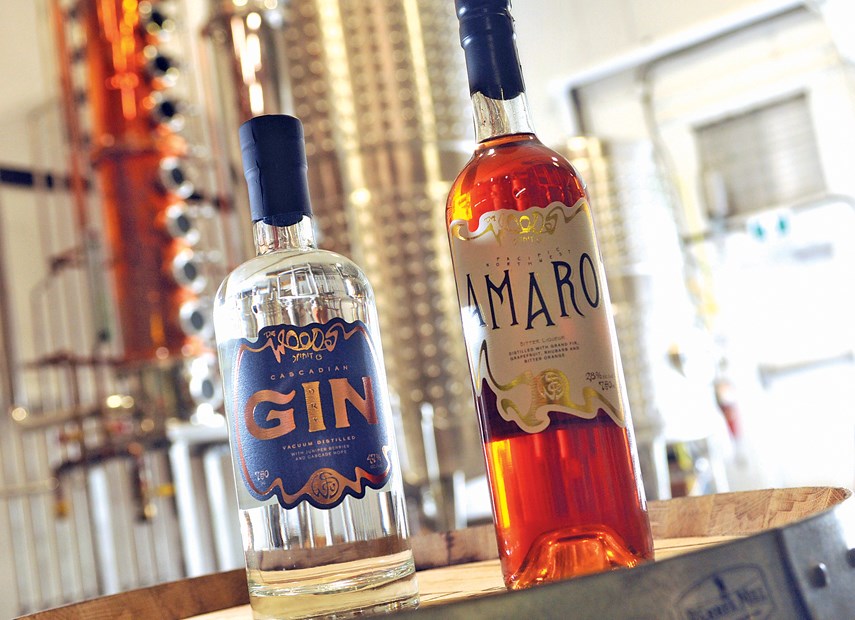 It is this inspired-by-nature approach that informs The Woods Spirit Co. From right here in our own woods, which still flank our urban developments and provide welcome escape from them just minutes away, come some of the most sophisticated and nuanced flavours a craft distiller could ever hope for. Martini distills each botanical in his spirits separately using vacuum distillation. I will not pretend to understand this method adequately to explain it here, save to say that the distillation takes place at a far lower temperature than in a traditional still, ensuring that the ingredients preserve their fresh, potent flavours since they are not being stewed or boiled at high heat. 
A key ingredient in the distillery's signature amaro (a bitter Italian liqueur that most of us would know through the Campari or Fernet brands on our market) is Grand Fir needles, which impart a truly unique grapefruit-like character with only subtle hints of fragrant woodiness. Grand Fir is married with gentian root, rhubarb, B.C. blackberry honey, and wormwood. The result is a beautifully pinkish orange-hued distillate with an incredible nose of faintly smoked cedar (like a hint of faraway campfire), citrus and pepper, with a touch of burnt caramel. On the palate, the amaro is bright and bracing in its well-integrated bitterness, which is nicely juxtaposed against a fresh herbal character and extremely subdued sweetness that is far, far, less sugary than anything you'd find among mass-produced commercial brands. It is a versatile spirit, ideal for refreshing summer cocktails. As a purist, I have been enjoying the bottle I brought home with soda and a strip of orange peel.
The Cascade Gin that I sampled after the amaro was, simply put, one of the most surprising and thoroughly enjoyable gins I have had in years. I attended BC Distilled this year and must have tried 30 different gins over the course of the event. So few of them had the clean, spice-forward palate that I have come to love as a not infrequent visitor to the U.K., where the London Dry style was born. Martini uses fresh juniper berries, the vacuum distillation of which gives a next-level fragrant intensity, as well as a unique local flavour, the Cascade hop, which contributes another layer of fresh herbaceousness and perfume. The Cascade Gin also boasts spicy notes of black peppercorn, orris root, peel of lemon and grapefruit, as well as a tiny hint of star anise overtop an exceedingly clean, crisp neutral grain spirit also made in-house of 100 per cent wheat.
Martini teases that there may a limoncello in the works for future release, as well as a crème de cacao, a few new riffs on gin (including iterations made with smoked juniper and nasturtium), and other creations that will be inspired by a walk in the local woods.
Woods amaro and gin are available through the distillery (the tasting room is currently only open Saturdays from 1 to 7 p.m., with a view to expanded hours and some food service pending further permitting) and at a number of local private liquor stores and restaurants.
The Woods Spirit Co.,
1450 Rupert St., North Vancouver.
TheWoodSpiritCo.com.
604-787-1735