Ian Rose-Innes is on a mission to recreate for mobility-challenged North Shore seniors that feeling of riding a bike for the first time.
"The right to the wind in your hair" is the mantra of Cycling Without Age, a movement to get the elderly back on bikes that started in Copenhagen six years ago and has since spread to close to 40 countries worldwide.
The best part is the seniors can just sit back and enjoy the ride from the front of a trishaw – a specialized bike with two seats up front and the pilot at the back. As the initiative rolls along, the elderly are sprung from isolated environments and rolled out into the world where they enjoy the sun on their face and are filled with childlike glee.
Rose-Innes, a retired engineer, was inspired to bring a Cycling Without Age chapter to the North Shore after a friend was diagnosed with a brain tumour. The treatment left his friend with degraded abilities, followed by a series of strokes that rendered him a quadriplegic and unable to speak.
"One day I thought, I'd like to take him for a ride around the False Creek seawall and go and have some coffee," recalls Rose-Innes.
However, the bike shops in the area didn't have suitable equipment to tour older adults around in. Through Rose-Innes's travels in the local biking community he learned about the Copenhagen movement.
"Seeing that need is what motivated me to get going with Cycling Without Age and try and put it in place here," says Rose-Innes.
With cycling infrastructure investments being made on the North Shore, Rose-Innes sees it as an opportunity to get his trishaw project rolling, but he still has some financial and logistical obstacles in front of him. A trishaw costs $17,000. 
Rose-Innes is hoping the District of West Vancouver seniors' centre will cover some cost of the equipment after the board reviews his formal proposal. He is also appealing to other public entities and the private sector to fund the bikes.  
Rose-Innes is a volunteer who regularly cycles with groups running out of the West Van Seniors' Activity Centre. He sees the centre as an ideal place to drop an anchor for a Cycling Without Age project, which requires an organization to take ownership for things such as insurance and storage. 
"It's a great experience every time I go out," says Rose-Innes of cycling. "It's about making a bunch of good friends and physical fitness."
Cycling Without Age is driven by active citizenship – volunteers who want to make a difference for someone while getting exercise at the same time. Volunteers could be recruited from the West Van seniors' cycling groups who would pilot the specialized bikes and be trained in assisting those with dementia and special needs.
"It's about creating relationships between people," explains Rose-Innes.
There are three pieces of cycling equipment Rose-Innes is looking at implementing here: a trishaw, duet cycle and team dual trike. Considering the steep gradients on the North Shore, all of the bikes would be equipped with electric assist.
For the trishaw, the passengers would need to be able to transfer from a wheelchair. If that's not possible, then a duet cycle, where a wheelchair attaches to a bike, can be used. On the team dual trike a pilot would accompany a resident who may be visually impaired or suffering from dementia but who is still physically fit and desires exercise.
The plan would be to embark from the West Van seniors' centre and care homes in the area and take residents for a ride on the bicycle paths.
Victoria has two trishaws operating with a third one on the way, according to Rose-Innes. Other communities in Canada also have Cycling Without Age chapters.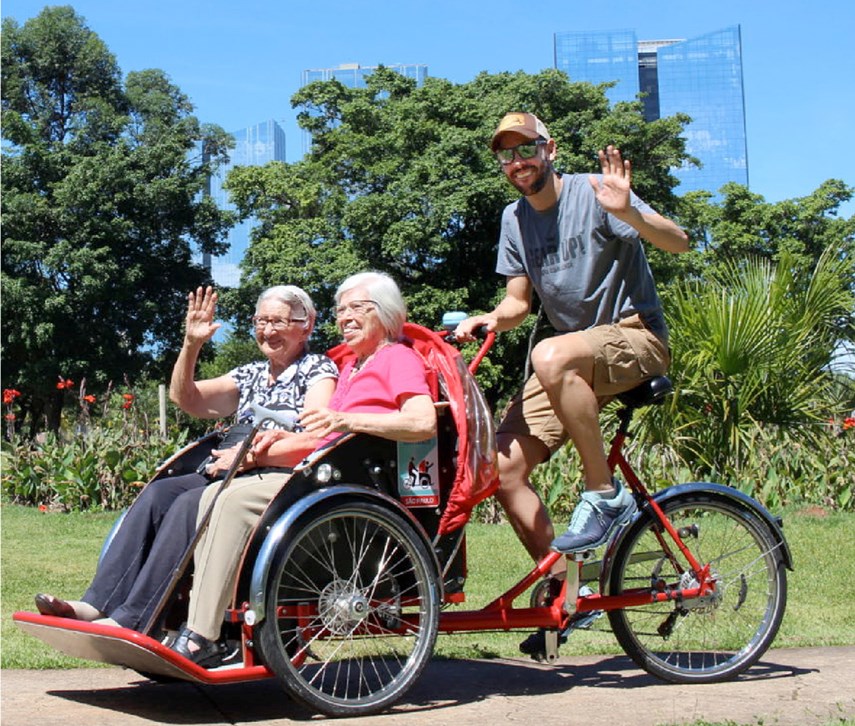 Rose-Innes is hoping to get one off the ground here by next summer, as it takes five to six months for the equipment to arrive from Denmark once ordered.
Through the Cycling Without Age initiative more than 50,000 elderly people around the world have gotten back on bikes.
On the North Shore, Rose-Innes is looking to recapture smiles and memories in seniors.
"We believe that life can and should be beautiful even if you're close to 100 years old," he says.