The reasons behind popular taste in names can be difficult to pin down. A considerable amount of cultural tradition in the U.S. can be traced to Britain, where conventional names such as William, John, Anne, or Elizabeth harken back to a long history. Those names were in use by established, secure families and tended to be passed down. Then came the Industrial Revolution, with its social upheavals and increased literacy. Many people didn't limit themselves to naming children after their elders; they read books and encountered character names in novels by authors such as Charles Dickens. He's said to be responsible for the trend in floral names for girls in the Victorian era, like Flora, Daisy, and Rose. Today, parents have access to nearly every name ever given, via Google searches and baby name generators.
Stacker created a list of the top 50 most popular baby names shared by famous musicians using Behind the Name's list of notable musicians and the Social Security Administration's 2019 name popularity rankings. Ties were broken by the names' popularity or the number of babies given those names.
Take a look at the list and consider the origins and meaning of these 50 most popular names shared by famous musicians. It might be too late to turn your Adele away from her planned career in accounting, but if her middle name is "Billy," she might be a songwriter yet.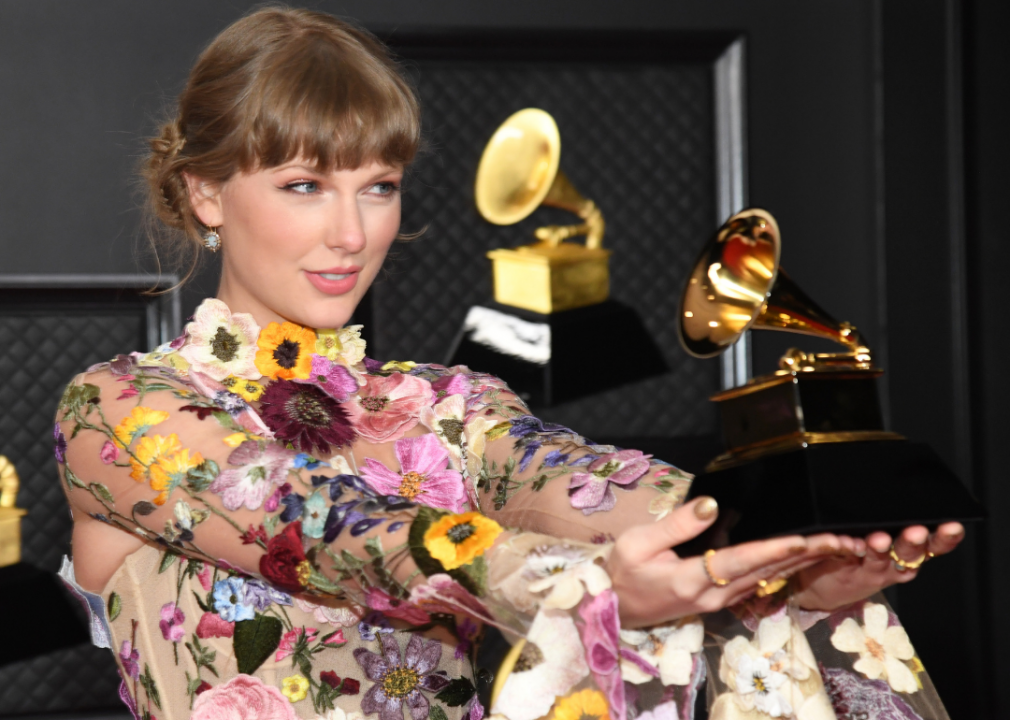 Kevin Mazur // Getty Images for The Recording Academy
#50. Taylor
- 2019 popularity rank: #289 (2,042 babies born)
- Name shared by: Taylor Swift (1989-)
Taylor is an occupational name derived from the word of someone who makes clothes. Today, the name is given to both boys and girls. Singer-songwriter Taylor Swift has crafted a music empire, starting with country tunes and moving into pop. In 2012 she established the Taylor Swift Education Center at the Country Music Hall of Fame in Nashville as a way to help other young performers.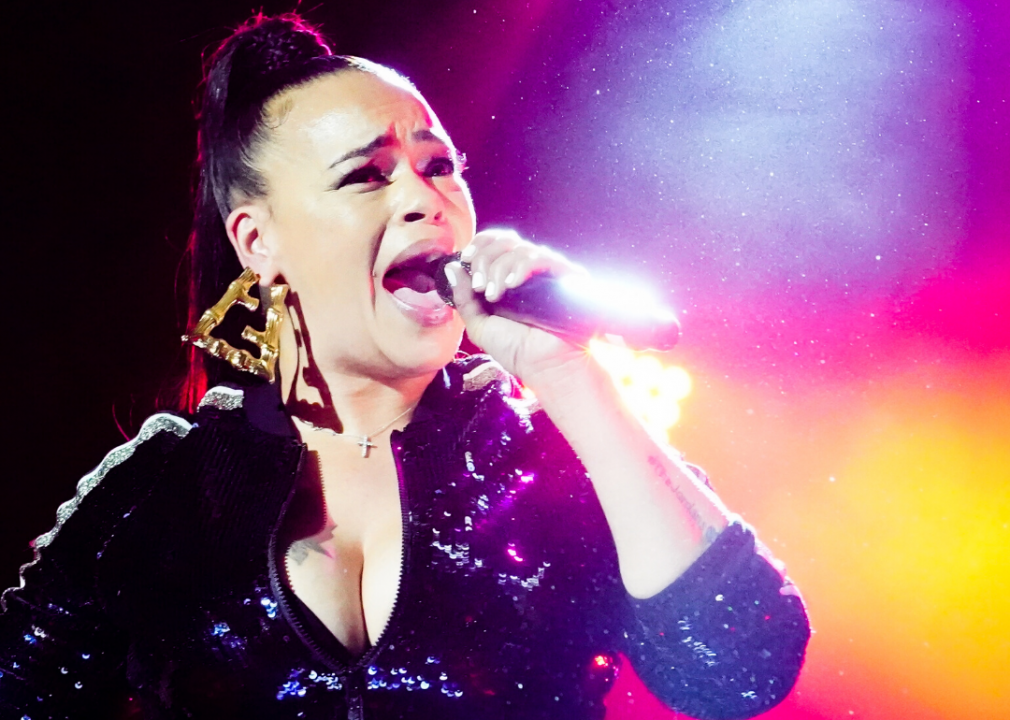 Rachel Luna // Getty Images
#49. Faith
- 2019 popularity rank: #266 (2,243 babies born)
- Name shared by: Faith Evans (1973-)
One of R&B's top stars in recent decades bears a given name that denotes a trait of unquestioning belief and confidence. A singer and record producer, Faith Evans's unmistakable voice has appeared on at least seven studio albums and 34 hit singles. She was signed with Bad Boy Records in 1994, putting her front and center during that decade's East Coast/West Coast hip-hop culture conflicts.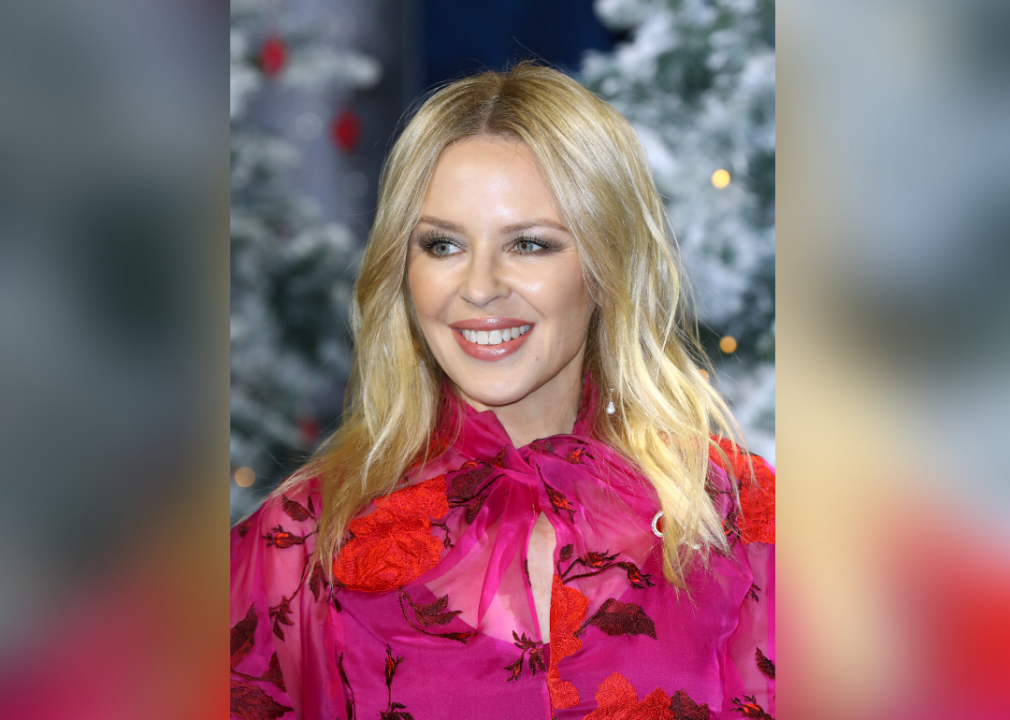 Tim P. Whitby // Getty Images
#48. Kylie
- 2019 popularity rank: #265 (2,244 babies born)
- Name shared by: Kylie Minogue (1968-)
Pop singer and actress Kylie Minogue was born in a suburb of Melbourne, Australia, to father Ron and mother Carol. While these details don't hint to the origin of her given name, it's likely that she's behind some of its recent popularity. Her recording career began in 1994 and has included dozens of awards and albums. She was diagnosed with breast cancer in 2005, and public awareness of her treatment may have resulted in an uptick in mammograms in what Australian doctors referred to as the "Kylie effect."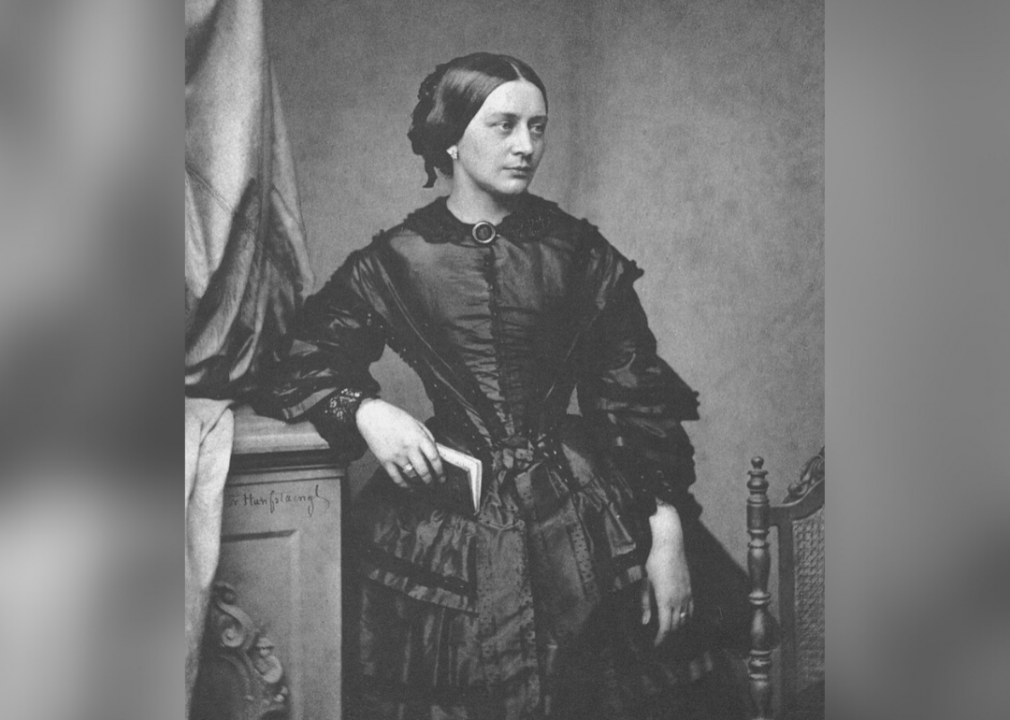 Franz Hanfstaengl // Wikimedia Commons
#47. Clara
- 2019 popularity rank: #209 (2,929 babies born)
- Name shared by: Clara Schumann (1819-1896)
The name Clara may have been especially popular in the late 19th century due to the fame of Clara Wieck Schumann. She began playing the piano at age five and was instructed by her father. She began public performances at age 13 and began composing music as well as teaching piano. In 1840, she married composer Robert Schumann and often performed his music on the concert stage to earn money for the couple and their eight children.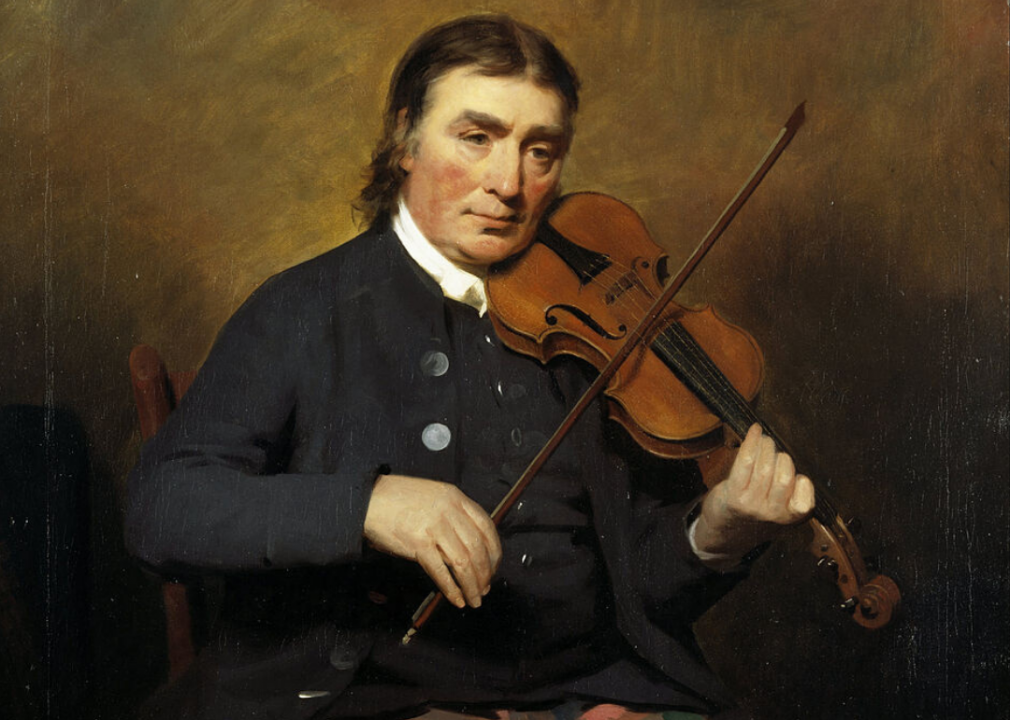 Public Domian
#46. Nathaniel
- 2019 popularity rank: #199 (3,072 babies born)
- Name shared by: Nathaniel Gow (1763-1831)
You won't find Nathaniel Gow on Spotify anytime soon. That's because this violinist and composer was born in 1763, significantly before the days of recorded music, not to mention streaming services. But he was the 18th-century Scottish equivalent of a rock star in his day, playing in every imaginable type of band for every type of occasion. Hundreds of his written compositions remain accessible to us today in collections and va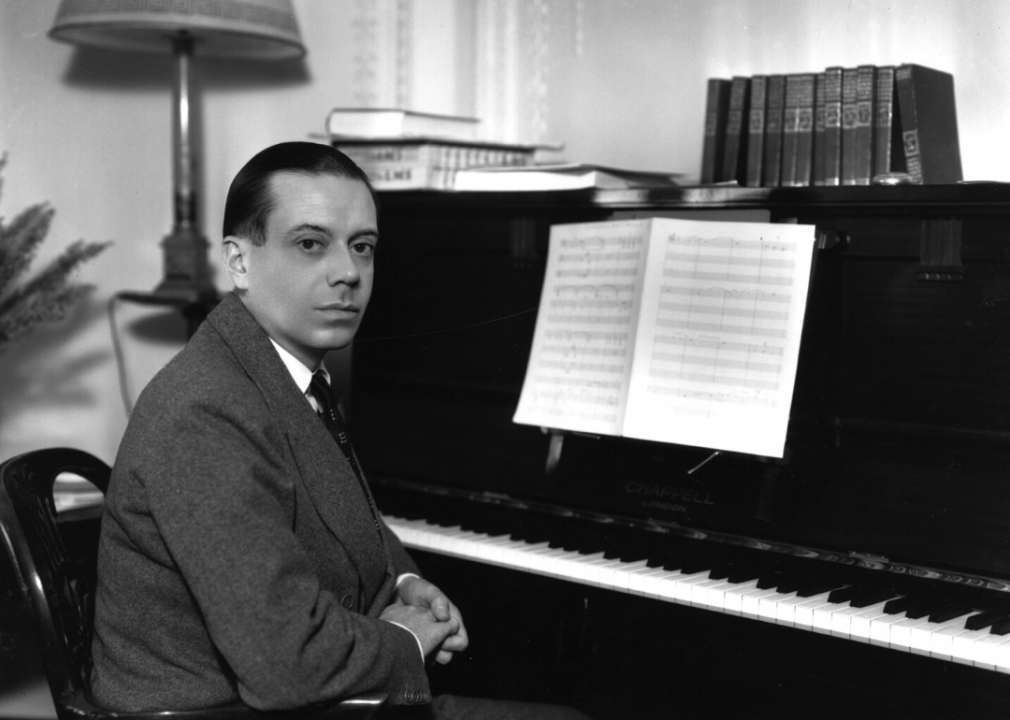 Sasha // Getty Images
#45. Cole
- 2019 popularity rank: #198 (3,077 babies born)
- Name shared by: Cole Porter (1891-1964)
This musician and composer was born in Peru, Indiana, in 1891. His given name comes from the surname of his grandfather, James Omar Cole. The name wasn't the only gift from that relative; it was because of Grandpa Cole's wealth that young Cole Porter was able to study music, chiefly violin and piano. Music wasn't what the elder Cole had in mind for his grandson, whom he sent to Harvard to study law. Cole Porter continued to study music, however, in spite of the best-laid plans of his elder.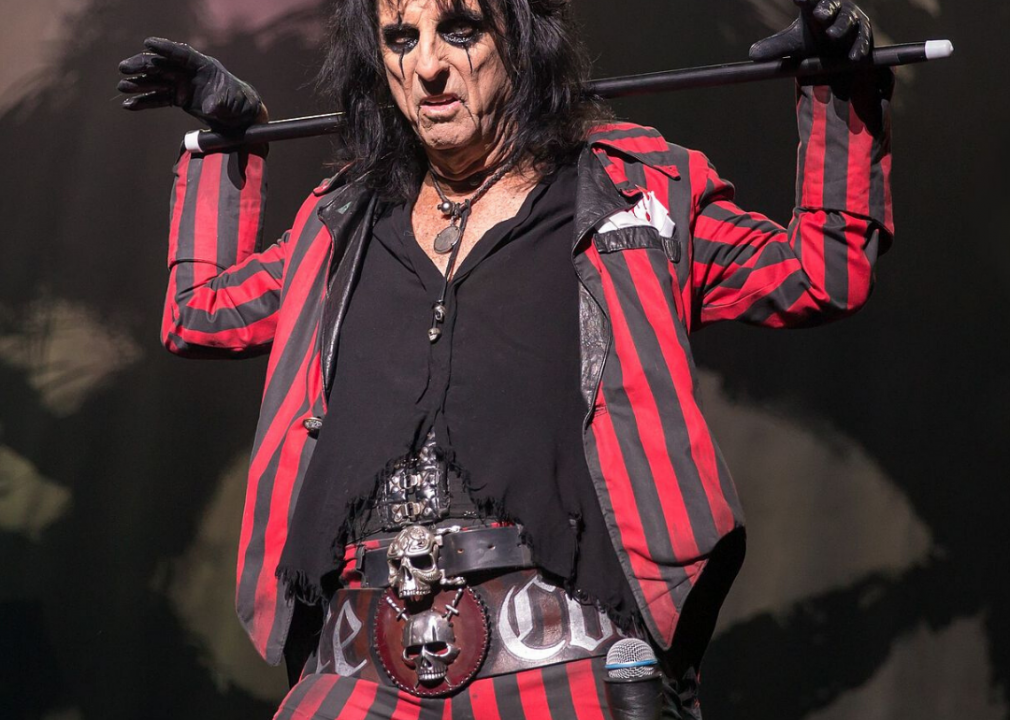 Ralph Arveson // Getty Images
#44. Alice
- 2019 popularity rank: #169 (3,527 babies born)
- Name shared by: Alice Cooper (1948-), Alice Coltrane (1937-2007), Alice Stuart (1942-)
Alice Cooper was born Vincent Furnier and would start a band called Alice Cooper. When the band split up, Vincent took the name with him and became Alice Cooper. Another musician, Alice Coltrane, was really named Alice, but Coltrane wasn't her original last name. She took the surname of her husband, jazz saxophonist John Coltrane. Finally, Alice Stuart was an early pioneer in folk music, a singer and guitarist who played with major blues and rock artists of the 1960s.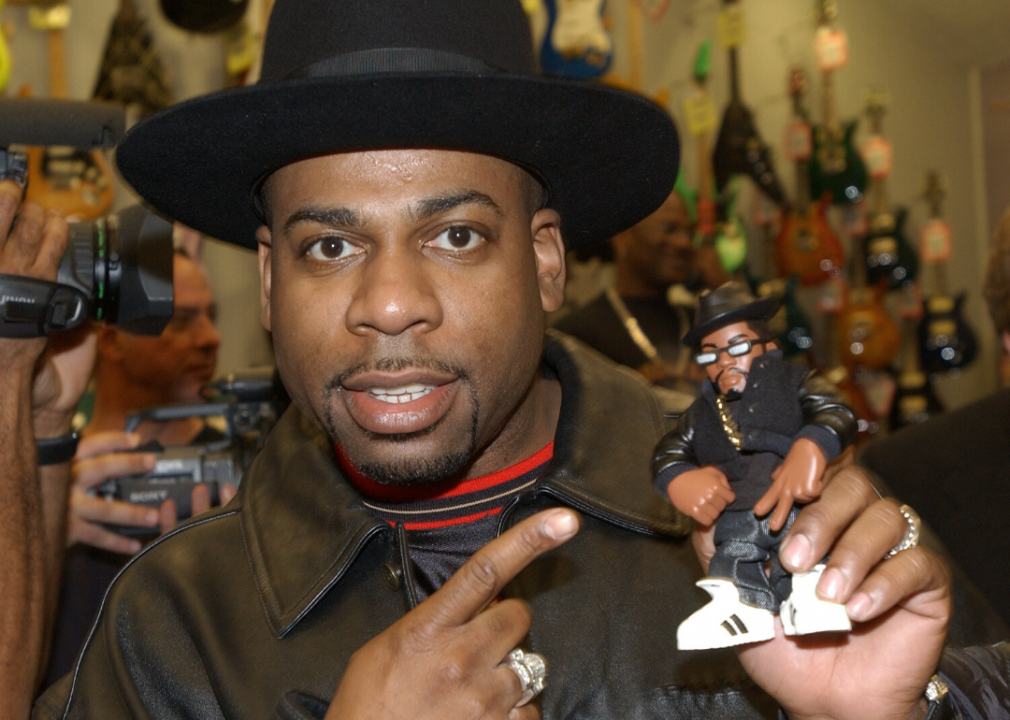 Vince Bucci // Getty Images
#43. Jason
- 2019 popularity rank: #165 (3,555 babies born)
- Name shared by: Jason Mizell (1965-2002)
The name we know in English as Jason comes from Latin and Greek, and means "healer." The given name of the hip hop artist known as Jam Master Jay was Jason. The Queens, New York, native died there in 2002, the victim of a homicide. He'd been a multi-instrumentalist and the DJ for Run-DMC before his death. Now two of his sons perform with that group on occasion.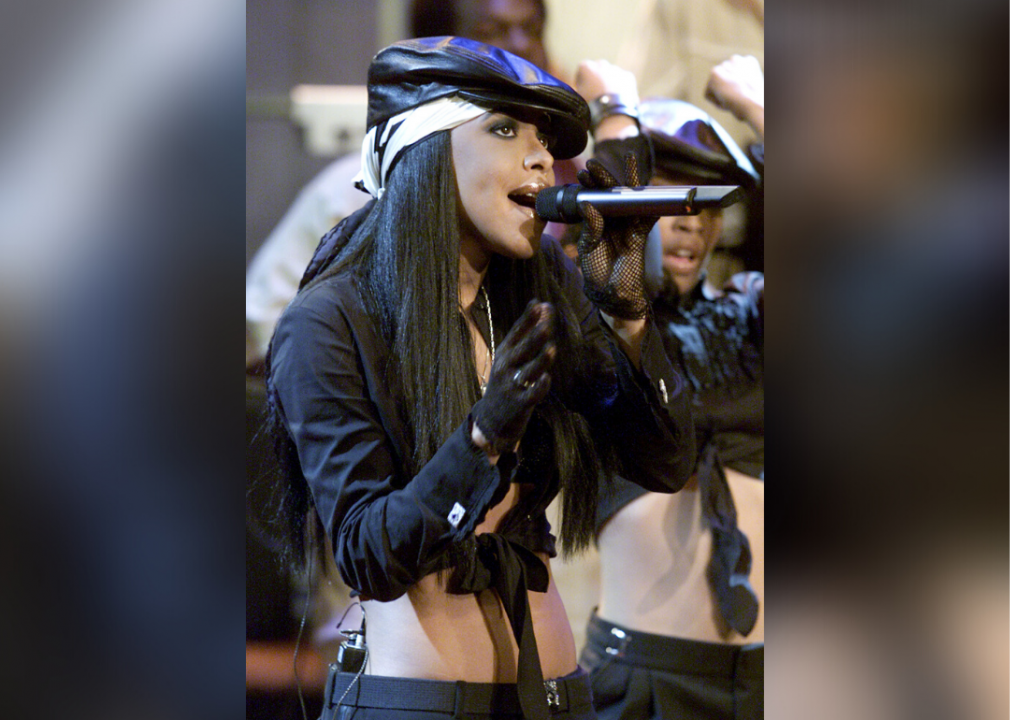 Kevin Winter // Getty Images
#42. Aaliyah
- 2019 popularity rank: #160 (3,636 babies born)
- Name shared by: Aaliyah (1979-2001)
Another young star who got her start performing on television, Aaliyah's life ended abruptly in a plane crash while she was departing the Bahamas after a music shoot. Her music career included three albums and appearances in two movie roles, one posthumously. She'd been signed to appear in more films, including a sequel to "The Matrix," but died before filming began. The name is Hebrew for "ascend."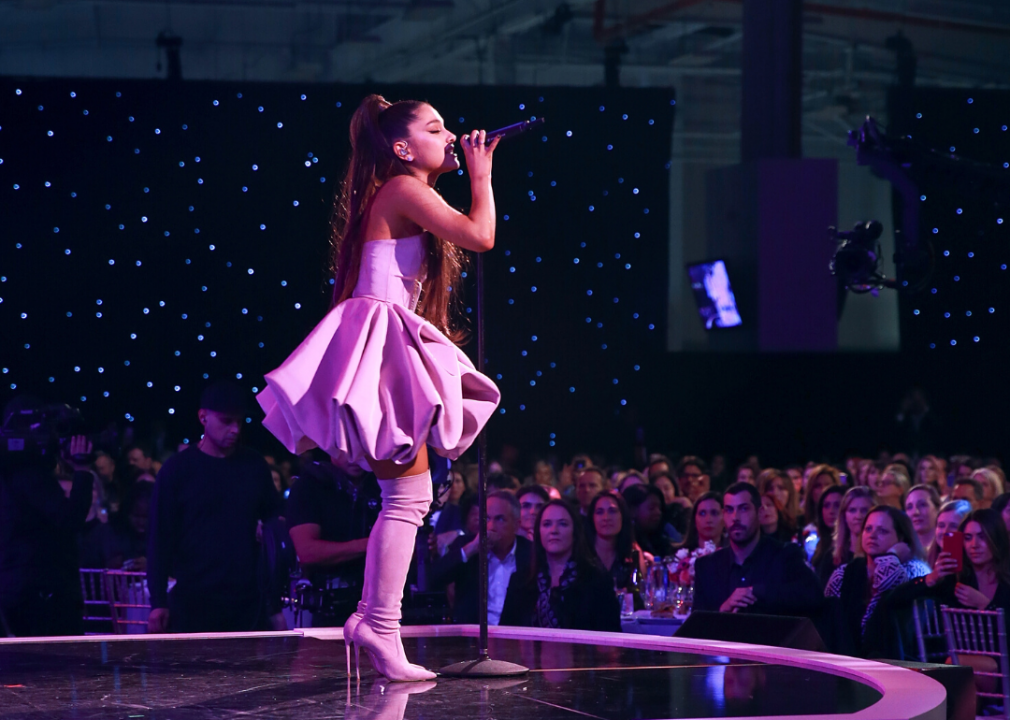 Bennett Raglin // Getty Images
#41. Ariana
- 2019 popularity rank: #159 (3,652 babies born)
- Name shared by: Ariana Grande (1993-)
While the name Ariana is Welsh for silver, to say this young woman of Italian American descent has had a career of anything but gold would be to miss the mark. As a popular artist today, it could be likely that she's influenced the name's popularity ranking.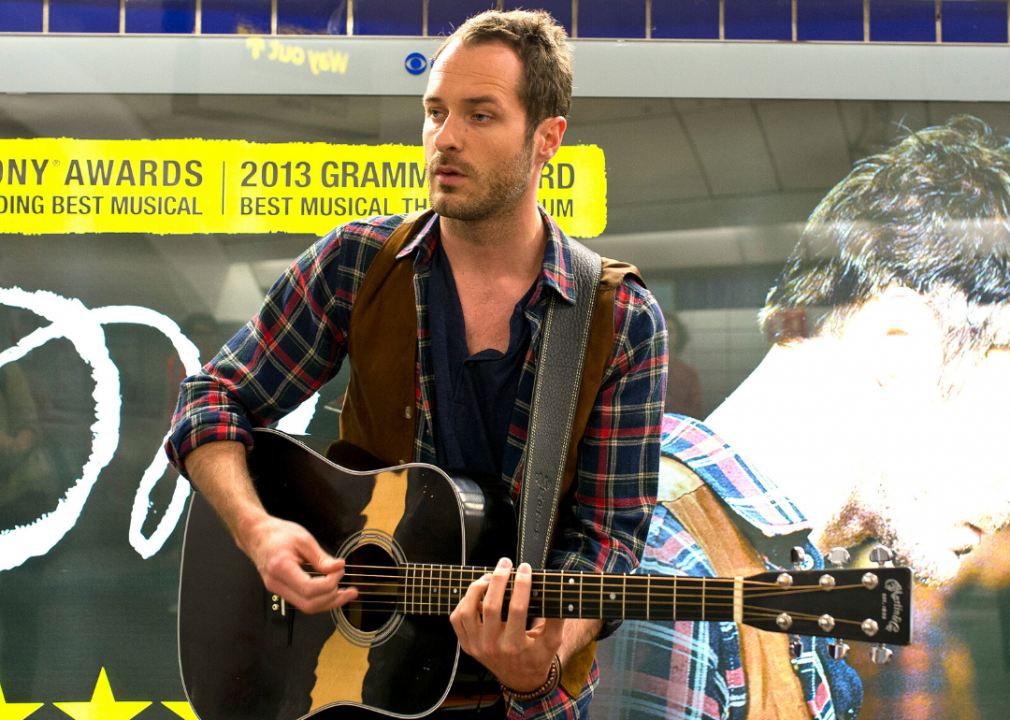 Ben A. Pruchnie // Getty Images
#40. Declan
- 2019 popularity rank: #142 (3,951 babies born)
- Name shared by: Declan Bennett (1981-)
This spelling is an Anglicized form of an Irish name, which was that of a sixth-century saint. But we're concerned with Declan William Bennett, born in Warwickshire, England, in 1981. He's primarily known as a singer-songwriter and an actor that got his start singing on a British daytime TV show and later joined the boy band Point Break.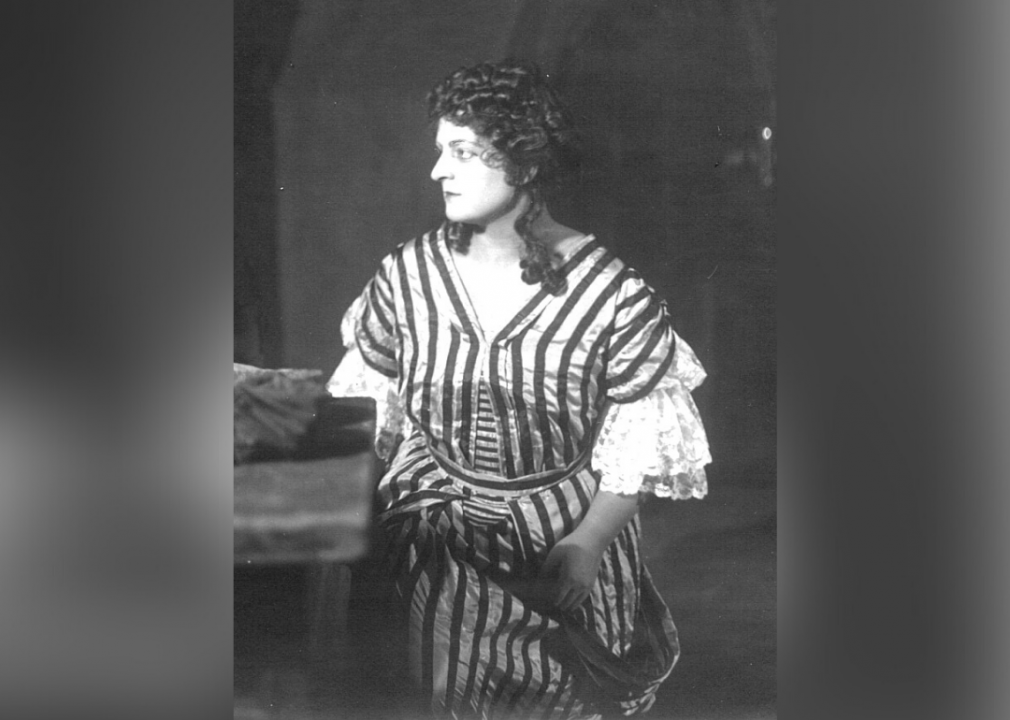 Ursula Richter // Wikimedia Commons
#39. Claire
- 2019 popularity rank: #136 (4,111 babies born)
- Name shared by: Claire Born (1898-1965)
This Austrian opera singer was born in Vienna and performed regularly at the Vienna State Opera in soprano roles. She began performing regularly in Germany but left that country for London in 1933 because of the political climate and the rise of fascism.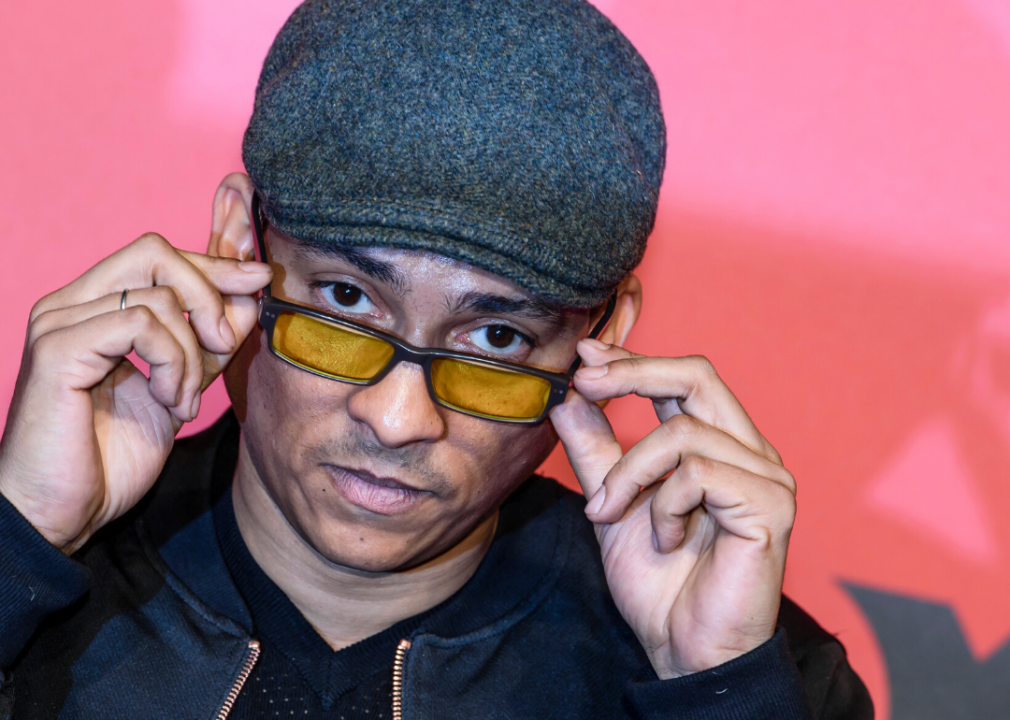 Clemens Bilan // Getty Images
#38. Xavier
- 2019 popularity rank: #134 (4,162 babies born)
- Name shared by: Xavier Naidoo (1971-)
The name Xavier was once a common Spanish surname, referencing a location in the Basque region of Spain. That place was named in honor of St. Francis Xavier (1506–52) patron saint of missionaries in foreign lands. Xavier Naidoo was born in Germany. He is an R&B singer, often performing in his native language, although he sometimes collaborates with American groups such as the Wu-Tang Clan.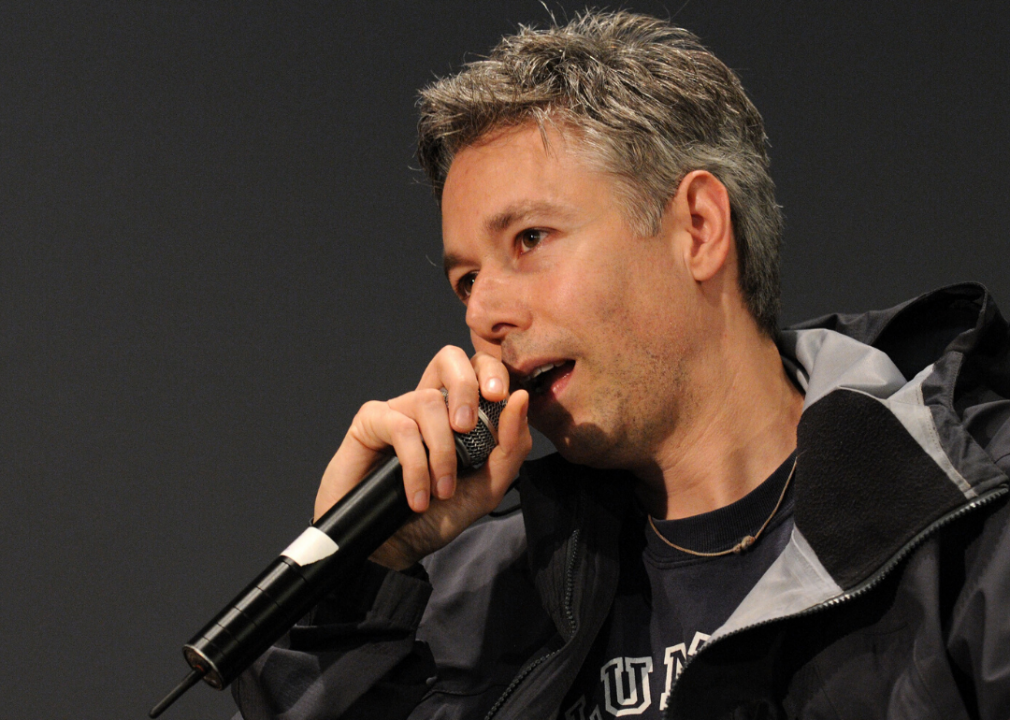 Bryan Bedder // Getty Images
#37. Adam
- 2019 popularity rank: #133 (4,168 babies born)
- Name shared by: Adam "MCA" Yauch (1964-2012), Adam Levine (1979-), Adam "Ad-Rock" Horovitz (1966-)
Adam was derived from the Hebrew word adama, which means "red earth." Stacker has three contenders for influential musicians who share that given name. The first is Adam Yauch, a founding member of the Beastie Boys, who died of cancer in 2012. The next is Adam Levine, frontman of Maroon Five, and until recently, a judge on the singing competition "The Voice." Finally, there's the other Adam of the Beastie Boys, Adam "Ad-Rock" Horovitz.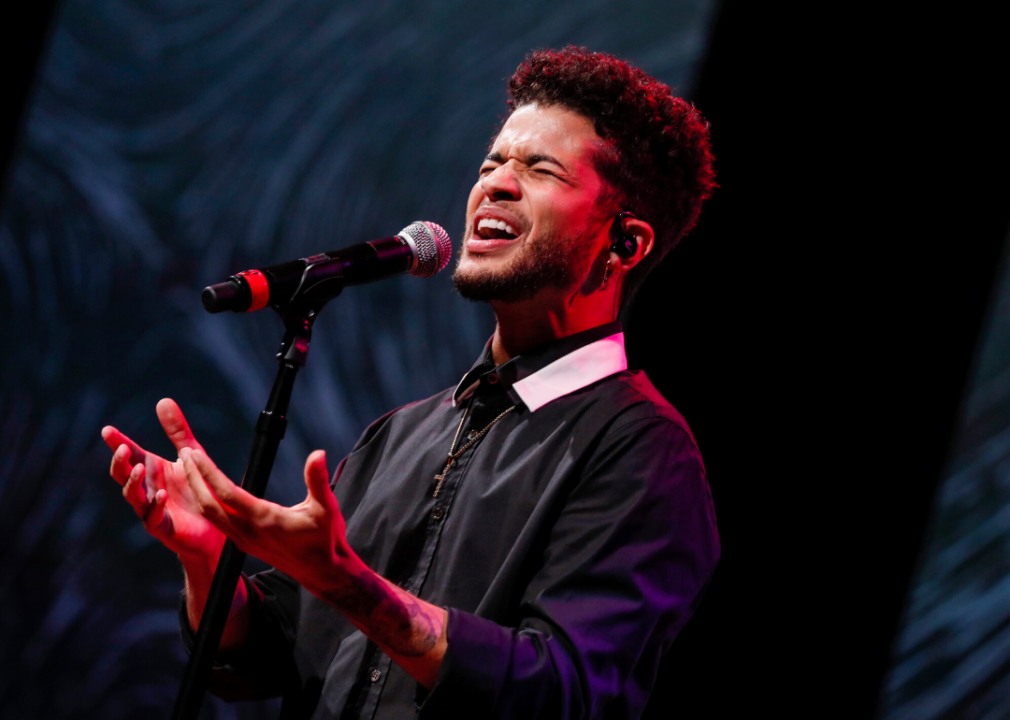 Paul Morigi // Getty Images
#36. Jordan
- 2019 popularity rank: #131 (4,306 babies born)
- Name shared by: Jordan Fisher (1994-)
The name Jordan was once commonly conferred on a baby baptized in Israel's Jordan River. This is still a popular thing to do, but baby-naming options for those baptized there are wide open. And Jordan is still a favored name regardless of baptism status, both for boys and girls. That makes it a fitting name for the diverse and inclusive Jordan Fisher, who is a singer, songwriter, dancer, actor, and musician.
You may also like: Baby names that have faded into obscurity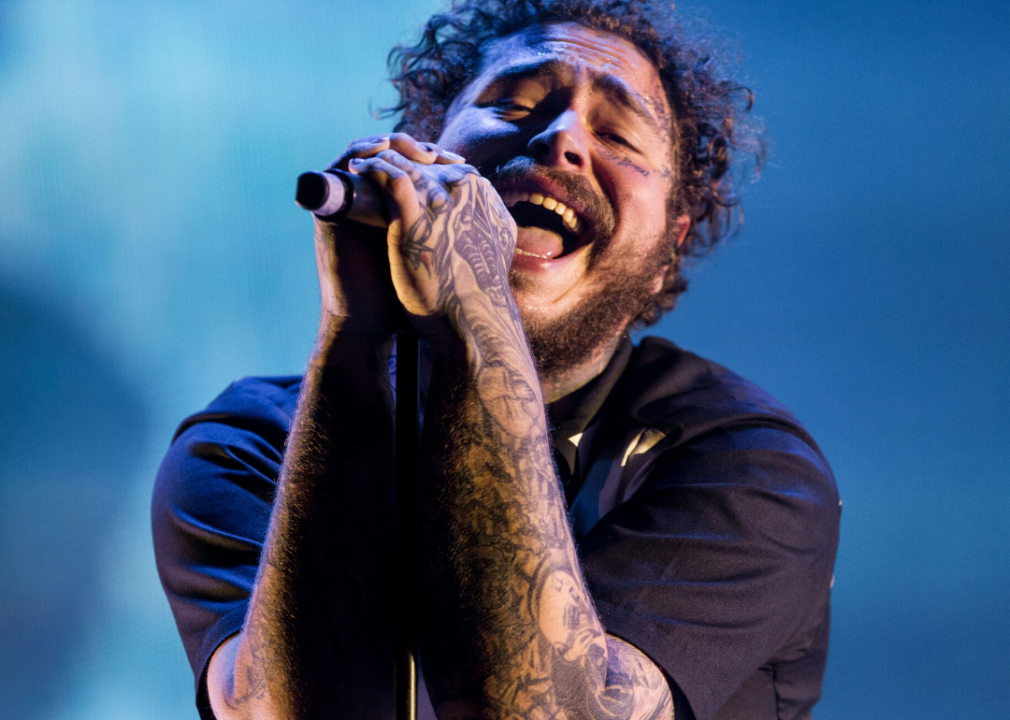 Santiago Blugeurmann // Getty Images
#35. Austin
- 2019 popularity rank: #130 (4,369 babies born)
- Name shared by: Austin "Post Malone" Post (1995-)
Austin is a pretty great name: In fact, that's what it means, being a contraction of the name Augustine, which means great. But rapper, singer, songwriter, and producer Austin Richard Malone decided he needed an edgier professional name. So, he turned to a rap-name generator to come up with Post. So far, that name hasn't turned up on the Social Security Administration's naming data.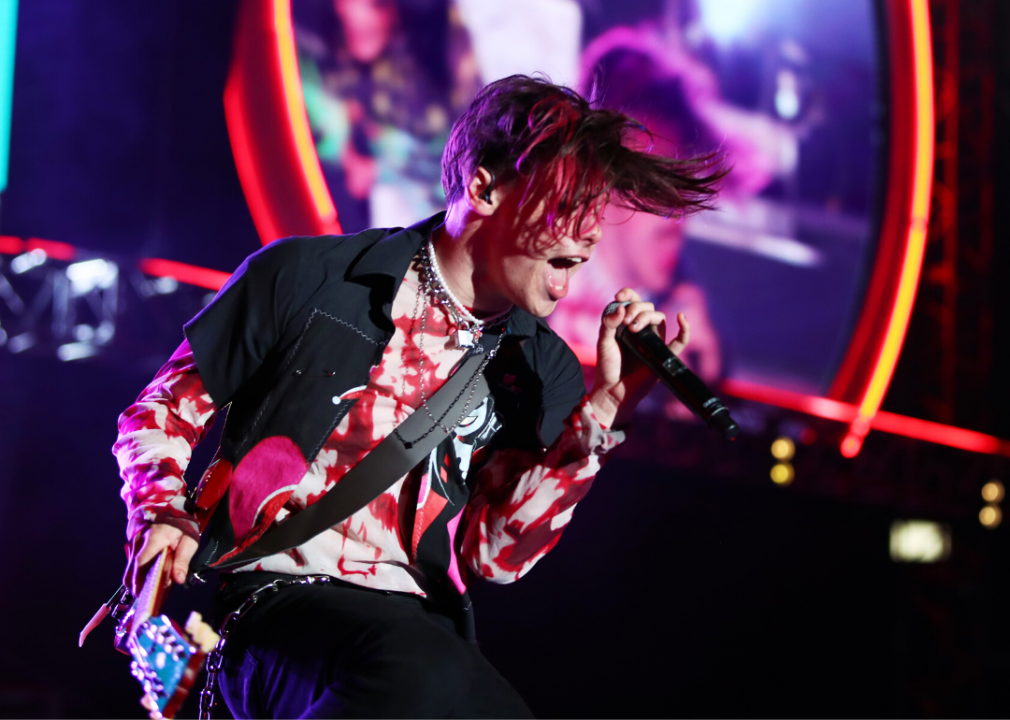 Rich Fury // Getty Images
#34. Dominic
- 2019 popularity rank: #128 (4,410 babies born)
- Name shared by: Dominic "Yungblud" Harrison (1998-)
The name Dominic is derived from Latin, meaning "belonging to a Lord." Young English punk-rocker Dominic Harrison instead goes by the moniker Yungblud. He modified this name from Young Blood, the nickname a stage manager gave him, as the youngest on tour.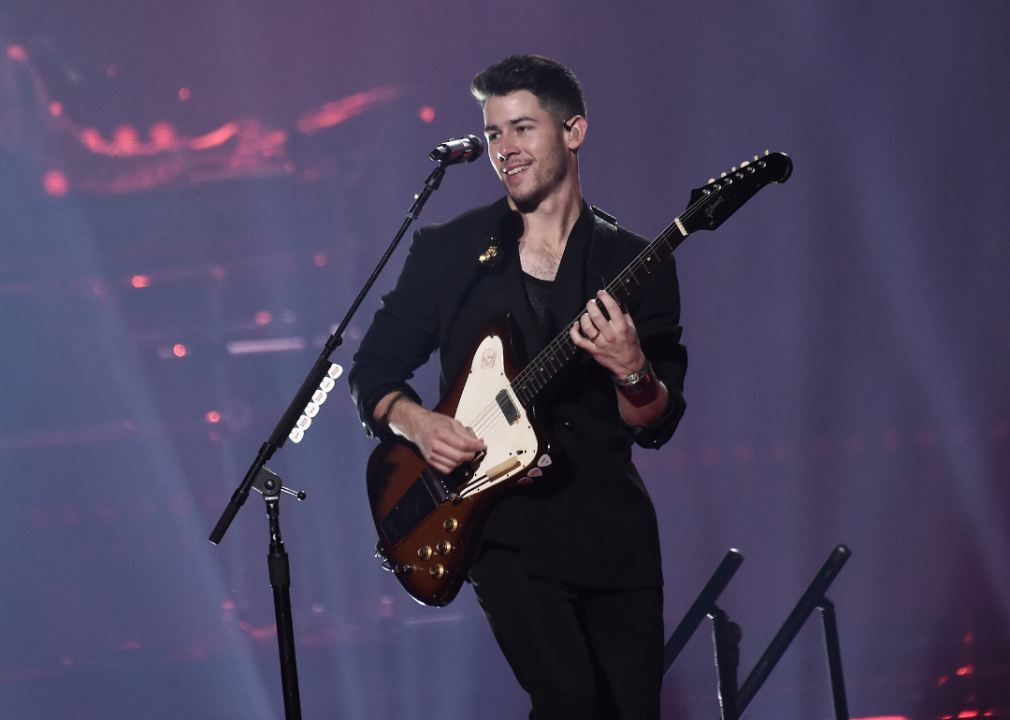 Steven Ferdman // Getty Images
#33. Nicholas
- 2019 popularity rank: #116 (4,601 babies born)
- Name shared by: Nicholas Hooper (c. 1952-)
What do children, sailors, and wolves have in common? They are all said to be protected by their patron saint, Nicholas, a fourth-century bishop of Myra. In the realm of meant to be, it seems the parents of Nicholas Hooper had an inkling of what sort of person they'd created. This British film and television composer has composed scores for two Harry Potter films, helping create a sonic world worthy of protection.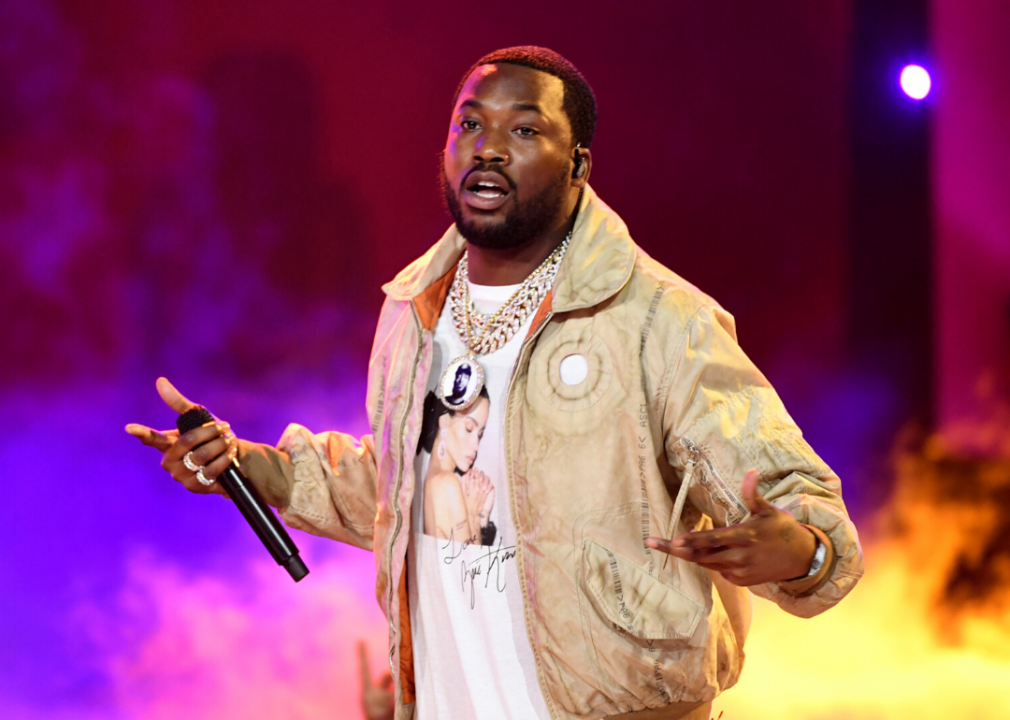 Kevin Winter // Getty Images
#32. Robert
- 2019 popularity rank: #111 (4,813 babies born)
- Name shared by: Robert "Meek Mill" Williams (1987-), Robert Schumann (1810-1856), Robert Rodriguez (1968-), Robert Plant (1948-), Robert Long (1943-2006), Robert Johnson (1911-1938), Robert "Vanilla Ice" Van Winkle (1967-)
The name Robert goes back far, being introduced by the Normans to the English and having been derived from German. That takes in a large section of northern Europe, an area from which many Americans have hailed. The name has been the handle of numerous kings and other rulers. The Roberts in this list are just a sampling of musicians bearing that name, hailing from England (Plant), Germany (Schumann), the Netherlands (Long), and the U.S. (the rest).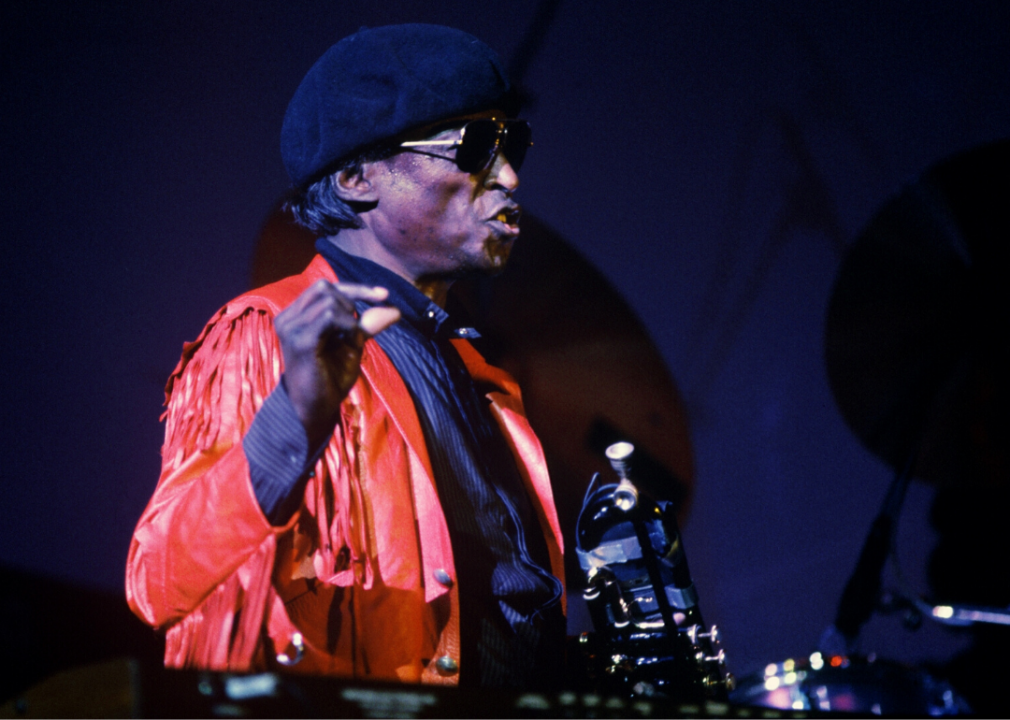 JOEL ROBINE // Getty Images
#31. Miles
- 2019 popularity rank: #110 (4,840 babies born)
- Name shared by: Miles Davis (1926-1991)
It is hard to know if this trumpet player and musical innovator influenced name choices for parents during and immediately following the height of his fame, or even up to today. This artist's musical styles evolved over the decades he was active, reaching audiences from jazz to funk to blues to jazz fusion and many styles on the margins.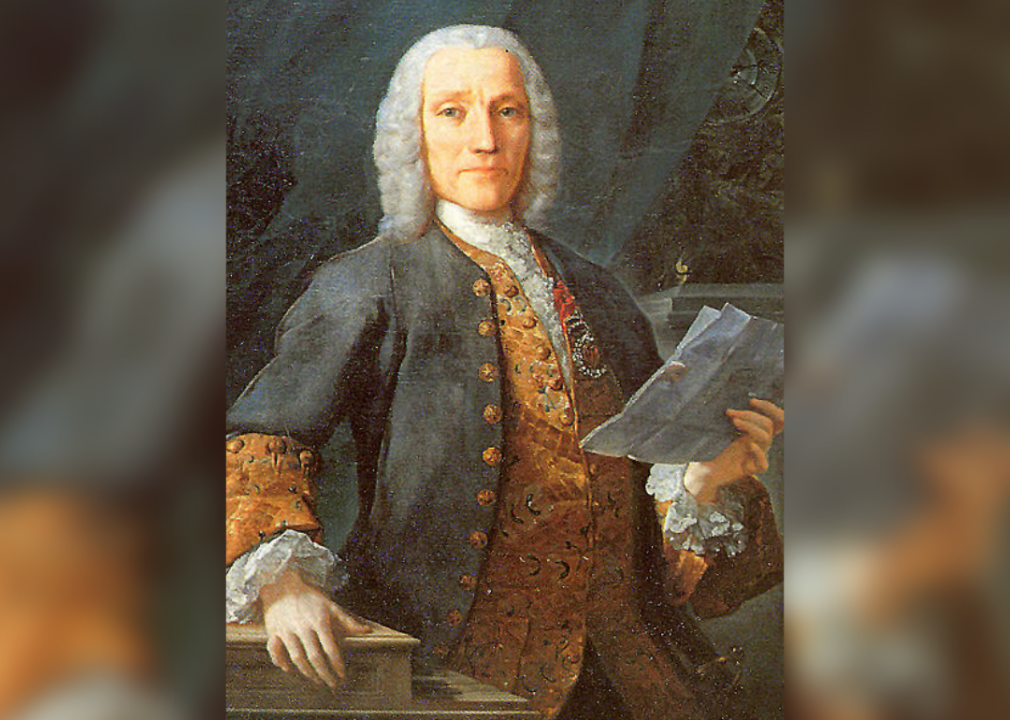 Public Domain // Wikimedia Commons
#30. Jeremiah
- 2019 popularity rank: #103 (5,026 babies born)
- Name shared by: Jeremiah Clarke (c. 1674-1707)
If you've watched enough public television or been to many formal weddings, you've likely heard a performance of Trumpet Voluntary. That means you already know the work of English baroque musician Jeremiah Clarke. But you might not know that the music (heard on this recording) is being performed not by a trumpet, but by employing the trumpet stop on an organ. Whether this fact has made Jeremiah a favorite baby name is unknown. Regardless, he lives on through his music.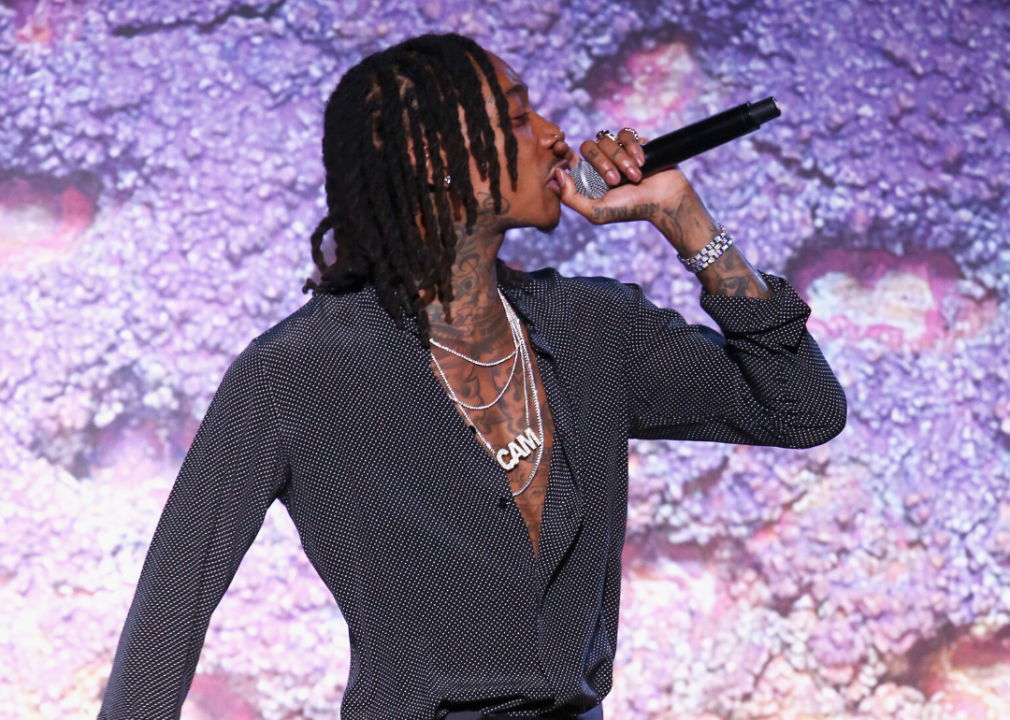 Tommaso Boddi // Getty Images
#29. Cameron
- 2019 popularity rank: #98 (5,226 babies born)
- Name shared by: Cameron "Wiz Khalifa" Thomaz (1987-)
This songwriter and rapper from Minot, North Dakota, ditched both his first and last names for professional purposes. Currently, the name Cameron is popular for both boys and girls, and derives from a Scottish word for "crooked nose." With inspiration from his family, as a 15 year old, he started calling himself "Wisdom," which he shortened to Wiz. He borrowed the surname from a relative. The name Khalifa is Arabic for "successor."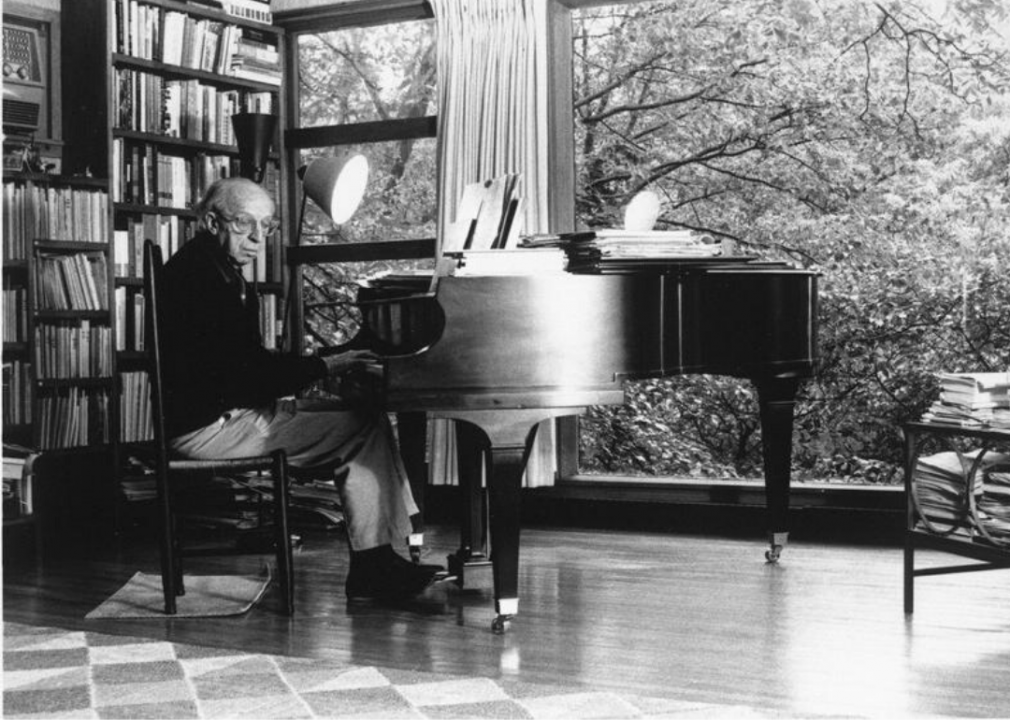 Gov // Wikimedia Commons
#28. Aaron
- 2019 popularity rank: #88 (5,509 babies born)
- Name shared by: Aaron Zigman (1963-), Aaron Copland (1900-1990)
These two Aarons have more in common than sharing a first name. They are also renowned American composers. Emmy award-winner Zigman's work can be heard in film and television scores as well as in popular music recorded by stars such as Aretha Franklin. Composer Aaron Copland was viewed as highly modern in his expression of American music. In 1945, Copland won the Pulitzer Prize for his composition "Appalachian Spring."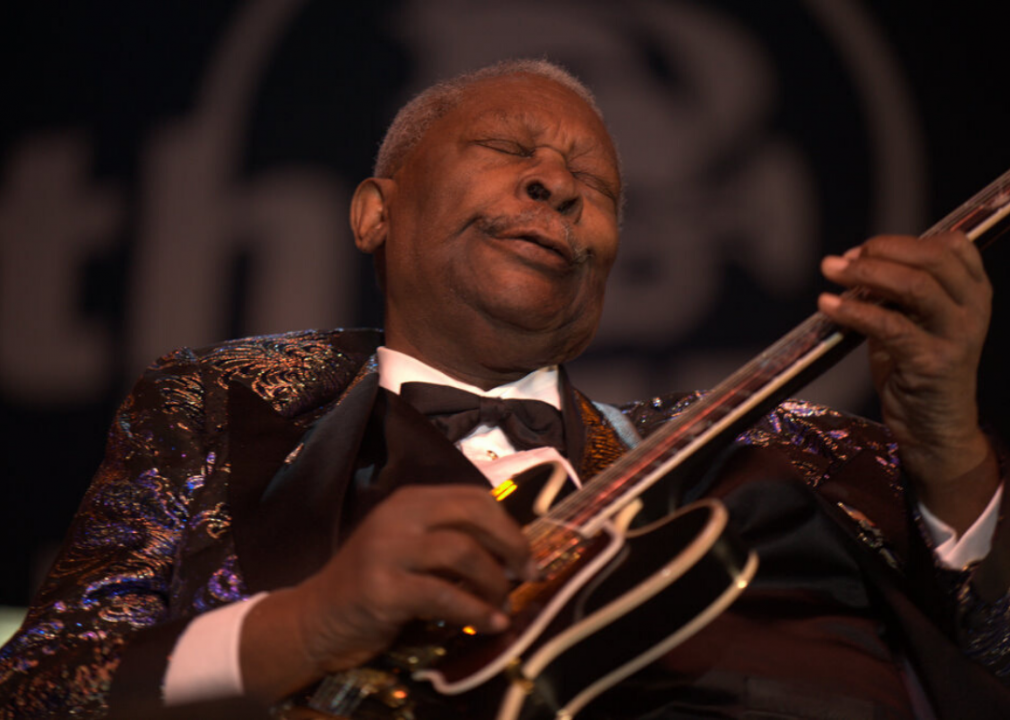 Tom Beetz // Wikimedia Commons
#27. Riley
- 2019 popularity rank: #85 (5,676 babies born)
- Name shared by: Riley "B.B." King (1925-2015)
Riley has become a popular name in recent years, for both girls and boys. It comes from the Old English and means one who dwells near a rye field. It isn't clear if Riley "B.B." King's Mississippi sharecropper parents new these origins or if they just liked the name. But the young blues guitarist decided his nickname of the Beale Street Blues Boy was too long and shortened it to just the initials he'd use for another 65 years. B.B. King died in 2015.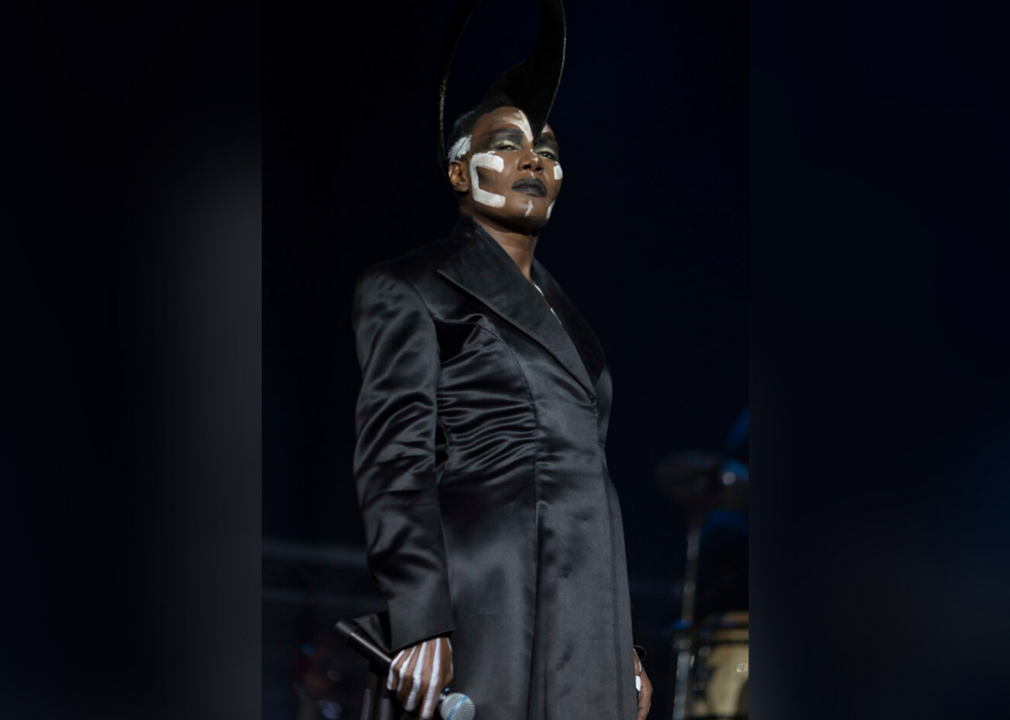 Bruce Baker // Wikimedia Commons
#26. Grace
- 2019 popularity rank: #77 (6,062 babies born)
- Name shared by: Grace Jones (1948-)
Though Grace Jones was born in Jamaica, she moved to Syracuse, New York, at age 12. She was interested in acting and was involved in the theater program while attending Syracuse University. She had small parts in New York theater and was a successful model for major designers in Paris, such as Yves Saint Laurent. Her music and accompanying videos gave her a forum for larger audiences to see her put these talents to work.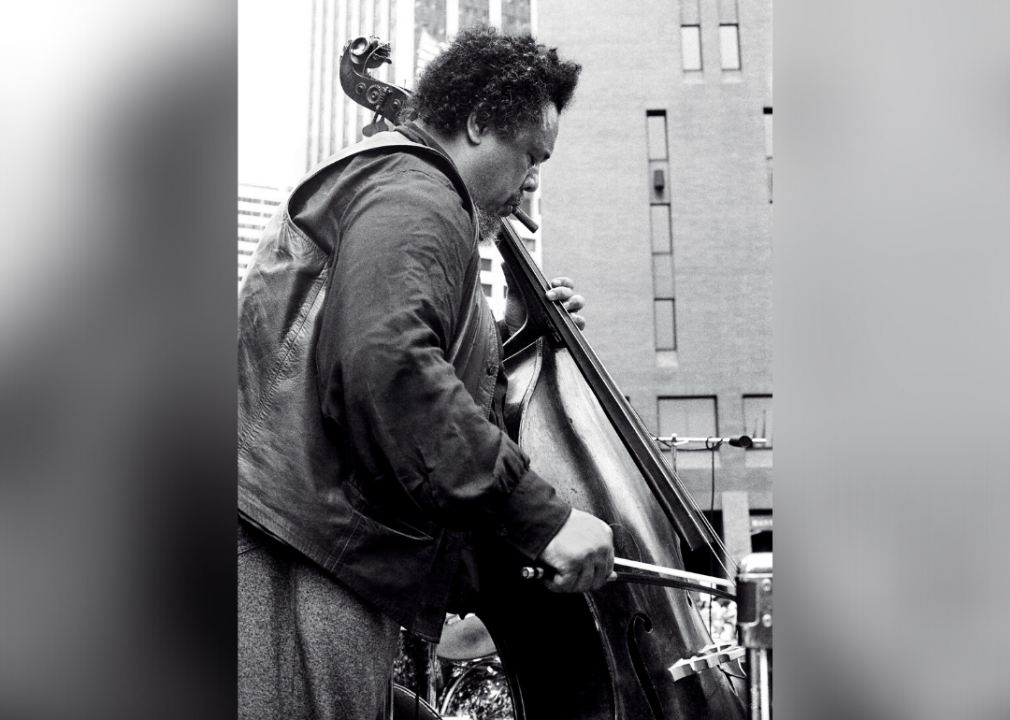 Tom Marcello // Flickr
#25. Charles
- 2019 popularity rank: #70 (6,348 babies born)
- Name shared by: Charles Mingus (1922-1979), Charles Gounod (1818-1893), Charles Dibdin (1745-1814), Charles Aznavour (1924-2018)
Similar to the name Robert, the name Charles has long been associated with European royalty. The comparison is apt for the musicians on our list. Mingus, an American, is one of the most important figures in jazz. Frenchman Gounod was a composer of operatic and sacred music. Dibdin was a prolific British musician, songwriter, and composer. And Aznavour was a Frenchman of Armenian origin, known for crooning romantic ballads.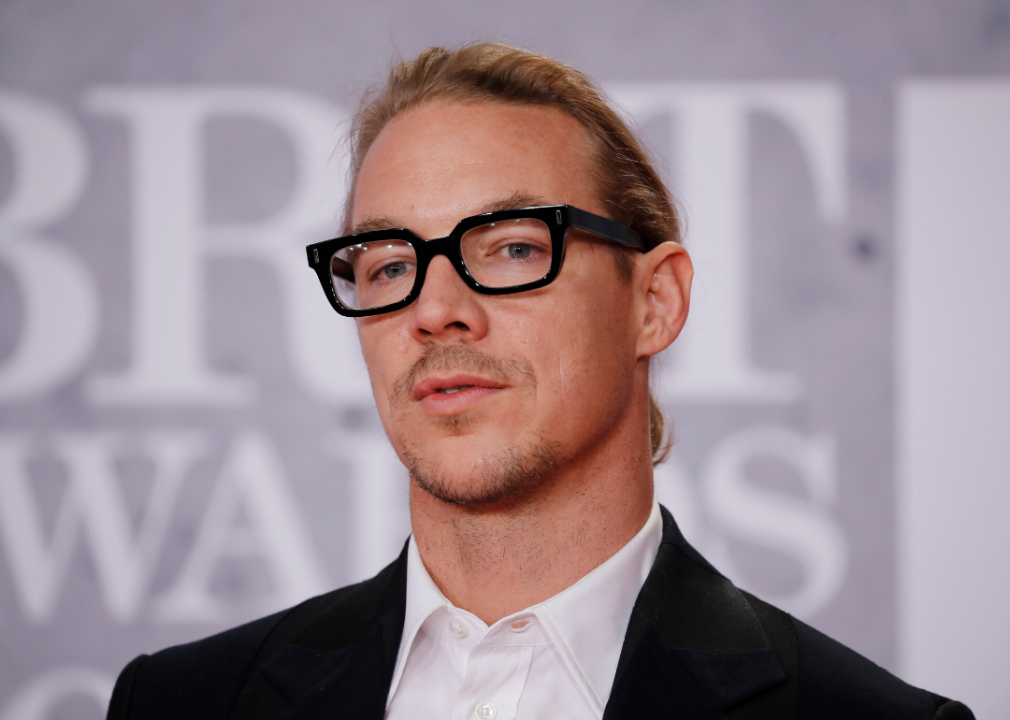 TOLGA AKMEN // Getty Images
#24. Thomas
- 2019 popularity rank: #64 (6,612 babies born)
- Name shared by: Thomas "Diplo" Pentz (1978-), Thomas Newman (1955-), Thomas Berge (1990-), Thomas Arne (1710-1778)
The name Thomas is derived from the Aramaic for "twin." "Diplo" is an L.A.-based musician with his own record label. Newman is the son of composer Alfred Newman and is best known for composing film scores. Burge was born in the Netherlands and was originally named Chiel Ottink. Arne was a prolific British composer, best known for "Rule Britannia."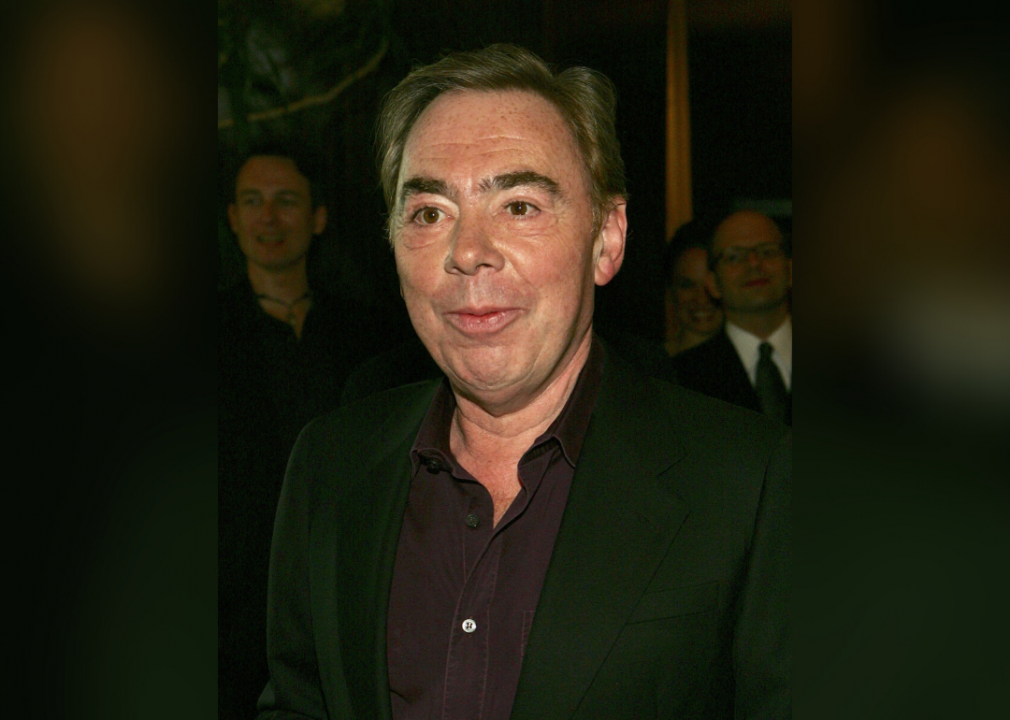 Ethan Miller // Getty Images
#23. Andrew
- 2019 popularity rank: #63 (6,757 babies born)
- Name shared by: Andrew Lloyd Webber (1948-)
"School of Rock." "Cats." "The Phantom of the Opera." "Joseph and the Amazing Technicolor Dreamcoat." "Jesus Christ Superstar." This is a partial list of the reasons the name Andrew Lloyd Webber may ring a bell. A composer and musical theatre workhorse for decades, the translation of the name Andrew to mean "manly" certainly applies.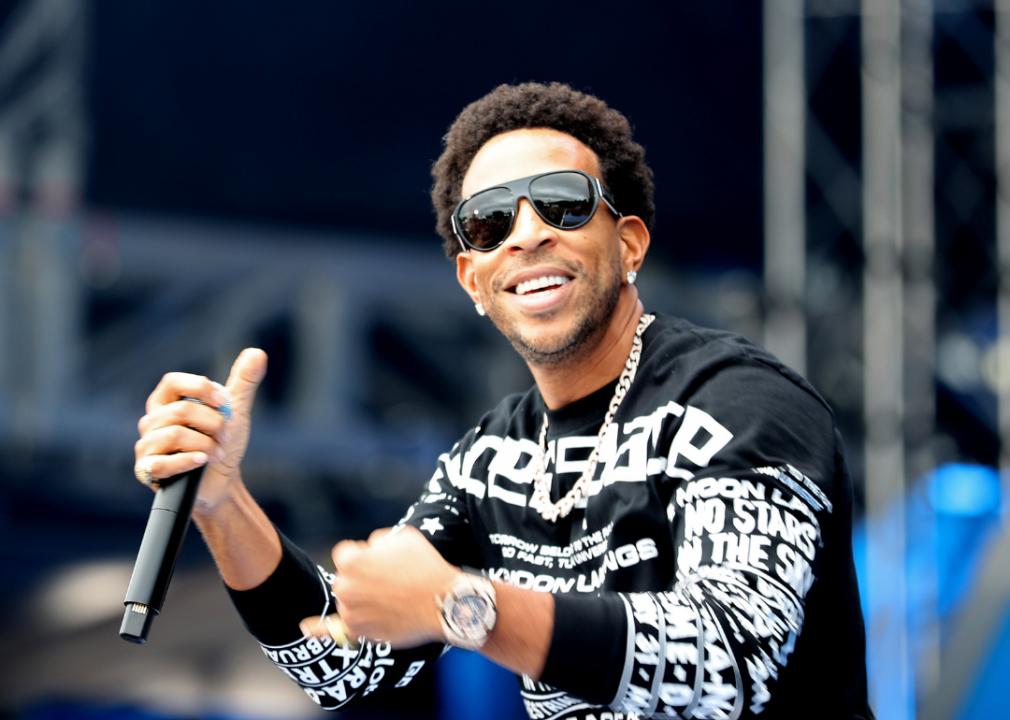 Tasos Katopodis // Getty Images for Universal Pictures
#22. Christopher
- 2019 popularity rank: #61 (6,960 babies born)
- Name shared by: Christopher "Biggie" Wallace (1972-1997), Christopher "Marshmello" Comstock (1992-), Christopher "Ludacris" Bridges (1977-)
Our list of musical Christophers includes Wallace, better known as Biggie Smalls, aka Notorious B.I.G., a hip-hop artist murdered in 1997. Christopher Comstock doesn't actually go by that name, but uses Marshmello as his dance music DJ handle. And Christopher Bridges uses a mashup, including his given name, finding "Ludacris" more suitable in his hip-hop career.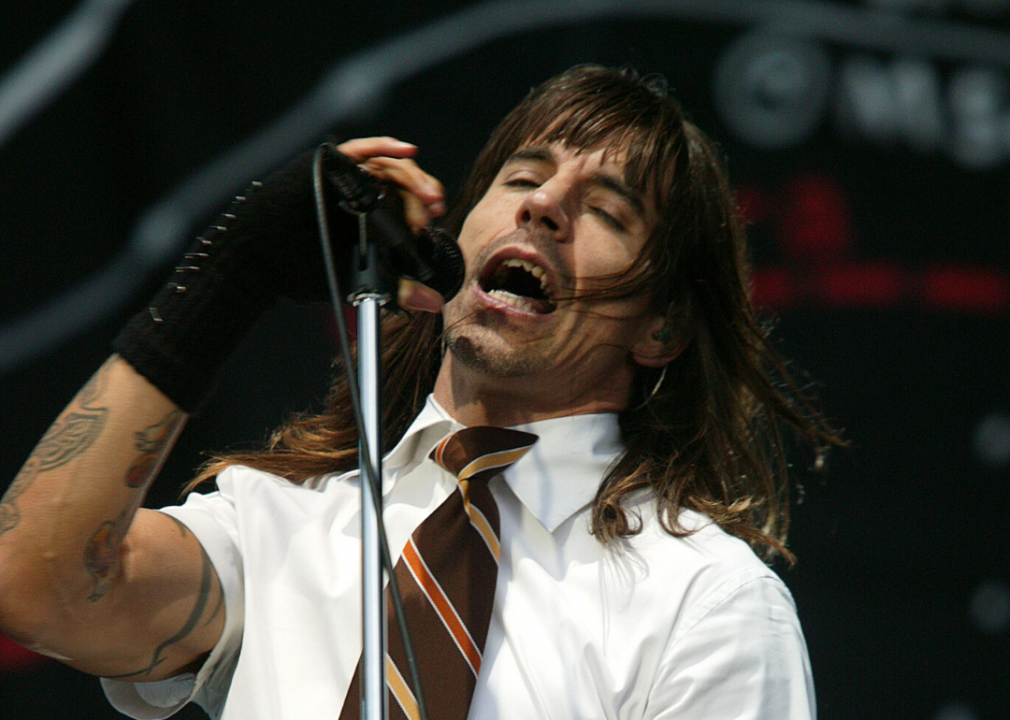 Jo Hale // Getty Images
#21. Anthony
- 2019 popularity rank: #52 (7,669 babies born)
- Name shared by: Anthony Kiedis (1962-)
This Anthony is the singer and frontman of the alt-rock band The Red Hot Chili Peppers. His godfather was Sonny Bono, who perhaps helped guide him into the musical fold. Meanings of the name include "priceless" and "of inestimable worth." The band has sold more than 60 million records since forming in 1983.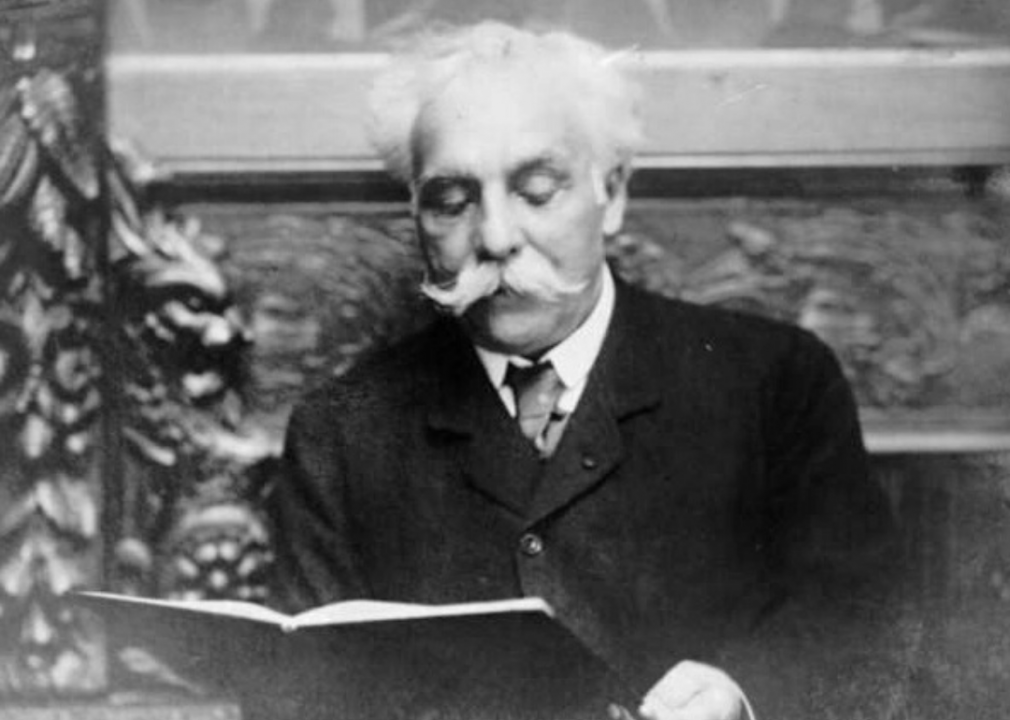 Public Domain // Wikimedia Commons
#20. Gabriel
- 2019 popularity rank: #51 (7,678 babies born)
- Name shared by: Gabriel Fauré (1845-1924)
This French Gabriel was an organist and pianist, who composed, performed, and taught students of these instruments. This Gabriel used his music to herald good news with his music for both sacred and popular purposes.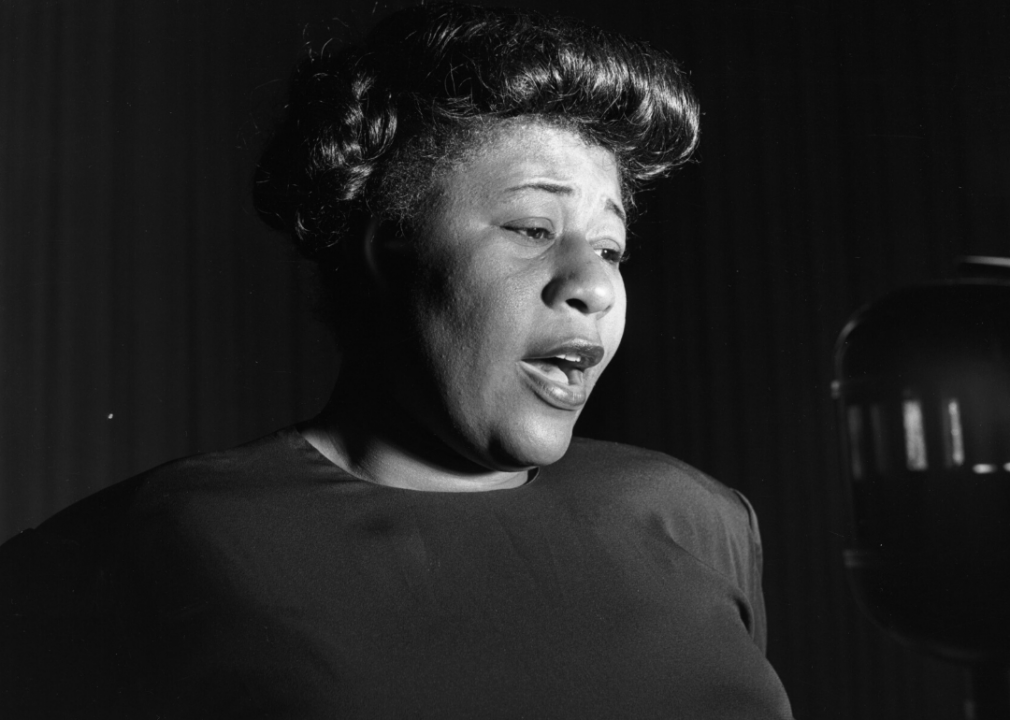 George Konig // Getty Images
#19. Ella
- 2019 popularity rank: #46 (8,079 babies born)
- Name shared by: Ella Fitzgerald (1917-1996)
One can't be the most popular jazz singer in the United States for a half-century without others wanting to emulate them in some way. Maybe most of us can't sing the way Fitzgerald did, selling 40 million albums and earning 13 Grammy awards. Perhaps we can't trail blaze for civil rights the way she did, performing at a time and in places when African Americans were often prohibited.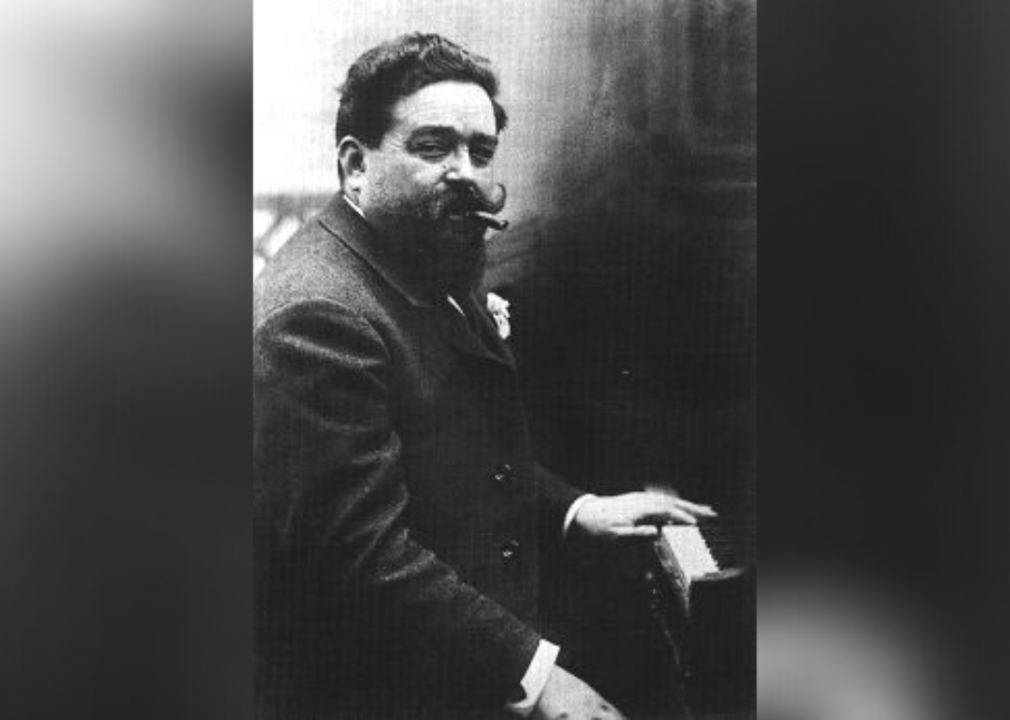 Public Domain // Wikimedia Commons
#18. Isaac
- 2019 popularity rank: #45 (8,148 babies born)
- Name shared by: Isaac Albéniz (1860-1909)
To say that a child could play the piano before he could walk might sound like an exaggeration. But it is said that Spaniard Isaac Albeniz was playing piano at age 1, performing at age 4, and attending the Conservatory of Madrid at age 7. His talent and antics may have combined to feed fanciful stories, but there is no doubt of his skill and musicianship. Babies named Isaac in 2018 may not have been named for Albéniz, but they could pick worse role models regardless of vocation.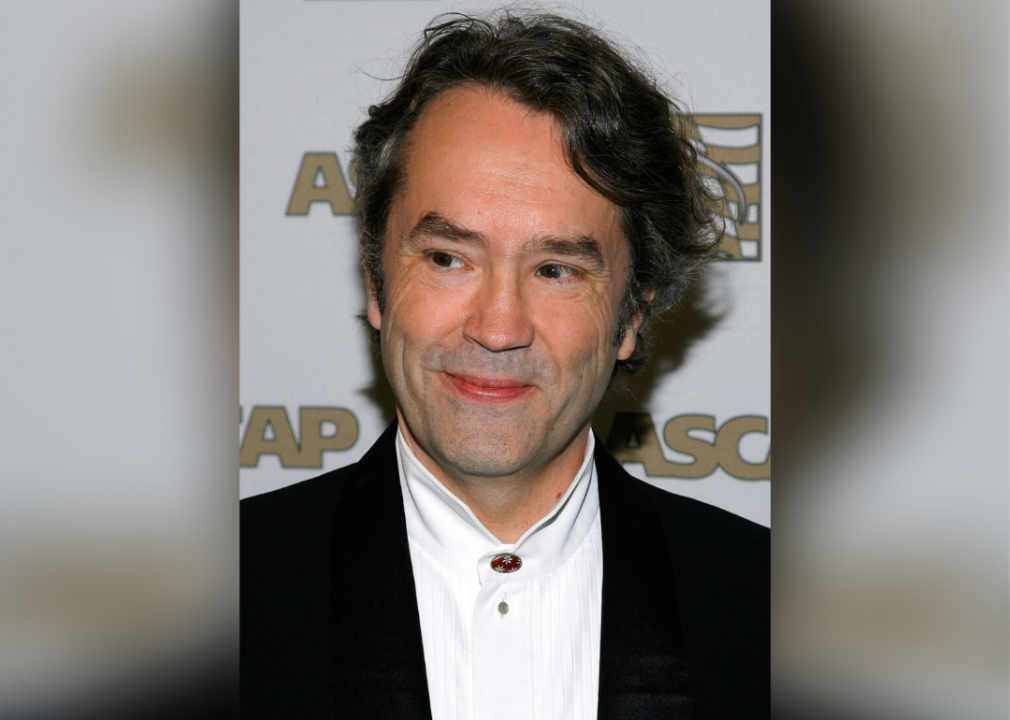 Vince Bucci // Getty Images
#17. Carter
- 2019 popularity rank: #40 (8,631 babies born)
- Name shared by: Carter Burwell (1955-)
Carter Burwell might not be a household name, but the filmmakers he creates musical scores for certainly are. Movies by Ethan and Joel Coen are known to have a uniquely eerie quality, thanks in no small part to their soundtracks, of which Burwell composed 16, most recently "The Ballad of Buster Scruggs."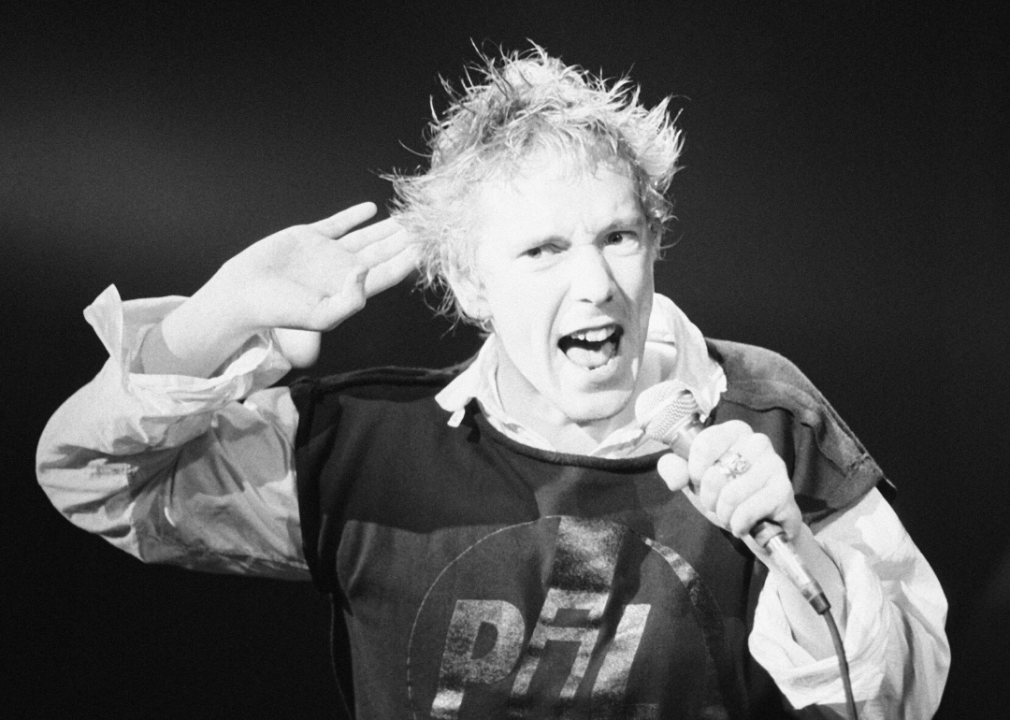 Express // Getty Images
#16. John
- 2019 popularity rank: #38 (8,779 babies born)
- Name shared by: John Williams (1932-), John Philip Sousa (1854-1932), John Powell (1963-), John Murphy (1965-), John Mayer (1977-), John Lydon (1956-), John Lennon (1940-1980), John Lee Hooker (1917-2001), John "Dizzy" Gillespie (1917-1993), John Fogerty (1945-), John Debney (1956-), John Coltrane (1926-1967), John Carpenter (1948-), John Cage (1912-1992), John Barry (1933-2011)
The name John comes from Middle Latin, and through all its iterations means God is gracious. It has consistently been one of the most popular names for generations.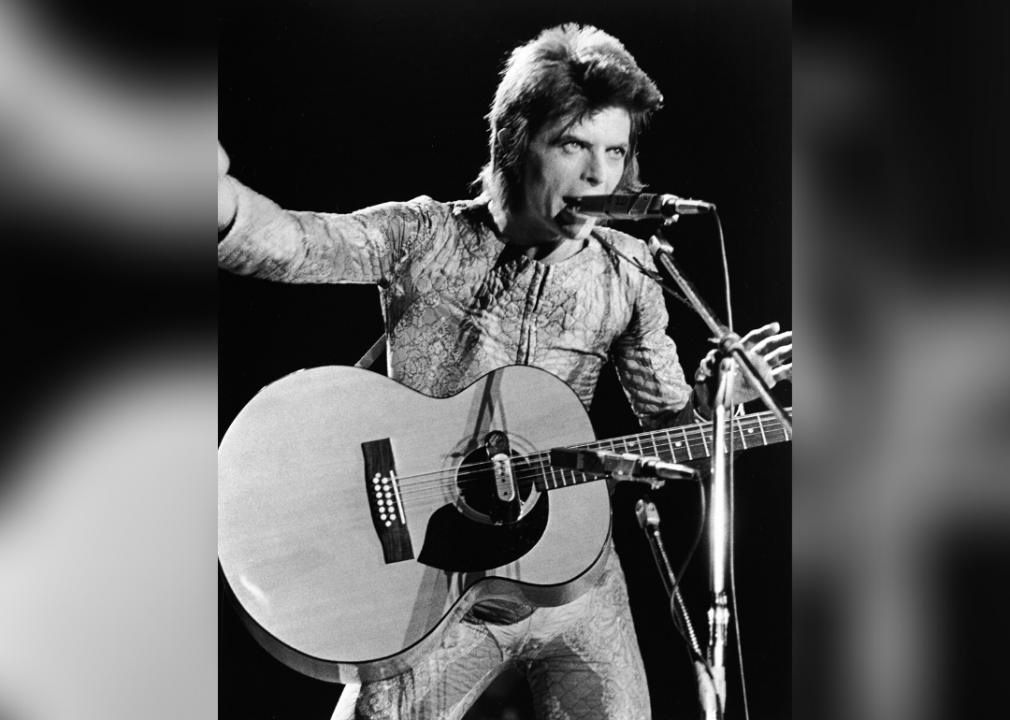 Hulton Archive // Getty Images
#15. David
- 2019 popularity rank: #37 (8,896 babies born)
- Name shared by: David Guetta (1967-), David Gray (1968-), David Gilmour (1946-), David Crosby (1941-), David Byrne (1952-), David Bowie (1947-2016), David Arnold (1962-)
Many of us can visually conjure the image of Michelangelo's marble sculpture of the biblical David just by hearing the name. Our list of Davids are contemporary and still living, so their faces and figures are present in the current vernacular for music fans. A parent choosing a baby name can't go wrong with David, as 9,697 of them discovered in 2018.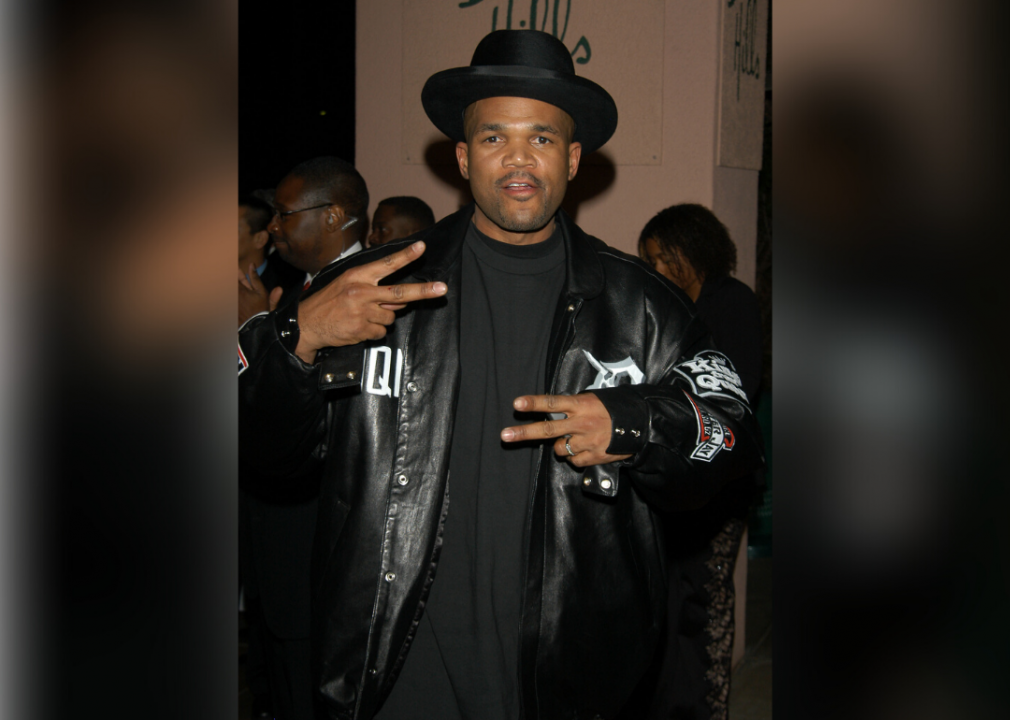 Stephen Shugerman // Getty Images
#14. Joseph
- 2019 popularity rank: #34 (9,058 babies born)
- Name shared by: Joseph "Run" Simmons (1964-), Joseph Haydn (1732-1809)
Several biblical Josephs might spring to mind of those familiar with Judeo-Christian tradition. Perhaps these figures lent their names to musicians as disparate as these two, helping them find common ground. After all, Simmons put the "Run" in Run DMC. And Haydn put his touch on so many 18th-century music pieces that we still know his name today.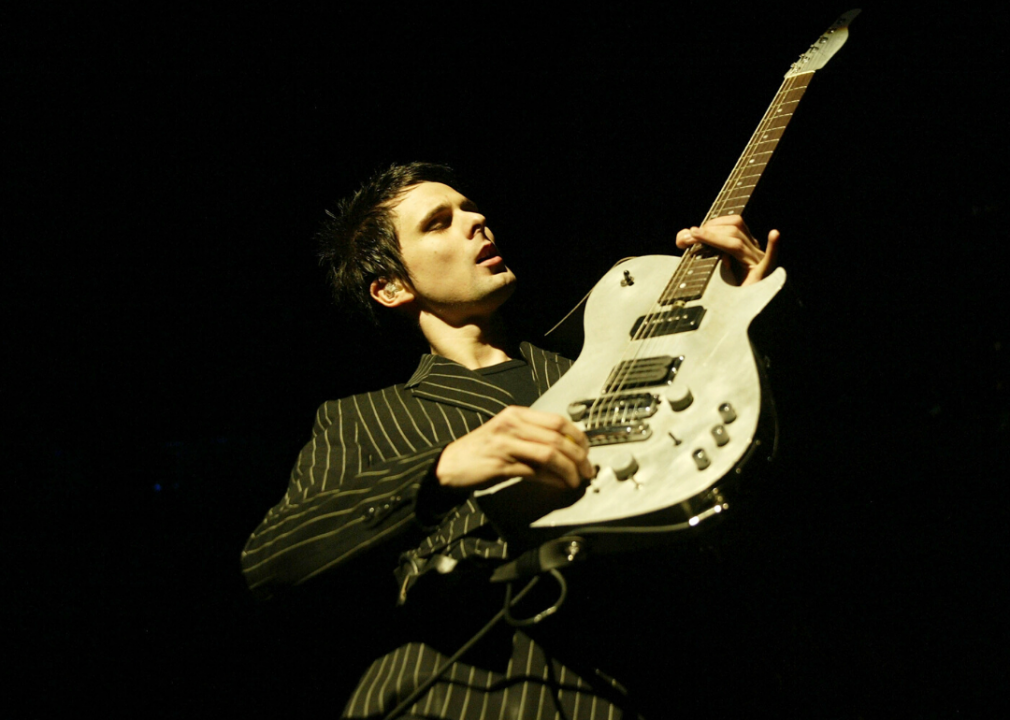 Karl Walter // Getty Images
#13. Matthew
- 2019 popularity rank: #32 (9,199 babies born)
- Name shared by: Matthew Bellamy (1978-)
This English musician and member of the band Muse comes from a musical family. His father is George Bellamy, once a member of the band The Tornados. Much of Bellamy's publicity in recent years has been in connection with engagements to celebrities, and now marriage to model Elle Evans. The name Matthew means "Gift from God."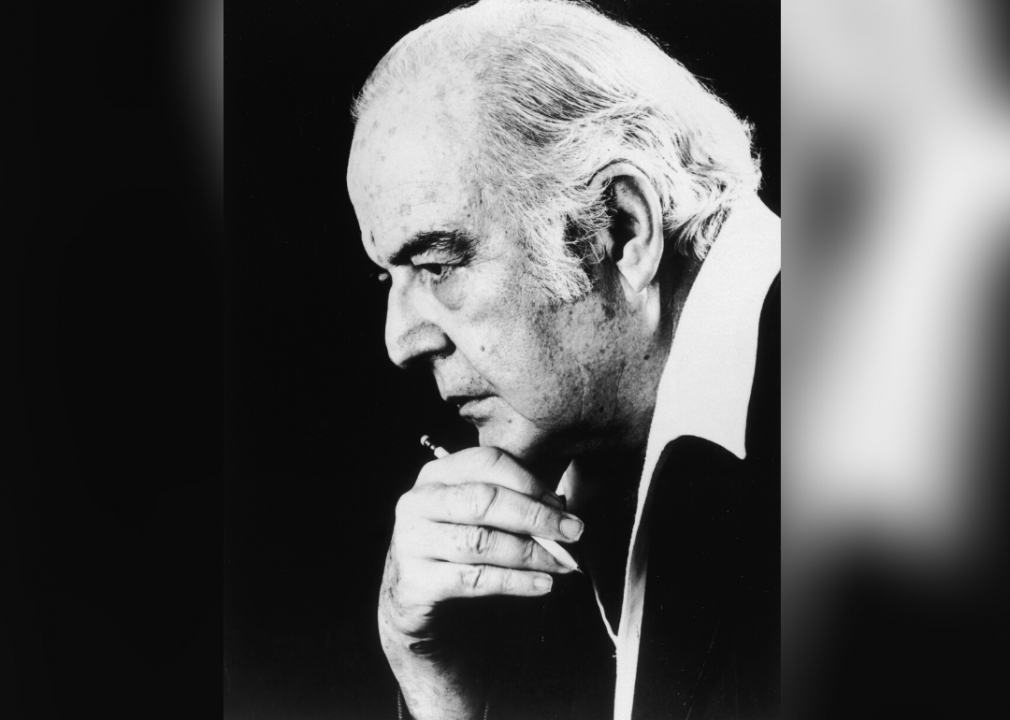 Hulton Archive // Getty Images
#12. Samuel
- 2019 popularity rank: #31 (9,237 babies born)
- Name shared by: Samuel Barber (1910-1981)
Classical music fans will know the name Samuel Barber. He was born in Pennsylvania and at age 14, entered the Curtis Institute of Music in Philadelphia. Over the years, he collaborated with a wide range of American and European musicians and conductors, creating operas and other pieces. His "Adagio for Strings" has been widely used in films such as "Platoon."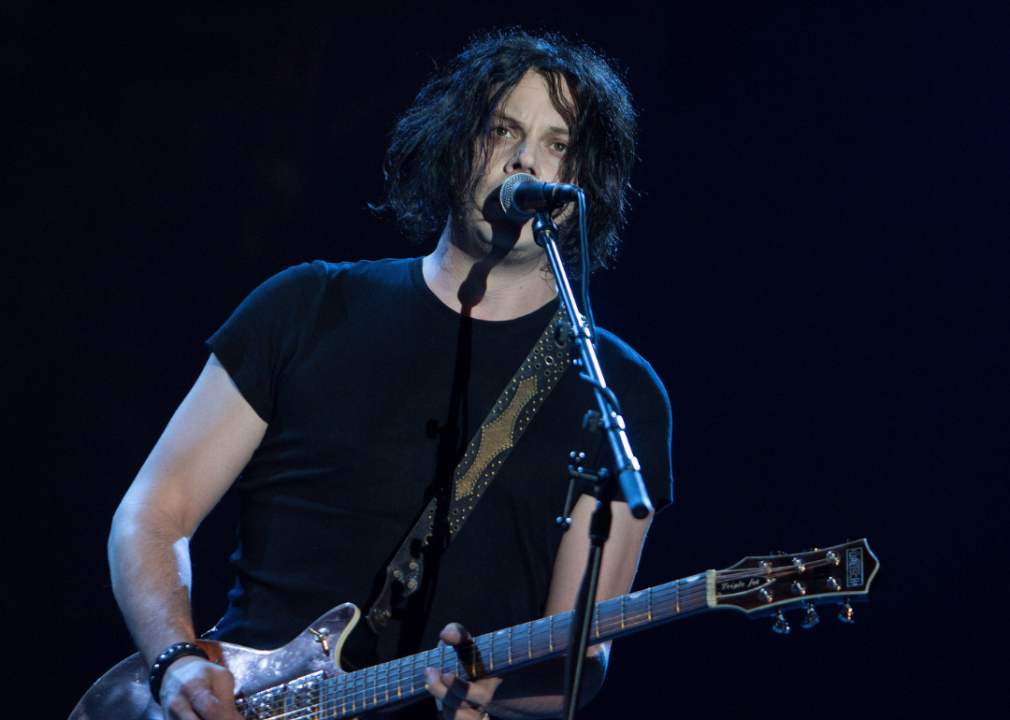 Scott Legato/WireImage // Getty Images
#11. Jack
- 2019 popularity rank: #28 (9,349 babies born)
- Name shared by: Jack White (1975-)
Jack was once a nickname for the name John (think John F. "Jack" Kennedy). But in recent years, it has become a standalone name. Jack White, co-founder and guitarist of the band The White Stripes, was named John Anthony Gillis. He took the name White upon marrying drummer Meg White, in 1996. They recorded several albums together, even after they divorced.
Frank Micelotta // Getty Images
#10. Jackson
- 2019 popularity rank: #26 (10,102 babies born)
- Name shared by: Jackson C. Frank (1943-1999)
A musician described as a "forgotten legend" who died penniless and homeless seems an unlikely inspiration for parents who are selecting baby names. Frank's only album, which came out in 1965, was produced by Paul Simon and is viewed as a classic among folk-music insiders.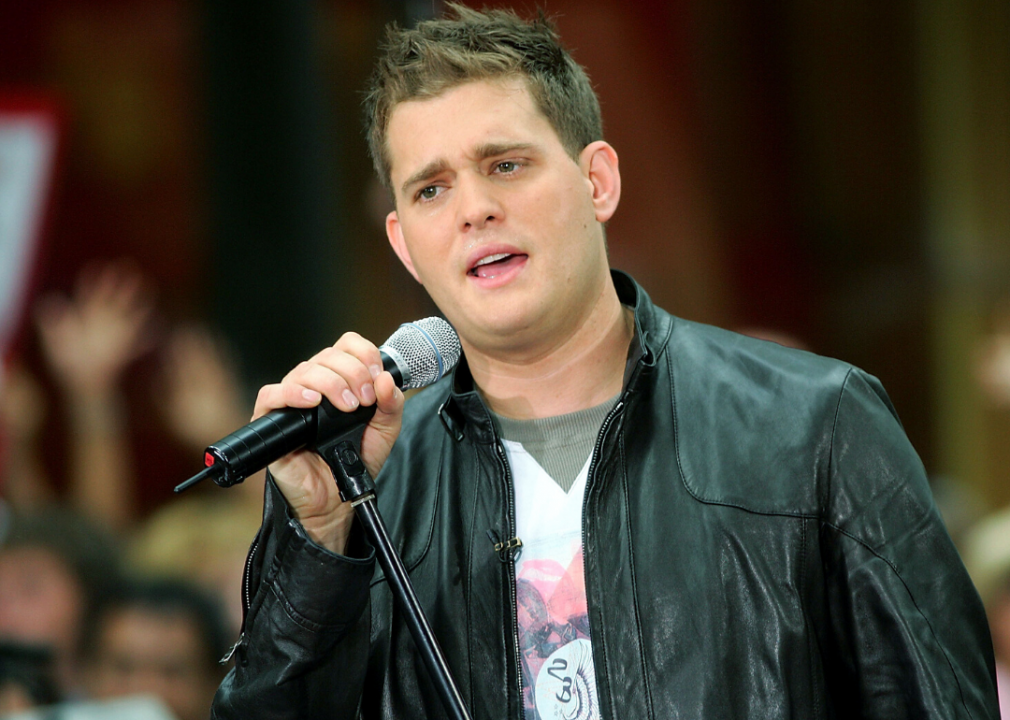 Evan Agostini // Getty Images
#9. Michael
- 2019 popularity rank: #22 (10,514 babies born)
- Name shared by: Michael Stipe (1960-), Michael Nyman (1944-), Michael Moorcock (1939-), Michael Jackson (1958-2009), Michael Giacchino (1967-), Michael Cerveris (1960-), Michael Bublé (1975-), Michael Lee "Meat Loaf" Aday (1947-), Michael Peter "Flea" Balzary (1962-)
The fact that there are so many examples of musical Michaels represents the longevity and popularity of the name. Except for Michael Jackson, all of these musicians are still working today. But The Gloved One still seems with us, with Johnny Depp currently producing a musical told from the point of view of the glove.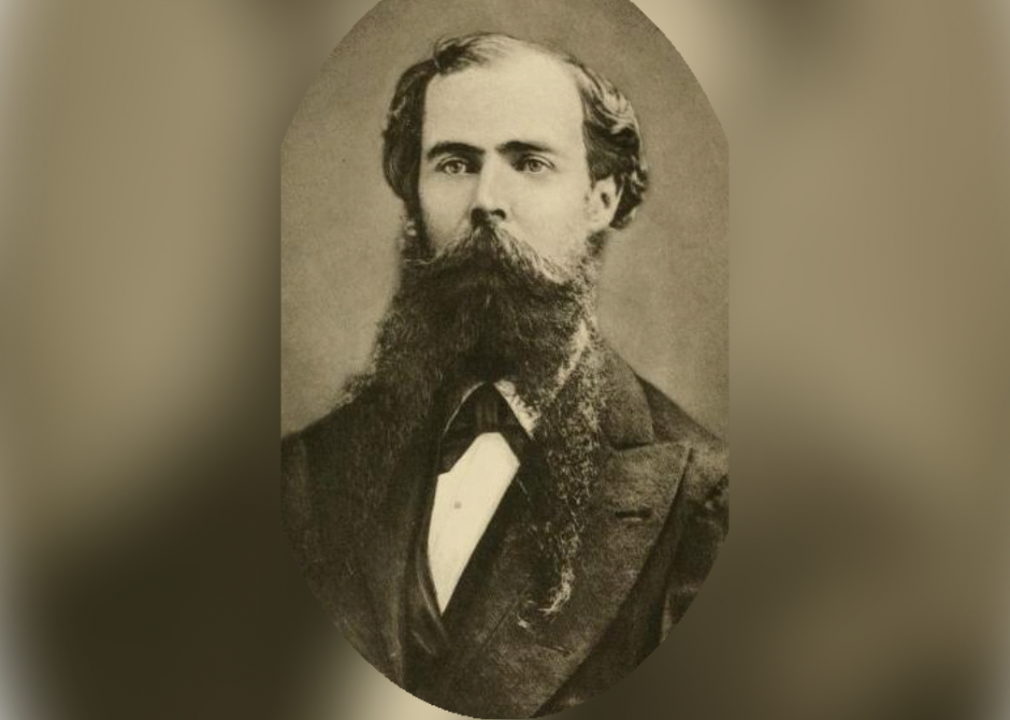 Public Domain // Wikimedia Commons
#8. Henry
- 2019 popularity rank: #20 (10,704 babies born)
- Name shared by: Henry Clay Work (1832-1884), Henry Purcell (1659-1695), Henry Mancini (1924-1994), Henry Jackman (1974-)
Whether they went by Henry or Harry, this masculine name from the Normans has been the moniker of kings for centuries. It is also a pretty hip name for musicians, as Work (Civil War era composer and abolitionist), Purcell (British composer of Middle Baroque period), Mancini (American composer behind some serious earworms, such as "Pink Panther" theme music), and Jackman (composer with specialty in action and animation film scores) all illustrate.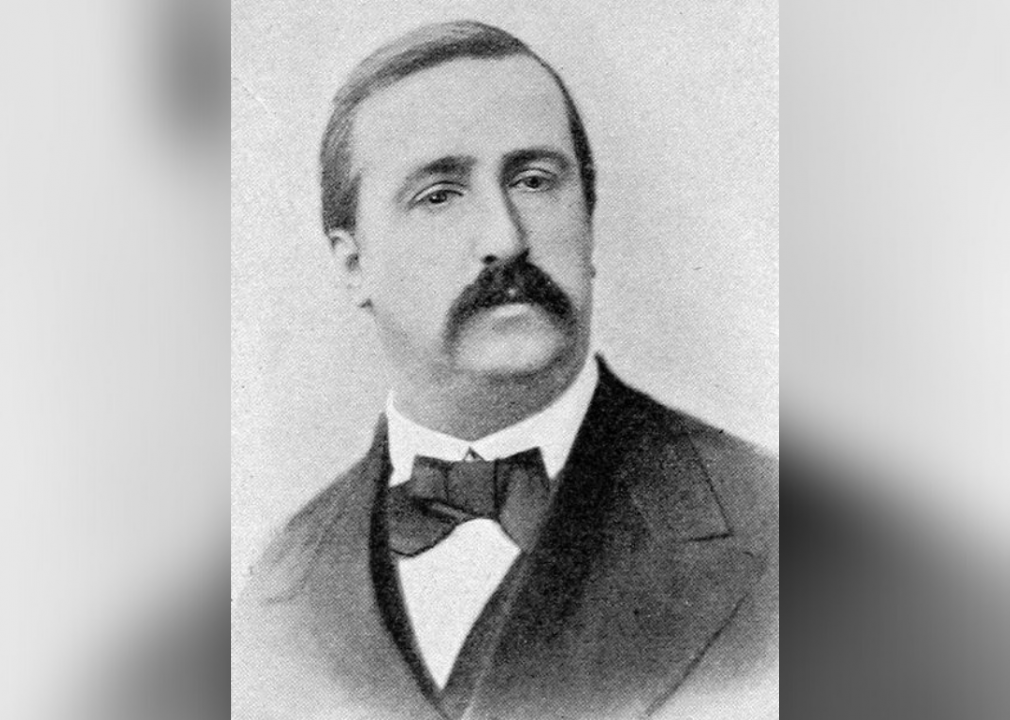 Public Domain // Wikimedia Commons
#7. Alexander
- 2019 popularity rank: #19 (11,230 babies born)
- Name shared by: Alexander Borodin (1833-1887)
The intense and lyrical sound we associate with Russian classical music would not have been the same without Alexander Borodin. He had been a surgeon and a teacher of chemistry until he met other musicians who became his colleagues in composing. Together, this group became known as The Russian Five.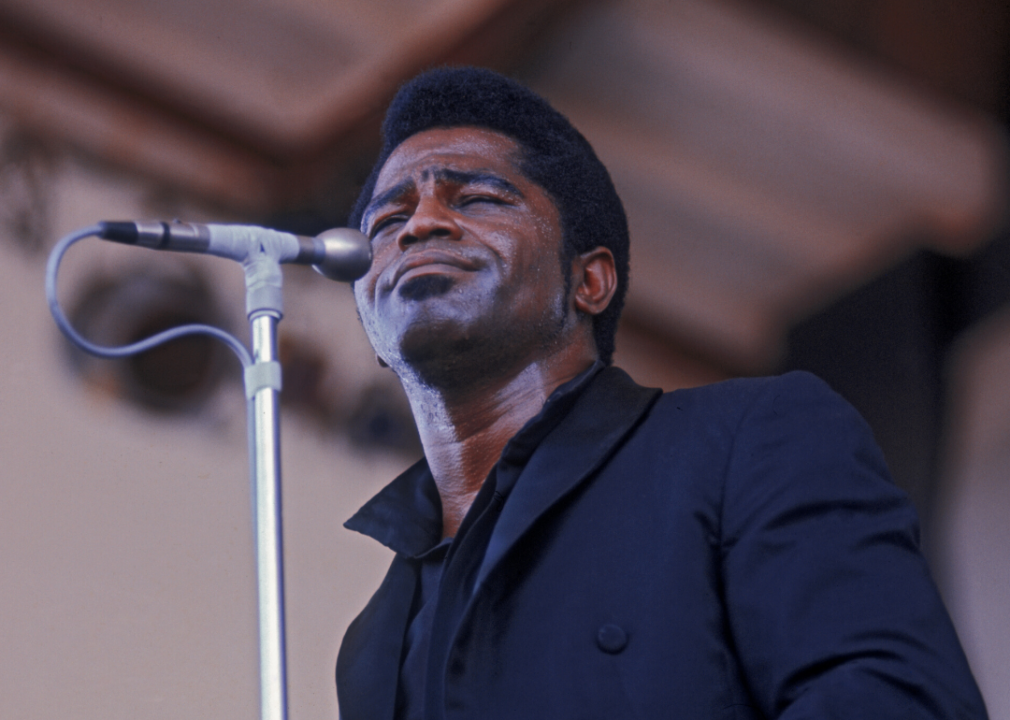 Hulton Archive // Getty Images
#6. James
- 2019 popularity rank: #12 (13,087 babies born)
- Name shared by: James "L.L. Cool J" Smith (1968-), James Newton Howard (1951-), James Horner (1953-2015), James Hetfield (1963-), James Brown (1933-2006), James Arthur (1988-)
This name has evolved from Hebrew and Late Latin, to become the name of kings, saints, and even the creator of the King James Bible still used by Protestant Christians today. The musicians listed here are also still in the public eye, but two of them have passed away.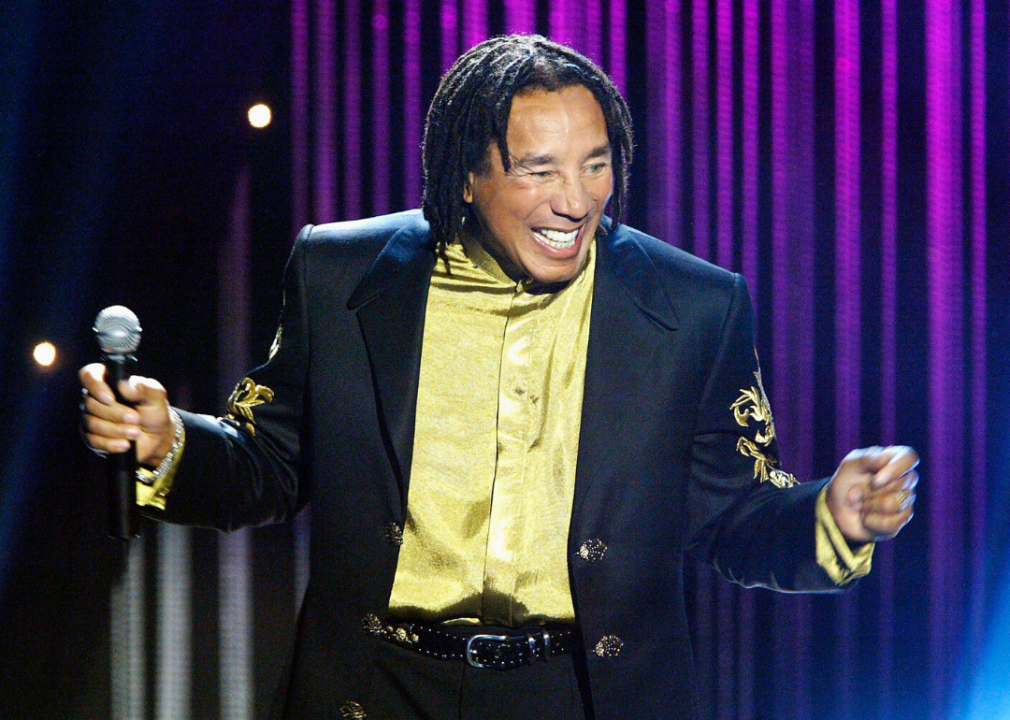 Frazer Harrison // Getty Images
#5. William
- 2019 popularity rank: #8 (13,542 babies born)
- Name shared by: William Grant Still (1895-1978), William "DJ Snake" Grigahcine (1986-), William Earl "Bootsy" Collins (1951-), William "Smokey" Robinson Jr. (1940-)
To say this name goes way back would be an understatement. Baby boys were being named some form of William for quite a while, even before William, Duke of Normandy conquered England at the Battle of Hastings in 1066. The parents who gave our group of Williams this name might not have known it means "resolute protector," but each has done his part to keep quality music alive.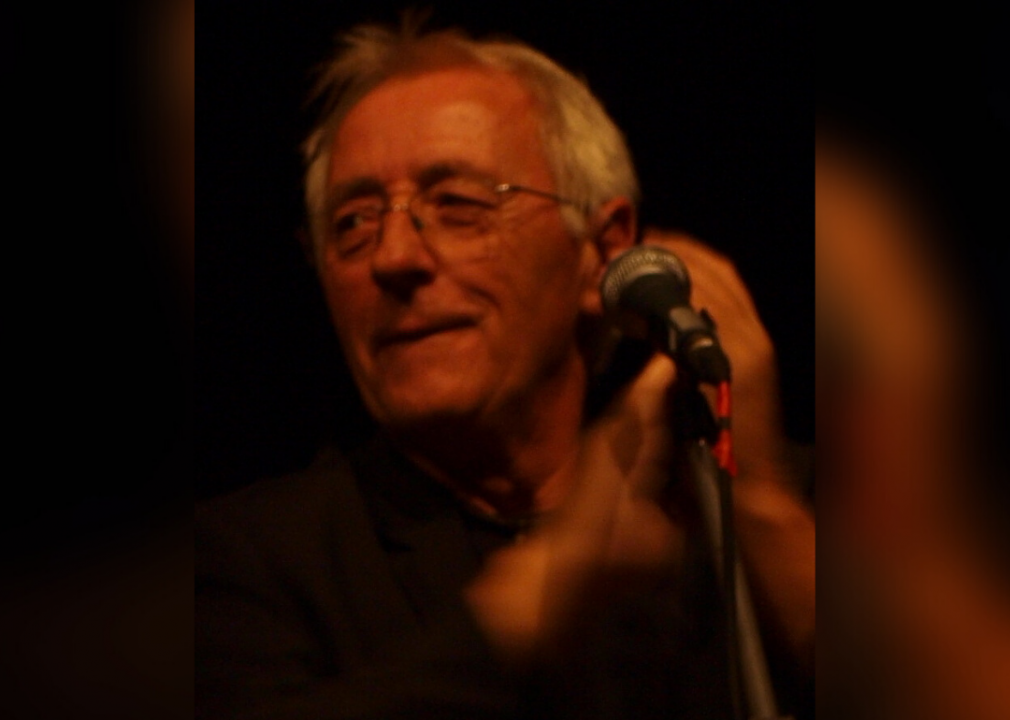 Frka // Wikimedia Commons
#4. Oliver
- 2019 popularity rank: #6 (13,891 babies born)
- Name shared by: Oliver Dragojević (1947-2018)
Oliver Dragojević was well regarded and lauded both in his native Croatia and in international music circles. His career in composing and performing music spanned decades. He had a unique style of combining traditional Croatian instruments and folk melodies with jazz styles of an international flavor. He died of lung cancer in 2018.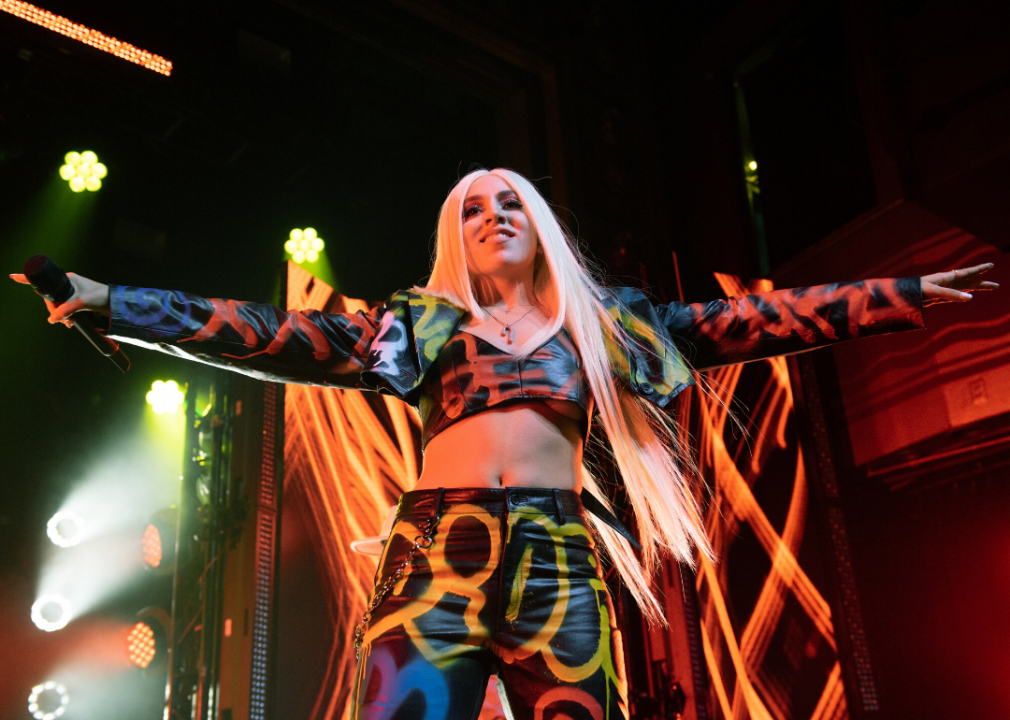 Noam Galai // Getty Images
#3. Ava
- 2019 popularity rank: #5 (14,440 babies born)
- Name shared by: Ava Max (1994-)
Ava Max uses her middle name instead of her given first name, which is Amanda. The Albanian American pop star has been topping the U.S. and European charts with songs like "Sweet but Psycho."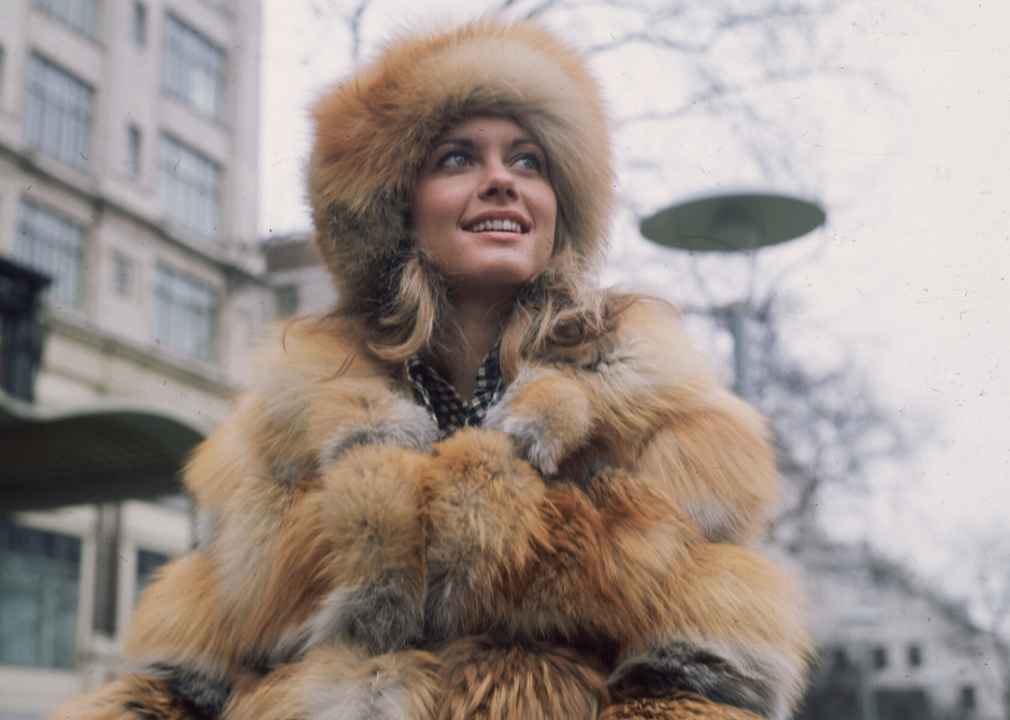 Hulton Archive // Getty Images
#2. Olivia
- 2019 popularity rank: #3 (18,451 babies born)
- Name shared by: Olivia Newton-John (1948-)
Singer and actress Olivia Newton-John was given a name that even Shakespeare knew well in 1601 when he wrote the comedy "Twelfth Night." The name has survived the centuries. Newton-John was born in England, lived for many years in Australia, then moved to the U.S. for the sake of her career. It worked: She was the star of the musical "Grease," and has recorded more than 25 Top 40 singles. In recent years she's been living with breast cancer and has been bringing attention to the need for increased research, early detection, and treatment.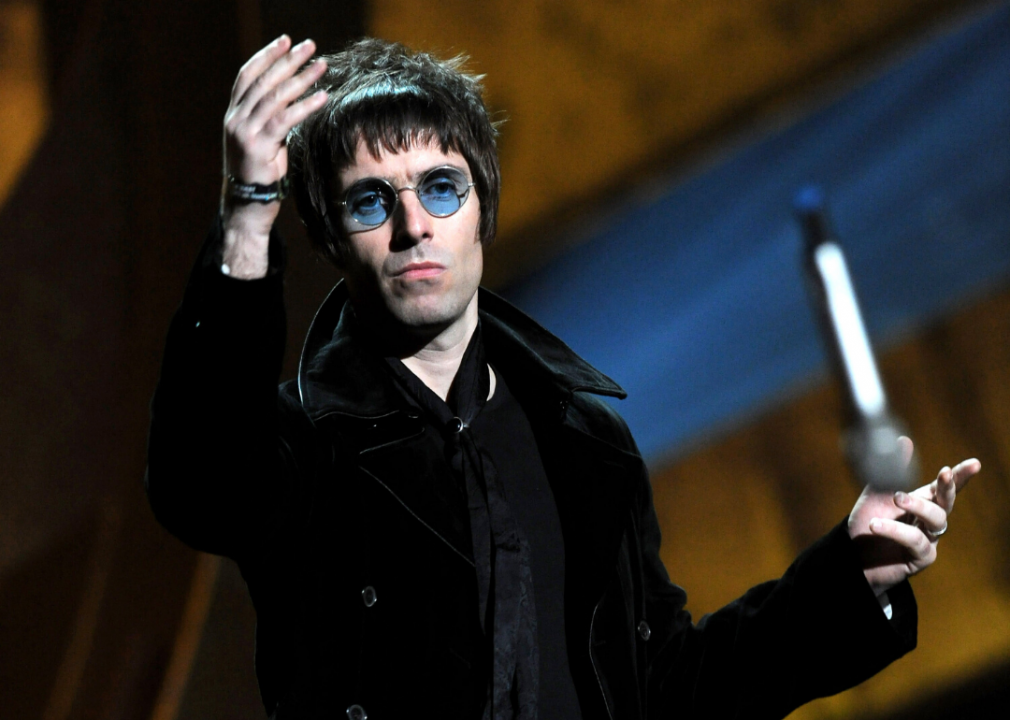 Gareth Cattermole // Getty Images
#1. Liam
- 2019 popularity rank: #1 (20,502 babies born)
- Name shared by: Liam O'Flynn (1945-2018), Liam Gallagher (1972-)
Liam is an Irish name that is a short version of that language's spelling of William (Uilliam). It has long been a popular name in that country, but in the U.S., its popularity has been recent. Liam O'Flynn was an Irishman and master of the uilleann pipes. Liam Gallagher was born in Manchester, England, but to Irish parents. He's the co-founder and singer for the British pop group Oasis and has since launched a solo career.