"My mother was a born nurse."
Margaret Thoma is remembering her mother as she went off to work at Lions Gate Hospital, carrying her starched white cap, the bronze medal awarded by Glasgow Royal Infirmary pinned to her immaculate uniform.
A medical bag stands ready at the front door because Kathleen Finlayson was always prepared to help when needed.
Kathleen's daughter is a born artist. The evidence is obvious in the colour and energy and style of Margaret's paintings.
It is in the detail and the poetry of her recollections of growing up in North Vancouver.
"I remember how very beautiful it all was. At the end of our garden, the forest began."
Kathleen walked with Margaret and her son Duncan in the garden and the forest. She taught her children to identify the robin's song and the drumming of the grouse.
She pointed out, amidst the dogwood and maples, reminders of her native Scotland, rowen trees and bracken, called mountain ash and fern in Canada.
"Mom and Dad always said that moving to Canada was the best thing they ever did, though they always remembered Scotland, as all Scots do. There was so much to appreciate: the natural beauty of Canada, the gardens and neighborliness of North Vancouver."
Margaret's parents met in Glasgow, brought together by the Great War.
The Burns family was hospitable, especially to young soldiers on leave. Robert Finlayson was pleased to be the guest of a family with many daughters. Kathleen was the seventh of eight sisters in that branch of the Burns family.
Years would pass before Robert and Kathleen married.
Robert was 19 in 1914 when he enlisted in the Highland Light Infantry. He was a fighting soldier on active service – at Mons, Vimy Ridge, Gallipoli and Palestine – until the war ended in 1919.
Every year on Remembrance Day and on Anzac Day, Robert stood at Victory Square to commemorate the service of his comrades, a dashing figure in his beret and tartan scarf, his medals and ribbons sewed onto his jacket by Kathleen.
After the war, and after university, Robert worked as a marine architect at John Brown & Company of Clydebank. Kathleen was a nurse, recognized for her skill in treating wounded veterans.
3305 Mahon Ave. was a long way from Glasgow, and, in those days, well up in the hills of North Vancouver.
"We came here from Point Grey in 1935 for 'a more rural life' because of our brother, Duncan.
 He was disabled and needed to live quietly. Peter was the eldest, then came Duncan, and I was born in 1932. I believe the move was for my father too, consequent of his time as a soldier in the war."
Grouse Mountain was Margaret's playground. Weekends, she loaded her pack with supplies, stuck a fresh candle into her "bug" light and hiked up the mountain's forested shoulders.
First stop was Joe Wepsala's store, next was Lizard's Rest and its useful message board, then on to the collection of cabins called the Village, their windows, lit with lanterns and candlelight, glowing through the trees.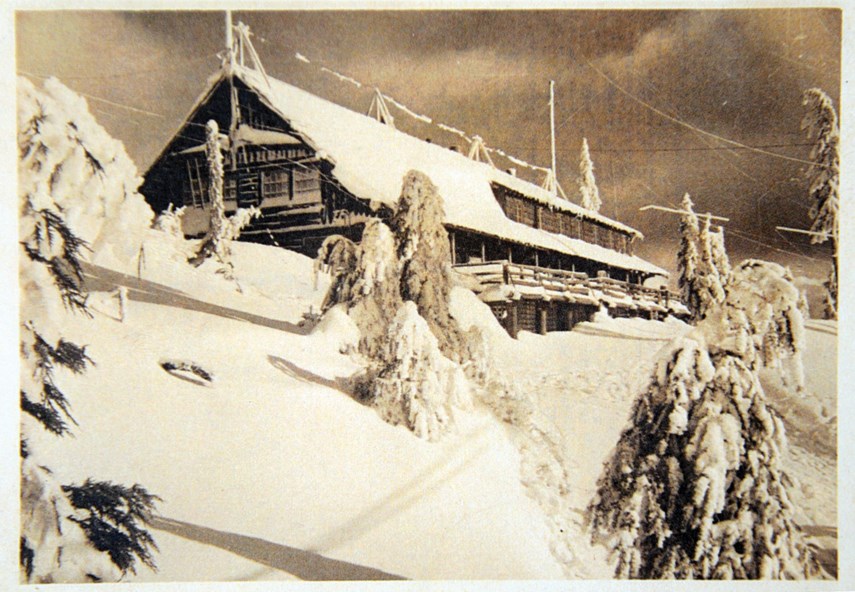 Here is a picture, in Margaret's words:
"At night through the falling snow and the smoke from the cabin stoves, we could see the stars high above, and far below the ocean and the city lights, not as bright as they are today.
Walking to the Saturday night dance, it was so quiet, only the sound of voices coming through the falling snow, and then the music started. The dance always began with Glen Miller's 'Sunrise Serenade' and always ended with his 'Moonlight Serenade.'" 
Is creativity inherited? In Margaret's case, this appears to be so. Her grandfather painted Highland scenes, her father military portraits.
Her mother always worked a piece of embroidery or knitting in the evenings. Back home in Glasgow, her sisters studied art with Charles Rennie Mackintosh. Margaret's offspring have their own connection to the arts and an appreciation of the natural world. 
Robert and Kathleen's interest in the Vancouver art scene and support of Margaret's interest in drawing led her to study at the Vancouver School of Art and later at the Central School of Art in London.
"My father would visit the school where Charles Scott, a family friend from Glasgow, was the director. Dad liked being among the veterans, both students and teachers: Jack Shadbolt, Orville Fisher, Gordon Smith, and Peter Aspell, who was a neighbour."
Margaret's life as an artist began early, on those walks with her mother, and was nurtured not only by her parents' support of the arts but by their character and values. 
Her work as a painter in oils is rich in colour and energy. As that colour and energy, eye catching at first glance, leads the viewer to a longer and deeper look, the artist's vision reveals itself: exuberant, honest and life affirming.
Margaret Thoma lives in West Vancouver, surrounded by books and paintings, with friends, children and grandchildren nearby and an exhibition of her work coming in the new year.
The Trailblazers, works by Margaret Thoma, Claire Babcock and Bob Araki, opens Tuesday, Jan. 29 at the Ferry Building in West Vancouver.
Laura Anderson works with and for seniors on the North Shore. Contact her at 778-279-2275 or email her at lander1@shaw.ca.