Every Thursday after preschool, three-year-old Monty Smith visits the Bowen Island Flower Shop to pick out a flower. 
"He doesn't want ice cream, he doesn't want toys or TV, he wants to go to the Flower Shop and get a flower and come home and plant it," said mom Erin Perry. "It's number one of the things he wants to do."
In his, now very full, 10 foot by 10 foot garden on Miller's Landing, Monty diligently works away. "He climbs in there himself and he's really careful not to step on anything," said Perry. The youngster weeds, deadheads the flowers, waters and hunts for slugs.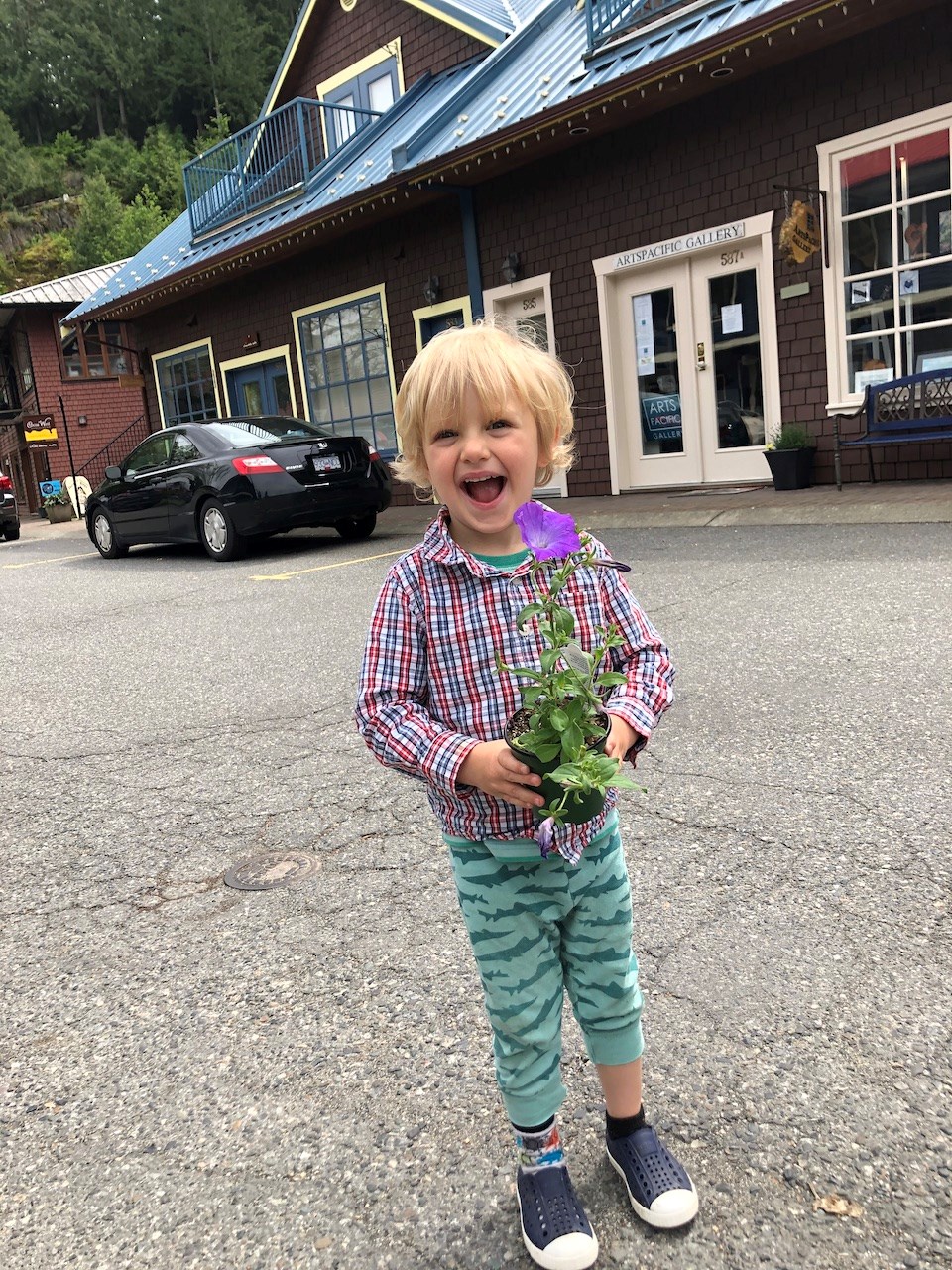 "He's very dedicated and determined that everything's done right," said his mom. 
"He loves the colors and he loves that they grow and you can take care of them," said Perry. 
Monty loves red flowers. His garden has had poppies, day lilies, rockroses, cosmos, echinacea and some perennials that he really likes including geraniums and petunias. 
Monty's younger brother Julius (who's turning two in August) too likes the garden but sometimes he picks the flowers when he's not supposed to. "Because they're so beautiful, which, I don't blame him," laughed Perry. 
Perry hadn't been planning on doing a garden this year as the family had a lot of other house projects to get done. 
"But it became his passion," said Perry. "You want to follow your kids' passions and encourage them.
"Also with the COVID, we suddenly had a lot of time on our hands and it was definitely a thing that was feeding our souls and also filling the time."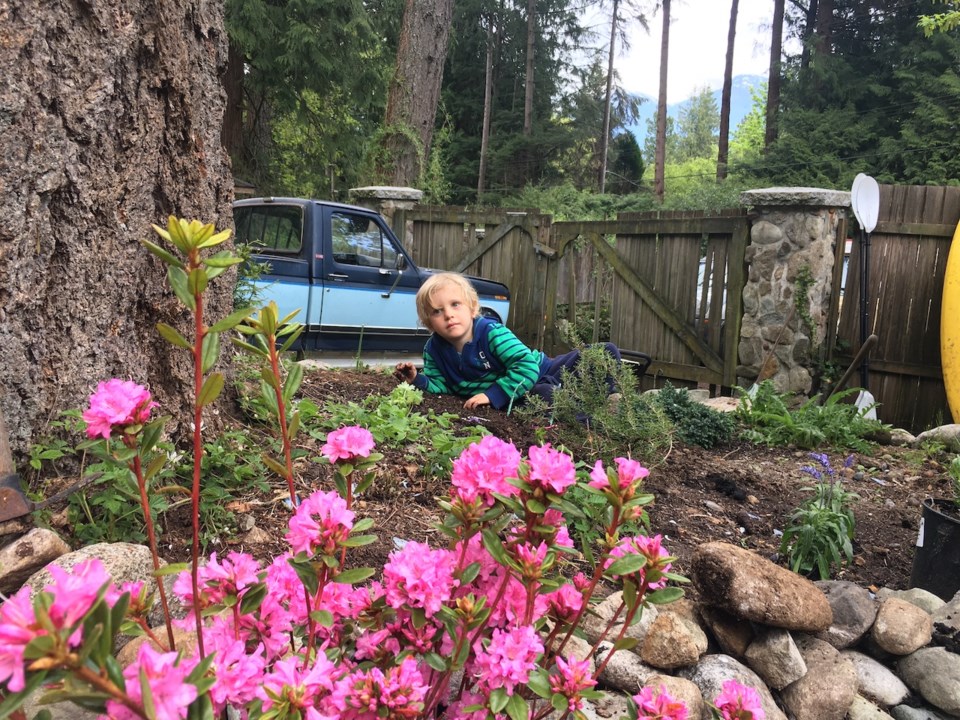 As COVID restrictions have loosened enough for Monty to return to Montessori, every week after class, the young gardener visits the Flower Shop (just down the street from the preschool). He quizzes owner Caroline Walker and, as Monty knows the difference between a perennial and an annual, he'll ask if the flowers will come back. 
"Caroline gives great recommendations so she has helped us choose the right ones that are easy to grow," said Perry. "Everything that she's helped us with is flourishing and doing well."
Monty comes by his gardening talent naturally: his grandmother is an award-winning gardener. While Monty spent some time last summer helping his grandmother water her plants and flowers, it wasn't until this year that his green thumb blossomed.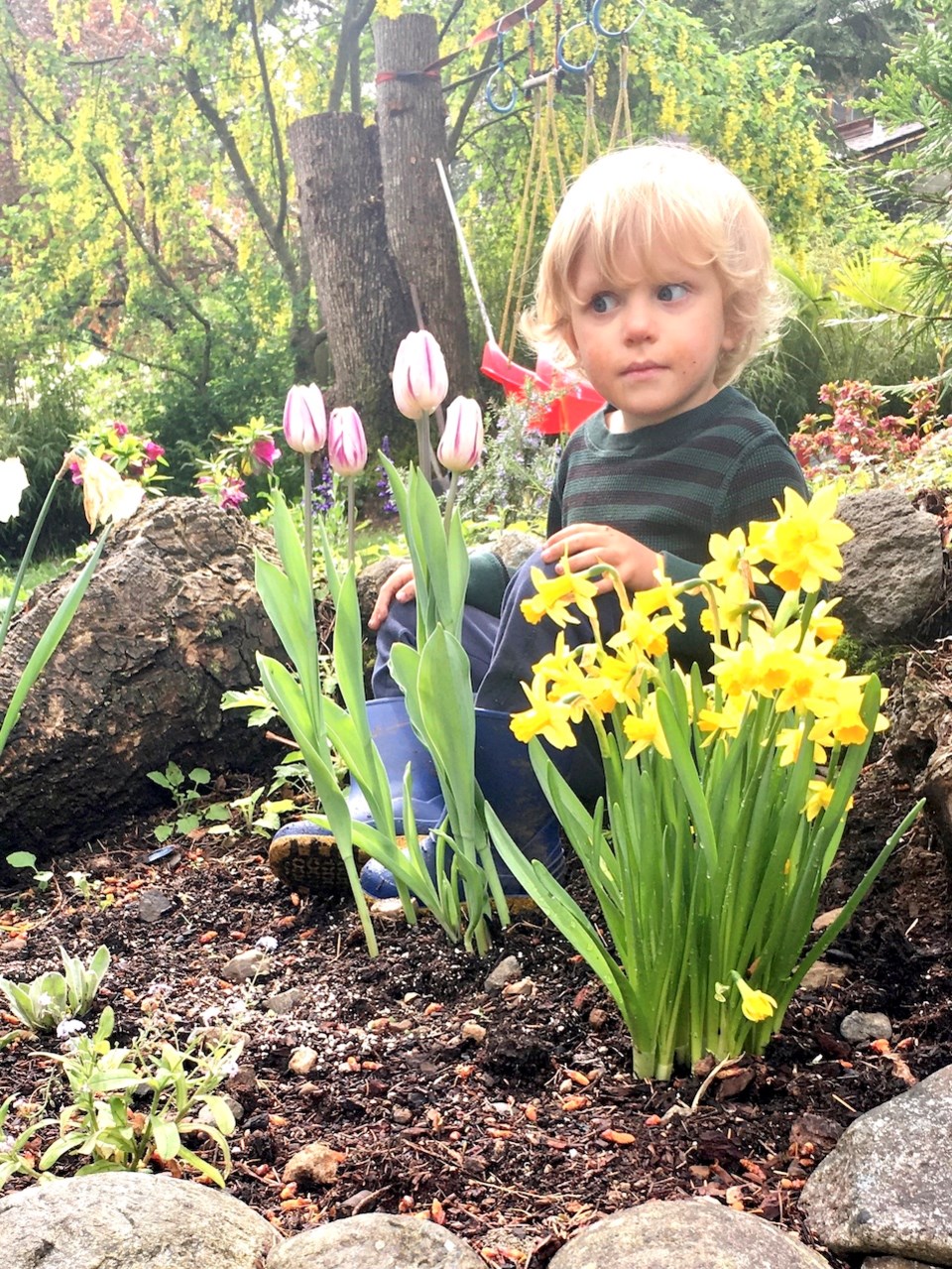 "He'll have whole conversations with his grandma about gardening on the phone," said Perry.  "She'll take him and show him her entire garden for 20 minutes and he'll show her his garden for 20 minutes."
Monty's grandmother, however, lives in Ontario. They used to see one another every two months, but now separated by distance, they've found another way to connect. 
"It's a nice thing," said Perry. "Even though we don't get to see her, he gets to have this very special almost daily talk with her about flowers."