Geneviève Blanchet is gearing up for a new season of farmers' markets this summer after bringing home international recognition for two of her marmalades at the World's Original Marmalade Awards.
The Lynn Valley resident won a silver award for her Orange Marmalade and a commendation for the unique ingredients in Grapefruit Smoked Sea Salt Marmalade. Over 3,000 entries from more than 40 countries competed in this year's competition held annually at Dalemain Mansion in the Lake District, Cumbia, northern England.
Blanchet started her small-batch local preserve company, Le Meadow's Pantry, in 2013. Working as a nutritionist at the time she just decided out of the blue to make her own marmalade to sell at farmers' markets in the summer.
"I had never made marmalade before," she says. "I had made jams when I was younger, just for fun, but marmalade never. I looked at a few books, did some research on marmalade and the traditional way to do it. it. I looked up a recipe and I made it and I loved it. I still have basically the same recipe as when I started."
Even though Blanchet grew up in rural French-speaking Quebec with apple and crab apple trees, marmalade, a U.K. breakfast staple, was a big hit with her family.
"We always had a jar of honey, a jar of jam and a jar of marmalade so there was always one of the three options. I've always been very familiar with marmalade, it was something I've always loved. When I moved (to the West Coast) people were eating  jam all the time and that's when I started my company."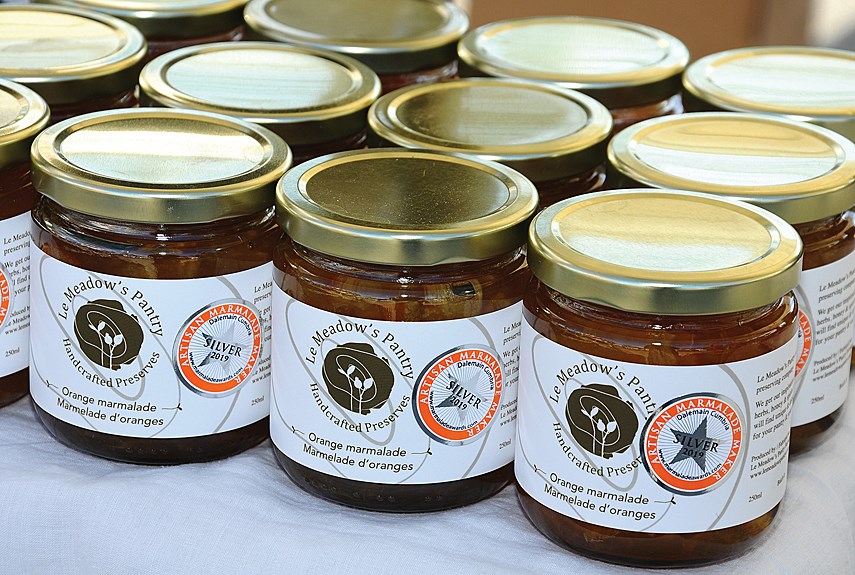 Blanchet's Le Meadow's Pantry makes artisan jams and marmalades using local fruit. Everything is handmade with no food processors. All the preserves are cooked in small batches, 12 jars at a time, in French copper preserving pans. She's been selling her product at the Vancouver Farmer's Market for six years and at retail locations throughout B.C.
"I have two marmalades in the stores," she says. "In the winter I like to expand and offer different marmalades with different citrus as well but they are only available at the farmers markets."
 The same goes for the jams made in Le Meadow's Pantry kitchen. "I have six flavours in the stores but in the farmers markets throughout the year you'll find at least 50 different flavours. In the summer I like to do peaches, apricot cherries, rhubarb and so on and then in the fall I'll use the fall flavours like pears and apple."
Blanchet also likes use a lot of flowers and wild plants in her recipes. In spring she adds dandelion jelly as well as blueberry jam with Douglas fir tips and other ingredients.
"I like to work with things that grow around us – the wild edibles," she says.
Both of her award-winning marmalades are available in local North Shore retail locations including Whole Foods, Andrews on 8th, Bluhouse Market and Cafe (jams served on the menu and sold at retail), Nourish Market, Meat the Butcher Fine Meats, The Red Door Store (at the Vancouver Waldorf School), Whole Foods, Stongs Market and Windsor Meats Edgemont.
Her summer farmers' market schedule is available online at lemeadowspantry.com/farmers-markets.html.