The evening vibe at Lift is radically different than the morning vibe. In the throes of a typical weekend brunch service, the exceedingly popular Lower Lonsdale spot has a frenetic energy.
On a sunny morning, the queue can often be spotted from well down the block, should you be so fortunate as to find parking anywhere near there. Once inside, there is often the sense that other patrons awaiting a table are not-so-subtly wishing you a swift demise via buttered scone so as to expedite their own seating.
By contrast, on a recent Sunday evening during an early seating, I felt positively serene in the Lift space, which was gently lit by the summer sunshine and cheerfully lifted by familiar tones of Getz-Gilberto bossa nova. Against this rarefied calm, I was able to fully appreciate the space and reflect on just how nice the room and patio are, situated in a lovingly renovated, historic building with dramatic sidewalk-facing windows and wooden accents. The patio in particular has come a long way since its launch, with garden boxes shrouding the tables in leafy greens like chard and romaine, creating a tiny but inspired sanctuary within the bustle of West First Street.
In addition to launching a production bakery at the south end of Bewicke Avenue just across the train tracks in the old Gretchen's Here and Now space, Lift also began serving dinner last year, riffing on its expertise in working with grains by developing a pasta-centric menu with a handful of appetizers.
The Boy and I worked a visit into an otherwise jam-packed weekend schedule and committed to bringing a take-away treat home for my wife, who bartered a solo paddleboard foray in Deep Cove in exchange for holding down the fort with the girls, neither of whom were in the right headspace for a well-mannered dinner out.
A front of house staffer welcomed us for our ultra-early 5 p.m. reso and let us know she was on her own for the dinner service, along with one cook in the kitchen. I'm not sure if she shared this information with us because I looked unduly demanding on arrival, or by way of warning in case the room filled and we struggled for her attention later. Whatever the intention, our experience was seamless as we worked our way through a rustically elegant charcuterie appetizer and two pastas.
As we initially browsed the menu, I sipped a Trash Panda IPA from East Van's Parallel 49 Brewing, while The Boy made short work of a freshly squeezed orange juice, describing it to me non-ironically as nectar of the gods. In addition to the Cheese and Salumi Board (the aforementioned charcuterie), Lift appetizer options included freshly baked bread, warm olives, caprese salad with fior di latte, tossed organic greens, and an evening special salad. As fans of slow grazing, The Boy and I thoroughly enjoyed the cheese and salumi selection, featuring shaved prosciutto, thick-cut spicy calabrese salami, a second, unidentified salami of milder character, Grana Padano, firm mozzarella, and mild cheddar cheeses, olives, sundried tomatoes, artichokes, campari tomatoes, tart spears of pickled cucumber, compound butter, and exceptionally delicious, crusty, fresh-baked sourdough bread.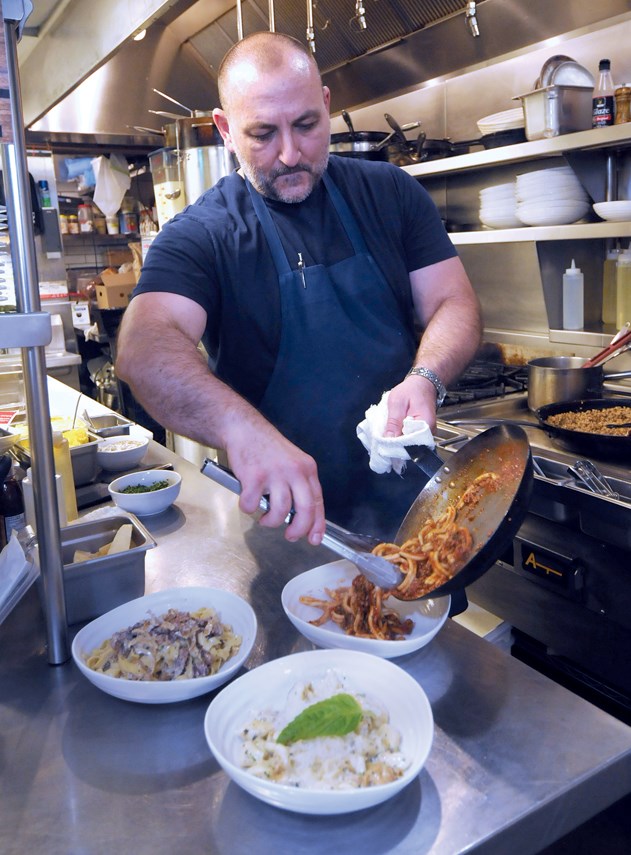 The Boy fashioned impromptu sandwiches out of the assortment and I feared about two-thirds of the way through the generous board we wouldn't have room for our pastas, but the bold, exceptionally fresh flavours of the pasta sauces reinvigorated our appetites.
The Boy went for simplicity incarnate with Spaghetti Pomodoro, the al dente, homemade fresh pasta arriving tossed in tangy, garlicky, herb-laden tomato sauce that felt like a perfect choice for a hot summer night. I went in the opposite direction, succumbing to my predictable, borderline obsessive, affection for Carbonara, prepared here as fettuccine with a mountain of smoked wild boar pancetta lardons, caramelized onions, cracked black pepper, reggiano, and egg yolk. The cooking liquor from the fettuccine was used to great effect with the egg and cheese to create a thick, silken, creamy sauce for the filling pasta. The wild boar pancetta was intensely flavoured, salty, heady, and smoky, adding a depth of flavour that might have warranted a light red wine as a pairing. Not anticipating this, I ordered a glass of straightforward Verdicchio instead, the bright, relatively acidic white at least cutting through the creaminess of the Carbonara sauce.
Thoroughly sated following the pasta, we placed an order for gnocchi with rose sauce, as well as two portions of tiramisu, to bring home. Both dishes travelled remarkably well and the gnocchi proved light and fluffy, subtly enhanced by a herb-forward, cheesy tomato sauce. The tiramisu was trifle-like and decadent, with wedges of coffee liqueur-soaked sponge cake and gobs of rich, rewarding mascarpone cream.
Our meal for three, including beer, wine, and orange juice, was $131 before gratuity.
Lift, 101 Lonsdale Ave. liftonlonsdale.ca. 778-388-5438.
Dinner is served on Fridays, Saturdays, and Sundays only.