The layout of restaurant businesses down at the Shipyards is symbolic of how our city's dining scene works more broadly.
In prime position with behemoth rooms, sprawling patios, and postcard city views are the multi-outlet players, Tap & Barrel and Joey, both of which follow a proven formula for success in Vancouver, one that is marked by on-trend dishes interpreted in an inoffensive, common middle ground fashion, consistently young, attractive front-of-house staff, and, above all else, a seamless replicability ensuring that their familiar brand of casual dining can be inserted anywhere.
Consider, for instance, the one and only venue that is permitted to operate directly on the beach at English Bay, Cactus Club. Or think about who bought out the massive Gastown space that once belonged to independent purveyor Chill Winston, which, in its earliest days, reinvigorated the dining and cocktail scene east of Abbott Street: it is euphemistically called Local Public Eatery, implying roots in the neighbourhood, but it is actually a sub-brand of Joey Restaurant Group, which operates across Canada and down in the U.S. in Seattle and L.A. As I understand it, the old Chill Winston venue, arguably the largest in Gastown after, maybe, The Old Spaghetti Factory, was not quite large enough for a Joey proper, so it was deferred to the Local umbrella. It is the first chain restaurant to open in Gastown.
Meanwhile, tucked into various smaller spaces in the shadow of the giants, are the smaller players seeking, in their own way, some replicability of their own. At the Shipyards, these are: Jamjar, Welcome Parlour, and Nook, all operators with original venues that are both defined and beloved by their local communities. In a location like the Shipyards, in addition to a solid draw based on their own merit, these smaller venues will undoubtedly enjoy the halo effect of increased traffic to the area courtesy of Tap and Joey. I wish them well but at the same time caution them to be careful what they wish for.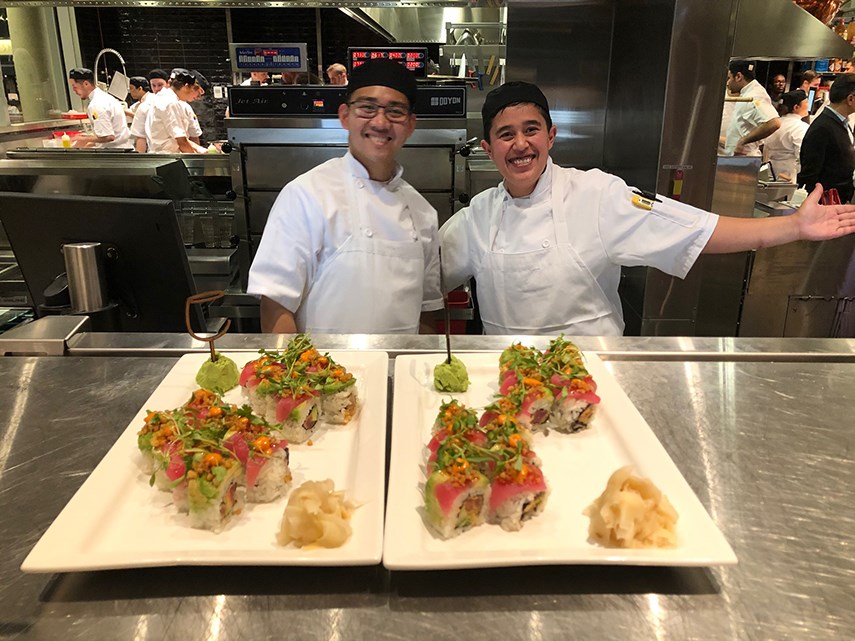 Now look, don't get me wrong. I have not been spurned by our B.C.-born casual dining empires in any way. I applaud their success, even if, as I have unambiguously expressed in these pages before, I lament the toll that success continues to take on the independent dining scene. I will shelve my broader concerns on this topic from this point forward to share with you only my impressions of my recent Sunday afternoon dining experience at the newly opened Joey Shipyards, a gloriously ambitious, sleek, moneyed-feeling venue with floor to ceiling windows facing Vancouver's northern shore.
I hit up the North Shore's 9,500 square foot flagship Joey restaurant solo, which turned out to be a good thing as the venue was packed to the gills with a number of parties awaiting seats near the entrance when I arrived. I was able to snag a seat at the bar, where I was pleased to find not only a coat hook under the counter at my seat, but also a power outlet, into which I plugged a tablet in order to tackle a bit of work (and take a few notes on my experience) between courses.
The first thing to say about Joey is that the enormous room is impressively gorgeous. From the white marble bar to the glass-ensconced wine cellar at the top of the stairs, the design is at once contemporary and inviting. Red and black leather accent the booth seating scheme, while wood and glass comingle in an organic way to fit right in to the North Shore esthetic. The decibel level of the space corresponded to the guest volume, with a bass and percussion-forward soundtrack competing for attention.
A bartender promptly introduced herself to me with a handshake (a convention that must be in the Joey standards manual as I witnessed two other staff members behind the bar greet their guests the same way) and I was supplied with an Americano right away, as per my request, as I reviewed the menu and typed a few pithy sentences about feeling old in this youthful playground and about how I can't remember when $15 became the new average price for a glass of entry-level local wine. I eventually ordered Ceviche of prawn and salmon with yuzu dressing, billed on the menu as "Japanese Style," to start, followed by Prawn and Lobster Ravioli with truffle beurre blanc. I asked to keep the wine list so I could make a selection to pair with my main, when it arrived.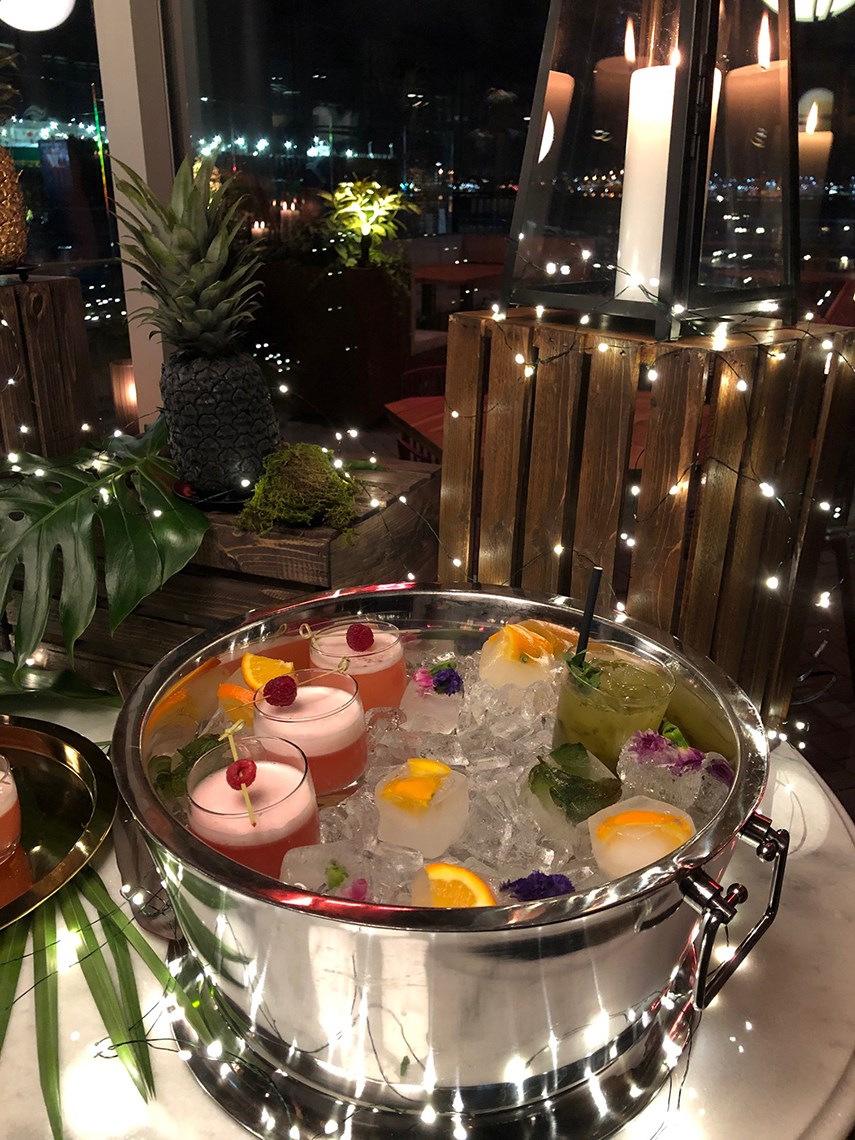 As it happens, I didn't get to order a glass of wine. My server/bartender, who was so eager to meet me initially, became sidetracked with other tasks and none of her counterparts thought to check if I needed anything further once my meal arrived. Regrettably, my meal arrived almost all at once, a pet peeve trigger of mine, the hot pasta that I had intended as a second course presented to me as I was barely one third of the way through the ceviche. This timing did get the attention of my server long enough for her to explain that the pasta course had come out faster than she had intended, but the conversation stopped there and my admittedly strained comment of "yeah, that was a little too quick" was lost to a new bar chit spitting out of the printer that needed attention.
It takes some time for a new team to find its stride, which is why I typically wait a few weeks before visiting a new place. I happened to run into a former colleague of mine over the course of my meal as he was on his way out. He had already visited this Joey location a few times and was thoroughly impressed with every aspect of it. He relayed a conversation with a Joey staff member who explained that the company sends team members from established Joey locations elsewhere to help launch new outlets. In this case, some team members apparently travelled from Alberta for the task and were being put up at the nearby Pinnacle at the Pier Hotel while in town. I am impressed with this level of commitment to standardization. I just wish that this standardization didn't leave me feeling so much like a transaction at the end of my meal.
The thing is, I suspect this writer's particular feedback won't matter. I'm probably not the audience for Joey anyway and the appetite for its wares, and the wares of brethren-in-concept Earls, Cactus Club, Browns, etc., seems positively insatiable, if their expansion strategies and perennially filled rooms are anything to go by.
As for the food, I really can't fault it. The ceviche was bright and vibrant with punchy citrus notes and a subtle kick from slivers of fresh serrano peppers. The plating on the earthenware vessel was elegant and well suited to the dish, and the portion (which included a bowl of house made crisps) was adequate for $16.75. The ravioli were plump and generous, the lobster quotient of the filling ample, and a handful of pan-fried garlic prawns that studded the plate contributed to the decadence of the dish, which was loaded with heady, truffle-rich sauce and spears of asparagus. It was $28.75.
My meal of appetizer, main, and coffee was $53 before gratuity.
Joey Shipyards, 125 Victory Ship Way, North Vancouver (Shipyards) 604-343-2649.