North Shore hot chocolate lovers are in for a treat.
The Vancouver Hot Chocolate Festival is back, with three local chocolatiers and pastry chefs taking part in the sweet event for charity – on now until Valentine's Day.
During the damp and gloomy days of our West Coast winter, the festival embraces the motto: "Hot Chocolate Makes You Happy!"
Three North Shore dessert havens are participating in the hot chocolate festival, BjornBar Bakery in Edgemont Village, Thomas Haas Chocolates in the Harbourside area and Temper Chocolate and Pastry in Dundarave.
BjornBar Bakery's owner Tamera Clark is excited to get inventive for her inaugural showing in the festival.
"I think it's just a great cause and fun for everyone in the city to kind of go around and check out all these great bakeries and cafes and ice cream shops," says Clark.
Clark took inspiration from her bakery for her hot chocolate creations, incorporating desserts she already makes.
BjornBar baristas are whipping up "You da B-bomb" – dark chocolate ganache hot chocolate piled high with the cafe's signature croissant balls filled with chocolate, raspberry jam, or apple cinnamon – until Jan. 25.
Then it's "Bjorn to Party!" – white chocolate coconut ganache hot chocolate topped with Funfetti sprinkles and mini party meringues – available until Feb. 1. Clark says she was inspired by her two little nieces for this colourful creation.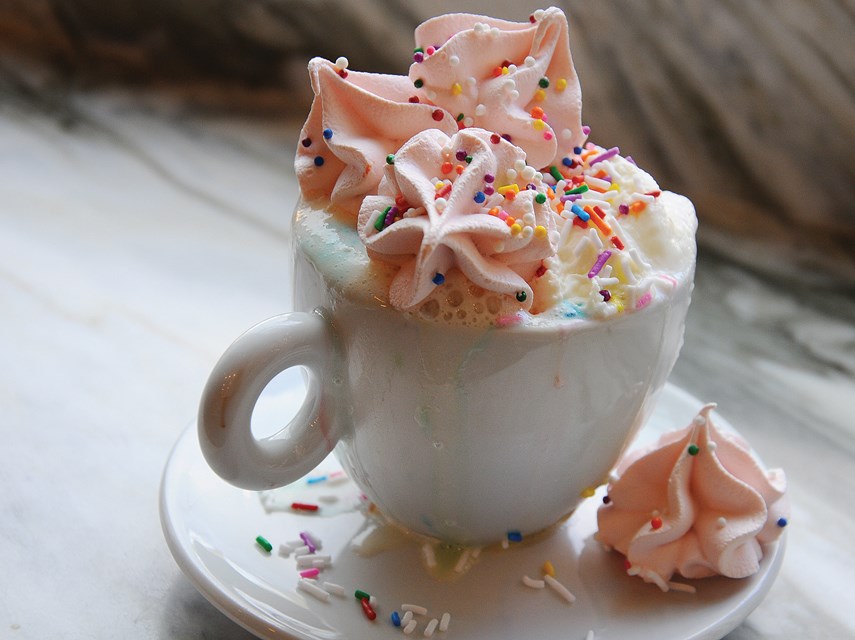 Lastly, there's the "The Salty 'C'" – a salted caramel white chocolate served with a piece of dark chocolate Bark and a sprinkle of Fleur de Sel, available Feb. 2-8. The final week of the festival will see a repeat offering at BjornBar of the most popular hot chocolate flavour.
Down in the Harbourside area, Haas's thoughts turned to south of the border when conceiving his hot chocolate art.
"The people at the hot chocolate festival always encourage us to be as creative as we can … so this year I thought of the 'theme' first – thoughtfully trying to 'poke the bear (Trump)' without once mentioning his name … but still have fun with it," explains Haas. "Yes - I must have watched CNN the night before and had my usual 'I can't believe he is doing this!'"
Hence "You are Fired" and "There is Hope!" were born – hot chocolate creations infused with a subtle political message.
"You are Fired" features caramelized "blonde" chocolate, slightly "burned & agitated" with sea salt, and a "fake & hollow" chocolate sphere. It's served with an "overbaked" chocolate and almond shortbread cookie.
That "fiery" hot chocolate is contrasted with "There is Hope," a milk chocolate and passion fruit delight, with "reliable & light" Chantilly, and served with a "strong & authentic" "diplomat" cake.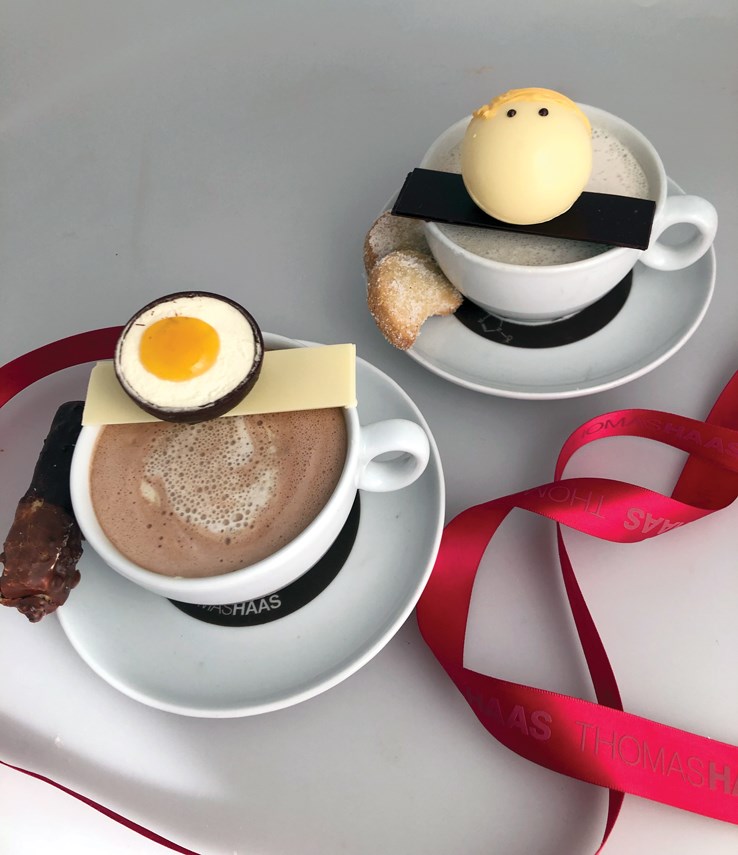 "I was very worried at first if this will be a backlash … people will say 'leave politics out of your kitchen' … and the reaction was the opposite," says Haas.
One of the initial participants nine years ago when only a handful of chocolatiers took part, Haas says the festival "lets us be creative."
"We like the energy it brings with so many people going out on the streets having fun trying new places they haven't been before."
During previous years, Haas has sold approximately 1,800 hot chocolates during the festival's one-month run.
Over in West Vancouver, Temper Chocolate and Pastry proprietor Steven Hodge, is having a lot fun with the festival.
 Look no further than the names of his creations, "My Milkshake Brings all the Boys to the Yard" and "Lick my Banana Split."
The former inventive beverage is a strawberry-chocolate infusion served with a strawberry lollipop. The latter creation features 70 per cent dark chocolate infused with banana, garnished with whipped cream and a cherry on top, and accompanied by a scoop of vanilla ice cream with a chocolate shell.
"We wanted to be different but fun and something that everyone could relate to, but also wanted to create something that was a childhood memory, so for me, I loved banana splits as a kid, and milkshakes," explains Hodge.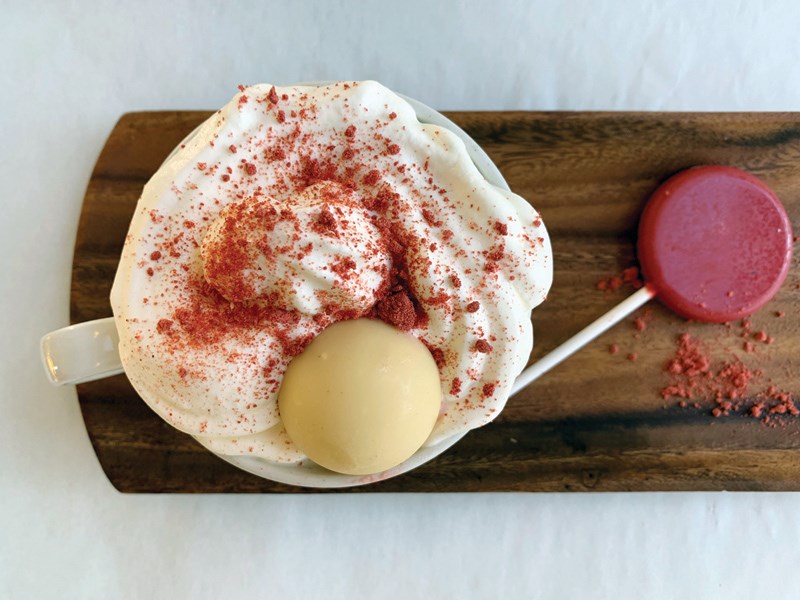 "We love participating in the festival because it allows us to create something different to what we already create."
Hodge is also happy the festival can help chefs push their boundaries while raising money for charity with their delicious creations.
This year, partial funds from the proceeds of the Vancouver Hot Chocolate Festival, organized by CityFood Events, will be shared with the following three charities: the Downtown Eastside Women's Job Training Program, Fresh to Families, and Growing Chefs, all of which seek to improve the lives of women and families in Vancouver.