Too many Sunday lunches at Grandma's house, featuring water-logged, over-steamed vegetables, roasts stripped of all moisture through marathon sessions in a too-hot oven, and a national penchant for mushy peas, conspired to give the U.K. a generalized reputation for insipid, blasé foods through the 1970s and early '80s.
Of course, there was always good food to be had there, if you knew where to go, and today there are countless Michelin-starred restaurants spanning the isles all the way from Exeter to Glasgow.
Just outside of major cities, mainly down south, the British culinary scene underwent a transformation through the '90s and produced names of global household familiarity. It was in the picturesque civil parish of Bray, for instance, that Heston Blumenthal's Fat Duck took the micro-gastronomic world by storm. The gastropub phenomenon came out of the countryside too, redefining the standard for casual classics historically enjoyed with a pint or two at your neighbourhood local.
This revolution in taste put pressure on all venues, it seems, and even the modest pub down the street picked up the torch, making more dishes from scratch and sourcing local, fresh ingredients.
Sure, it's still possible to find Sainsbury's frozen pies and packets of pork scratchings passing as sustenance in U.K. pubs, but on the whole, the scene has transformed dramatically for the better over the last three decades.
A good pub meal is one of my favourite things in the world. Hearty, honest food, familiar beers, good chat and no pretence; these are the hallmarks of a great pub experience.
I was pleased to find these signature attributes largely upheld at The Cheshire Cheese, Lonsdale Quay's long-running ode to the English Pub. The Cheshire Cheese, billed as a restaurant but run as a pub on almost all fronts, opened with the Quay back in 1986, a historical distinction not shared by many tenants in the market.
Like the culinary scene in the U.K., I would offer that The Cheshire Cheese has become better with time, with a particularly marked upswing in food quality and service in recent years. The pub was always a fun spot to drop in on a sunny evening, its expansive east-facing patio a welcome sanctuary amidst the bustle of the market in summertime. But I have found on my last three of four visits that the food has been surprisingly good.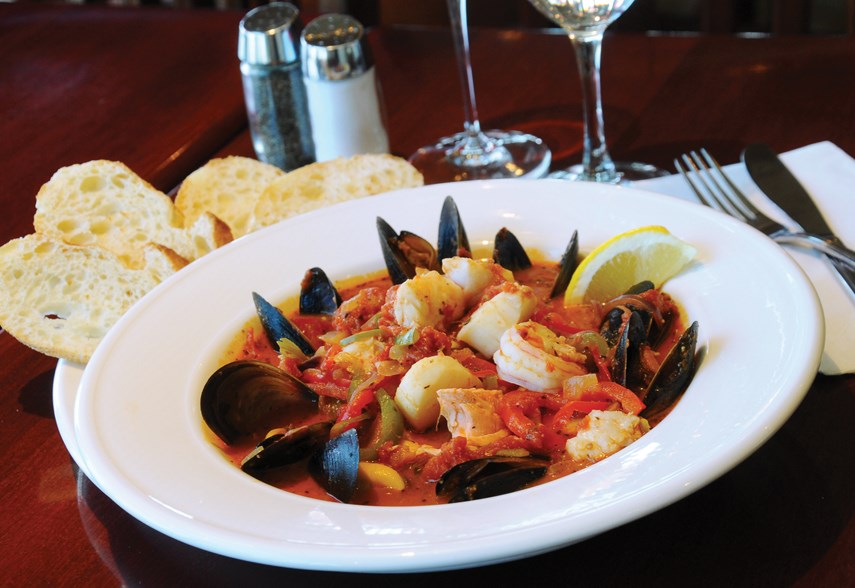 My most recent visit, with my family in tow (admitting kids being another reason the business is billed as a restaurant, I suppose), continued this trend, with a housemade steak and kidney pie that set the bar pretty high for this classic dish that is made by a few heavy hitting specialists on the North Shore (I'm looking at you, British Butcher). The pie had the unique attribute of a single layer of flaky pastry rather than a full pastry casing, which is much more common. The single layer pastry on the top provided just the right amount of golden brown, crispy goodness to soak up the generous deep brown, meaty sauce of the pie, which included ample chunks of tender, mellow-flavoured kidney, occupying the spaces that more dough would typically be. Cheshire Cheese's steak and kidney pie is not afraid of its eponymous offal, embracing its unique texture and distinctive taste to great advantage over competing pies, which often include only one or two pieces of kidney presumably to appeal to a broader audience. I thoroughly enjoyed the pie, using my side of thick-cut French fries to clean the dish. I was pleased as well to be furnished with both HP and malt vinegar with my meal, allowing me to create my own impromptu sauce of Edinburgh chip shop "salt and sauce" fame, a great topping for fries.
The Boy, my 10-year old son, ordered an eight-ounce sirloin steak with fries and seasonal vegetables. He has been fascinated with the idea of a steak all to himself for some time (we eat very little beef at home) and finally gave in to curiosity. He did a fine job with it, finishing about two thirds of the hefty cut, leaving the rest to his old man to polish off with a morsel or two of kidney from my pie. The steak was cooked to a respectable medium, as requested, the fries were generously portioned (as they were with my pie), and the vegetables, simply steamed, thankfully betrayed none of the sogginess of their counterparts from decades past.
DJ had a craving for nachos and ended up too full after an appetizer portion of the cheese-heavy tortilla chips with unexpectedly fresh and tasty salsa to continue with a main. My littlest was ultimately bested by her kids' burger, a weighty sandwich by any standards, and priced at just $7.
I polished off two enjoyable pints of Guinness floated atop local pale ale, a drink that has historically been known, and was indeed still referred to at the Cheshire Cheese, as a Black and Tan. The name has fallen out of favour in recent years following wider understanding of the darkly violent and political nature of its origins, and alternative names for the blend are gaining traction, like Black and Blue (made locally with Phillips Blue Buck), Black and Brown, or Half and Half.
DJ relived a few moments of reckless younger days with a Snakebite, a blend of lager and cider, an easy to drink combo that has a nasty habit of sneaking up rather suddenly on the consumer, especially if made with higher alcohol-by-volume ciders from the craft world.
We managed a round of desserts, of which a Warm Caramel Ginger Cake was the hands-down favourite with its slivers of peppery ginger, warm brown spices, and dense, springy texture.
Our meal for four (regular readers needn't worry about this headcount, my third offspring, Blondie, was away at Brownie camp) was about $100 before gratuity.
Cheshire Cheese, Lonsdale Quay Market, 2nd floor. Cheshirecheeseretauarant.ca. 604-987-3322.