The original Farina Pizzeria is a warm, happy boite with a central communal table and dining room shelves stocked with tinned tomatoes and olive oil. Red design accents and a bicycle on the wall give the room a playful quality, a welcome note of levity on a historically challenged city block.
The restaurant sits on a strip of Main Street near the Georgia Street Viaduct, just before Chinatown, that has been elevated from derelict to shabby chic in recent years largely due to the efforts of visionary Robert Belcham, whose rare wisdom granted him the X-ray vision required to look past the despair-stained façade of the neighbourhood and straight at the good bones of the building that now houses his stalwart Campagnolo.
The Northern Italian focussed Campagnolo, with its on-premise butchery, bakery, and upstairs cocktail bar offering stiff drinks and a "dirty burger," paved the way for the dining scene that now thrives down there, with newer killer venues like Bodega on Main and Torafuku installing themselves as neighbours.
The Main Street Farina has an indelible authenticity to it, partly born of its location, I'm sure, where pretence is anathema to the well-celebrated grit of the place, but also by virtue of its singular focus on outstanding pizza, which starts, as they all do, with carefully realized dough. The dough there, made every day using a residual portion of the previous day's dough, and therefore harking back to Farina's original starter, is finite in quantity and so regular patrons know to check Farina's social media channels before heading down for a later evening visit as it is not uncommon for the venue to be out of pizza before scheduled closing time.
At the new Farina, Lower Lonsdale's Farina a Legna (farina means flour, a legna wood burning), I doubt very much that they will run out of dough mid service. The new location is a much larger, more complex sit-down dining operation in a decidedly more polished, squeaky clean neighbourhood. It has set up shop in the old Il Castello space long after the latter posted a sudden notice about closure for renovations at the beginning of the year, which precipitated a seemingly interminable pizza hiatus at that location with scant public details about reopening. My fear heading into the new Farina was that the authentic charm of the original location was going to be so conspicuously absent as to detract from the experience; my brain would expect one thing, but the North Shore esthetic would deliver another.
Not so, as it turned out. In the end, Farina is much more about its food than its location. In fact, as the addition of the term a legna foreshadows, the new Farina sets itself apart in that unlike at the original location, the pizza here is wood-fired, adding a new dimension to an already exceptional offering, and, some might argue, even greater authenticity.
Oof. I think I just heard a Pabst Blue Ribbon bottle shatter as it slipped from the tattooed hands of a slouched beanie-wearing Mount Pleasanter. I may be forced to retire my ironically Dad-Core pastel blue angora cardigan after saying this, but I stand by the assertion that maybe, just maybe by a small margin, the pizza at North Van's Farina a Legna is better than the pizza at the Main Street original.
As it is wood-fired, the pizza does not take long to arrive once ordered, even when the room is packed. I had booked a 5 p.m. reservation for my family of five (it was that or 9 p.m., so popular is this new restaurant) and arrived to find a hefty crowd of people awaiting the opening of the doors ahead of me. I used to hate an opening queue when I worked in restaurants, feeling like only indolent sad-sacks wanted to eat at 5 p.m. Man, did becoming a parent ever change that perspective. Now I relish any opportunity to get the offspring fed early so I can get on with my night in relative comfort.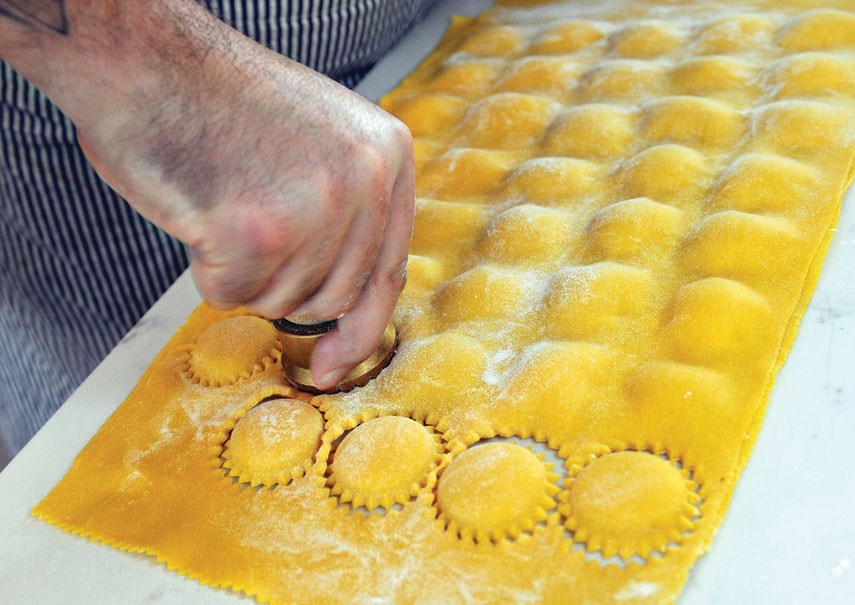 The menu at Farina a Legna features a number of salads and appetizers, as well as a host of house-made pastas, in addition to its long roster of signature pizzas. There is a children's menu as well, which represents great value by offering a starter of veggies and dip (be warned, the dip contains anchovy paste, which my youngest clocked after a single bite, effectively making it my dip from that point forward), a main of either pasta (with tomato sauce or simple butter) or pizza, and a scoop of gelato for just $10.
My wife DJ and I took the edge off of a frantic afternoon with an Aperol Spritz apiece ($12 each). The Farinas are owned by Kitchen Table Group, which also operates Pourhouse in Gastown and Ask for Luigi in Railtown. Those familiar with the consistently excellent Ask for Luigi dining experience will recognize the Aperol Spritz service at Farina a Legna from there; the restaurant bottles its own pre-blended cocktails in little glass vessels that are popped open at the table.
We began our meal with three delicious and succulent meatballs from the appetizer menu (Polpette al Forno, $14). The wood-fired beef and pork meatballs were deftly seasoned and topped with a tangy, chunky tomato sauce and liberal cover of roughly shaved Reggiano. A Burrata Caprese salad ($24) was a revelation, featuring a hearty mound of soft, springy, and gorgeously creamy fresh mozzarella flanked by golden roasted morsels of squash, all set atop an impossibly fresh and lively, deep green pistachio pesto.
For mains, my oldest daughter Blondie did her old man proud by straying from the pizza menu in favour of pasta Carbonara ($23), a personal weakness of mine. Farina did a masterful job of the dish, studding the pasta with luscious chunks of salty, pungent guanciale (I'm 90 per cent sure the still-juicy, fat-capped meat bits were guanciale and not pancetta), while the traditionally simple egg-lifted sauce revealed a distinct hit of white wine and garlic. Delicious stuff.
My eldest, The Boy, remains a pizza purest and went straight for our server's recommendation, the Finnochiona pizza ($19), which was topped with herbaceous tomato sauce, fennel sausage, provolone, Reggiano, and spicy peppers. The crust, as on all of the pizzas here, was puffed up and heat blistered on the edges and super thin and springy the rest of the way to the middle. I would eat this crust topped just with olive oil, if I could, as it is an exceptionally tasty bread in its own right.
DJ went for a basic Margherita ($16), also recommended by our server, and enjoyed the ample medallions of fresh mozza melted atop the excellent tomato sauce, topped with torn leaves of fresh basil.
After more deliberation than I usually require, I settled on a Calabrese pizza ($20), made with tomato sauce, slightly spicy thin slices of soppressata salami, creamy fior di latte cheese, a handful of briny little nicoise olives, and a sprinkle of oregano. It was a classic preparation, the taste at once very familiar and yet still stimulating. This is a good season to order the Funghi pizza as wild mushrooms are still being foraged locally, and so I might be back in short order try one out.
DJ paired her meal with a glass of round, plucky Negroamaro ($11), a big fruity red from the far south of Italy, while I went for a glass of juicy, concentrated, raisin-like Montepulciano ($10).
We split a super creamy interpretation of Tiramisu ($9) between us, the silken mascarpone-forward treat arriving in a mason jar and delivering booze-laden coffee flavours.
We had wrapped our meal within about 75 minutes of arrival. I would recommend that families take advantage of the early dinner slot as the restaurant's vibe seems to shift a bit later into meal service with a hipper, younger crowd installing itself for a more adult dining experience.
Farina a Legna, 119 2nd Street East, North Vancouver. 604-980-3300.
Sound Bite
While on the topic of pizza, let it be known that after a long period of renovation, a Lonsdale Quay popular favourite, Bowen Island Pizza Company, has reopened in an expanded space on the main level of the market at the far south end. The new operation, with a contemporary hardwood finish and clean, long white countertop design, appears to be much better optimized for higher volume output. The menu has expanded to include 20 pizza options from plant-based to premium meat topped, and as I passed by for a quick look on a recent Friday, there appeared to be a significant number of staff at the ready. More on this another time.