The unpredictable May weather revealed its high and low points in all their comical glory during a recent visit to Orto Artisan Pasta, which remains one of my favourite spots on the North Shore.
High point: a gentle breeze rustling the young leaves of herbs and vegetable plants on the unique Orto back garden patio, allowing patrons to enjoy some early season al fresco dining. Low point: a quick-traveling cumulus cloud suddenly emptying its swollen bladder atop said patrons, forcing them indoors en masse, only to discover the room completely full, heaving even, in the throes of a mid-week dinner rush.
The weather event is fittingly symbolic of the volatility of the restaurant industry. Challenges often come from left field and have little to nothing to do with the controllable aspects of an operator's business. A great menu, a strong kitchen, an inviting room, a compelling beverage list, warm service – all of it is thrown for a loop if, say, two members of staff decide not to show up for their dinner shift. A seamless restaurant meal is 90 per cent the product of good management and 10 per cent the product of good luck. Fortunately, the former will overshadow the latter if the latter turns bad. And so it was that the sudden rain affected Orto's dinner service very little. Some indoor tables were shuffled, neighbours got to know each other a bit better, some tables paid and moved on, while others awaited the passing downpour in various recesses of the room.
I sat alone at a small table near the entrance of the room and took it all in like a great film. Orto owner and front of house master Brigitte Raye, recent recipient of Vancouver Magazine's influential Premier Crew Award for best service in the city, is a survivor. Her brief stint with the ultimately ill-fated Café Ca Va reincarnation in West Vancouver alongside her ex-husband, former Regalade chef-owner Alain Raye, first introduced me to her hosting prowess. After the demise of Café Ca Va? (non, enfin), Raye reappeared alongside her son Steeve at the helm of a new room on Mackay Avenue in a reimagined Ethical Kitchen space.
Steeve has since moved on to other ventures, but Brigitte prevailed, taking over the entire space that was once shared with Bad Dog Breads (now moved to the back of house in the old Tama Organic Market space), expanding the wine and cocktail list, and now planning the imminent addition of a bar in front of the open kitchen where diners can sip a drink while they await a table. A little rain was most certainly not going to shake Orto.
Raye knows who I am now, so I need to report that my visit was far from anonymous. She clocked me right away, called me by name, asked after my wife and kids, suggested perhaps I remain indoors, and set me up with a cocktail, a delicious Italian riff on the popular Spritz that made use of North Shore local The Woods Distillery's exceptional vapour-distilled amaro. I engaged with neighbouring guests about the best places to eat and drink around our city and learned of their devotion to Orto and love for everything on the menu. I was poised for another great night at this special place, and a great night is what unfolded.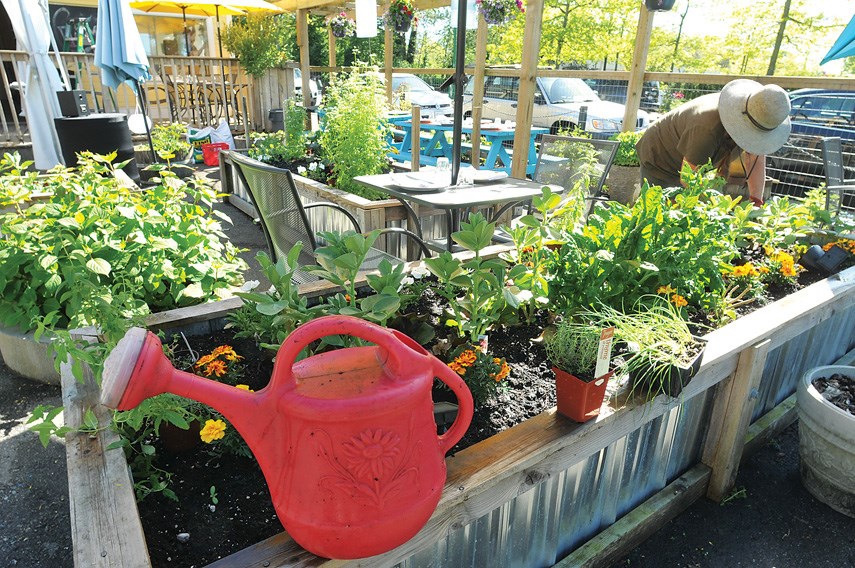 First up was Cauliflower Fritella, a mountain of bite-sized morsels of light and crispy breaded, deep-fried cauliflower served with a bright and herbaceous pesto and lemon preserve. The dish was a great palate awakener, the little squares of preserved citrus nicely contrasting the earthy cauliflower. I paired the dish with a glass of fumee blanc, the grassy notes and austere acidity mingling nicely with the pesto.
I chose a second appetizer, a spectacular Parmesan Tart with fresh tomato, house-made burrata, and a delicate salad of micro greens. The flaky, butter-rich tart had an incredibly intense and concentrated Parmesan flavour that was the perfect complement for the ripe and acidic tomatoes. Two purple onion flowers provided a colourful garnish to the dish, but more importantly, also a bold shock of oniony punch that cut right through the creamy burrata. I'd advise you to try this dish out if some variation features on the specials list again.
For my main I chose a long-time favourite, a Squid Ink Spaghetti with fresh crab meat and giant prawns. Orto's version took an almost puttanesca-like approach, with heaps of funky, brine-laden capers, heady garlic, and diced scallion. The jet black noodles were cooked to a perfect al dente and were glistening in an even coating of olive oil. The dish's bold notes stood up to an elegant pinot noir from the Cote Chalonnaise in Burgundy.
As I was dining solo at a venue that is also greatly appreciated by my wife DJ, I ordered two desserts to take home. The first, a spongy, limoncello-steeped Tiramisu, was exactly what one wants from that confection: velvety mascarpone richness with a burst of coffee complexity and hit of spirit. The second dessert was, DJ and I agreed, just ridiculous. Ridiculous in its impossible richness. Ridiculous in its perfect textural interplay of crispy nutty praline and silken chocolate. It was the Chocolate Hazelnut Tart and I cannot laud it enough.
This is a restaurant worth your time. Its expansion and accolades are a good sign of its popularity, but I will urge you once again to check it out if you have not yet and to remember to re-visit it again if you have already. More great things will issue from this space and it is worth our attention to ensure that we are there to experience them.
Orto Artisan Pasta, 1600 Mackay Road, North Vancouver. OrtoArtisanPasta.com. 604-929-0203.