The hottest trend in the North Shore dining world comes with a heavy dose of sunshine, and possibly a nice cooling breeze.
Outdoor dining will see a boom as a wary public begins to return to the restaurant scene following months of social isolation and physical distancing to help stop the spread of COVID-19. Here in British Columbia, where the efforts led by provincial health officer Dr. Bonnie Henry have proved remarkably successful at flattening the coronavirus curve, businesses and restaurants are in the process of gradually reopening and expanding their offerings. With experts agreeing that outdoor spaces are safer than indoor places, patios and plazas are coming to prominence like never before.
And nowhere has that switch happened faster than in the City of North Vancouver, where new rules have made it easier for local establishments to build or expand a patio. Roads have also been reallocated for pedestrians and public gathering spaces, while city council has made it legal to consume alcohol in designated parks and public plazas.
Taken altogether, the new measures should make for a fun summer of dining while helping local restaurants recover a little faster following the devastating economic downturn brought on by the COVID-19 shutdown, according to Greg Holmes, the executive director of the Lower Lonsdale Business Improvement Area. He's been out on a few patios himself already since the reopening began.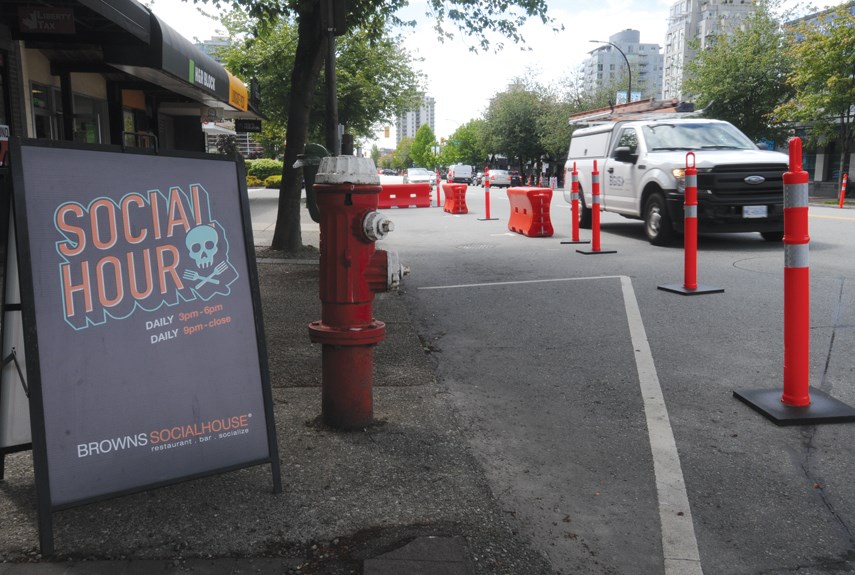 "It's wonderful, and just a little strange," he said with a laugh, describing quick conversations with servers muffled by face masks, adding that the extra space provided by a patio could make or break a restaurant's business as seating is still limited by COVID-19 restrictions these days. "The only way they're going to get into a positive cash position is by getting close to what would be a normal 70 or 80 per cent of their restaurant occupancy. And the addition of that patio will allow them to get close to that. All the restaurants have essentially gone through that same calculation; they looked around and thought OK, we normally seat 80 people, I can do maybe 30 [inside], so I'm going to need a patio and then maybe I can get close to 50 or 60 with that expansion, and just put them in a better position to continue to operate."
The City of North Vancouver is also leading the way with several public parks and spaces now open to alcohol consumption. Included in that allotment is several reallocated streets and sidewalks on Lonsdale Avenue in front of businesses, as well as Cates Deck and Shipbuilders Square near Lonsdale Quay. Two lanes of Lonsdale Avenue have also been repurposed in front of "restaurant row," the short block at the foot of Lonsdale that contains a collection of popular eateries. When the new zones are up and running, you could order takeout from your favourite restaurant, walk across the sidewalk, plop down on a public table and crack a chilled beer you've brought from home in a cooler pack.
"The businesses are looking at those as an informal expansion of their patios," said Holmes. "[Those] spots are going to be expanded for anybody to use and permitted to drink, so that's going to really change the landscape down there for sure."
Raglans Bistro, a locally owned favourite with a sustainable surfer vibe, is one of the eateries on restaurant row that will have public space added to the front of their establishment, which already includes a patio that boasts the rum-soaked mahogany charm of an old pirate ship. They've rearranged their patio space to create more distance between tables and keep people separated into smaller groups. They'll also be making it easier for people to grab food and go, said owner Scott McArthur.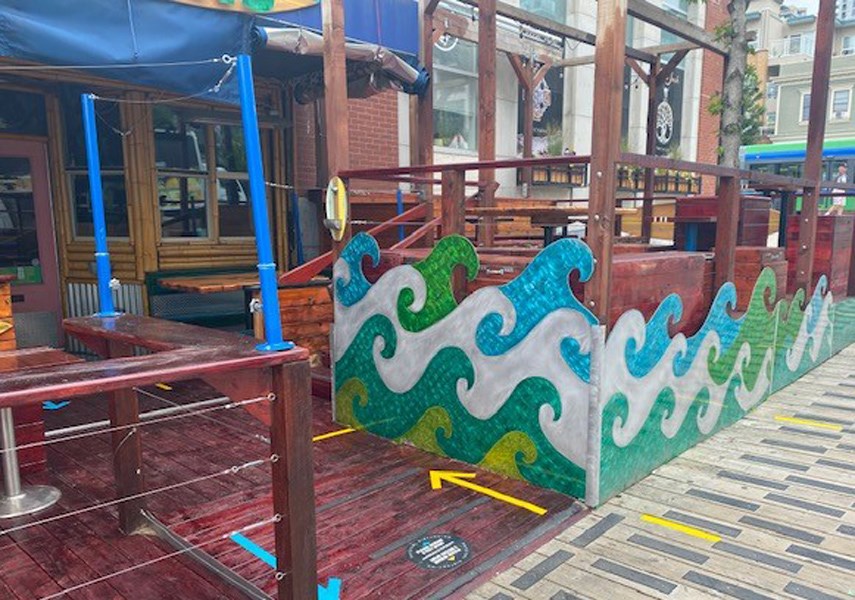 "We are going to build a little tiki hut for the summer as an outdoor takeout window," he said. "This way, people can easily order takeout for the park or pier."
Also new from Raglans: a slush machine that will crank out pina coladas and watermelon rum punch.
The Lower Lonsdale outdoor experiment will provide a fun, safe and innovative way to create an entertainment district in the COVID era, said Holmes.
"I'm convinced that we're in a better position to recover more quickly than most, because we simply have an abundance of space," said Holmes of the Lower Lonsdale area. "Not a lot of other commercial districts can say that. I mean, between the Shipyards and the Spirit Trail and all the waterfront access that was protected for the public, it's going to put us in a really good position to get past this a little quicker than most, I suspect. I'm really optimistic, as are most of the businesses now."
Up the road a dozen blocks or so, the crew at Lonsdale BridgeDeck Kitchen & Taps is finally back serving suds in the sun after a rough start to their new enterprise. The eatery, opened by the folks at North Van's esteemed Bridge Brewing Co., was forced by COVID-19 to unceremoniously shut down just four days after serving their first drink.
They're back now, with a new patio that opens up at 11 a.m. every day. They've added extra spacing and cleaning to comply with public health guidelines, and if seating is tight on the patio, you can grab some of the brewery's famous tacos and find your own place to enjoy the tasty bits and beers, says Leigh Stratton, who co-owns the restaurant and brewery with husband Jason.
"We have an extensive takeout menu as our seating is limited," she said. "With the recent changes to allow off-sales and drinking in parks, we are a great place to grab some takeout and a six-pack and enjoy the sun in the park. We are excited to be back and joining the Lonsdale district."
The new rules in the City of North Vancouver are the envy of outside enthusiasts across the country – it's the first place outside Quebec to allow drinking in parks – but even if you're off on the far-flung edges of the North Shore, there are plenty of patios to explore as more establishments reopen under the summer sun.
This article appears in the Dish special feature section of the June 10, 2020 North Shore News.