Foodies stuck at home in these strange pandemic times have a new option for spicing up their COVID-19 cuisine with a line of prepared meals being produced by a popular Vancouver eatery.
Belgian-inspired downtown restaurant Chambar, known for its casual-chic fine dining esthetic, is co-owned by Karri Green-Schuermans and chef Nico Schuermans, a North Vancouver couple. The restaurant's Into the Wild line of frozen foods grew out of efforts to produce free meals for residents of the Downtown Eastside following the restaurant's closure during the early stages of the COVID-19 crisis this spring. Not wanting their perishable items to go to waste during the closure, the restaurant teamed up with Food Coalition to help provide meals for those in need.
From that beginning grew a plan to produce and sell healthy and flavourful freezer meals for take-out or home delivery. The initiative has now expanded with Chambar bringing their frozen food offerings to Lower Mainland grocers, including Stong's Market and Choices Markets on the North Shore, as well as through delivery services FromTo, Spud and Legends Haul.
Chambar sent me some frozen samples to try, including one of their "mains," the Moroccan Meatballs ($18.90), as well as their Mushroom Broth ($12.15), listed as one of their "staples."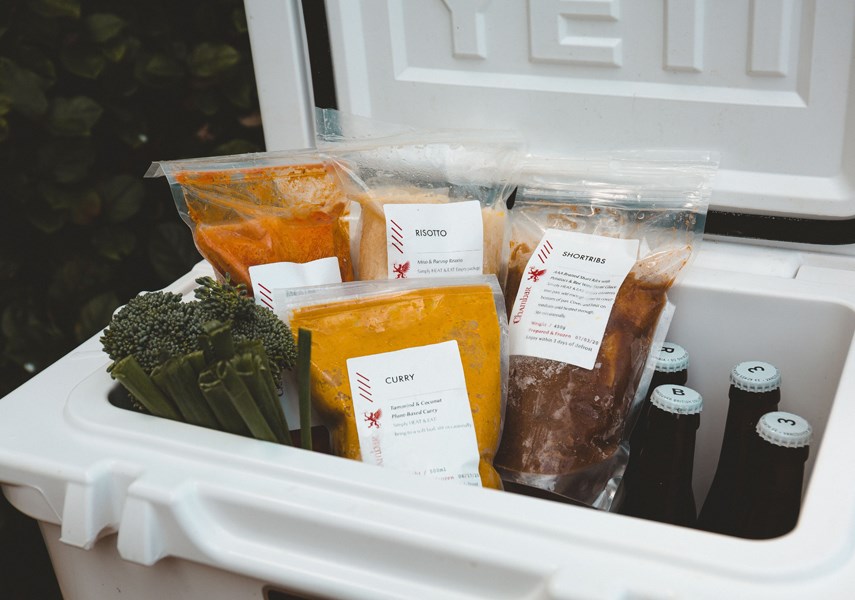 My family tried the meatball meal first, which included four total meatballs accompanied by chickpeas in a fragrant tomato sauce. On its own the included food would provide a nice meal for two people or appetizers for four, so we beefed up the dish to satisfy ourselves as well as our two hungry boys.
Feeling that this called for a bit of extra care and attention, we took the opportunity to bust out the pasta maker and hand-roll some taglierini noodles. And when I say that "we" did this, I mean that my wife did this. The meatball mixture was incredibly easy to prepare – we just heated it all up on the stove top – and when paired with the noodles made for a delightfully spiced pasta dish to which we added some parmesan cheese on top and greens on the side.
To our tongues the dense, hearty meatballs and sauce were "spiced" but not "spicy," getting a thumbs up from both my boys, including the one whose palette isn't too keen on spicy heat. The stars of the show for my wife, who doesn't eat red meat, were the chickpeas, which were the perfect texture for the tricky legume – soft but not mushy, with none of the chalkiness that can choke off an ill-prepared chickpea.
The mushroom broth involved more work, definitely falling into the category of a building block rather than a meal itself. Again looking for a way to make the ingredient shine, we prepared some udon noodles (purchased from the store this time) and added some shredded chicken along with fresh B.C. mushrooms and red peppers lightly grilled with garlic.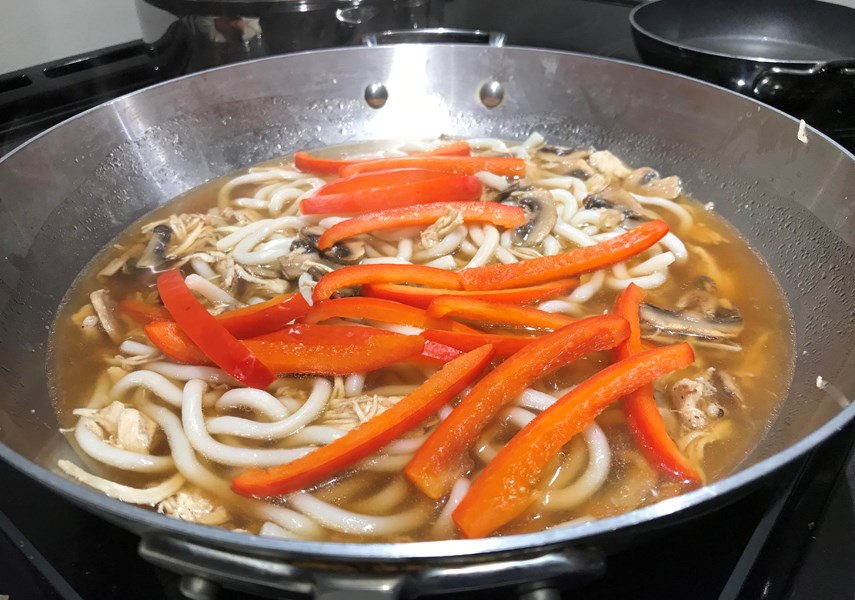 The broth boasted a deep, earthy flavour featuring whiffs of complementary spices such as lemongrass, star anise and coriander. It all blended into our own unique take on a chicken udon soup – a dish we hadn't tried making before – which paired nicely with the mushroom broth. I ended up kicking my dish up a little with a swirl of sriracha chili sauce.
Of the two samples we tried, the meatballs were the winner – a foolproof main that could be dressed up or down with some easy kitchen creativity. The broth was lovely as well, but took a lot more massaging to make a meal of it.
Other offerings from Chambar, all falling in the same price range, include mains such as lamb tagine and braised short ribs, along with building blocks such as miso and parsnip risotto, tamarind and coconut curry as well as chicken and beef broths.
Aspiring chefs looking for inspiration can go to the restaurant's website to find instructional videos, hosted by chef Nico, for every frozen food selection the restaurant offers.
This article originally appeared in the DISH special feature section of the Sept. 16, 2020 edition of the North Shore News.