The older I get, the less tolerant I become of obvious gimmicks.
When I was last in Las Vegas, for example, I spotted an oxygen bar on my way through a sprawling retail complex. The staff there tried too hard to sell me into an allegedly restorative, re-energizing tube-up-my-nose experience as I walked by them. "But we have over two dozen all-natural scents you can add to your oxygen," they cried as I continued on my way, sneering disdainfully.
Last year, when I spotted a big crane hoisting a platform of diners into the air in North Vancouver, tunes blaring from the platform's sound-system, diners applauding like extras in a TV infomercial, I rolled my eyes. Not for me, I thought. Too gimmicky. What kind of food could a chef possibly pull off up there? I wondered. Cold, insipid food, I suspected. And what if you needed to use the bathroom? Then what, huh?
But I soon began to see the photos that these diners posted online from their experiences. And then their food reviews. They were overwhelmingly positive.
Could it be? Could this dining venue that looks more like a free fall ride at Playland have as much substance as style?
Back in July, West Coast Sightseeing, one of the parties that helps to bring this mid-air meal series (called Dinner in the Sky) to life, invited me to try out the experience on a hosted media ticket.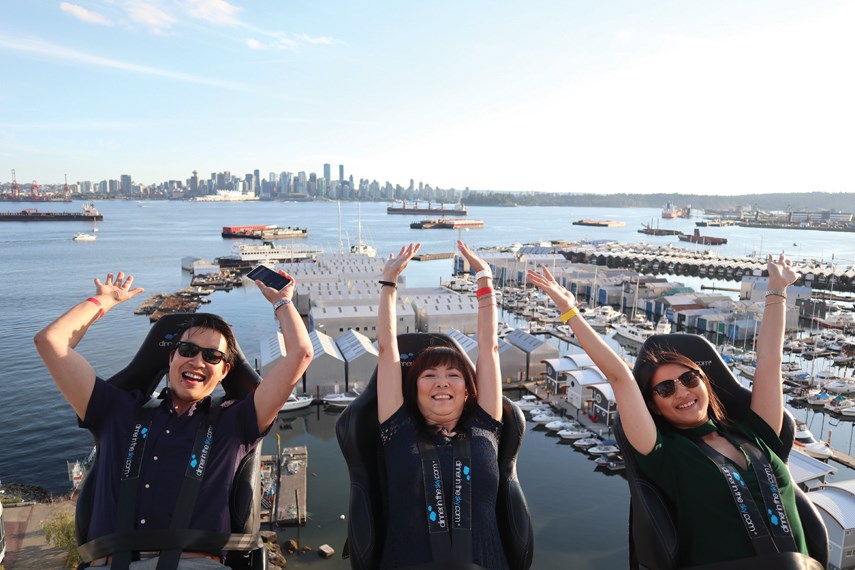 I was unable to attend then due to a scheduling conflict, but the organizers were diligent in their pursuit and generously hosted me and a guest for a dinner "flight" (their term) one recent evening instead.
For the record, I don't think Dinner in the Sky is a gimmick anymore.
It's a cool way to spend an hour. It's legitimately fun, the views are inspiring, and, in what was perhaps the biggest challenge to my preconceptions, the food was genuinely good.
The menu is sensibly chosen for the venue, a tight space for the two working chefs that ride along on the platform with the diners. Lots of smart prep work and informed ingredient selections allow the chefs to focus more on final touches and elegant plating than on complex and time-consuming cooking. That said, the meal would not have been out of place in any local West Coast-influenced restaurant, the bright, summery flavours and textures feeling completely in line with the season.
The experience started on the ground in a sleek, minimalist tented lounge at Ambleside Park. Guests check in and leave a credit card for the bar tab and then can sit in the lounge and enjoy pre-flight canapés (which included fried chicken and waffle bites, hollowed cucumber rounds with spicy hummus and truffle, and salmon tartare cups) and cocktails.
My guest, the excellently named Chris, and I sipped Pale Ale from Bridge Brewing while we watched a group descend from their aerial experience, a shorter version of the Dinner in the Sky offering called Sweet and Savoury, which includes 30 minutes in the air and two light dishes.
Once the platform was restocked and the chefs and bartenders were securely on board, we were invited to take our positions. The chairs on the platform resemble race car bucket seats and are equipped with over the shoulder harness-style straps and lap belts.
The seats rotate more than 90 degrees in both directions, allowing diners to adjust their perspectives and dangle their legs over a whole lot of air. The seats also recline to near prone, in case you want to soak in the rays at any point.
Strapped in, drinks and phones at the ready, we were off into the air; the ascent to 40 metres takes less than a minute. For those concerned about preferred seating, rest assured that the platform slowly rotates in both directions throughout the meal, affording everyone panoramic views throughout.
The dining table is a long countertop that runs the length of the platform and dishes are passed from the centre of the structure (the kitchen) outwards to guests.
Each seat was pre-set with a polished steel cloche under which sat a fresh and refreshing, herbaceous and vividly green gazpacho with crispy Parma ham, local spring onion, cucumbers and baby radish slices.
It was an invigorating dish to kick off the meal and was quickly dispatched by most diners as they eagerly snapped photos of the West Vancouver hills, Stanley Park, the Lions Gate Bridge, Burrard Inlet, and the vast expanse of ocean stretching out to Vancouver Island, the Gulf Islands, and beyond. It cannot be overstated that on a clear night, like the one Chris and I enjoyed, the views from this experience are unobstructed and, frankly, unmatched.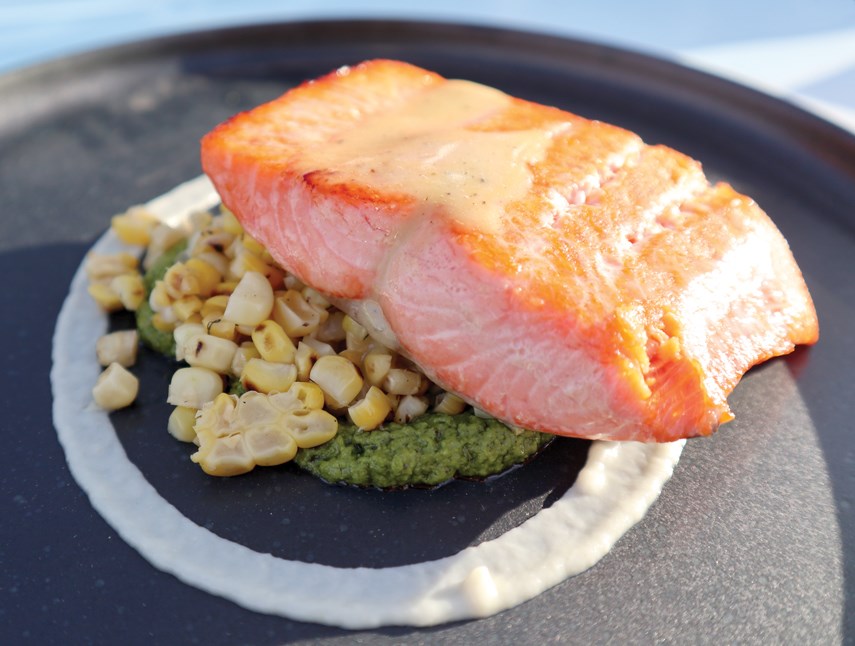 Our next course was the day's special, a sizable, succulent seared scallop atop a creamy dollop of mashed potato, topped with a truffled Parmesan tuile. I made short work of the dish and ordered a glass of luscious and buttery Nk'Mip Chardonnay from Osoyoos in anticipation of the main course, a fillet of wild B.C. salmon set atop tzatziki, with grilled corn kernels and basil emulsion. The dish, without any heavy starch component, was a smart choice for a hot August night and paired nicely with the cold chardonnay.
By the time the final course arrived, a velvety, indulgent organic milk chocolate mousse with berries and caramel topping, I was cursing myself for not having used the facilities before ascending.
My eyeballs were positively swimming following a couple of pre-flight beers and sparkling water, then wine in the air, and I vowed to never again chastise my kids for failing to make a pit-stop before embarking on a road trip. Learn from my rookie mistake, readers, and consider yourselves duly reminded.
After a solid hour in the air, forewarned about 10 minutes in advance by the staff to ensure final photos, the meal concluded and the platform was lowered back to solid ground.
At $299 per ticket (sans drinks), Dinner in the Sky is not every day dining, to be sure. But to look at it as just a meal is a mistake. This is an experience with multi-sensory appeal that more than delivers against expectations with staggering views, good hospitality and good food.
 I imagine this series will become increasingly popular as locals seek a unique, if extravagant, way to show off our city to an out of town guest.
Visit dinnerintheskycanada.com for more information.