The family saw the war at night.
From their home in a middle-class city on the banks of the Euphrates, they didn't relate to the 2011 Arab Spring revolts. For Sadika, a mother of seven living in Raqqa, Syria, the uprisings were something in the city. Something strange.
That recollection of an ill omen begins Sadika's Garden, a 30-minute documentary co-directed by Deep Cove filmmaker Julia Iriarte.
Most neighbours in their farming community were apolitical, Sadika recalls. But at night they could see fire and hear the explosions.
Raqqa would soon be controlled by ISIS. Religious police patrolled the streets. Public executions were staged.
The beautiful city of 200,000 became a "global nerve centre" for ISIS, according to an account published in Time magazine.
As part of its offensive against ISIS, the U.S.-led military coalition launched 4,540 airstrikes over the region. Approximately 80 per cent of the city's buildings were destroyed. The streets were packed with rubble.
CBC journalists described Raqqa as "littered" with mortars that didn't explode.
Sadika remembers the early days of war when suddenly there was no food to buy.
Fatem, Sadika's mother, recalls men at her door.
"They claimed to be the Free Syrian Army but they were not," Fatem says. The men were looking for young women.
"The war started and it took everything away," Fatem says.
Using her jewelry as currency, Sadika paid for her husband and children to board a bus bound for Lebanon. She had just enough left over to rent a garage that would become the family's home.
The family felt discriminated against, second-class citizens in a country that didn't want them.
"No words can describe what we faced in Lebanon. I'll need another lifetime to get through it," Fatem says.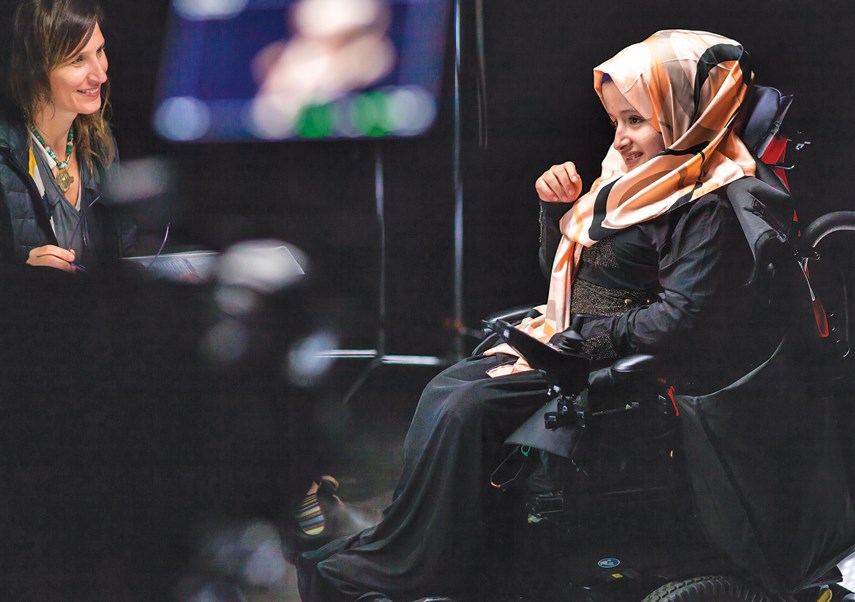 Most worrying was Sadika's daughter Batoul. She had spina bifida, and the curve in her spine seemed to be worsening day by day.
They were able to meet a Canadian ambassador and for the first time, Sadika considered moving her family to another new country.
. . .
Around the time Sadika was living in a rented garage in Lebanon, Alan Kurdi died.
Kurdi was a three-year-old Syrian boy who drowned in the Mediterranean Sea. His family had been trying to get to Europe and then Vancouver.
Journalist Nilüfer Demir took a picture of the boy.
Nearly 10,000 kilometres away, Vancouver couple Irene and Adam Policzer saw Demir's photograph.
"Something in that picture says, 'Do something,'" Irene recalls.
Adam, a retired architect, had seen horrors before.
Born in Hungary, he was an infant when Nazi forces invaded Poland.
"Being Jewish in Europe in the '30s was not a good idea," Adam says in the documentary.
After being cared for by a Christian neighbour while the rest of his family was deported, never to return, Adam was eventually raised in Chile.
It was a good life for a while.
Adam was in his 30s and flourishing as an architect when the country shifted on its axis. Chile's president was overthrown in a military coup. Adam, along with other supporters of the previous government, were imprisoned.
"It was made very clear to me that it would be better for everybody if we get the hell out of there," Adam says.
He and Irene made a new life in Canada.
They were not wealthy but they had friends, empathy, and an ability to organize. And when they saw that photo, they put all those attributes into helping Syrian refugees.
Iriarte saw the same photo.
"It just made me sick," she recalls.
She got in touch with the group the Policzers had spearheaded: Abuelos, the Spanish word for grandparents.
Having studied film in Argentina and worked on movies like Seven Years in Tibet, Iriarte knew she could contribute with her camera.
Along with Chad Galloway, Iriarte shot and edited a short video to raise sponsorship dollars through a GoFundMe page.
She eventually used the video pitch Storyhive and Telus to fund a documentary. At first, she wanted to tell a story about refugees surviving. But as she got to know Sadika and her family, and as she spoke with Irene and Adam, the documentary became more about people helping refugees survive, and about how crucial that help can be.
While she asked Iriarte not to include her last name in the documentary, Sadika seems forthcoming on camera.
"They understand that it's important to show their story because they're inspiring other people to help,"
Iriarte explains.
While the film traces a harrowing journey, it's also meant to be a simple story.
"I just want to humanize these people," Iriarte says.
Sadika and her family are refugees from a war-torn region. They're fighters and survivors and new Canadians. But Iriarte sums them up in three words: "Just a family."
Sadika's Garden screens Oct. 19 at Emily Carr University as part of the Mena Film Festival.