In a manner of speaking, both mother and son have found themselves on a marathon.
For Karl Robathan, his personal marathon has taken the form of a lengthy initiative he's dubbed Ride365, which involved vigorously riding his bike every day for one year in order to maintain his physical health while raising awareness for mental health issues. For Karl's mom, Marie, who suffered a stroke some time back and has since been living with dementia, her body and mind have endured what would ostensibly amount to the physical and mental strain wrought from a marathon every day, according to Robathan, citing the words of his mom's doctors.
"Every time I rode my bike I kept saying to myself, 'My mom's doing this.' I mirrored my ride to mom's fight for her life," Robathan tells the North Shore News, days after completing the final leg of his Ride365 initiative which wrapped up in Deep Cove earlier this month.
While many biking initiatives or non-profits geared around a specific issue look to raise money in order to fight for a cause, Robathan is solely looking to raise awareness. What started as a personal journey slowly began to take on more universal appeal as others became interested in what he was doing, he explains.
"Back in the early '90s I ended up having a massive anxiety and panic attack when I opened up my business," he says, referring to the hair salon in North Vancouver he has now owned and operated for decades. "The difficulty there was obviously being in business for yourself, not having the same security blanket – I was supposed to open up the business on Jan. 3, I ended up having the massive panic attack. I thought it was an actual heart attack."
The panic attacks gave way to anxiety, which gave way to agoraphobia followed by years of Robathan requiring heavy medication, he says.
Last year, with his mom not faring particularly well, Robathan feared that his anxiety and more panic attacks would return as he contemplated his mom's deteriorating health.
He started riding his bike again for his physical health, but it eventually became more than that.
"It was never supposed to be a mental health ride to begin with. I just realized as I'm riding for 30 days, and then it was 50 and then it was 100, and then 200, during that time in the morning at 4/4:30 in the morning you start thinking things a little differently," he says, noting how clear and fresh his mind felt.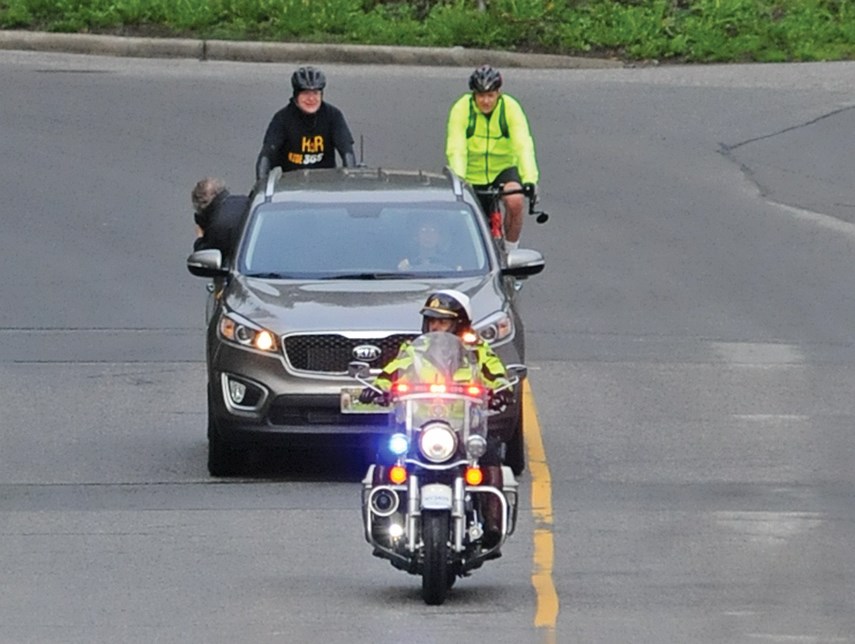 He would photograph his morning rides – biking out to UBC and back along the Lions Gate Bridge, or traversing Demonstration Forest Road – and share them on social media. People's responses were ecstatic and encouraging and led to more dialoguing on self-care and mental health, says Robathan.
He eventually started a website (ride365.online) where he wrote about his experiences and intention to bike for 365 straight days. While Robathan estimates he rode more than 15,000 kilometres during his one-year biking routine, perhaps his most important accomplishment this year is a little less physical and a little more about just being there.
He has started a campaign called TIME, or Trust In ME, where people are encouraged to download a "TIME card" from Robathan's website which, in addition to displaying some important numbers a person could call during a mental health crisis, are intended to simply let others know that the bearer of the card is there for them if they need someone to listen. Robathan's mom has always been that person for him, he says.
"Dealing with mental health I thought I didn't really have a lot of people to talk to," he says. "The TIME campaign is all about: you first of all have to invest time, and if you invest time you get trust, and if you get trust you get talk."
When Robathan went on the final ride of his Ride365 initiative earlier this month he was joined by a friend and supporter he made along the way during his mental and physical health quest, as well as an escort by the North Vancouver RCMP during the final leg of the ride in Deep Cove.
"I had a few people ride all the way out to UBC and then I had a few come back. It was a great day," Robathan says. "There's something about waking up in the morning, going out the door when it's dark and watching the sun come up.…"