For Karsten Ergetowski, Standard Issue Nation is more than just a clothing brand, it's also a lifestyle.
The North Vancouver designer is entrenched in the local skateboard, BMX and modified car culture, so when it came time to develop his own line of apparel, he drew heavily on his personal interests.
"It's basically a reflection of what I'm passionate about and what my lifestyle consists of. Through the clothing, I can kind of show that to the world," he says.
After a soft launch in 2014, Standard Issue (or STNDRDISSUE as the brand is written) is preparing to introduce a full collection in May that will include men's graphic T-shirts, hoodies, pullovers and sweatpant joggers as well as a few non-clothing items, such as skateboard decks and keychains. "The goal eventually, several years down the road, would be to have a huge selection of hard goods, everything from backpacks to snowboard decks, possibly some car parts, all that kind of stuff."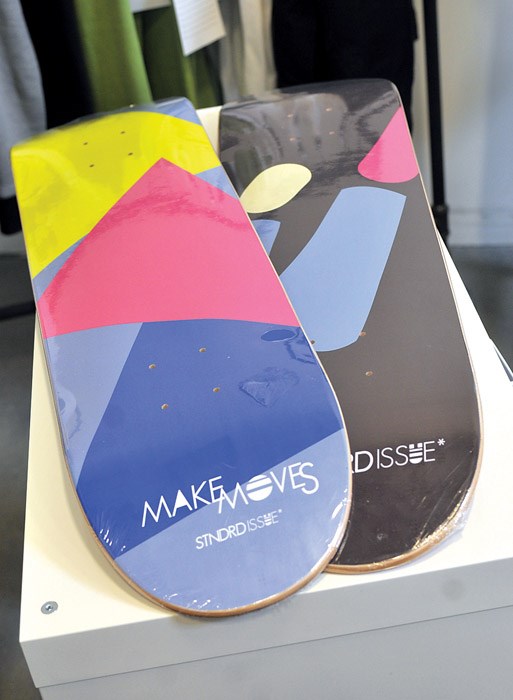 Women's wear is also on the horizon, but currently Ergetowski's designs are geared toward young men in the 15-to-35 age range.
"It's for people who are urban, they're active, they're really passionate about what it is that they do - whatever it is that they do - whether it's skateboarding, the car culture, just being fashionable."
Back when Ergetowski was still a Seycove secondary student, he wasn't sure what he wanted to do career-wise, though he knew he enjoyed art and design. The decision point came after he got the opportunity to design a street hockey uniform for a school tournament.
"A lot of people really liked it and that's kind of when the light bulb went on," he says.
He went on to study fashion design at Kwantlen Polytechnic University and gained experience in the apparel industry at Mountain Equipment Co-op, Fidelity Denim and the now-closed Please Mum children's boutique before deciding to strike out on his own.
Working out of a studio just off Dollarton Highway, Ergetowski designs and markets everything he sells. The garments (all cut and sew) are made overseas.
His brand is broken down into three different labels, each targeting a niche market. The base label, STNDRDISSUE, is inspired by the city, streets, sports and car culture. The more artsy label, WESTSIDE, reflects the natural beauty of the West Coast. And HNDRDGRAND, dubbed "the evening wear of urban clothing," represents the cleanest, simplest look.
All three labels are driven by a laid back West Coast vibe and infused with a European design esthetic. "I've been to Europe several times and every time I go I'm always inspired by how clean things are when it comes to design over there," Ergetowski says, noting the slim fit and simple graphics favoured by European clothiers.
Having followed his own passion for clothing and design, Ergetowski is hopeful his apparel motivates wearers to do the same.
"As an artist, it's a way to share my vision and philosophy with the world," he says. "Through the clothing, if I'm able to inspire others, that's huge, that means everything." STNDRDISSUE apparel is available in select retail stores and online at standardissuenation.com.