For one night they were in the best in Canada.
It was the night before Canada's top five high school improvising teams would go toe-to-toe in loving competition for the national championship.
Carson Graham wasn't even supposed to be there.
They'd gone to finals three out of the last four years, but this time they fell short, leaving the unscripted squad disbanded when a video submission landed them a last minute wild-card berth and brought them back together.
"We really weren't overconfident," says coach Jullian Kolstee carefully.
"We hadn't really rehearsed in a while and we were feeling we might have been trending in the wrong direction," explains Grade 12 improviser Andy Alvarez.
"We weren't expecting to do well," agrees Grade 9 student Madaline Robathan.
But in a rehearsal just a few hours before the event, the team had a minor epiphany, Alvarez noted.
They didn't need more practise.
"We already knew all the skills that we'd learned over the year," he says.
"It had everything to do with them finding the confidence and finding the best of themselves; because it was all already in there,"
Kolstee explains.
They had all the technical skills they were going to get. Now all that was left was to get on the National Arts Centre stage in Ottawa, Ont. on the night of April 21 and show everyone: "what makes our team, our team," Kolstee says.
The team sat in a circle and put their heads together before going out on stage, Robathan recollects. Teammate Devon Sacre told them to remember their own stage in North Vancouver.
"We were just talking about what it was like going from our crappy little theatre to the National Arts Centre stage," she says.
Robathan was an alternate, which meant that during the entire season, in the back of her mind she knew that if the team went to finals, she wouldn't be on stage.  
"I was expecting not to play. And once I found out, I was still expecting not to play."
But after the lineup was shuffled, Robathan's adrenaline levels bounded like a liberated kangaroo as she climbed on stage alongside the best young improvisers in Canada.
"The nice thing about nationals is everybody in the crowd loves improv as much as you do," Alvarez says.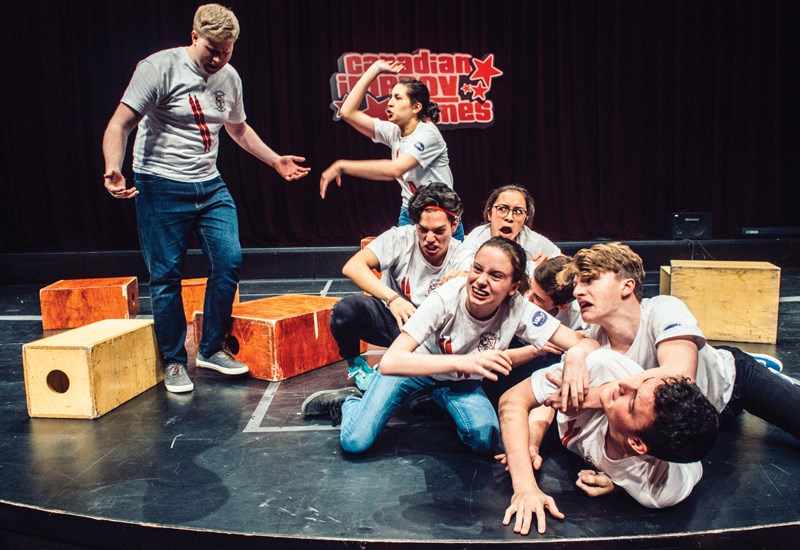 Packed with improvisers and coaches, the audience was rapt as the Carson team chronicled the exploits of explorers ensnared by a labyrinth and facing down a two-headed monster.
In a more subdued performance, Rhys Dawkins nurses an uncomfortable infatuation with Sacre as the rest of the players narrate the emotional cruelty of unrequited love like a Greek chorus or the narrator on Grey's Anatomy.
As improvisers from other schools sounded a drum roll on the stage, the competition's referee/host read out the night's winner: Carson Graham.
The team took the stage and revelled in the ovation, calling out "Everyone!"
"What?" the crowd demanded.
"Everyone!" the team replied.
It was a tribute to all the teams that competed that night.
"For that night, for those 24 hours, we were the best team in Canada, which we had not ever been before," Kolstee says, explaining he was "blown away" by the performance.
The team ate at a diner that night, Robathan recalls, and then serenaded Canada's capital.
"The entire way back we were just singing songs and running down the streets because at that moment we were No. 1 in Canada."
They sang "Don't Stop Believing" and "Bohemian Rhapsody," and "songs that you need to yell to sing," she says.
In a script, the scrappy underdogs who squeezed into nationals would have won.
Instead, Carson Graham got as close to gold as a prospector with a claim just outside the Witwatersrand Basin.
Gulf Islands Secondary School won nationals with a score of 1,352. Carson finished with 1,351.
Alvarez knew they'd scored silver, but he said he didn't realize just how close it was until he was back at the hotel.
"I'm just hoping that they're as willing to share their first place spot with us as we're willing to share our second place spot with them," he says. "It could've gone either way."
In the same breath, Robathan describes the finish as "a bit disappointing" and "more than I could've asked for.
In some ways the difference in score is "miniscule" and "nominal," but it's also motivating, according to Kolstee.
"Now we have something to come back for," Kolstee says. "We literally could not get closer."
If they'd won, Kolstee says he could've packed up and retired as coach.
However, after recently receiving a degree in communications from Capilano University, Kolstee says he's not certain if he'll be able to spend as much time in his spot in the second row of the Carson Graham theatre.
"I'm not entirely sure what my future is in September, and therefore the program's not entirely sure what its future is."
Set to graduate in June, Alvarez is also on the way out with plans to enrol in CapU's film program and try out for professional theatre companies in Vancouver.
However, he did suggest he might like to come back and coach one of Carson Graham's junior teams.
Both the team's coaches, Kolstee and Joseph Logelin, were Carson Graham students who devoted their time to the improv team after graduating.
While Jullian is "like the heart of the team," Robathan said Logelin might be able to take a bigger role.
He's the team's co-coach, "but we like to call him the head coach because it makes him happy," she explains.
"I feel like if Joseph needed to, he'd step up to be the coach and he'd do an amazing job."
Discussing the identity of the 2017 team, Robathan describes a bond.
"I was terrified but they were so welcoming," she says of her first days on the team. "They're older so automatically they're like, cooler. … Now they're all my best friends."
"It's hard to imagine being able to find it again," she says.
The Grade 12s will file out and a new class will enter the stage.
For Robathan it's scary. And it's a challenge.
"I'm going to have to step up even more."