With that shaky first step into kindergarten imminent, their parents thought a cute photo might calm some nerves.
"Specifically, the moms," the friends respond in unison, on the morning of their high school graduation ceremony Monday.
Sitting in a courtyard at Handsworth Secondary, with 13 years of childhood memories in the rear-view mirror, the reminiscing starts at Sept. 5, 2006.
Five neighbourhood pals squinted in the early morning sunshine, as their parents seated them side-by-side in front of the green wooden sign at Canyon Heights Elementary.
At five years old, Alecia Duncan hadn't grown into her sky blue backpack yet, but she proudly stuck the straps out like a pair of suspenders.
Click. Click. A milestone moment captured in time.
"We were so little," says Alecia, recalling the image. "Like we actually all fit on that piece of wood."
The precious photo couldn't instantly be shared with their parents, who were living in pre-smartphone times.
Alecia, Claire Stewart, Henrik Parker, Cam Lee and Tate Williams spent their childhood playing in each other's backyards, in the comforting shadow of Grouse Mountain.
In between fits of giggles, the friends would forecast their future.
Tate wanted to be a garbage man. Alecia talked about becoming a teacher, or a police officer like her dad.
"I wanted to be a professional hockey player, even though I never played hockey," says Cam, as laughter consumes the courtyard table.
Born two days apart, Alecia and Claire have lived across the street from one another ever since.
"We would literally run back and forth to each other's houses," says Alecia.
She and Henrik were also inseparable as youngsters, with their families sharing a nanny.
Meanwhile, Alecia and Cam are like cousins. Their moms went to Handsworth together in the mid-1980s, and consider themselves sisters.
Annual family camping trips, overnight backcountry hiking trips and kayaking trips frame Alecia and Cam's friendship.
While overseeing the Grade 7 yearbook, it was Alecia's mom, Christina, who suggested recreating the kindergarten photo.
As elementary school drew to a close, the same group of friends posed in the exact same position – a little taller and wiser this time.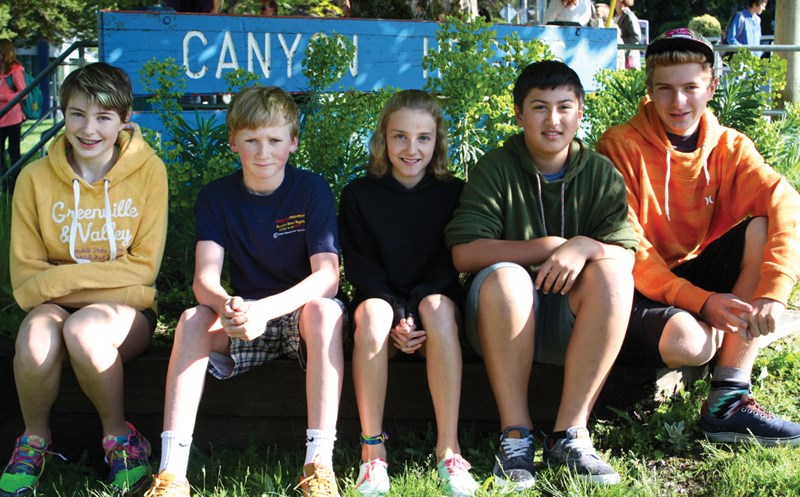 Life happened and hard lessons were learned between the second and last photo reenactment.
Henrik and Claire went on to different high schools, while Alecia, Cam and Tate roamed the halls at Handsworth together.
After studying in Vancouver during the day, Henrik says he always looked forward to meeting up with the old gang on the sports field or in a backyard in Canyon Heights.
And despite Claire also attending high school in a different city, her close bond with Alecia remained strong.
Knowing the friends will all set off in different directions this September, it was Tate's mom who suggested one more photo.
The five friends crouched in front of the Canyon Heights sign, assuming the same position from that first day of kindergarten – but with more confidence.
If there was a pang of pubescent embarrassment for the posed photo in Grade 7, it's been forgotten. The feeling has evolved into gratitude for their parents. 
"It's pretty cool," says Alecia. "I think it's kind of neat to see how we've changed. It keeps the memory still there and still present in our brains."
There's a special message about childhood friendship embedded in the images, agrees Tate. 
"I feel it kind of keeps you grounded because they know who you really are," he says.  
In the last photo, Alecia is sporting a UVIC sweatshirt. She's decided to become a teacher.
Tate will soon be off to Ontario, where the quarterback will study sciences at Queen's University.
Cam has set his sights on BCIT for trades training, while Henrik and Claire will head to UBC in the fall to study kinesiology and history, respectively.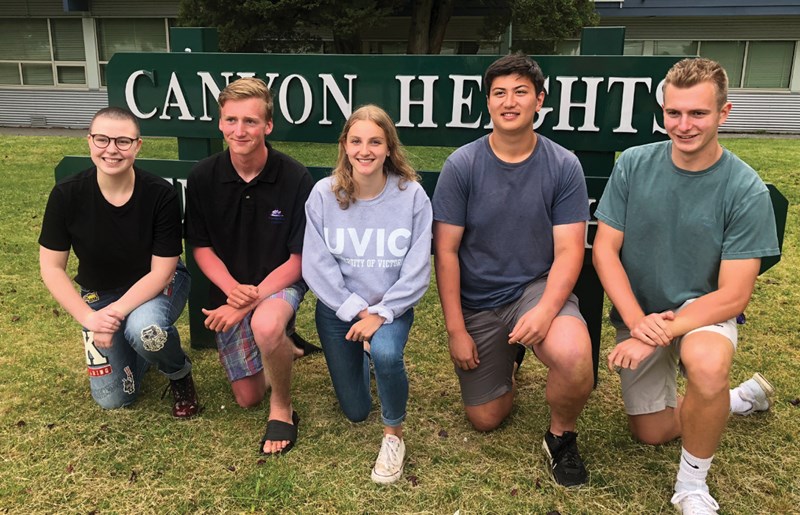 Tate sees the power of friendship when he looks at the time-lapsed photos.
"Cam and I have been doing stuff together since way, way back – so it's always nice to have that one person who's just a solid friend, who you know you can always count on," says Tate.
As they recall recreating the Grouse Mountain lumberjack show in their backyards – log rolling included – Cam and Tate share a laugh. 
"I think I used to do that with you guys," interjects Alecia, enthusiastically.
On that note, Alecia has advice for kids starting school this September.
"Try and remember kindergarten," she says, reflecting on the wonder years.