About three years ago I took my eldest daughter, Blondie, for brunch at The Truffle House in West Vancouver. While I tucked into a tuberous savory meal, she polished off a sweet crepe made with fruit and ice cream, brown sugar and loads of butter.
This past weekend she sat in front of a similar crepe dish, this time with salted caramel, apple and whipped cream. The two crepes were made by the same hands, only in radically different spaces, this last time in North Vancouver just off Lonsdale Avenue.
It sounds like the setup for a riddle. What colour was Blondie's napkin? (Answer: it's a trick question; she used her sleeve).
No, the connection between the two meals is actually chef Alvin Alim, formerly the executive chef of The Truffle House, and now owner and chef of Alloz Grill, the casual Filipino eatery in the old Fiesta Filipino space on East 3rd Street (the specialty grocer of the same name still operates next door, but the eponymous restaurant has been taken over).
Alim has been quietly dishing out some excellent traditional Filipino fare in the evenings, but has just very recently opened for breakfast where a hybrid menu of Filipino classics and western brunch fare is on offer until 2 p.m. on weekends.
I descended on Alloz Grill with the entire family to try out the new meal service and to put Chef Alim in his tiny kitchen and his one front-of-house staffer through their paces by ordering five different items from the menu. The restaurant had only been serving breakfast for a week at the time of my visit.
The Alloz Grill space is tight, with fewer than 20 seats around tightly packed tables on the perimeter of the restaurant, a steamtable with takeout items in the centre, and a narrow hallway to the kitchen and the washrooms down the right side. With a few other diners already seated, we had to split our group of five between two tables as we settled in for our leisurely late morning meal.
Alloz's traditional Filipino breakfast offerings include a handful of silog dishes, which are essentially combinations of a central protein served with seasoned rice and fried eggs. Proteins include a most excellent interpretation of litson pork belly, as well as pan-fried milk fish, grilled sausages, or cured beef with caramelized onions. There are also a number of Filipino sweet treats like the eminently refreshing Halo Halo, a novel dessert of marinated fruits with tapioca pearls, young coconut, custard, ice cream, and shaved ice, crème caramel with condensed milk, or buko pandan, a highly perfumed, vibrantly green dessert with tapioca, pandan-leaf infused jellies (which account for the colour and floral flavour of the dish), condensed milk and coconut.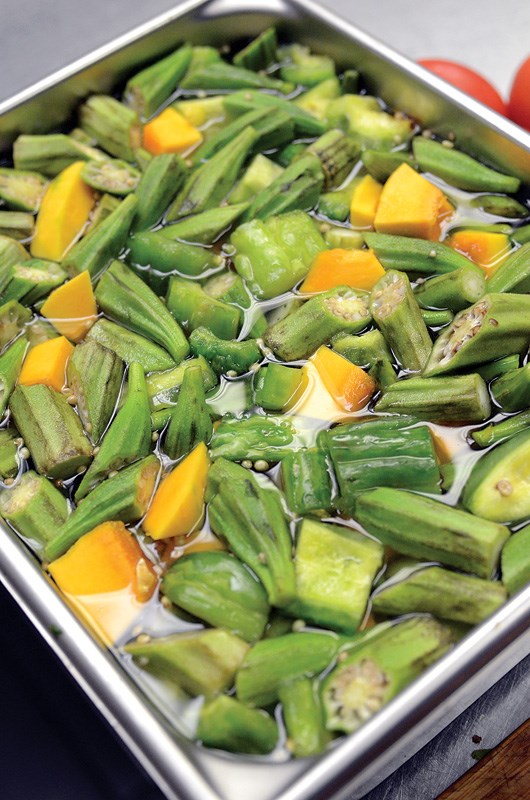 The broader "Western" menu, pulling a page or two from Alim's Truffle House experience I'm sure, ranges from Omelets and Eggs Benedict (smoked salmon or litson pork) to French Toast and Granola with Yogurt.
There is a familial hospitality at play at Alloz that informs the whole experience. This is a casual joint through and through, from the physical space to the service. The kitchen is small enough and close enough to the seating area that Chef Alim himself was able to shout hello from the line as we entered. Our server, who seemed quite taken by the kids, exhibited a patient and empathic disposition throughout the meal, even when, to her horror, the whipped cream dispenser she was using to add an additional tableside dollop to my son's plate sputtered and exploded, covering my son's hoodie, the wall next to him, and a significant portion of the tabletop with fatty, frothy cream. In a different environment this might have played out differently, but within the Alloz space we all shrugged it off with a laugh, like you might if the same thing had happened at home.
It is important not to conflate casual with careless, however, and it needs to be said that Chef Alim issues plates from his kitchen line with care and attention. A Pork Belly and Smoked Ham Benny came with a generous side salad of fresh mesclun greens with just the right gloss of house-made vinaigrette. The eggs on the same dish arrived, as requested, softly poached, their golden yolks bursting atop the toasted English muffin and hearty pile of roasted pork underneath.
From my perspective, the traditional Filipino breakfast fare is better here than the more common fare, the latter tending towards the excessive, as with my son's Bacon and Apple French Toast, which was almost completely submerged in creamy butterscotch sauce. The dish reads like a kid's dream on paper but in execution proved too rich and sweet for even a palate that can still appreciate things like cotton candy and cream soda on the rare occasions that they are proffered. My daughter's crepe, described above, was similarly over-the-top with its caramelized apple and salted butterscotch glaze.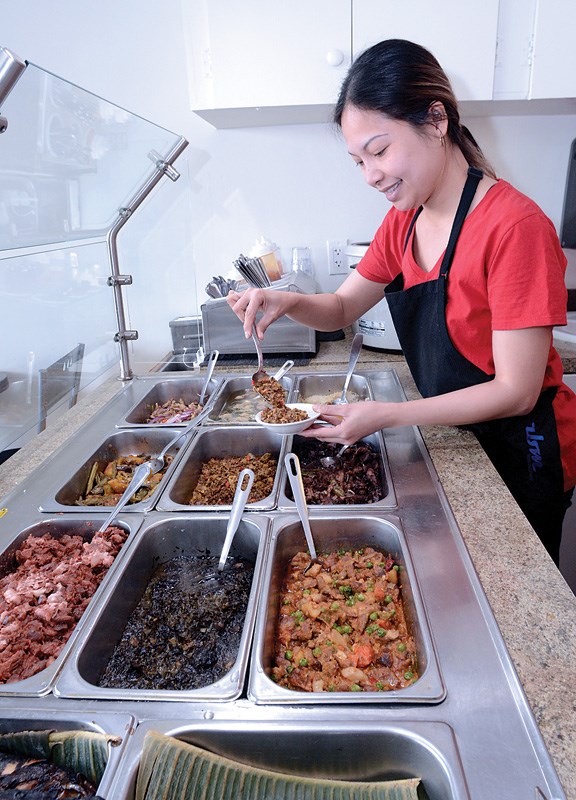 My wife DJ reported, however, that her Benny, a vegetarian version with tomato and avocado, was very well executed. I had a bite of her meal and appreciated the light, tangy Hollandaise and, as on the pork belly version, the expertly poached eggs.
But far and away the best dish of the breakfast, the one that I will seek out again in the future, was my litson silog, or slow roasted suckling pig with crispy skin, garlic rice, fried eggs, and a garnish of tomato concasse. The litson pork, a traditional, often festive Filipino specialty, was tender and moist with pockets of fat permeating the flavoursome meat. A crunchy, chestnut-brown layer of crackling capped most morsels of the pork, contributing to a tremendous depth of flavour and general sense of indulgence. The rice was deeply seasoned with garlic and, covered by the soft yolks of a fried egg, made for a surprisingly rewarding breakfast.
Chef Alim dropped by the table towards the end of our meal to ask how everything was and, with an endearing humility, confessed that Alloz is still finding its way with breakfast service and thanked us for our patronage. I think that for such early days, Alloz is off to a promising start and can carve out a unique breakfast niche for itself provided it leans in a bit more towards the culinary tradition it understands so well and simplifies its currently ambitious offerings.
Breakfast dishes range in price from $8 to $15, making for a not altogether inexpensive meal for five at $81 before gratuity, but including coffee and juice.
Alloz Grill, 149 3rd St. East, North Vancouver. Allozgrill.business.site. 604-369-1027