At first pass, this may seem like a trivial thing to worry about, but people who don't meet the suggested serving size (which is 1.5 cups for women and two cups for men) have an increased risk of illnesses like cardiovascular disease, Type 2 diabetes, and some cancers.
Getting your fruit in doesn't have to be as boring as chomping on another apple or struggling to peel another orange, however. Fruit salads are an excellent (and easily portable!) way to consume all 1.5 to two cups. To that end, Stacker compiled a list of fruit salad recipes from Allrecipes.
From basic to deluxe, these salads will add a sweet note to any day.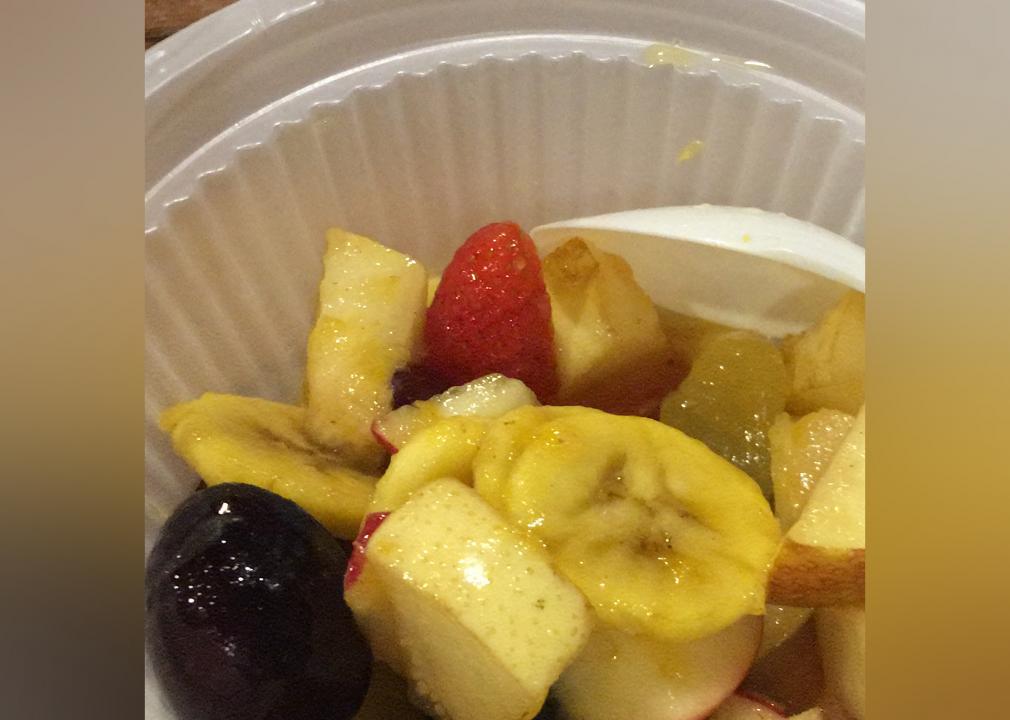 Allrecipes
Perfect summer fruit salad
- Prep: 25 mins
- Cook: 5 mins
- Additional: 3 hrs
- Total: 3 hrs 30 mins
- Servings: 10
- Yield: 10 servings
- Number of ingredients: 13
- Read more about the recipe here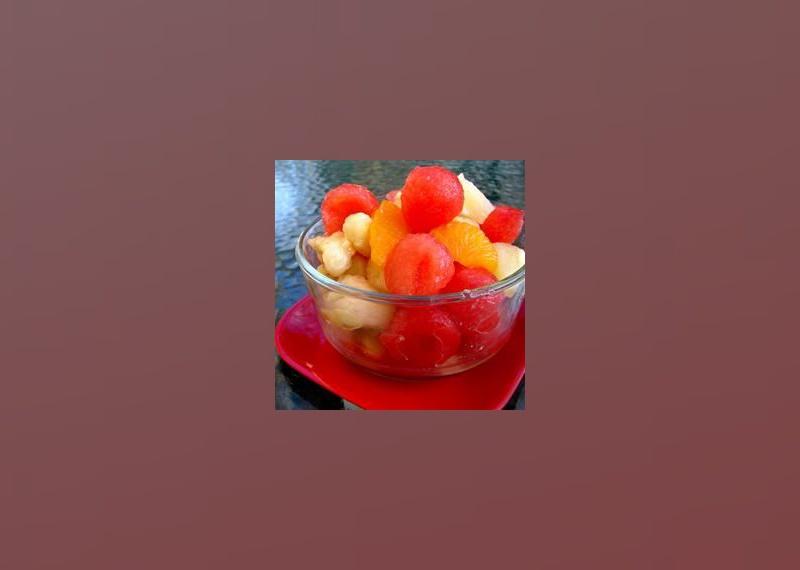 Allrecipes
Juicy fruit salad
- Prep: 5 mins
- Total: 5 mins
- Servings: 6
- Yield: 6 servings
- Number of ingredients: 5
- Read more about the recipe here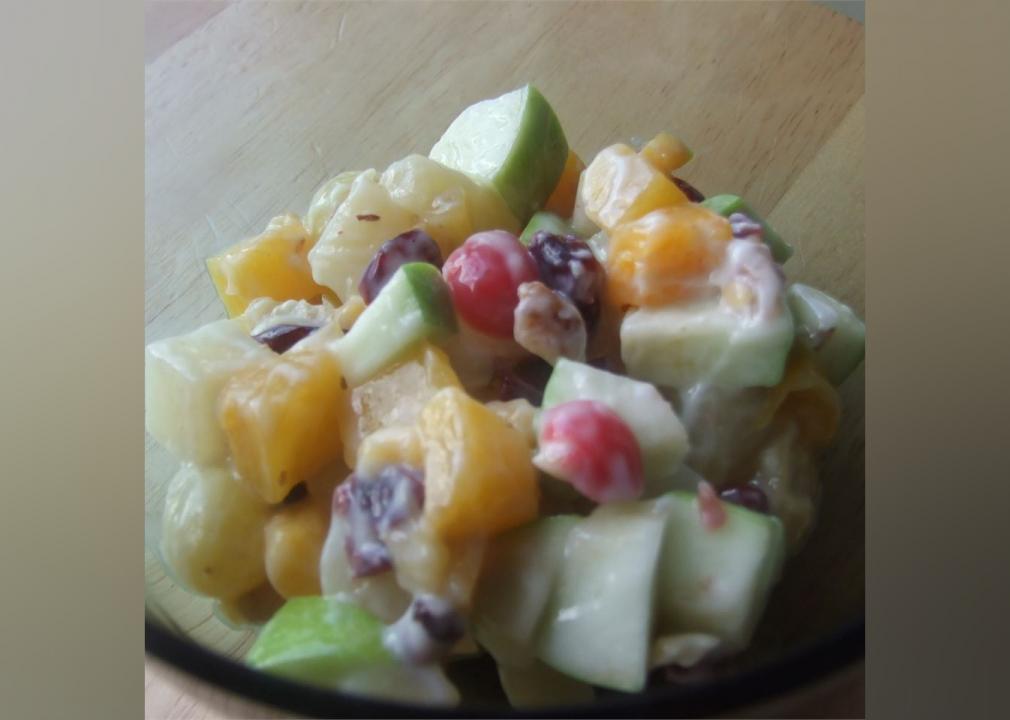 Allrecipes
Fabulous fruit salad
- Prep: 20 mins
- Total: 20 mins
- Servings: 4
- Yield: 4 servings
- Number of ingredients: 7
- Read more about the recipe here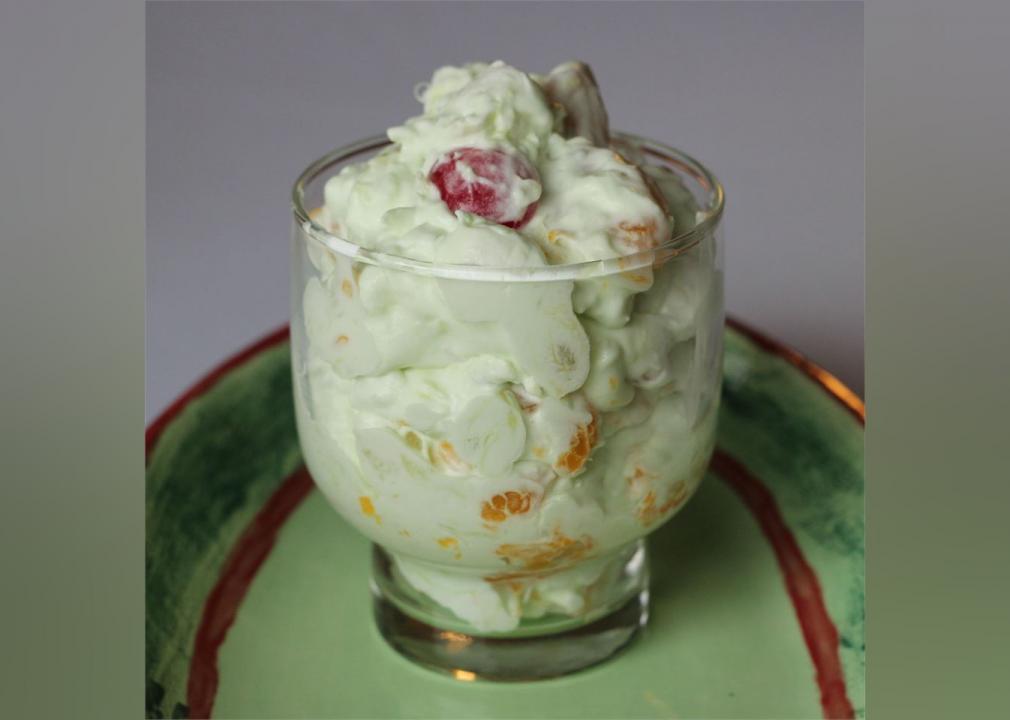 Allrecipes
Pistachio fluff fruit salad
- Prep: 5 mins
- Additional: 30 mins
- Total: 35 mins
- Servings: 6
- Yield: 6 to 8 servings
- Number of ingredients: 7
- Read more about the recipe here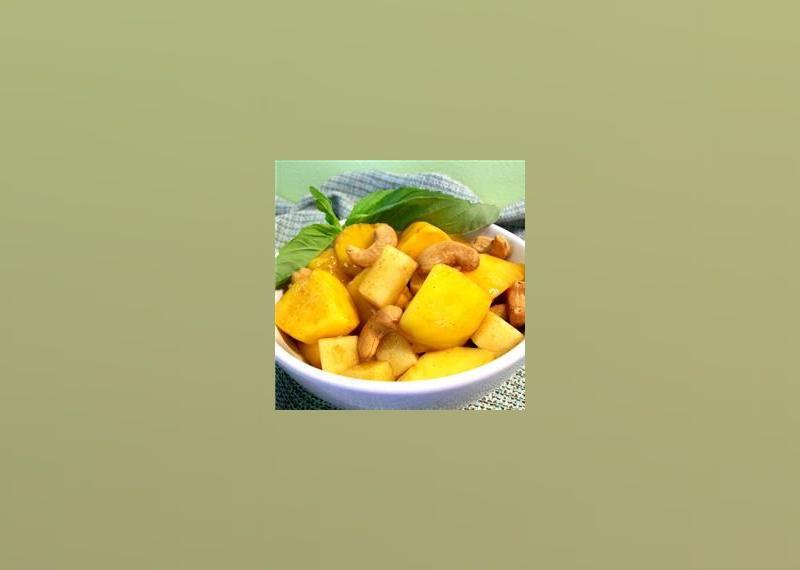 Allrecipes
Mango cashew salad
- Prep: 15 mins
- Total: 15 mins
- Servings: 6
- Yield: 6 servings
- Number of ingredients: 7
- Read more about the recipe here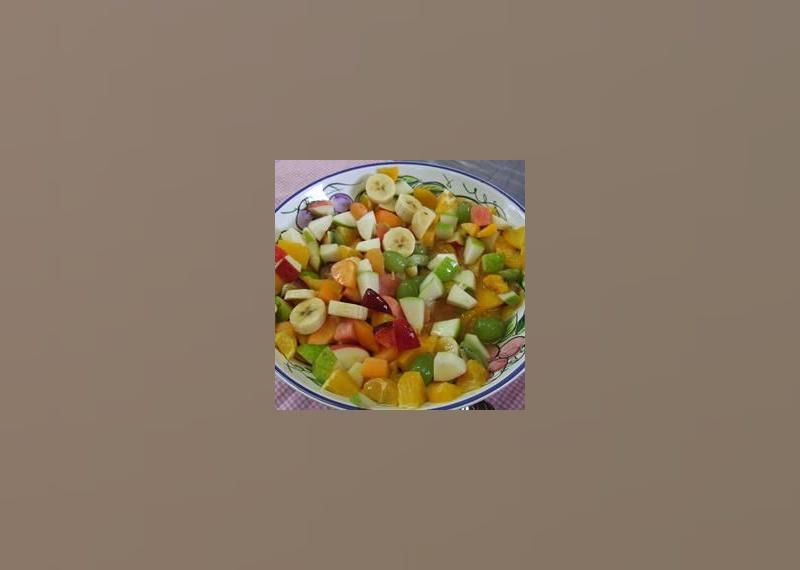 Allrecipes
Very easy fruit salad
- Prep: 10 mins
- Additional: 1 hr
- Total: 1 hr 10 mins
- Servings: 10
- Yield: 10 servings
- Number of ingredients: 5
- Read more about the recipe here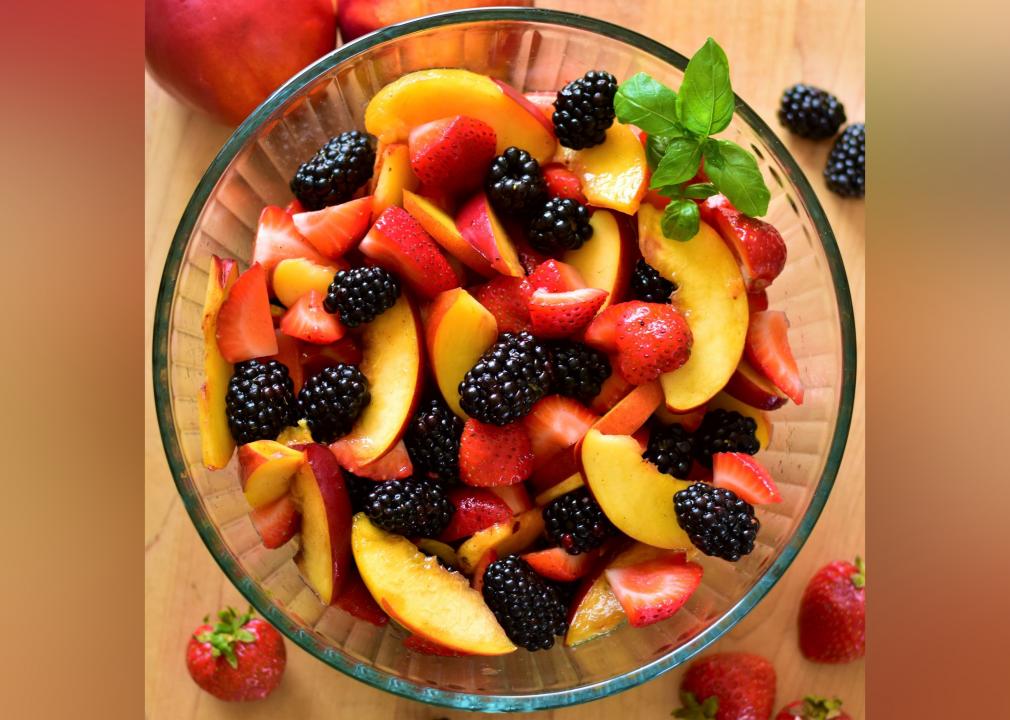 Allrecipes
Peach and berry salad
- Prep: 15 mins
- Cook: 5 mins
- Total: 20 mins
- Servings: 4
- Yield: 4 servings
- Number of ingredients: 5
- Read more about the recipe here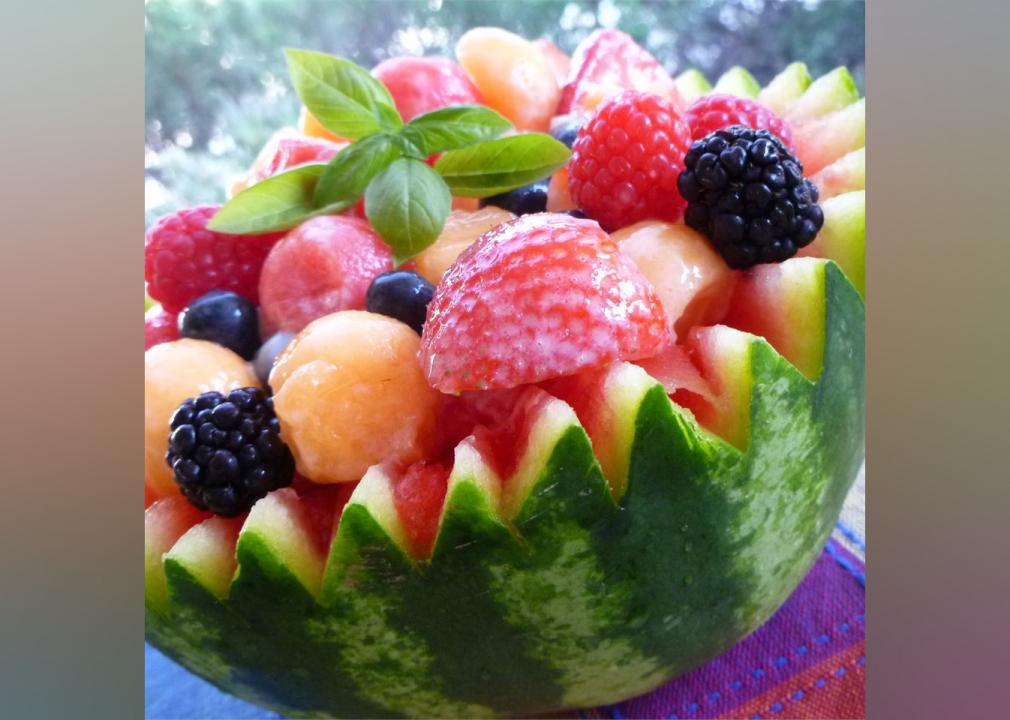 Allrecipes
Strawberry-melon summer salad
- Prep: 20 mins
- Total: 20 mins
- Servings: 6
- Yield: 6 servings
- Number of ingredients: 6
- Read more about the recipe here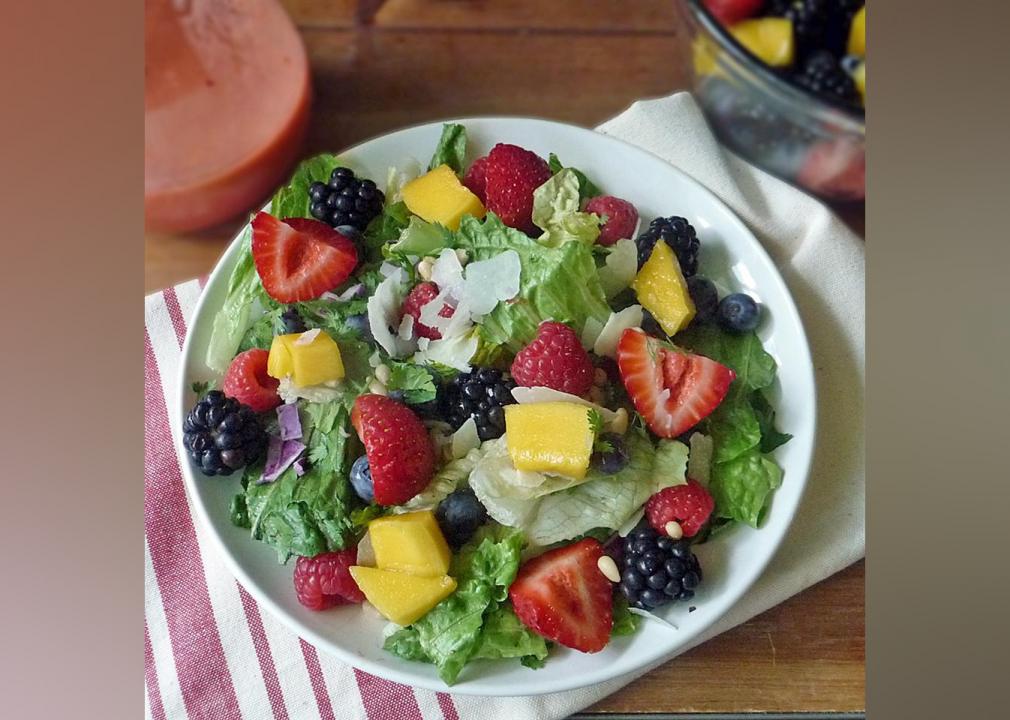 Allrecipes
Mango berry fruit salad
- Prep: 15 mins
- Total: 15 mins
- Servings: 6
- Yield: 6 servings
- Number of ingredients: 11
- Read more about the recipe here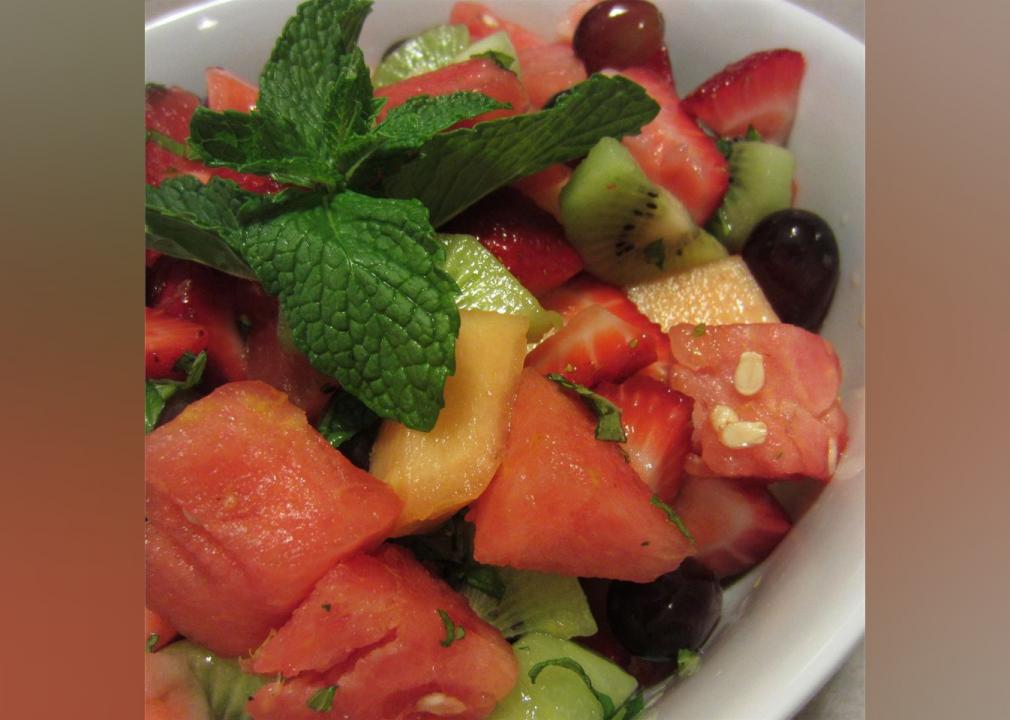 Allrecipes
Summer fruit salad with a lemon, honey and mint dressing
- Prep: 20 mins
- Additional: 1 hr
- Total: 1 hr 20 mins
- Servings: 8
- Yield: 8 servings
- Number of ingredients: 10
- Read more about the recipe here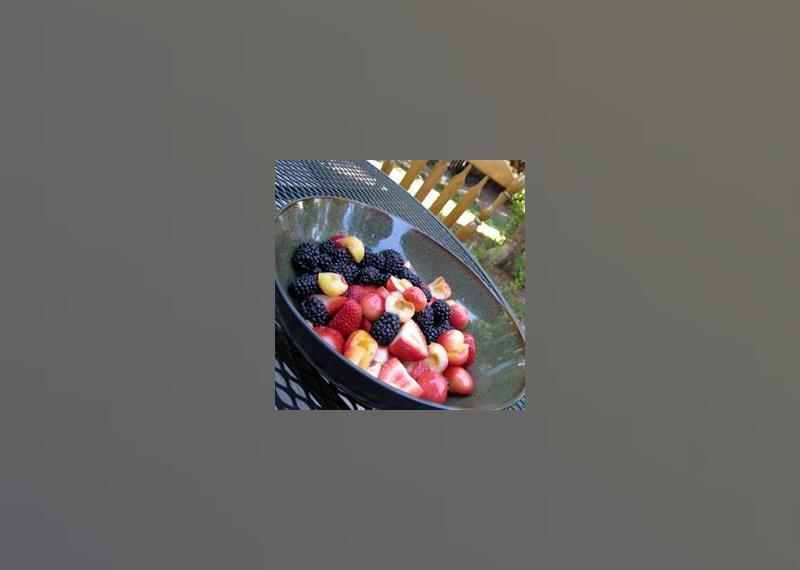 Allrecipes
Rainbow fruit salad
- Prep: 20 mins
- Total: 20 mins
- Servings: 10
- Yield: 10 servings
- Number of ingredients: 7
- Read more about the recipe here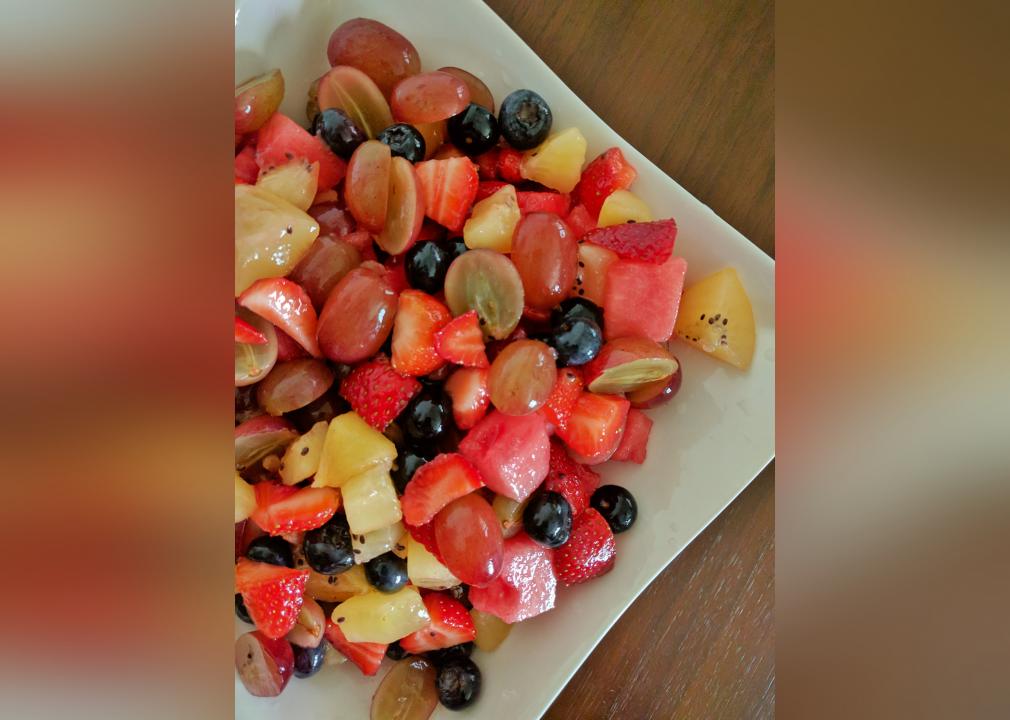 Allrecipes
Mojito fruit salad
- Prep: 20 mins
- Additional: 1 hr
- Total: 1 hr 20 mins
- Servings: 6
- Yield: 6 servings
- Number of ingredients: 9
- Read more about the recipe here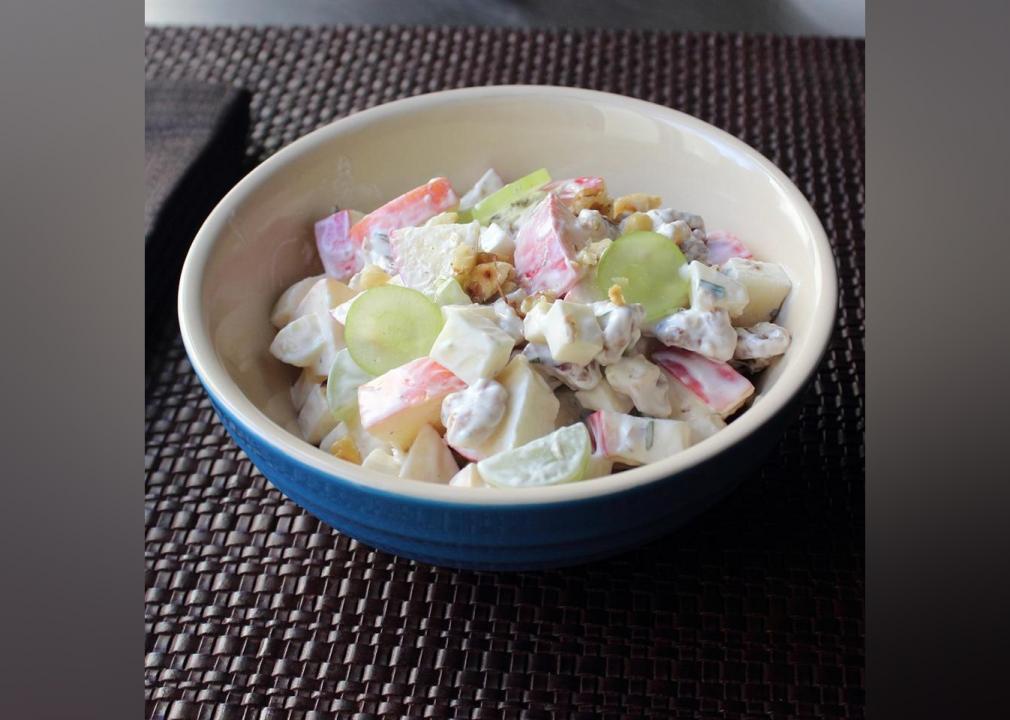 Allrecipes
Chef John's waldorf salad
- Prep: 20 mins
- Total: 20 mins
- Servings: 4
- Yield: 4 servings
- Number of ingredients: 12
- Read more about the recipe here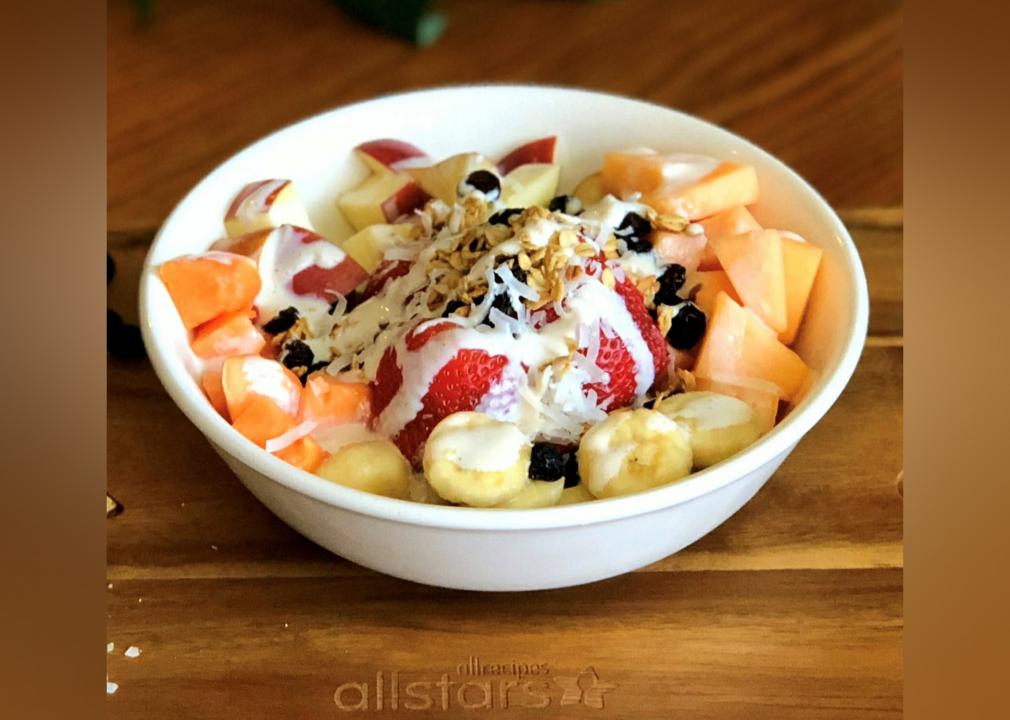 Allrecipes
Bionicos (Mexican fruit bowls)
- Prep: 30 mins
- Total: 30 mins
- Servings: 4
- Yield: 4 fruit bowls
- Number of ingredients: 12
- Read more about the recipe here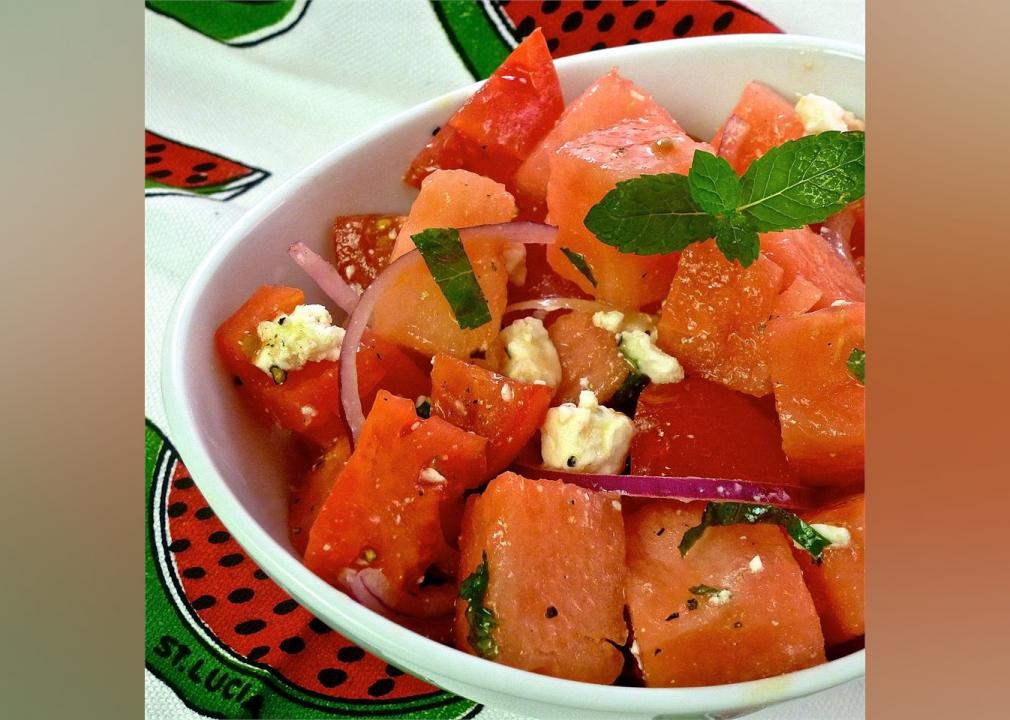 Allrecipes
Tomato watermelon salad
- Prep: 15 mins
- Total: 15 mins
- Servings: 12
- Yield: 12 servings
- Number of ingredients: 9
- Read more about the recipe here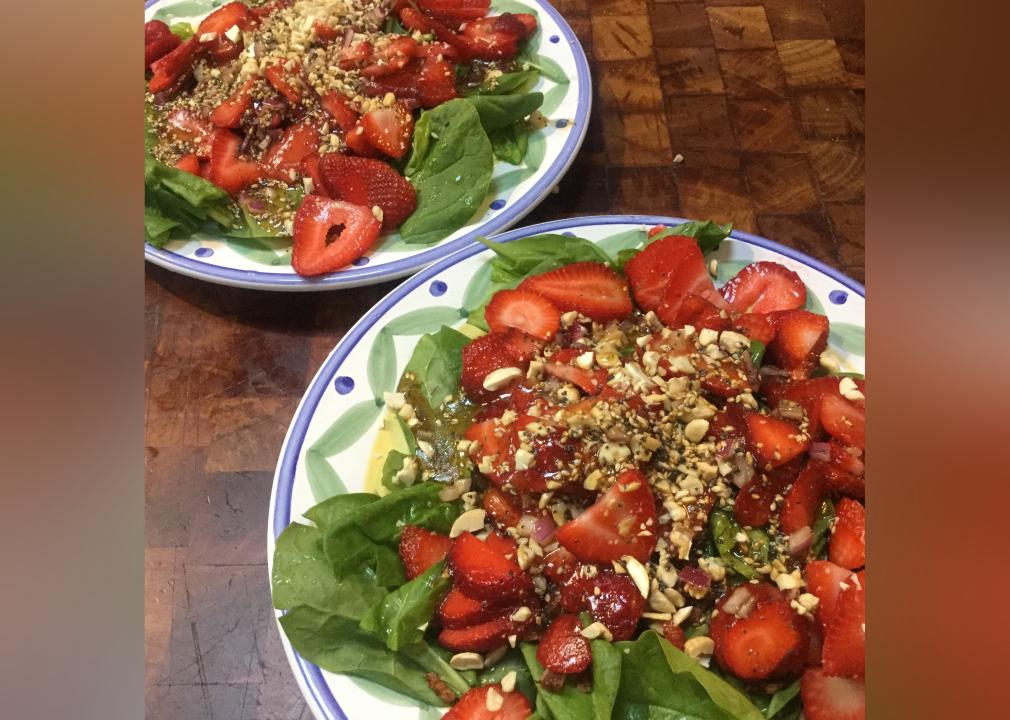 Allrecipes
Strawberry spinach salad
- Prep: 10 mins
- Additional: 1 hr
- Total: 1 hr 10 mins
- Servings: 4
- Yield: 4 servings
- Number of ingredients: 11
- Read more about the recipe here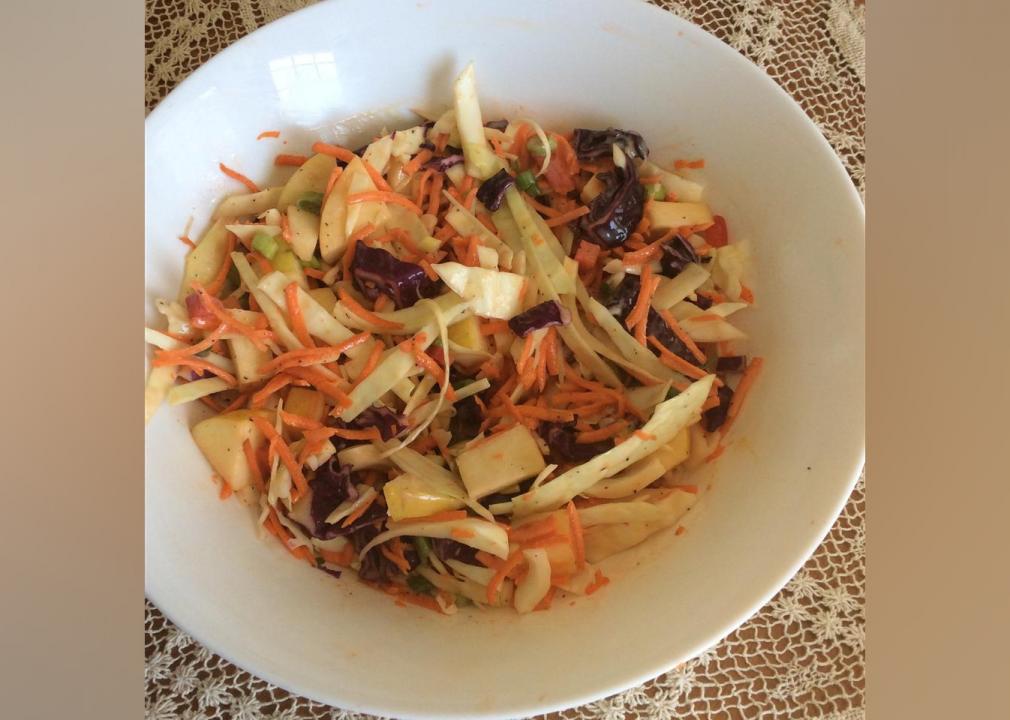 Allrecipes
Easy apple coleslaw
- Prep: 25 mins
- Total: 25 mins
- Servings: 6
- Yield: 6 servings
- Number of ingredients: 9
- Read more about the recipe here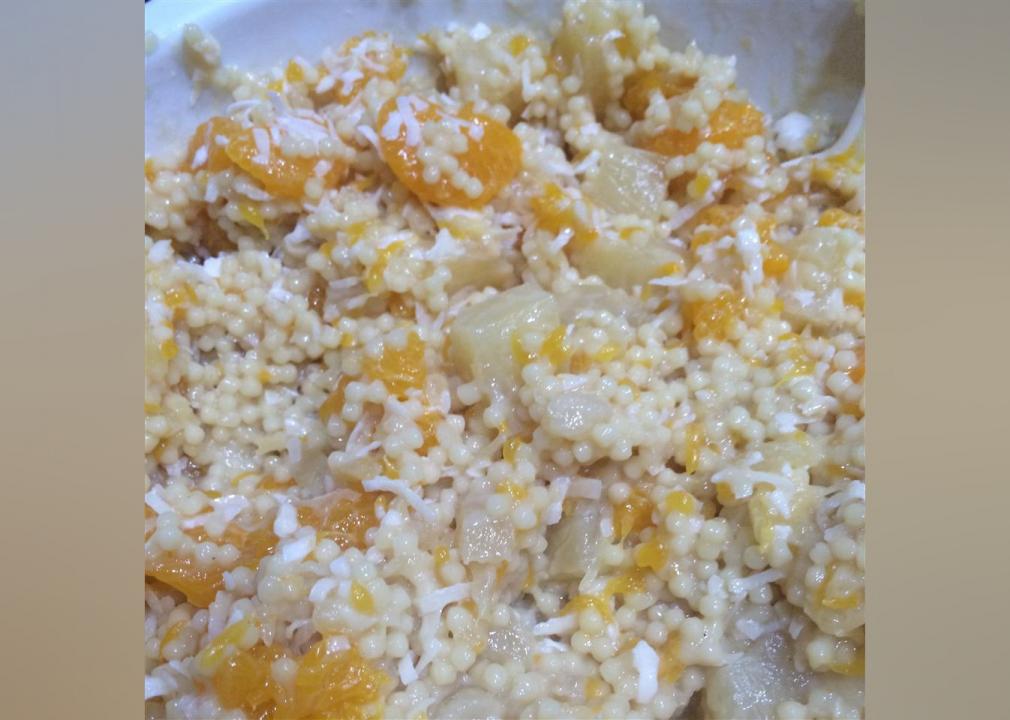 Allrecipes
Frog eye salad
- Prep: 15 mins
- Cook: 30 mins
- Additional: 13 hrs 20 mins
- Total: 13 hrs 65 mins
- Servings: 10
- Yield: 10 servings
- Number of ingredients: 15
- Read more about the recipe here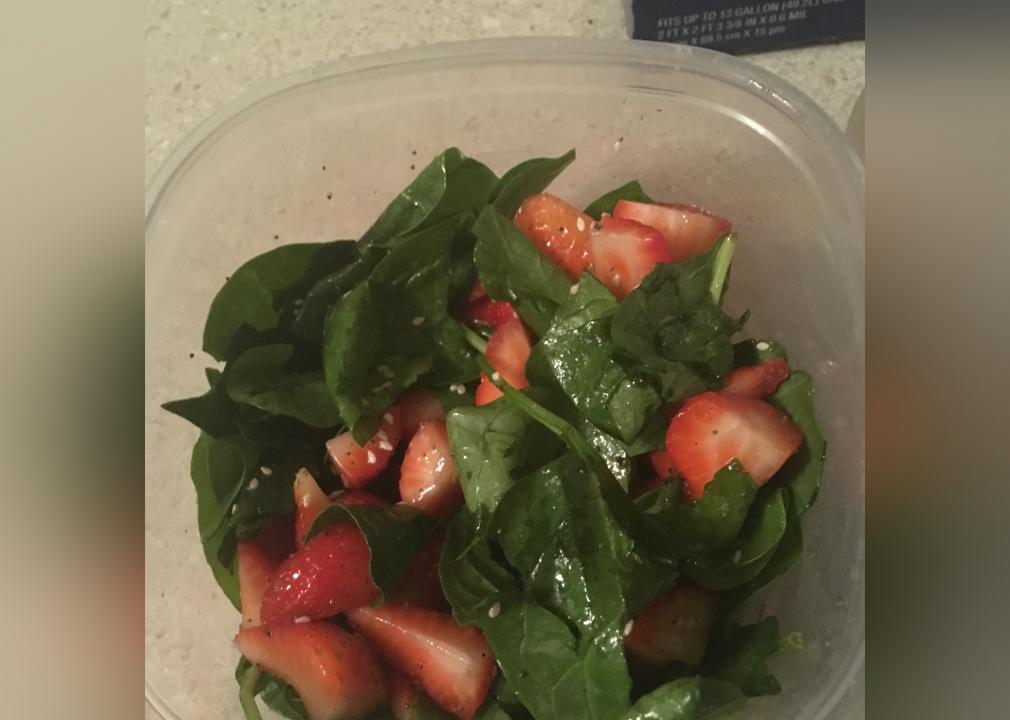 Allrecipes
Spinach and strawberry salad
- Prep: 10 mins
- Total: 10 mins
- Servings: 8
- Yield: 8 servings
- Number of ingredients: 8
- Read more about the recipe here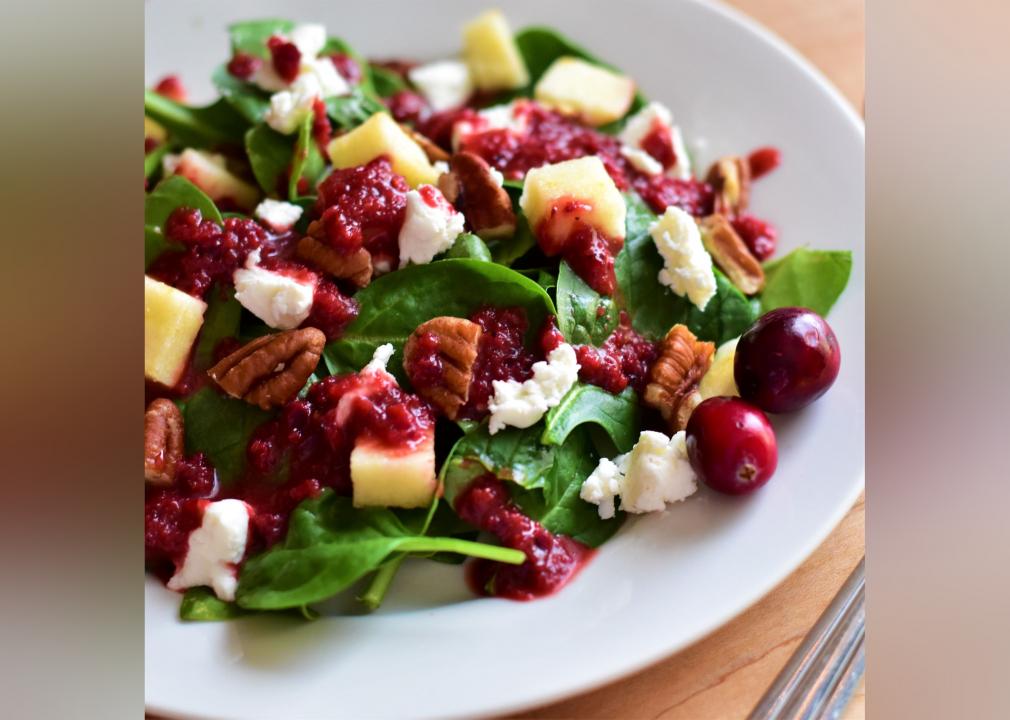 Allrecipes
Fall salad with cranberry vinaigrette
- Servings: 8
- Yield: 8 servings
- Number of ingredients: 11
- Read more about the recipe here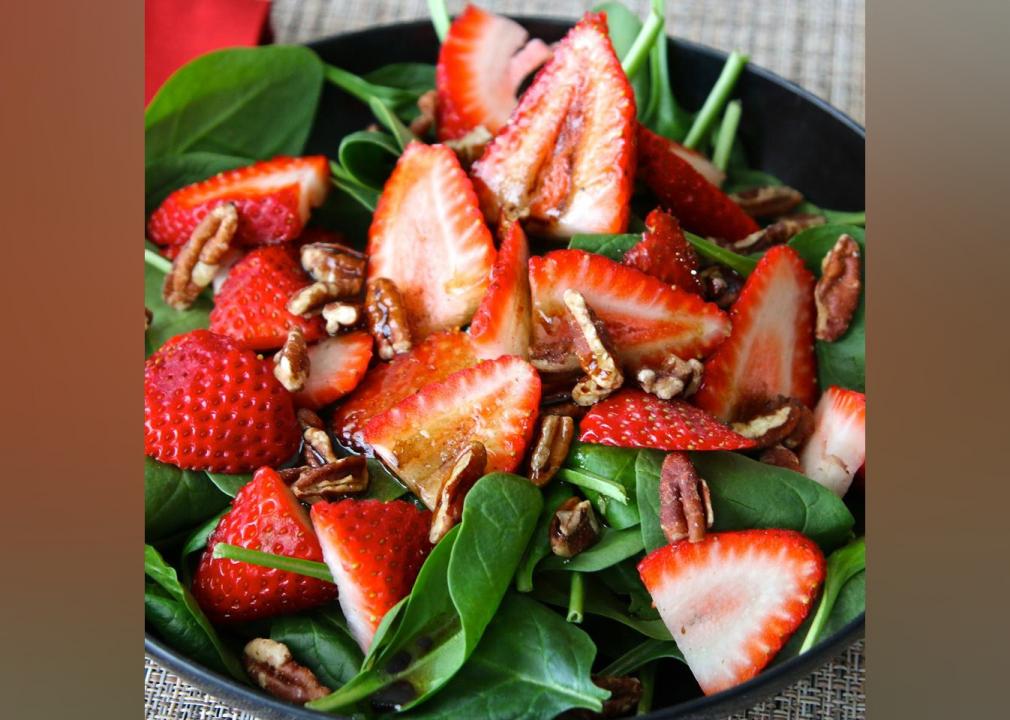 Allrecipes
Strawberry and spinach salad with honey balsamic vinaigrette
- Prep: 15 mins
- Total: 15 mins
- Servings: 4
- Yield: 4 servings
- Number of ingredients: 8
- Read more about the recipe here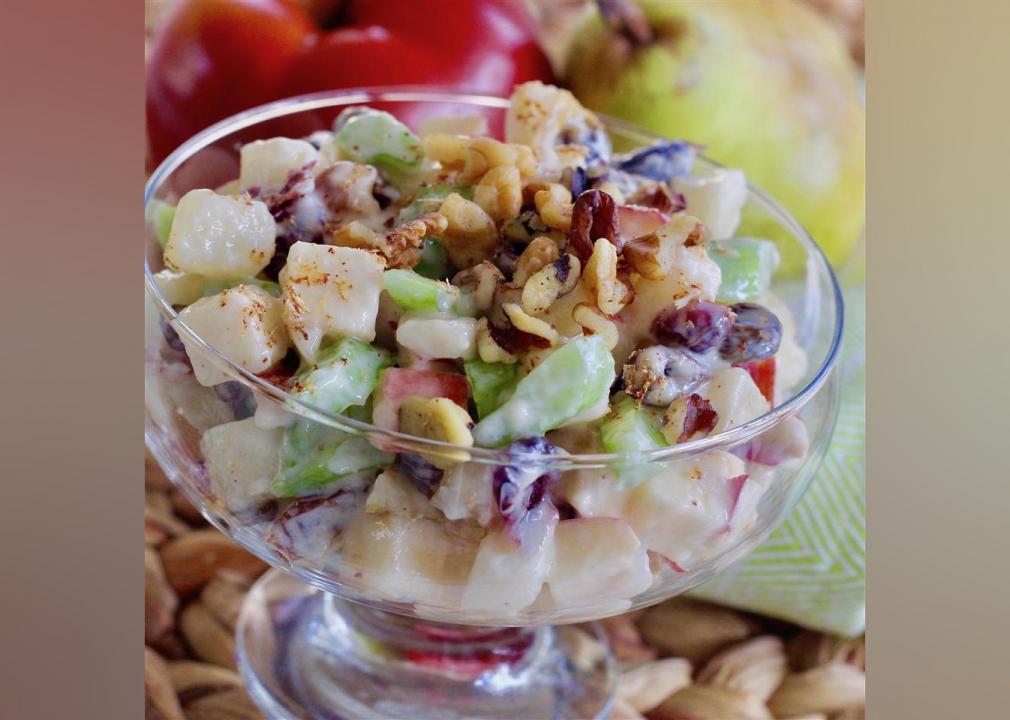 Allrecipes
Autumn waldorf salad
- Prep: 20 mins
- Additional: 30 mins
- Total: 50 mins
- Servings: 2
- Yield: 2 servings
- Number of ingredients: 10
- Read more about the recipe here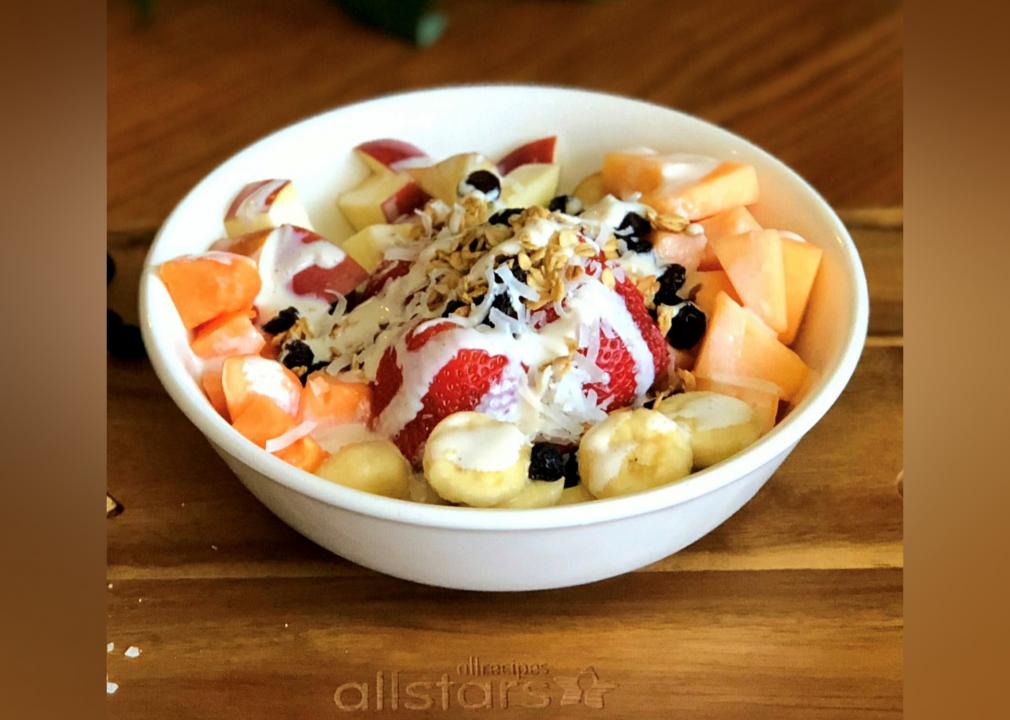 Allrecipes
Bionicos (Mexican fruit bowls)
- Prep: 30 mins
- Total: 30 mins
- Servings: 4
- Yield: 4 fruit bowls
- Number of ingredients: 12
- Read more about the recipe here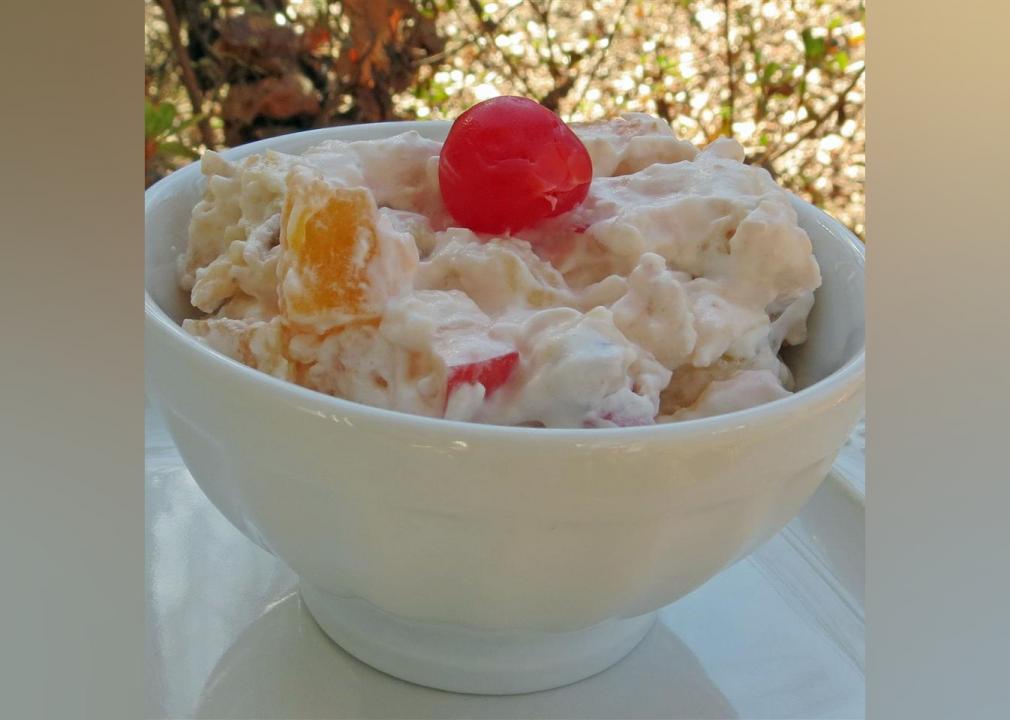 Allrecipes
Cream cheese fruit salad
- Prep: 15 mins
- Additional: 1 hr
- Total: 1 hr 15 mins
- Servings: 8
- Yield: 8 servings
- Number of ingredients: 11
- Read more about the recipe here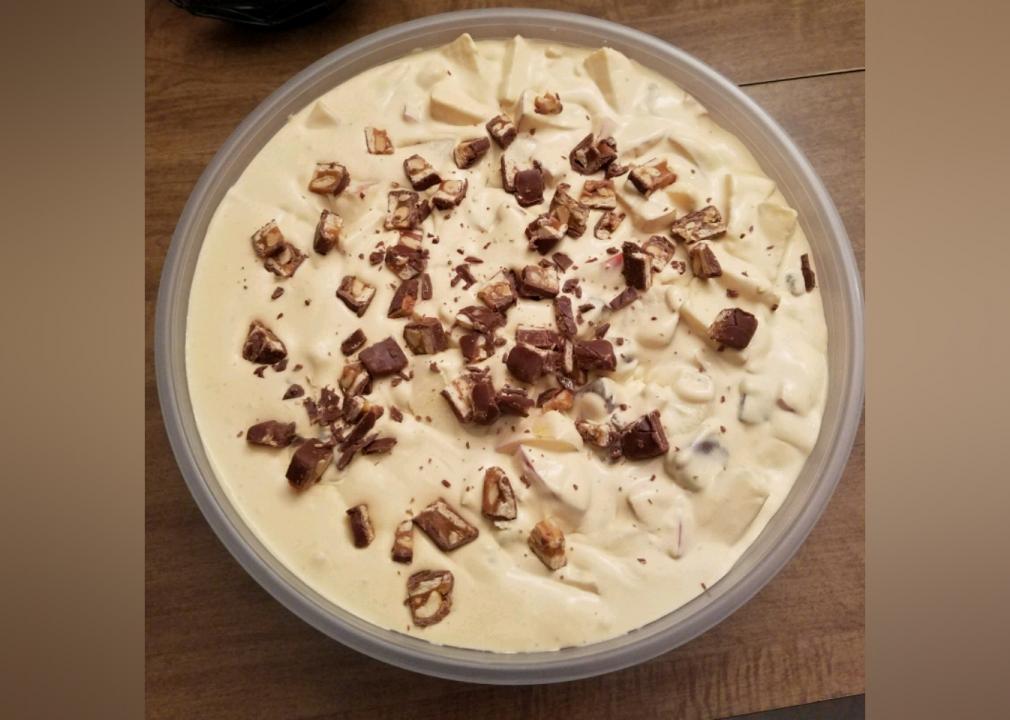 Allrecipes
Apple snicker salad
- Prep: 20 mins
- Total: 20 mins
- Servings: 16
- Yield: 16 servings
- Number of ingredients: 5
- Read more about the recipe here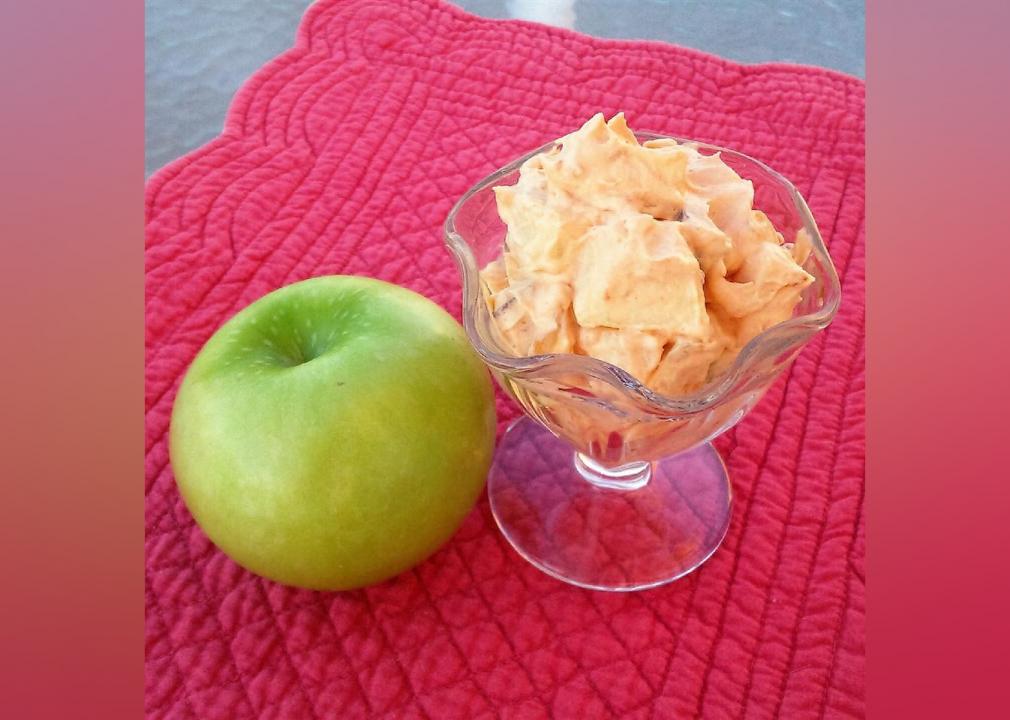 Allrecipes
Easy caramel apple salad
- Prep: 10 mins
- Additional: 30 mins
- Total: 40 mins
- Servings: 12
- Yield: 12 servings
- Number of ingredients: 5
- Read more about the recipe here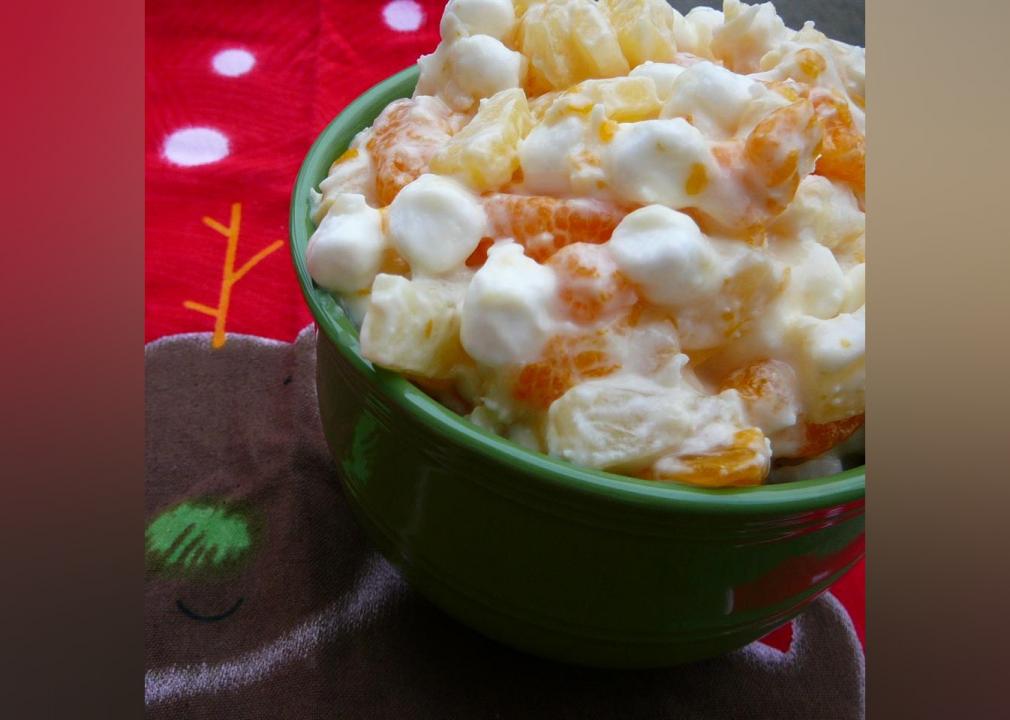 Allrecipes
Sarah's ambrosia fruit salad
- Prep: 15 mins
- Additional: 2 hrs
- Total: 2 hrs 15 mins
- Servings: 10
- Yield: 10 servings
- Number of ingredients: 5
- Read more about the recipe here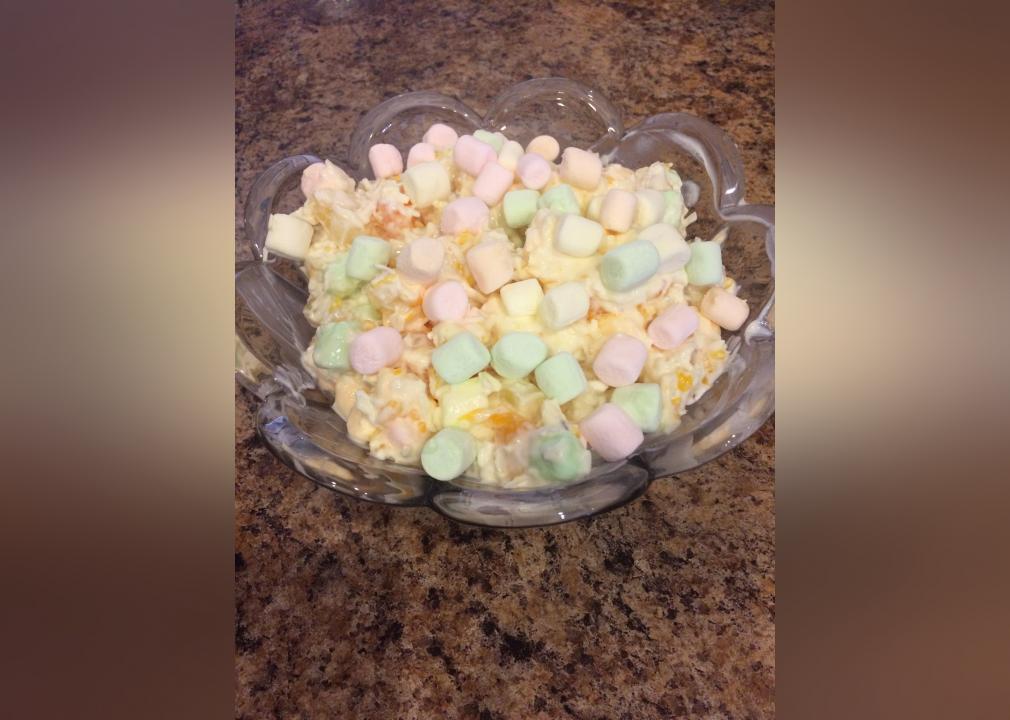 Allrecipes
Five-cup salad
- Prep: 10 mins
- Cook: 5 hrs
- Total: 5 hrs 10 mins
- Servings: 8
- Yield: 8 servings
- Number of ingredients: 5
- Read more about the recipe here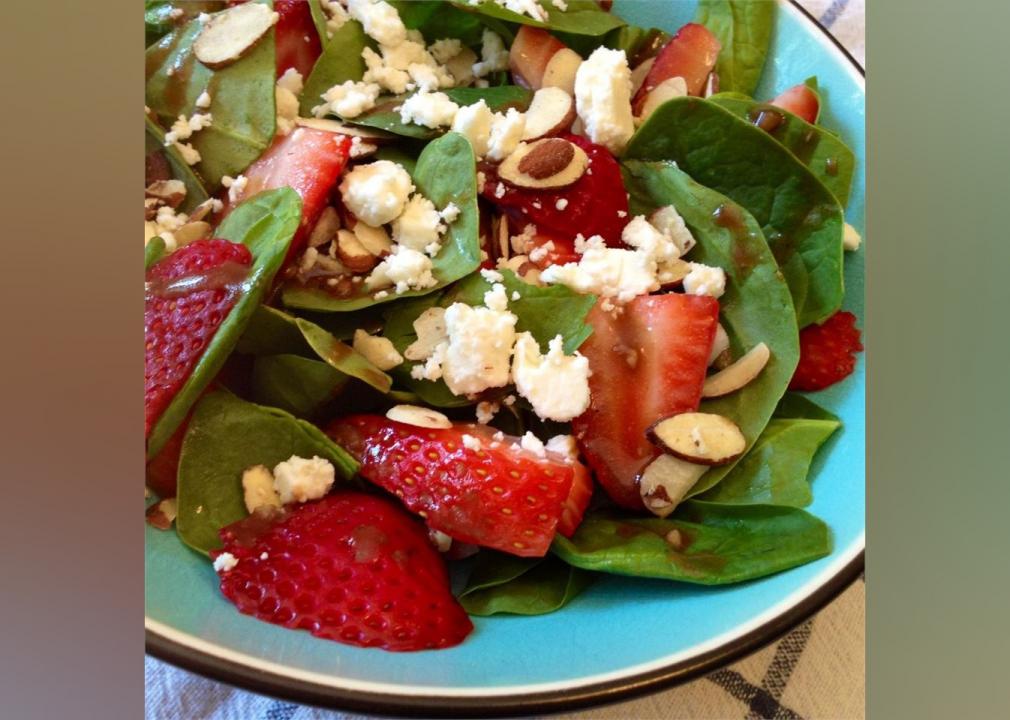 Allrecipes
Emily's strawberry balsamic salad
- Prep: 30 mins
- Total: 30 mins
- Servings: 6
- Yield: 6 servings
- Number of ingredients: 13
- Read more about the recipe here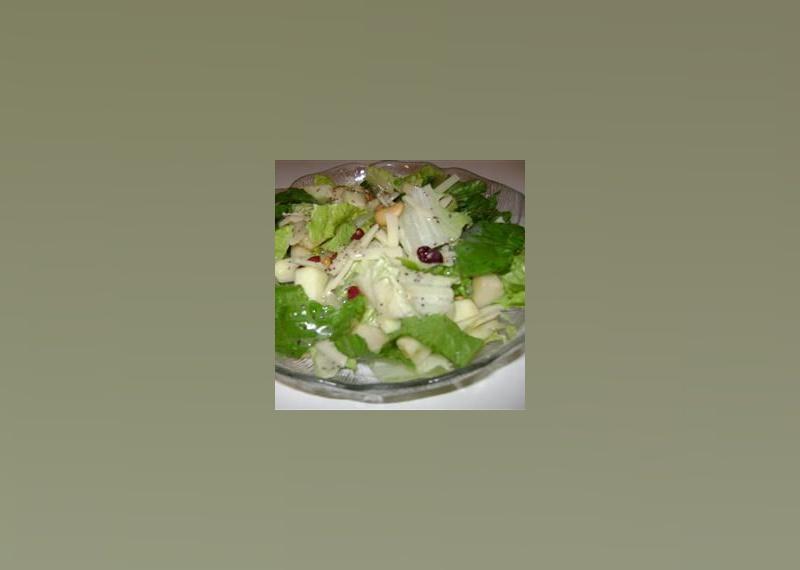 Allrecipes
Winter fruit salad with lemon poppyseed dressing
- Prep: 25 mins
- Total: 25 mins
- Servings: 12
- Yield: 12 servings
- Number of ingredients: 13
- Read more about the recipe here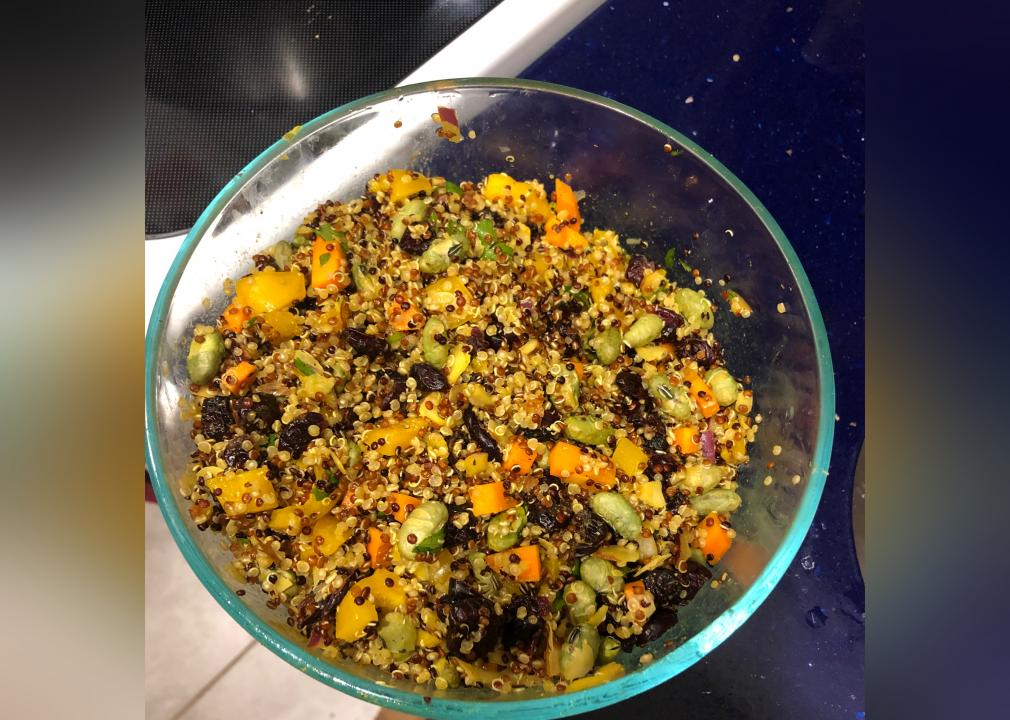 Allrecipes
Cranberry and cilantro quinoa salad
- Prep: 10 mins
- Cook: 20 mins
- Additional: 2 hrs
- Total: 2 hrs 30 mins
- Servings: 6
- Yield: 6 servings
- Number of ingredients: 12
- Read more about the recipe here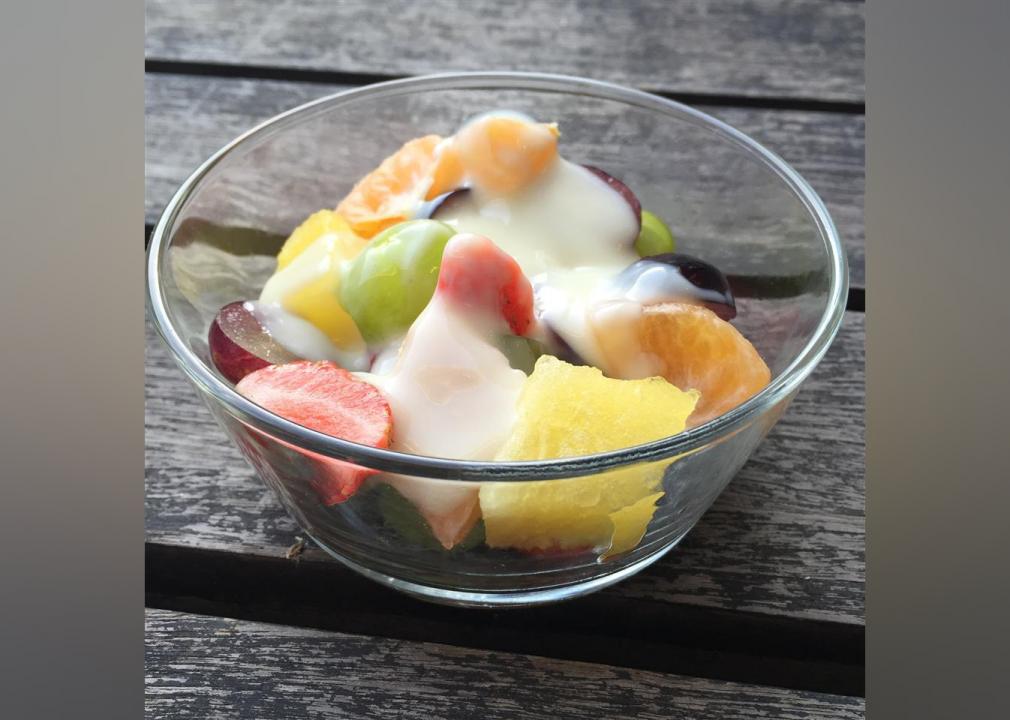 Allrecipes
Kid-friendly fruit salad
- Prep: 15 mins
- Total: 15 mins
- Servings: 2
- Yield: 2 servings
- Number of ingredients: 6
- Read more about the recipe here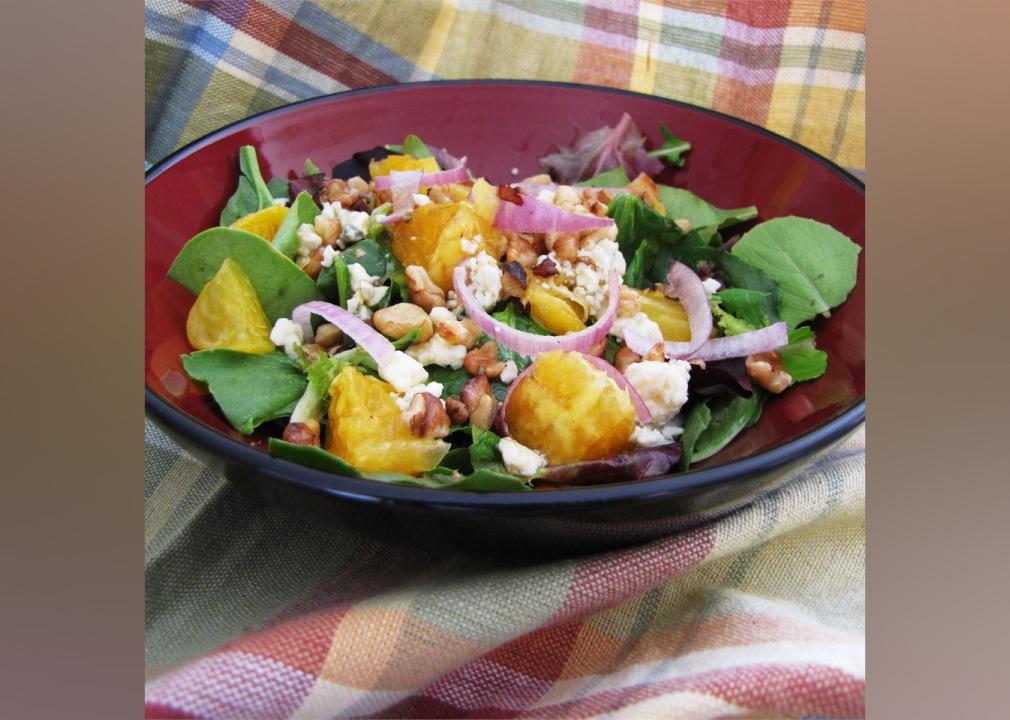 Allrecipes
Orange, walnut, gorgonzola and mixed greens salad with fresh citrus vinaigrette
- Prep: 15 mins
- Cook: 5 mins
- Total: 20 mins
- Servings: 6
- Yield: 6 servings
- Number of ingredients: 13
- Read more about the recipe here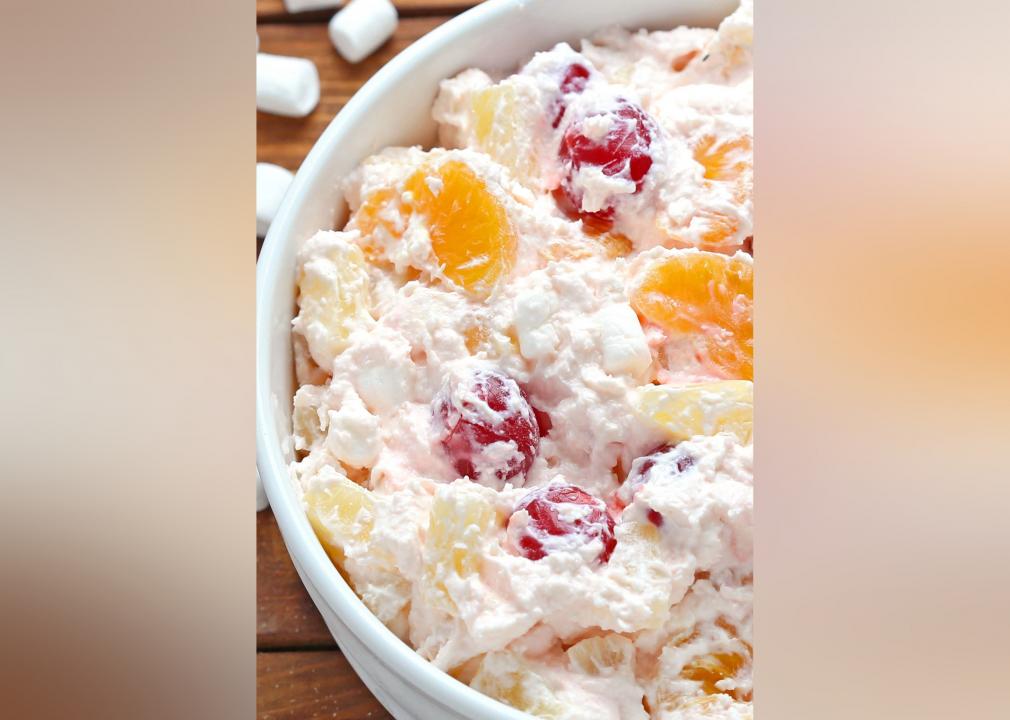 Allrecipes
Rosa marina fruit salad
- Prep: 15 mins
- Cook: 15 mins
- Additional: 8 hrs 30 mins
- Total: 8 hrs 60 mins
- Servings: 24
- Yield: 24 servings
- Number of ingredients: 9
- Read more about the recipe here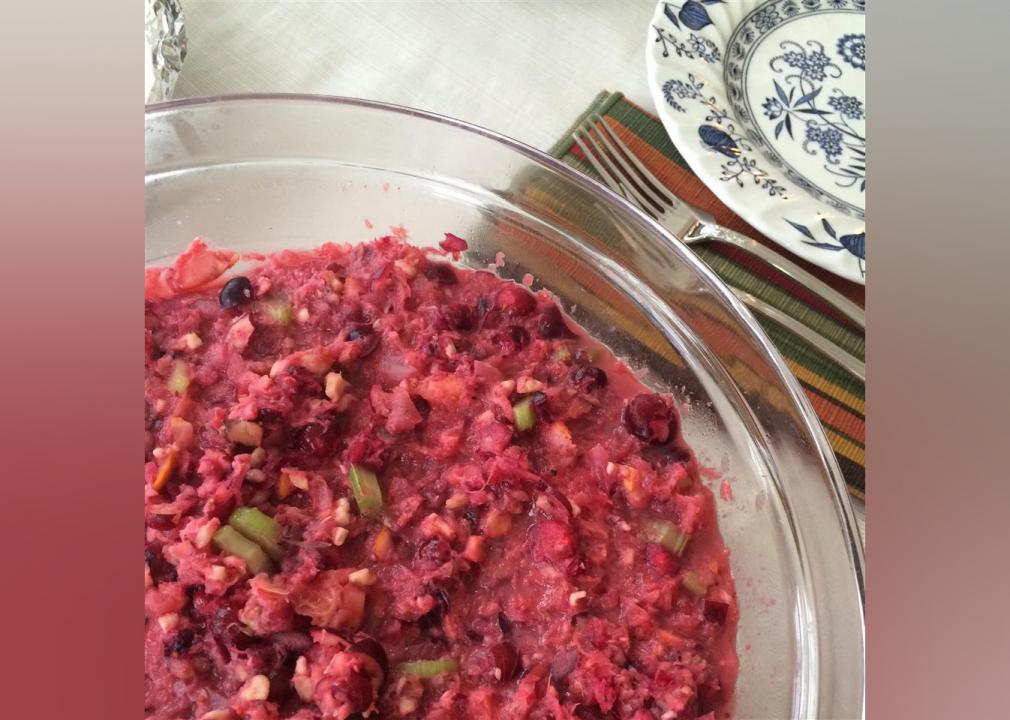 Allrecipes
Cranberry salad
- Prep: 10 mins
- Additional: 50 mins
- Total: 60 mins
- Servings: 7
- Yield: 6 - 8 servings
- Number of ingredients: 8
- Read more about the recipe here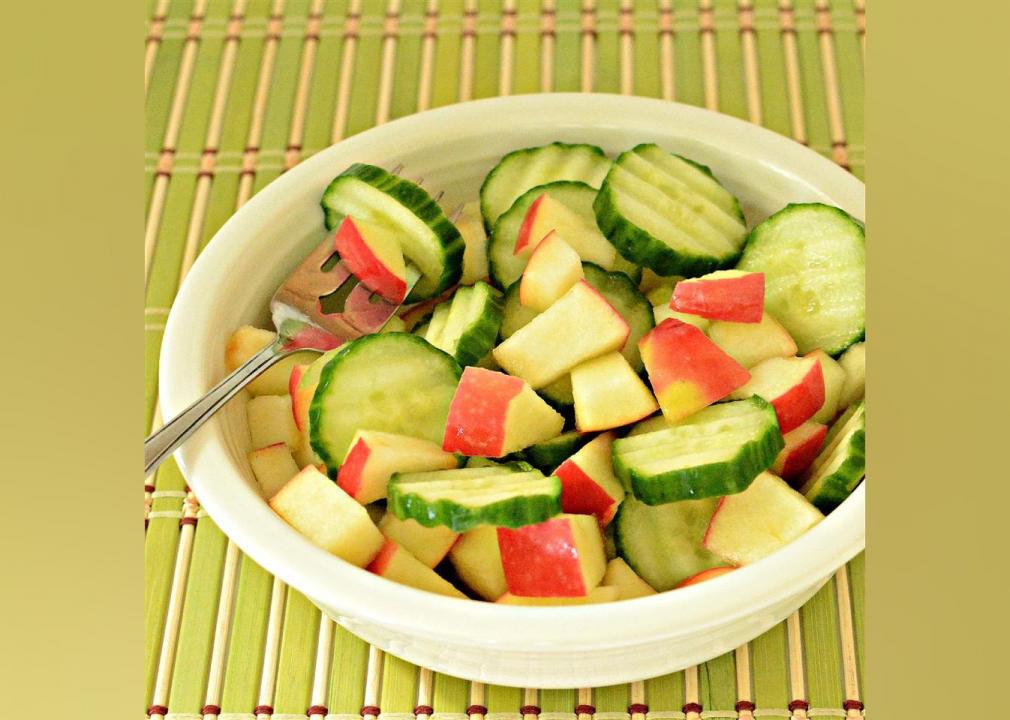 Allrecipes
Cucumber and apple salad
- Prep: 10 mins
- Total: 10 mins
- Servings: 4
- Yield: 4 servings
- Number of ingredients: 3
- Read more about the recipe here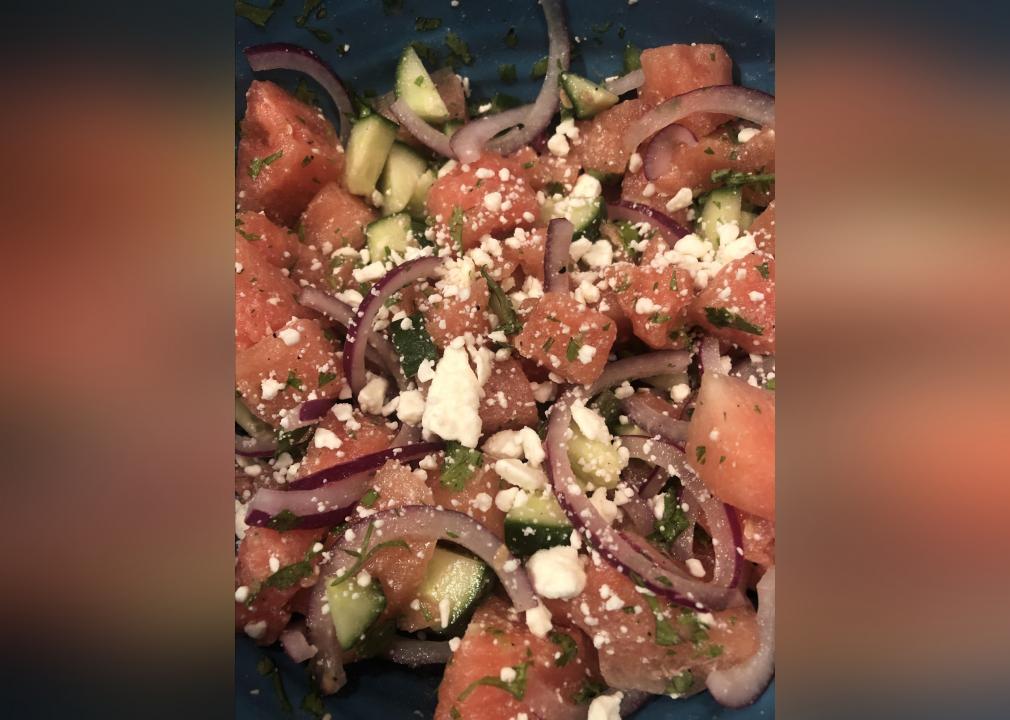 Allrecipes
Refreshing watermelon salad
- Prep: 20 mins
- Total: 20 mins
- Servings: 15
- Yield: 15 servings
- Number of ingredients: 8
- Read more about the recipe here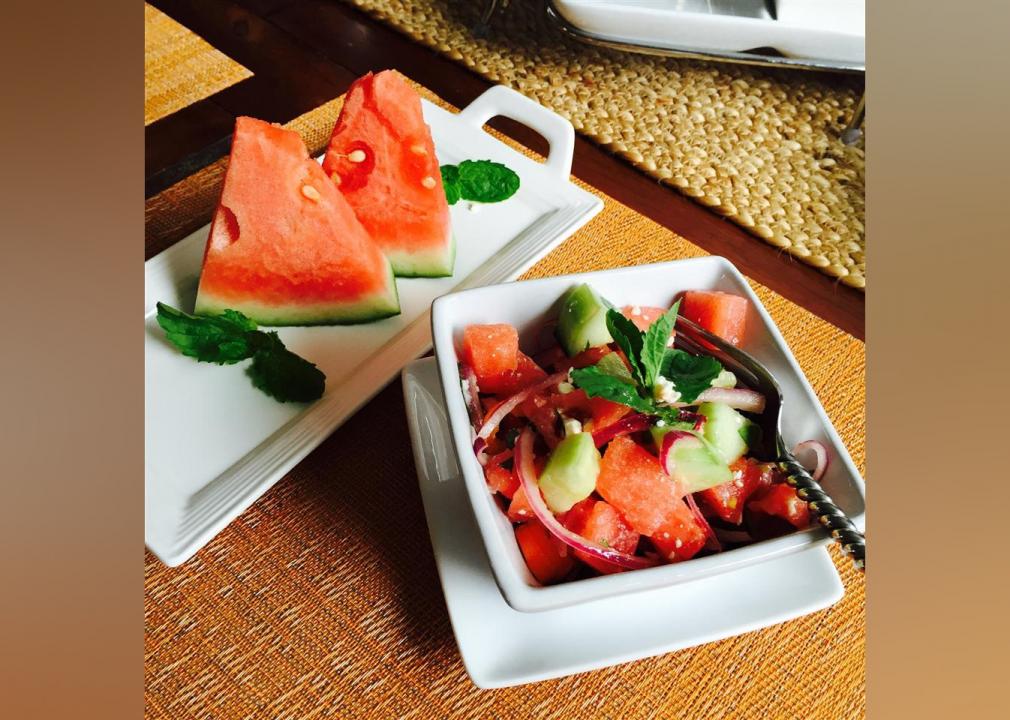 Allrecipes
Refreshing cucumber watermelon salad
- Prep: 15 mins
- Additional: 10 mins
- Total: 25 mins
- Servings: 10
- Yield: 10 servings
- Number of ingredients: 7
- Read more about the recipe here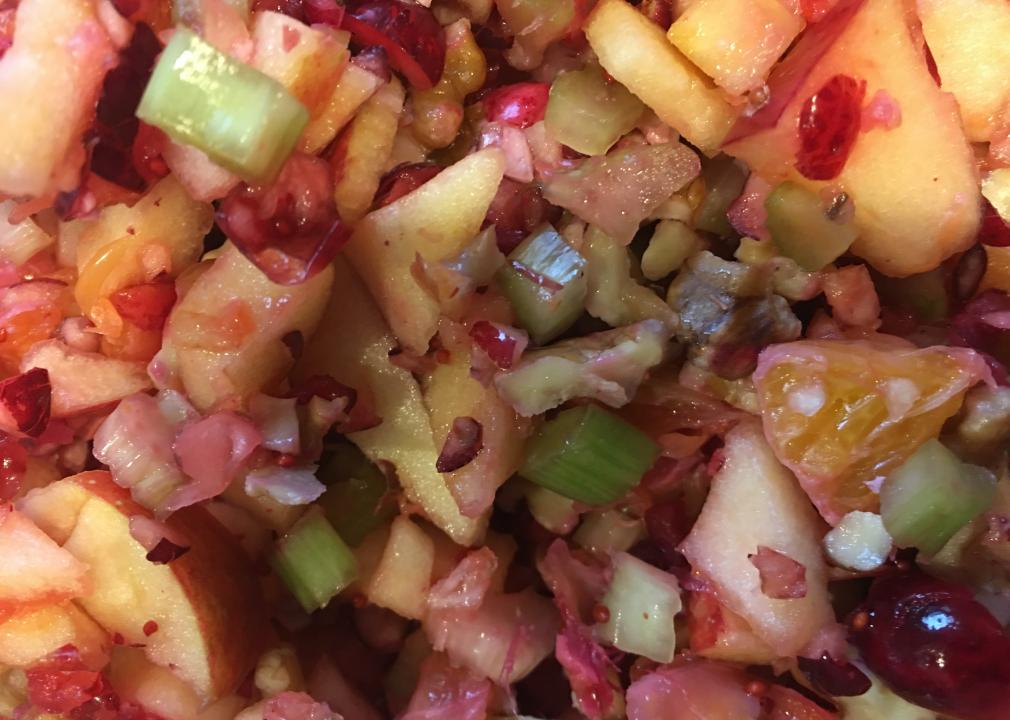 Allrecipes
Healthier cranberry salad
- Prep: 15 mins
- Additional: 30 mins
- Total: 45 mins
- Servings: 9
- Yield: 8 to 10 servings
- Number of ingredients: 5
- Read more about the recipe here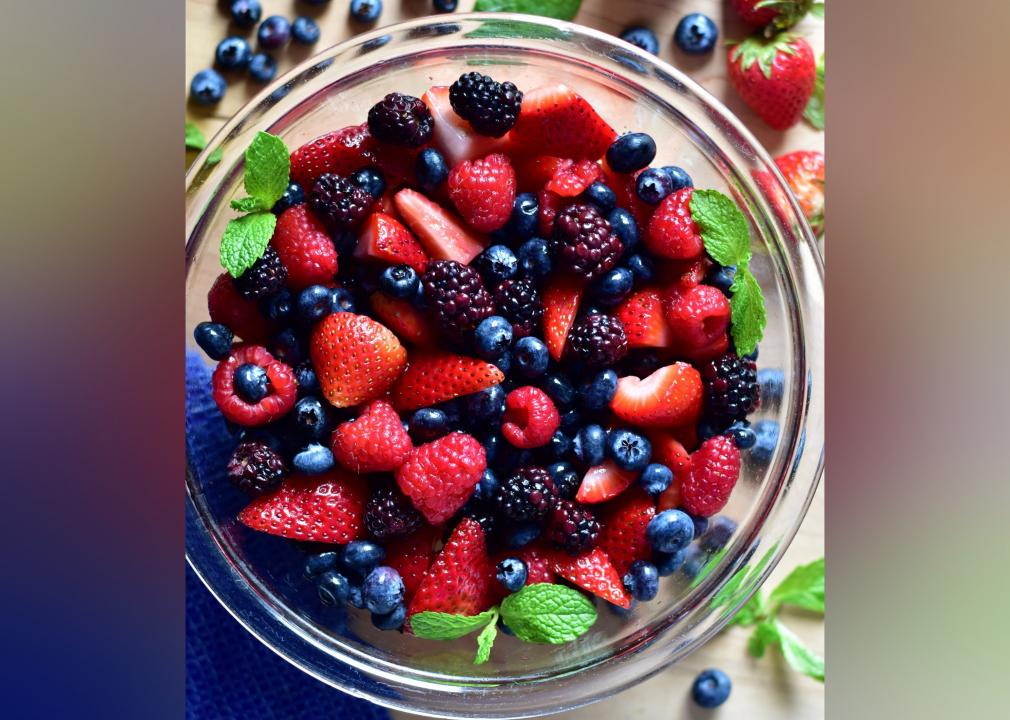 Allrecipes
Berry fruit salad
- Prep: 10 mins
- Total: 10 mins
- Servings: 6
- Yield: 6 servings
- Number of ingredients: 5
- Read more about the recipe here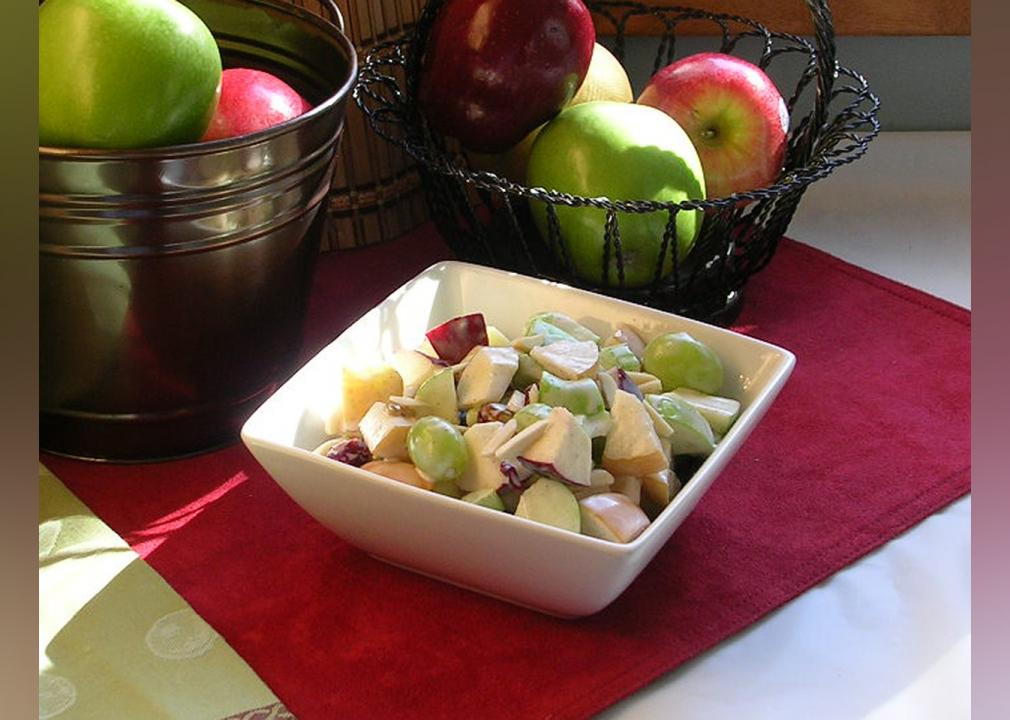 Allrecipes
Jenny's sweet waldorf salad
- Prep: 20 mins
- Total: 20 mins
- Servings: 8
- Yield: 8 servings
- Number of ingredients: 14
- Read more about the recipe here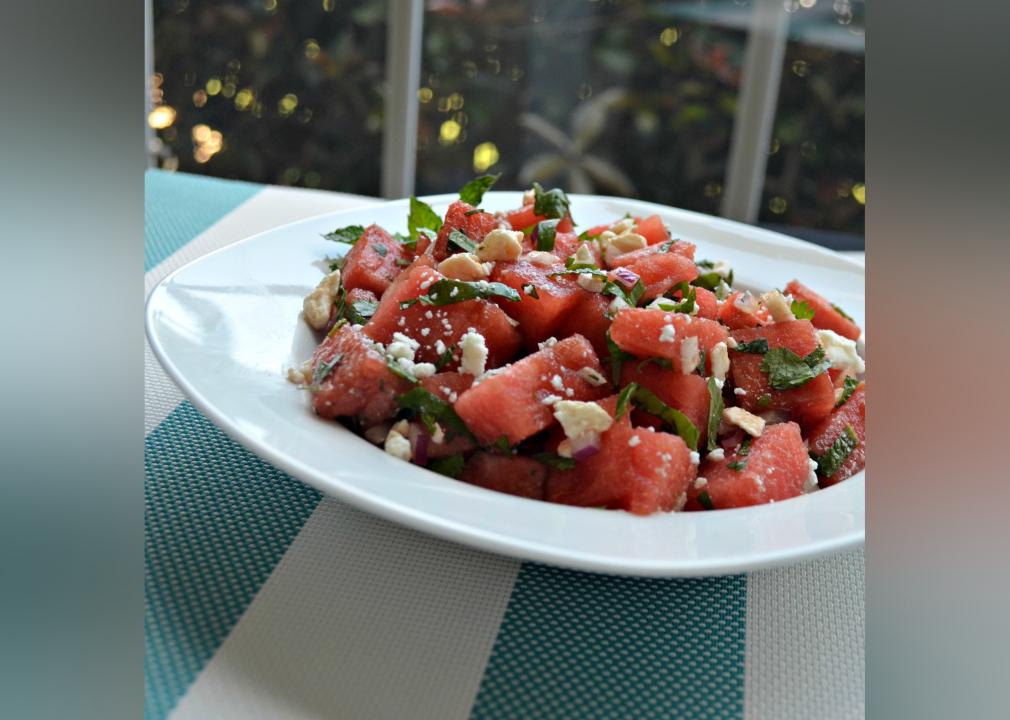 Allrecipes
Herb watermelon feta salad
- Prep: 20 mins
- Total: 20 mins
- Servings: 12
- Yield: 12 servings
- Number of ingredients: 10
- Read more about the recipe here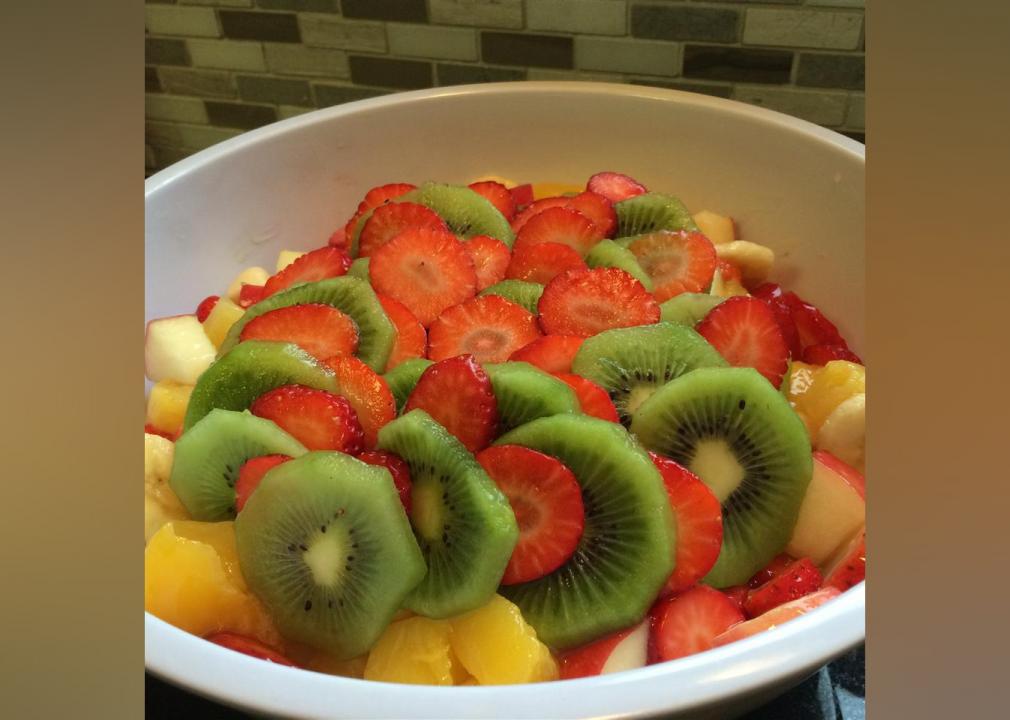 Allrecipes
Sunday best fruit salad
- Prep: 20 mins
- Additional: 25 mins
- Total: 45 mins
- Servings: 8
- Yield: 6 to 8 servings
- Number of ingredients: 6
- Read more about the recipe here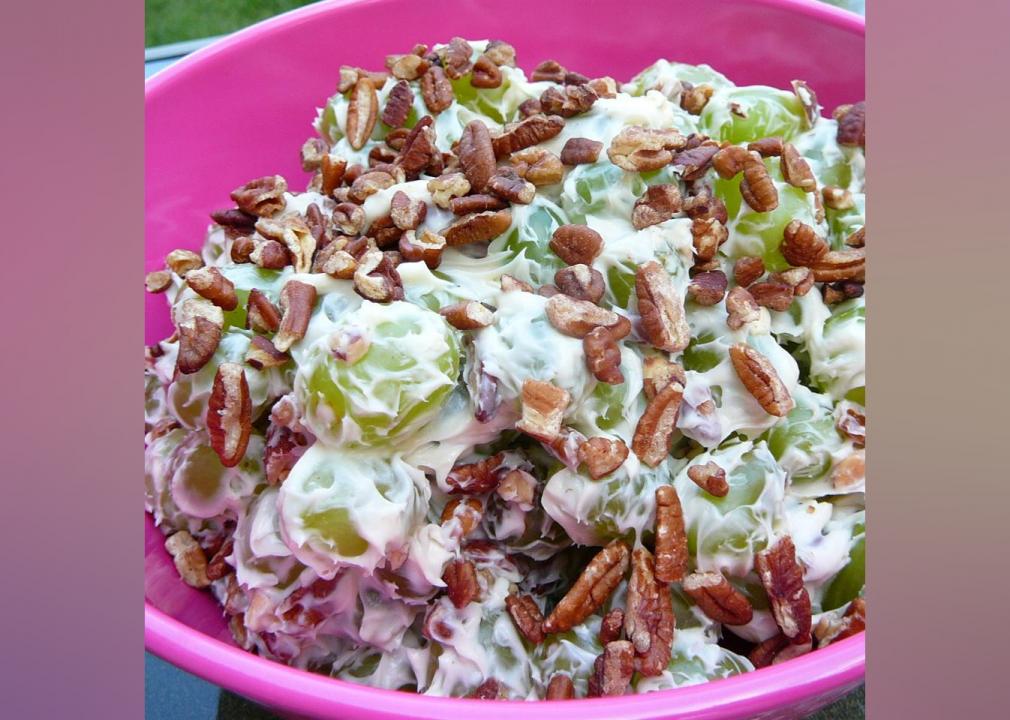 Allrecipes
Nanny's grape salad
- Prep: 15 mins
- Cook: 5 mins
- Total: 20 mins
- Servings: 8
- Yield: 8 servings
- Number of ingredients: 5
- Read more about the recipe here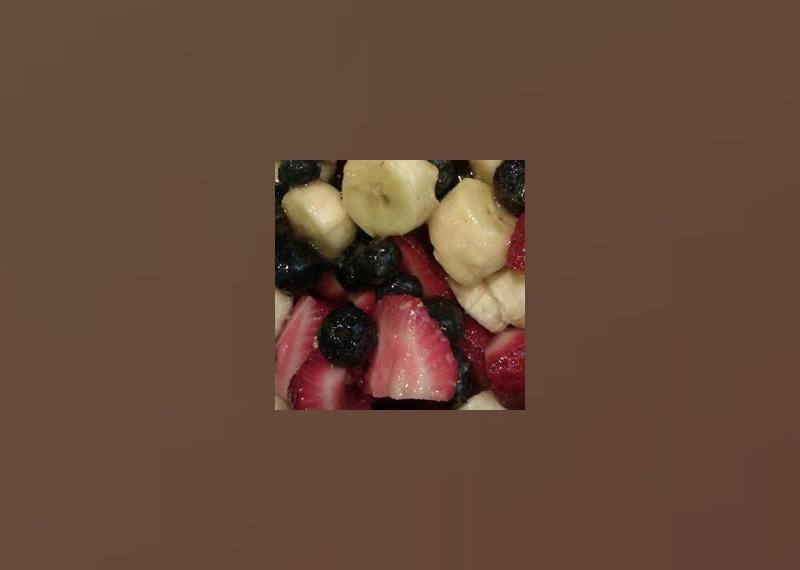 Allrecipes
Red, white and blueberry fruit salad
- Prep: 10 mins
- Additional: 30 mins
- Total: 40 mins
- Servings: 8
- Yield: 8 servings
- Number of ingredients: 5
- Read more about the recipe here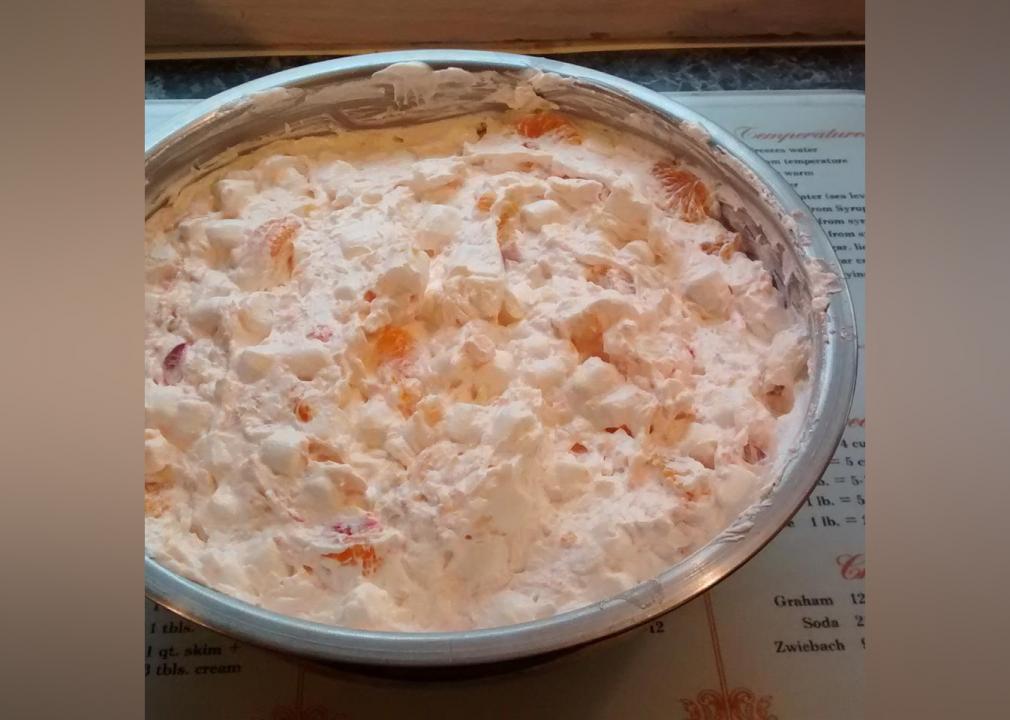 Allrecipes
Mandarin orange watergate salad
- Prep: 15 mins
- Additional: 2 hrs
- Total: 2 hrs 15 mins
- Servings: 12
- Yield: 12 servings
- Number of ingredients: 6
- Read more about the recipe here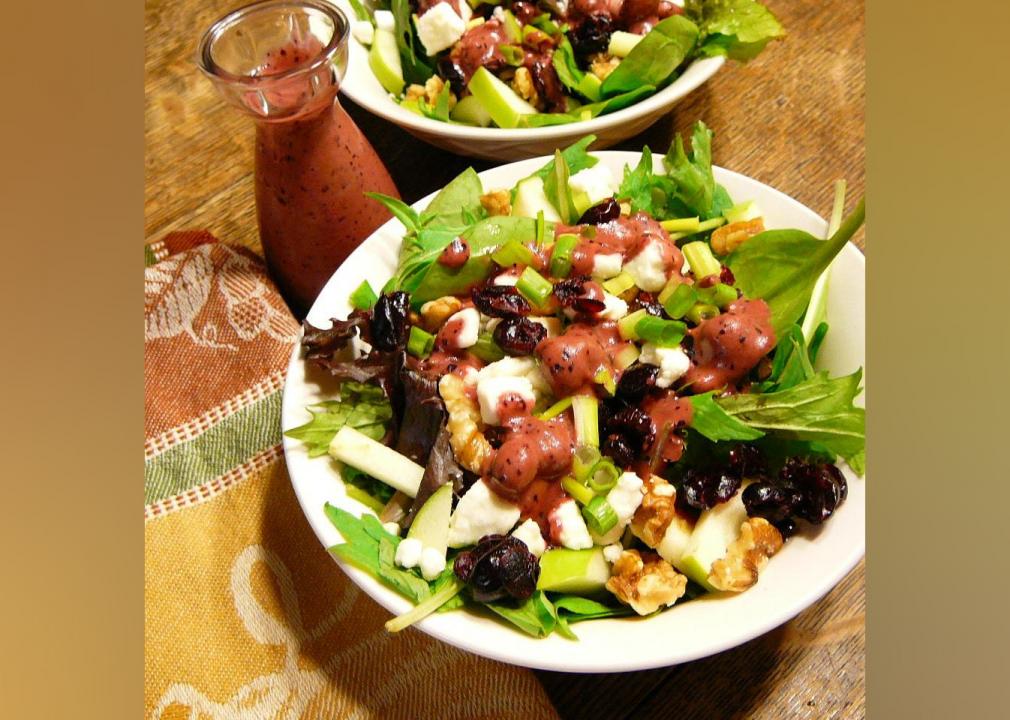 Allrecipes
Green apple salad with blueberries, feta and walnuts
- Prep: 15 mins
- Total: 15 mins
- Servings: 4
- Yield: 4 servings
- Number of ingredients: 11
- Read more about the recipe here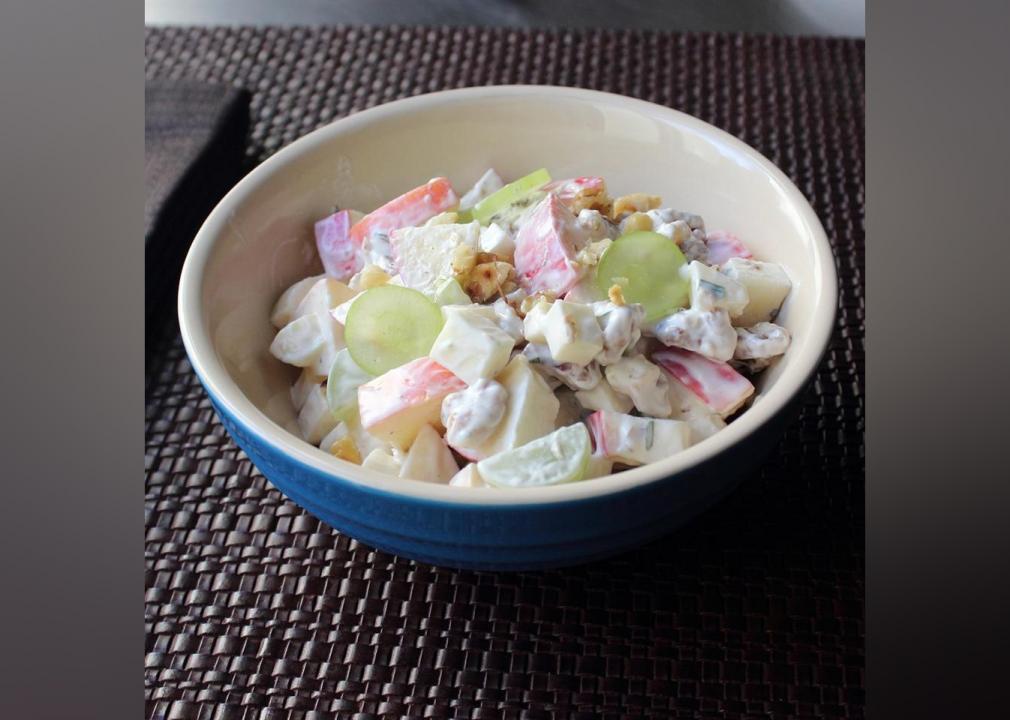 Allrecipes
Chef John's waldorf salad
- Prep: 20 mins
- Total: 20 mins
- Servings: 4
- Yield: 4 servings
- Number of ingredients: 12
- Read more about the recipe here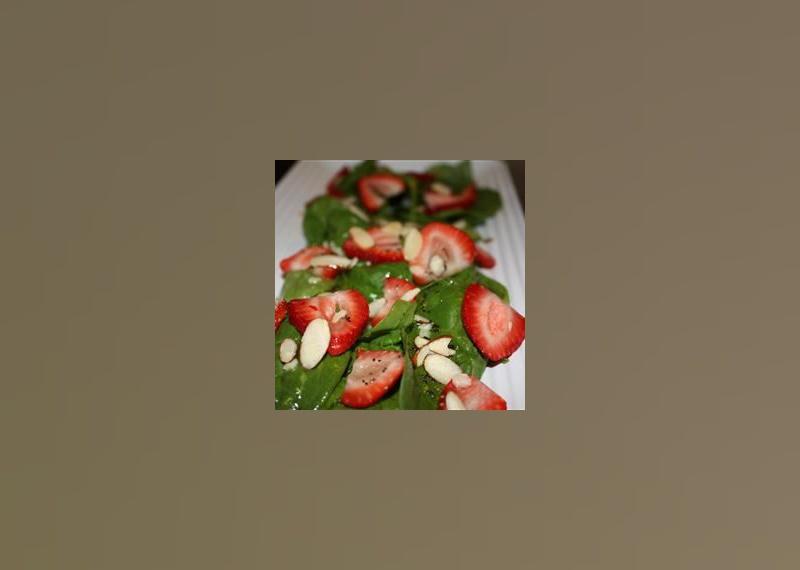 Allrecipes
Spring strawberry spinach salad
- Prep: 15 mins
- Total: 15 mins
- Servings: 4
- Yield: 4 servings
- Number of ingredients: 7
- Read more about the recipe here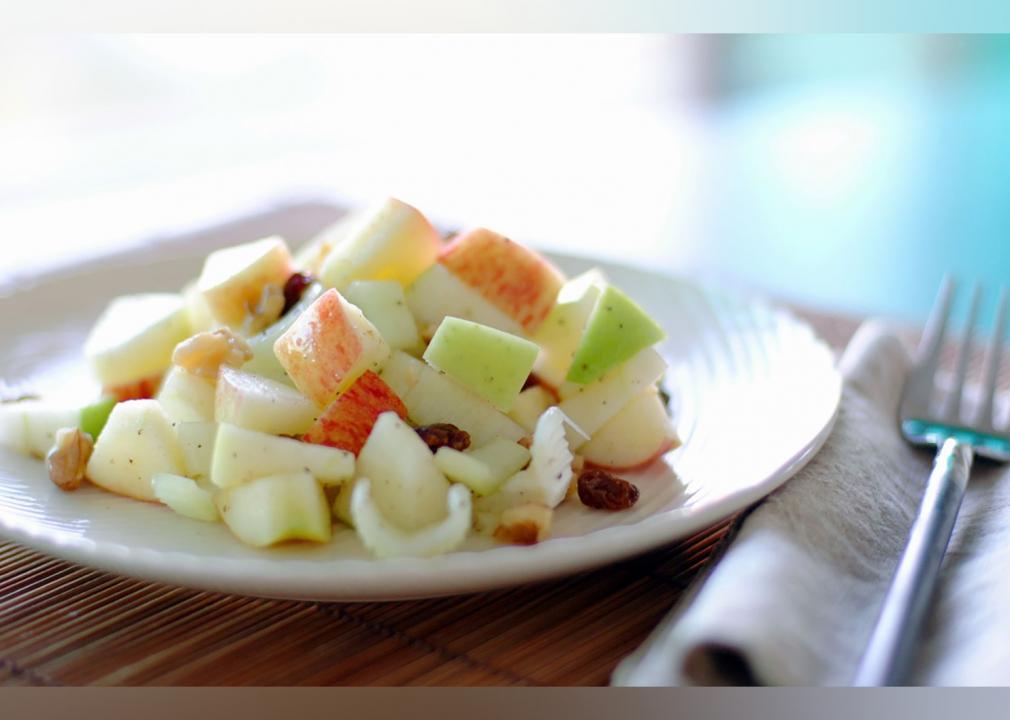 Allrecipes
Waldorf salad with walnut oil vinaigrette
- Prep: 15 mins
- Total: 15 mins
- Servings: 4
- Yield: 4 servings
- Number of ingredients: 9
- Read more about the recipe here