When summer weather calls for outdoor fun, consider coupling it with works of art. Stacker compiled 20 of the best outdoor art destinations to fill your summer itinerary from the East to West Coast. Ahead lays a visual arts feast—with helpings of the work of Serra, Calder, Walker, Chagall, Oldenburg, Gonzalez-Torres, Holzer, Kapoor, and hundreds of other international artists.
Pack your favourite walking shoes and clock thousands of steps while traversing various terrains: hilly valleys, city sidewalks, winding hiking trails, unique bridges, and desert landscapes. A few destinations exceed 100 acres.
Visit site-specific installations in the Mojave Desert, Marfa, Texas, and Seattle's waterfront. Relax and wander in picturesque public parks and gardens to take in magnificent, towering sculptures in Minneapolis and Chicago, not to mention Indianapolis and New Orleans.
Or immerse yourself in an awe-inspiring public art block of Detroit and a street art oasis of Miami. Whether you're looking for a quick day trip or prepared to embark on an art-packed weekend, lakes, labyrinths, fountains, and even neon await you on these adventures. Are you ready?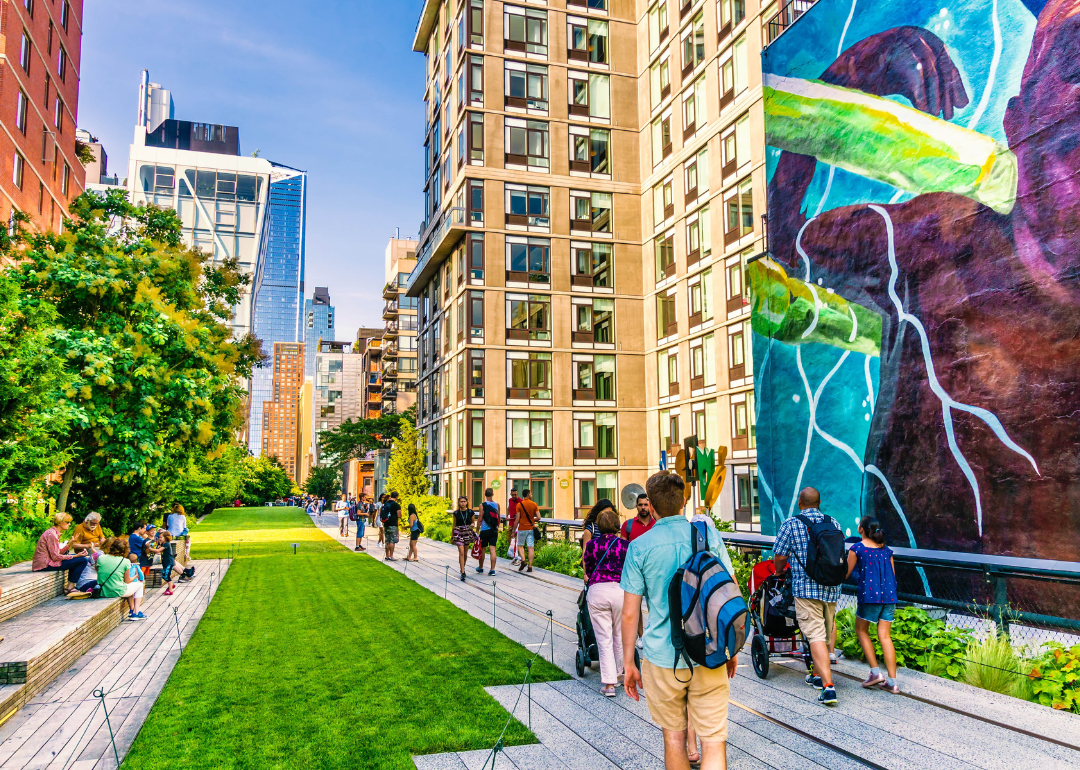 Michael Urmann // Shutterstock
The High Line in New York City
There's nothing like the drama of ascending a staircase or elevator from street level to the elevated High Line—30 feet high and formerly a freight rail line—for the first time. Curated green spaces and multiple public artworks greet you along the mile-plus-long linear "park in the sky."
Two new, nature-inspired additions include Pamela Rosenkranz's vibrant, red and pink "Old Tree" and Yu Ji's bark-like "Column-Untitled No. 3" amidst a plant bed, and, through fall, the High Line-adjacent mural "NYC LOVE" by Nina Chanel Abney, featuring such iconic city symbols as the Yankees logo and a pizza slice. Catch live theater, music performances, and artist-led events hosted throughout the year.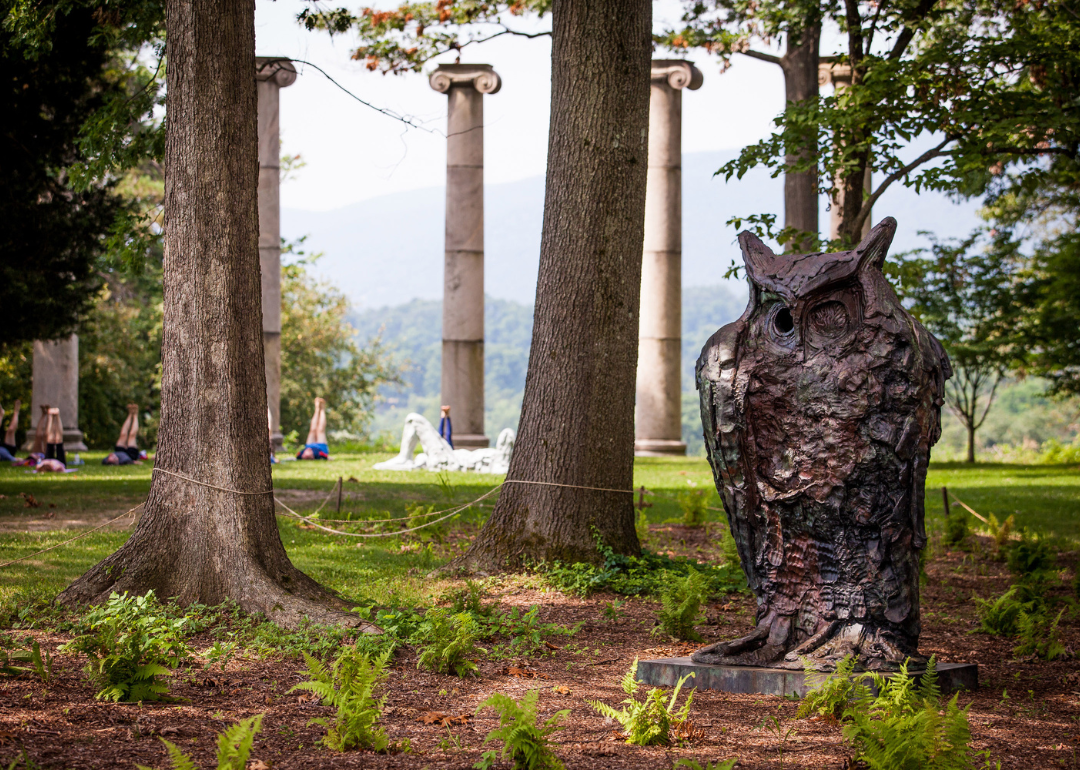 Photo Spirit // Shutterstock
Storm King Art Center in New Windsor, New York
Walking shoes are a must to roam the different terrains of the 500-acre sculpture museum in the idyllic Hudson Valley countryside. More than 160 artists are represented in Storm King's collection, with works dating as far back as the 1910s.
Some monumental works to consider include Maya Lin's 11-acre undulating "Storm King Wavefield" in the southwest, Zhang Huan's 28-foot-high "Three Legged Buddha" sculpture located in the Maple Rooms area, Alexander Liberman's cylindrical "Iliad" installation in the Meadows, and multiple Alexander Calder works on Museum Hill.
This summer, you can also view large-scale works by Beatriz Cortez, Ugo Rondinone, and RA Walden from late May through November.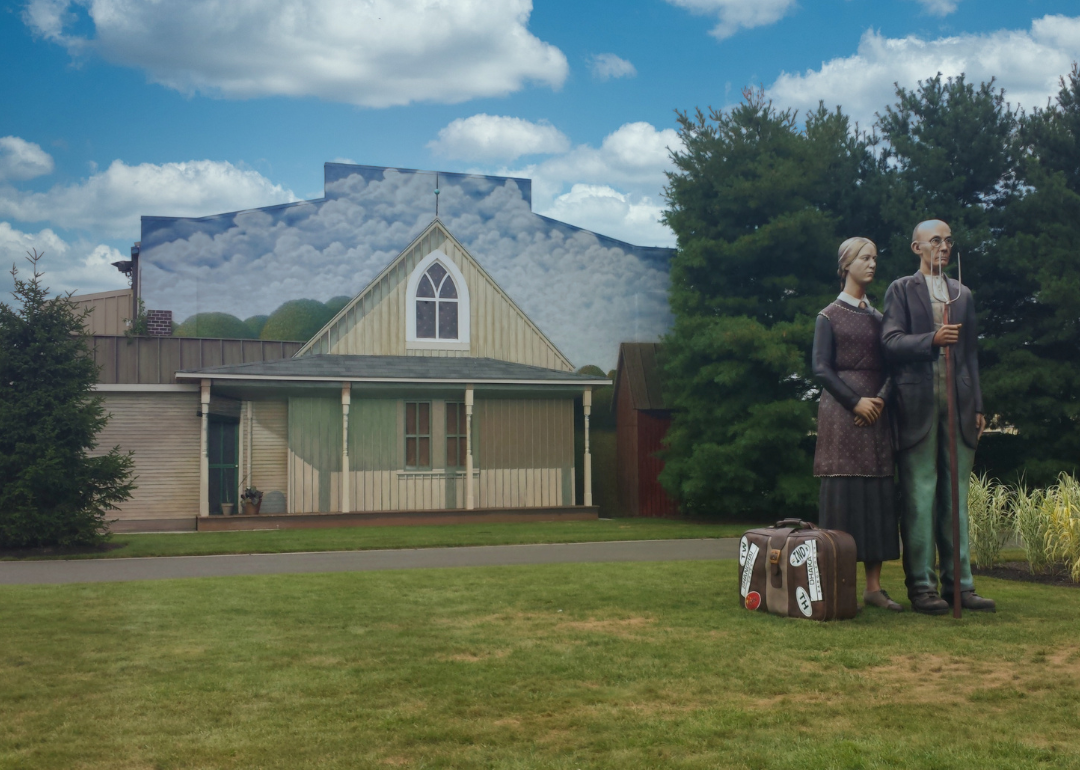 andysartworks // Shutterstock
Grounds for Sculpture in Hamilton, New Jersey
Set aside a day to explore contemporary art and breathtaking horticulture at the 42-acre Grounds for Sculpture with its whopping number of works and installations—more than 400— including founder Seward Johnson's "Were You Invited?" party scene and Carlos Dorrien's compelling granite figures "The Nine Muses," situated in a pond surrounded by trees.
The museum is "to be experienced with all your senses" and "designed to encourage a sense of exploration and discovery," executive director Gary Garrido Schneider shared. Don't miss the nods to master artists in additional attractions, such as the Monet Bridge and Van Gogh Pond—and where else in the country can you find a "Forest of the Subconscious"?
Vivvi Smak // Shutterstock
Philadelphia's Magic Gardens in Philadelphia
Immerse yourself in Philadelphia's Magic Gardens, a mosaic-laden outdoor sculpture garden and galleries featuring the work of renowned Philly artist Isaiah Zagar. Walk through the garden's labyrinth and indoor galleries, which span about half a city block, and take in the multilayered wonders of found and community-contributed objects embedded in the walls and walkways.
Guided tours are Wednesday through Sunday, some of which give you a special peek at the mosaicked basement. (Insider tip: Ask about their scavenger hunt.) For after-hours fun, attend their Twilight in the Gardens, their live music and art series held on the fourth Friday of the month from May through October.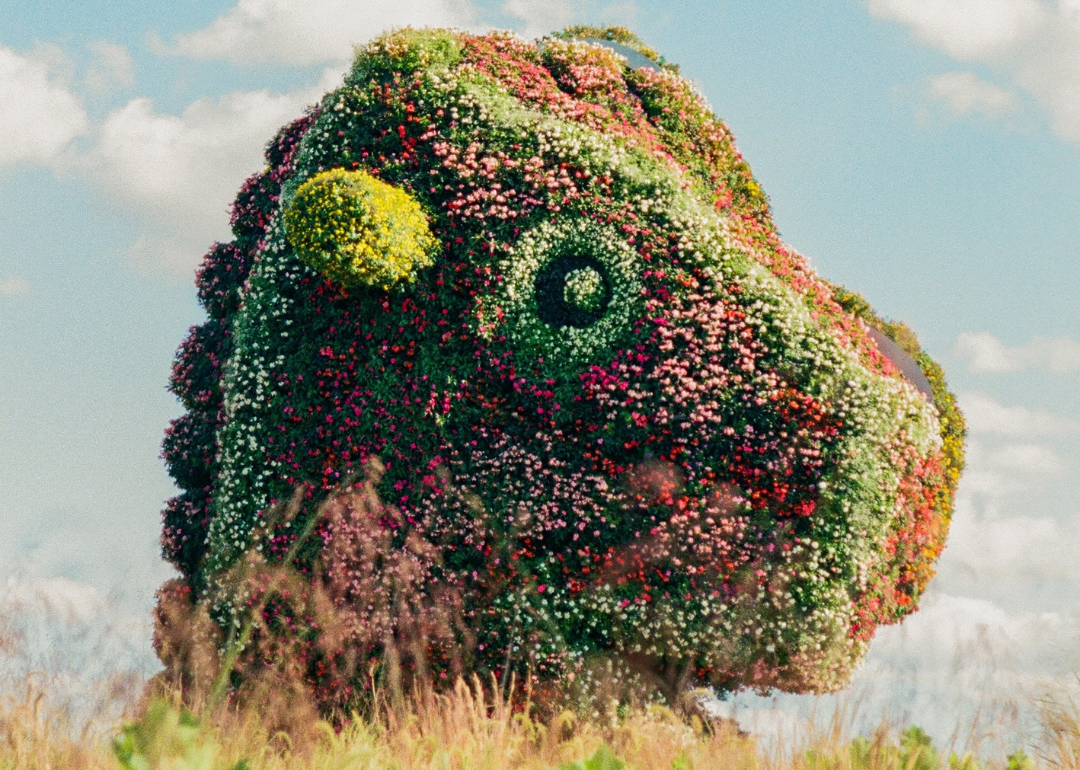 Wirestock Creators // Shutterstock
Glenstone in Potomac, Maryland
Works by Kara Walker, Jeff Koons, Ellsworth Kelly, and Felix Gonzalez-Torres are among the exhibits at Glenstone, a contemporary art museum on 300 acres with some 12 outdoor sculptures to take in for visitors 12 and older. But we already had you at Walker, right?
The artist's "A Reduction" and "Sketch for an American Comic Opera with 20th century Race Riots" are in the Pavilions, and this summer, her iconic silhouettes decorate "The Katastwóf Karavan" that will appear outdoors, featuring a calliope. The delightful, 40-foot-tall horse topiary "Split-Rocker" by Koons is not to be missed. Part dinosaur and part rocking horse, catch it blooming with colourful flowers through fall.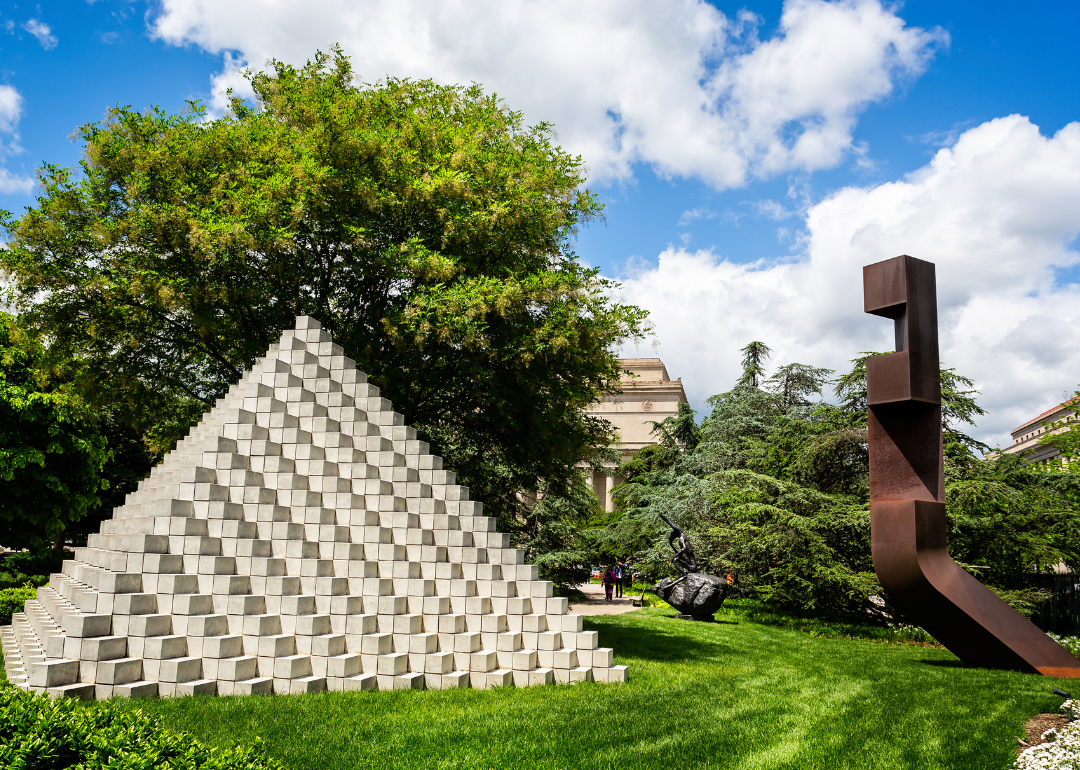 Nigel Jarvis // Shutterstock
National Gallery of Art Sculpture Garden in Washington D.C.
Marvel at some of the most famous sculptures in the country, 21 in all, conveniently located across from the National Gallery of Art, with the glorious fountain at the garden's center. You'll find Marc Chagall's "Orphée" stone and glass mosaic, Louise Bourgeois' large bronze "Spider" on a lawn, and Magdalena Abakanowicz's crowd of 30 headless bodies titled "Puellae (Girls)" standing beneath the trees.
Robert Indiana's brightly painted and stacked "AMOR" letters along a fenceline and Sol Le Witt's "Four-Sided Pyramid" of concrete blocks also catch the eye. Works by Roy Lichtenstein, Hector Guimard, Alexander Calder, Roxy Paine, and Alfredo Halegua are also on view.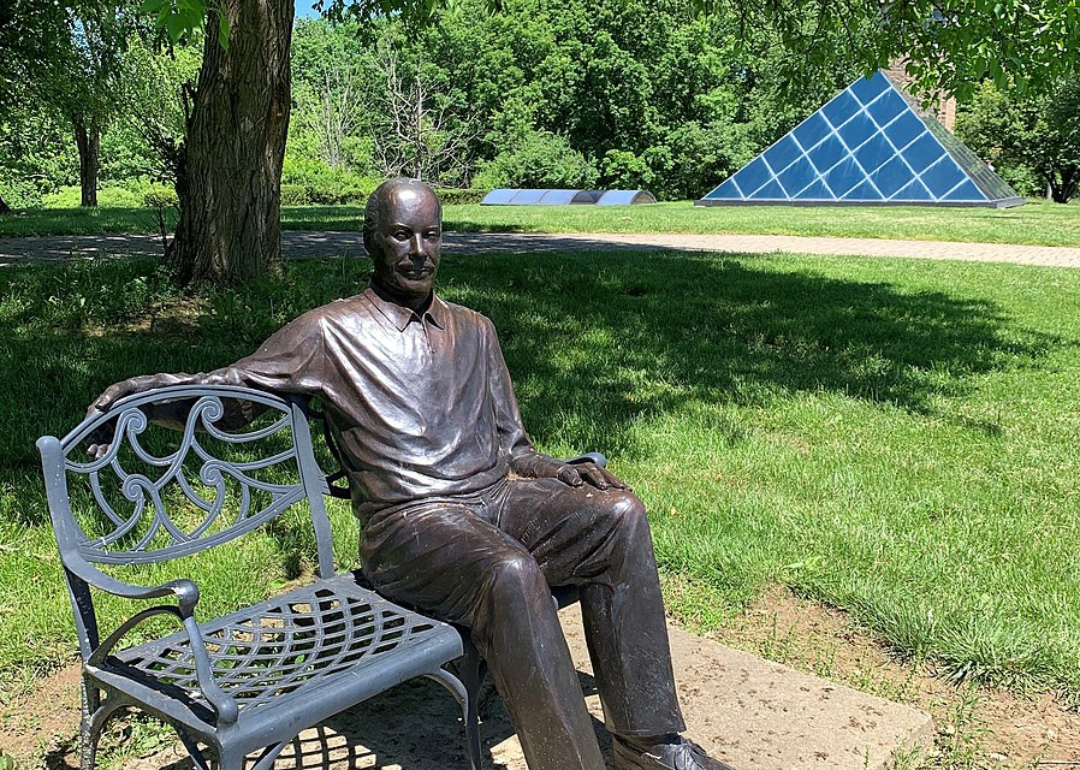 TMorata // Wikimedia Commons
Pyramid Hill Sculpture Park and Museum in Hamilton, Ohio
There are different ways to explore Pyramid Hill, a 300-plus-acre park with more than 80 outdoor sculptures: by foot or car, or, if available, visitors can rent an "art cart" (a golf cart).
Modern artworks enhance the hilly landscape of hiking trails, lakes, and meadows. Among them are Voss Finn's "Dragonfly Dome," Harry Gordon's large tree remnants in "Tory's Comet," Chakaia Booker's abstract "Shhh" made of strips of rubber tires, and such steel-constructed pieces as George Sugarman's "Cincinnati Story" consisting of different coloured, dancing mesh-like pieces, and two large-scale sculptures by Alexander Liberman painted his favourite colour, red, for maximum visual impact.
Belikova Oksana // Shutterstock
Heidelberg Project in Detroit
An inspiring neighbourhood art environment awaits on a block of Heidelberg Street, where artist Tyree Guyton transformed a depressed area of empty houses and lots into a place of hope and beauty, with multiple installations and works dotting the street.
Put an hour aside to walk around decades of his work. Guyton's two-story Victorian childhood home, the Dotty Wotty house, is a celebration of community with different coloured and sized polka dots (representing people) covering its exterior. Another installation features stuffed animals and toys piled on top of a boat known as "Noah's Ark," and will likely put a smile on your face.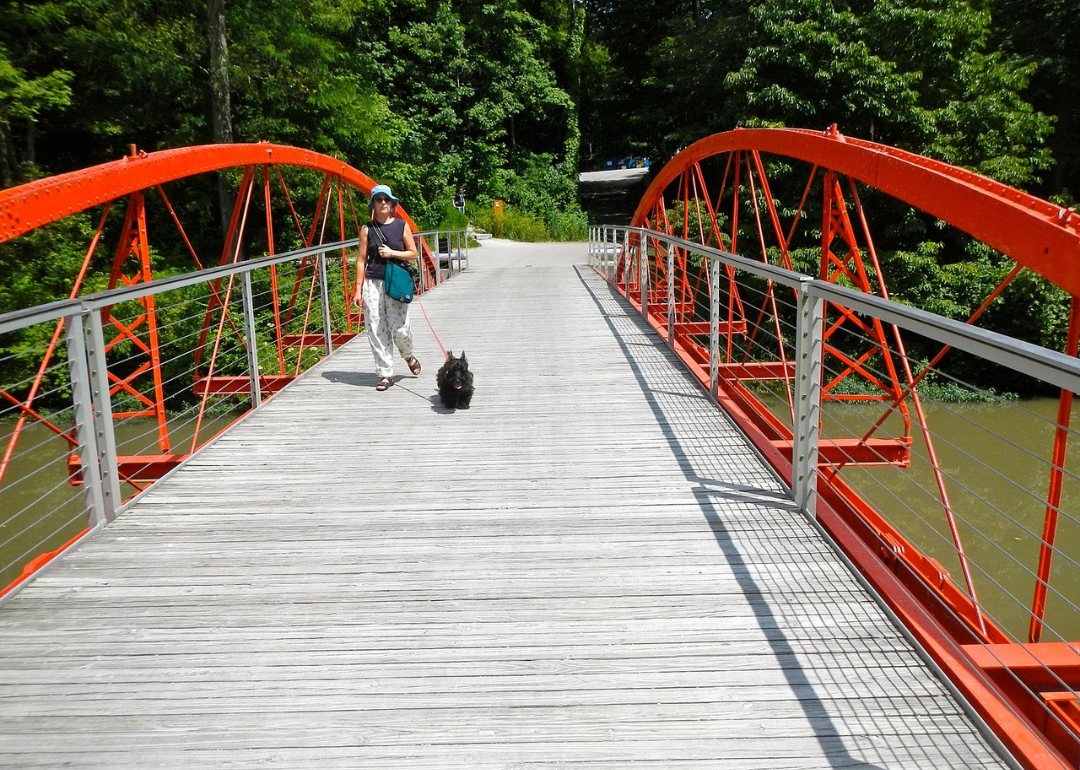 PunkToad // Wikimedia Commons
The Virginia B. Fairbanks Art & Nature Park in Indianapolis
The Cuban collective Los Carpinteros' whimsical basketball-court installation "Free Basket" kicks off this art adventure just outside the entrance of The Virginia B. Fairbanks Art & Nature Park. The beautiful art and nature park, a part of Newfields campus, also includes the Indianapolis Museum of Art.
Wander the trail around the park's 35-acre lake to experience different works. Walk through the tunnel of architect and artist Alfredo Jaar's "Park of the Laments," which he has called "a park within a park." Relax on the yellow undulating benches of Jeppe Hein's "Bench Around the Lake'' and Atelier Van Lieshout's "Funky Bones" white benches that form a skeleton.
This summer, a new exhibit, "Home Again," will feature pieces from Heather Hart, Anila Agha, and collaborators Dana Sherwood and Mark Dion.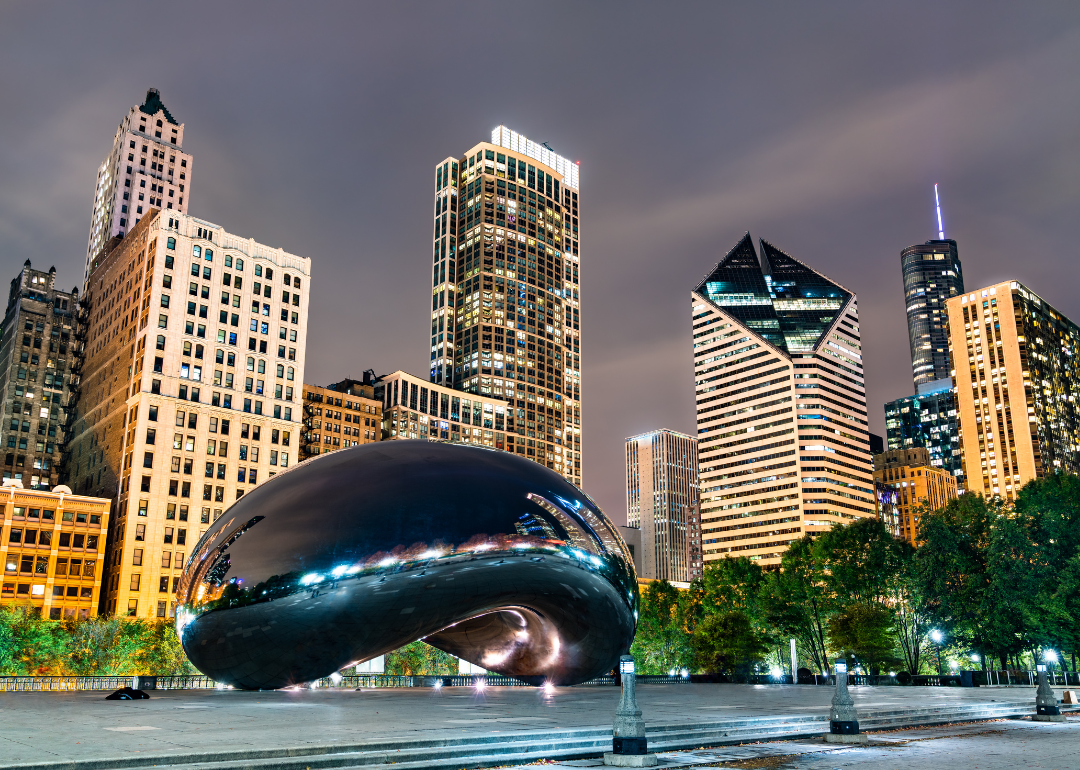 Canva
Millennium Park in Chicago
Take the Millennium Park Art walking tour or a self-guided one to see all the public artwork in the 24-acre park, including the pavilion-like "Screenhouse" by Edra Soto and installation by Christine Takowski that includes colourful suspended glass boulders.
"The Bean," the park's most recognizable work officially titled "Cloud Gate," is a must to photograph. It stands 33 feet high and comprises 110 tons of stainless steel. Cool down at Jaume Plensa's "Crown Fountain," a reflecting pool with glass towers that project images of Chicagoans. Check the park's calendar to catch the summer music and film series.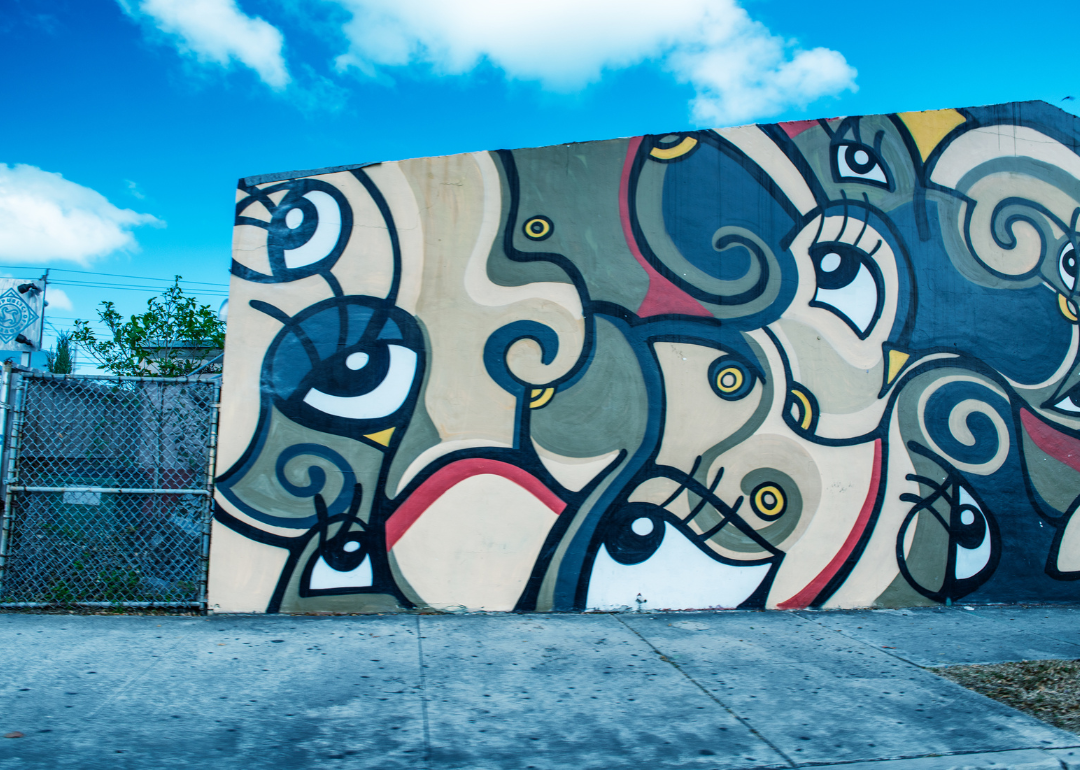 Canva
Wynwood Walls in Miami
You'll find a heavy dose of the international street art scene at Wynwood Walls, where muralists from around the globe have covered their canvases: from the "first lady of graffiti," Lady Pink (Sandra Fabara), who got her start decorating New York City subway cars, to the classic graffiti lettering of Brazilian twins Os Gemeos, the abstract cosmic visions of Maya Hayuk and the graphic stylings of Shepard Fairey.
Most of the works are experienced in a contained space versus out on the street—and it's not free—but that also means you'll see the work as the artist intended. Children under 12 enter free.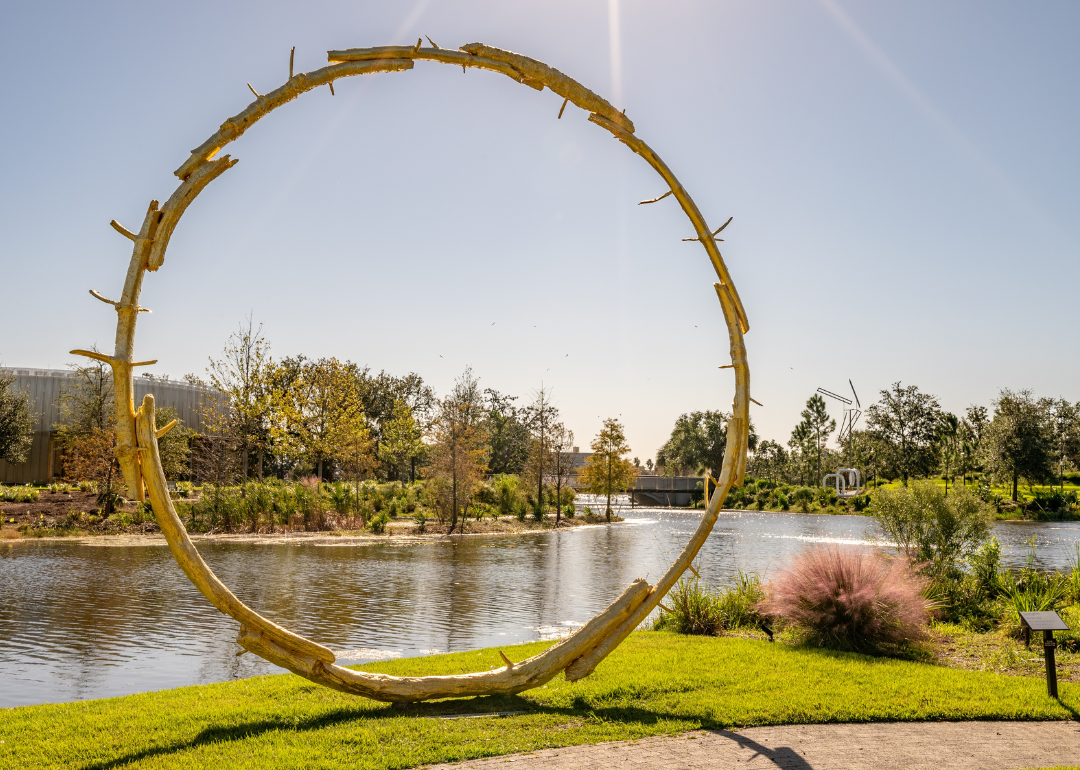 Page Light Studios // Shutterstock
Besthoff Sculpture Garden in New Orleans
Serenity, beauty, and creativity abound in the New Orleans Museum of Art Besthoff Sculpture Garden. Nearly 100 works are thoughtfully placed along the 11-acre grounds, full of lagoons, pedestrian bridges, and 200-year-old live oak trees.
Oversized familiar objects playfully decorate the garden, like Jean-Michel Othoniel's large colourful beaded necklaces hanging from a tree in "L'Arbre aux Colliers (Tree of Necklaces)" and Katharina Fritsch's large "Schädel (Skull)" displayed at a pond's edge along a peaceful wood pathway.
Mirrored or reflective masterpieces also are in abundance, including Do-Ho Suh's "Karma" tower of crouched figures, Jeppe Hein's mesmerizing "Mirror Labyrinth" and the unconventionally cute "Bear with Us" animal sculpture by Frank Gehry. Other highlights include work by Alison Saar, Frank Stella, and Minoru Niizuma. You'll need hours to see them all.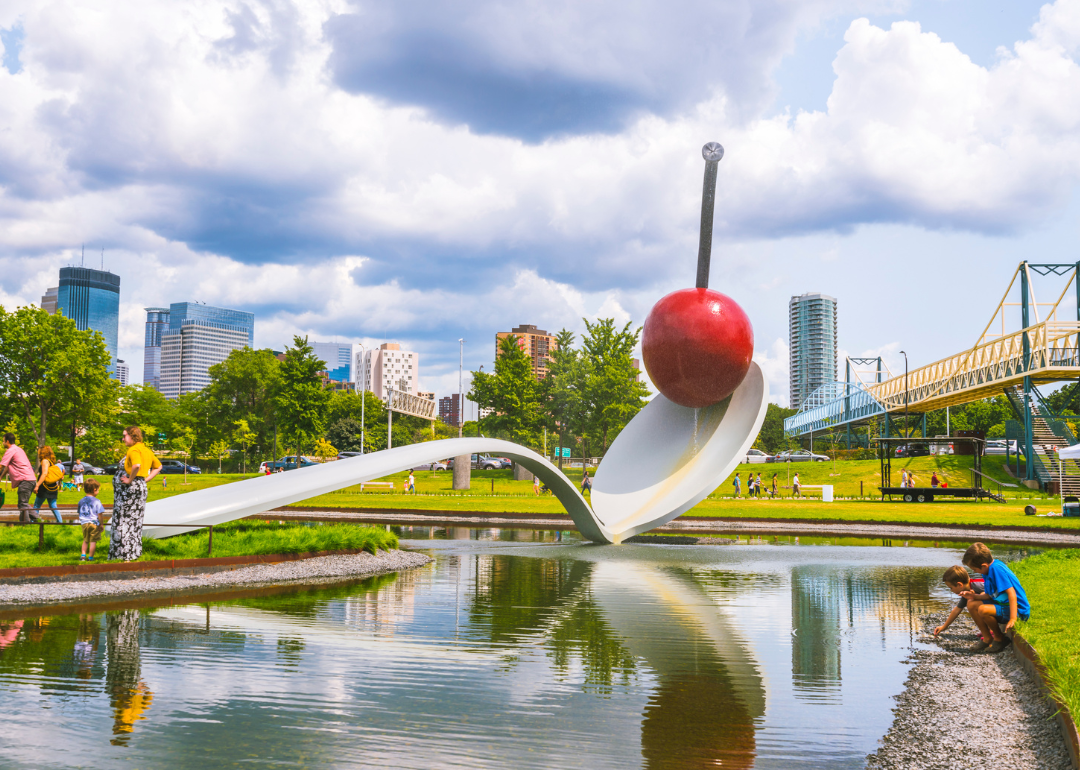 Checubus // Shutterstock
Minneapolis Sculpture Garden in Minneapolis
Open every day from 6 a.m. to midnight, the remarkable garden at Walker Arts Center couldn't be a more friendly destination for art lovers of all ages to spend the day at, with more than 40 modern and contemporary artworks to experience.
Find works by Richard Serra, Alexander Calder, Roy Lichtenstein, Isamu Noguchi, Mario Merz, Liz Larner, Jenny Holzer, and, most recently, Angela Two Stars, the first Native American artist to be featured in the 11-acre garden since it opened in 1988. "Spoonbridge and Cherry" by Claes Oldenburg and Coosje van Bruggen is the garden's most iconic work: a massive spoon sitting in a shallow pond with a bright red cherry on top. Make sure to capture it with the city skyline as the backdrop!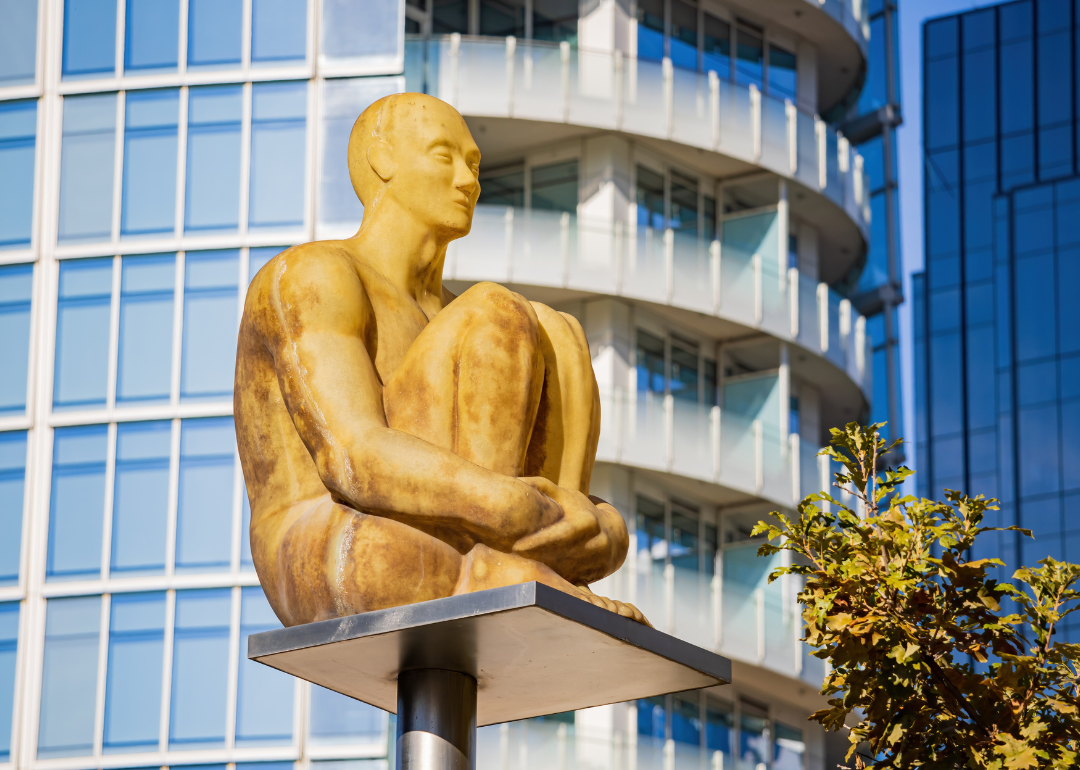 Kit Leong // Shutterstock
Nasher Sculpture Center in Dallas
Willem de Kooning, Jasper Johns, Liu Wei, Claes Oldenburg, Joan Miró, Auguste Rodin, Picasso are all on view at the Nasher Sculpture Center. In the sculpture garden, take cover from the sun under its many trees while viewing Richard Serra's "My Curves Are Not Mad," leaning 14-feet-tall Cor-Ten steel plates visitors are welcome to walk through, and Mark di Suvero's massive jutting steel sculpture "Eviva Amore."
While you're there, visit the temporary exhibit Thaddeus Mosley: Forest, featuring five of his sculptures. The neighbouring Klyde Warren Park's Nancy Best fountain has a splash pad to cool off after. On the third Friday of each month, the popular 'til Midnight at the Nasher program with live entertainment and a movie in the garden kicks off at 6 p.m.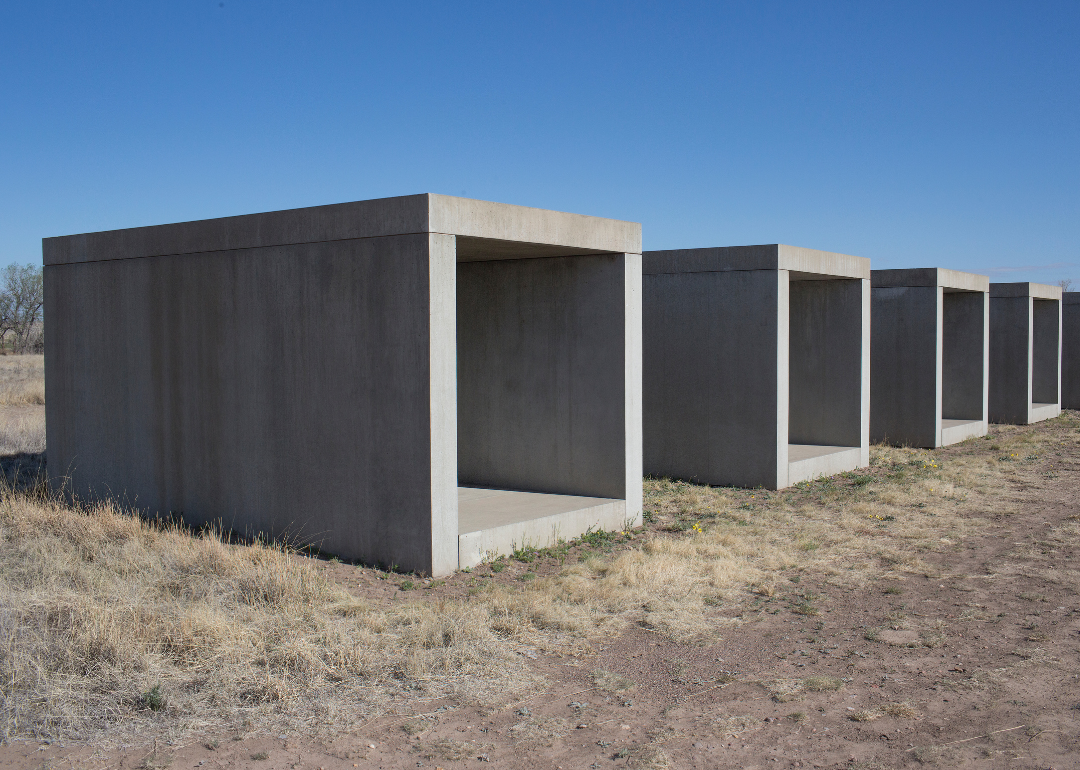 Andrew Lichtenstein // Getty Images
Chinati Foundation in Marfa, Texas
On the bucket list of any contemporary art lover, Chinati Foundation offers one of the most unique and largest environments to experience art. Situated on 340 acres of land, the journey there (about 200 miles from El Paso and Midland) and traversing the property is akin to an art pilgrimage.
During summer, plan to arrive in the morning to enjoy the outdoor exhibits first to avoid the heat, then head indoors. Its permanent collection includes indoor and outdoor works by its founder, artist Donald Judd, including a series of 15 rectangular and square concrete slabs beautifully framed against the open landscape.
You'll also find works by Robert Irwin and Ilya Kabakov, but the museum's most famous piece is Judd's "Artillery Sheds," that house 100 untitled works in mill aluminum.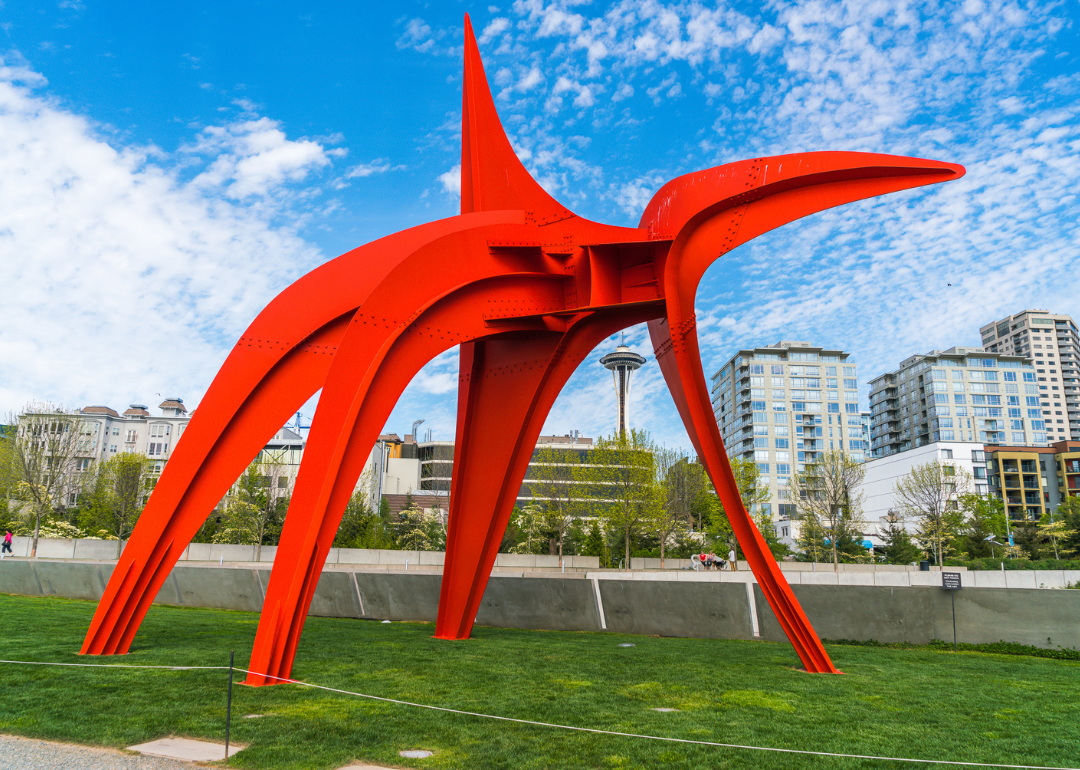 Checubus // Shutterstock
Olympic Sculpture Park in Seattle
The nine-acre Olympic Sculpture Park features 20 public artworks by internationally celebrated artists, including Richard Serra's "Wake," Beverly Pepper's "Perre's Ventaglio III," Alexander Calder's "The Eagle" sculptures, and Teresita Fernández's "Seattle Cloud Cover" glass bridge.
Wear comfortable walking shoes and start at the Allen Family Foundation Plaza, using the park's friendly map and guide to follow the different pathways to see them all. Weave through meadows, venture over the Mimi Gardner Gates Bridge to Pier 70, and stroll along Seattle's stunning waterfront and railroad tracks to view the works before ending your day at the stony beach to dip your toes in the water.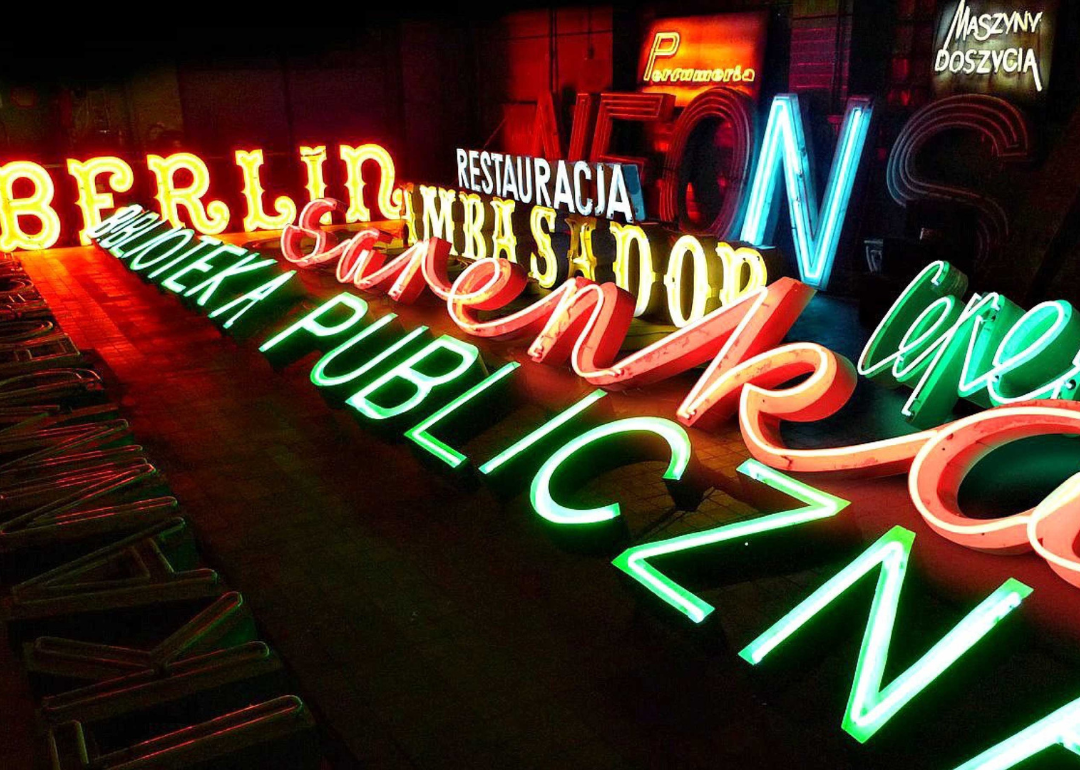 artemu kopylovk // Shutterstock
The Neon Museum in Las Vegas
See historic Vegas Strip neon signs up close at the Neon Museum, which offers a dazzling visual overload. The Vegas summer heat calls for visiting at the coolest times of day, morning or evening.
More than 250 signs dating back to the 1930s can be found in its outdoor Neon Boneyard. From famous Stardust and Riviera hotel signs to the Hard Rock Cafe guitar, come camera ready as you'll want to take loads of photos for that next holiday card or announcement. What better way to share big news than do it framed by a neon glow during its after-dark guided tours?
Don't forget to stop at its Visitors' Center, a swooping 1961 Googie-style building, which is a vision to behold. It was once the La Concha Motel lobby designed by Paul R. Williams, the legendary African American architect.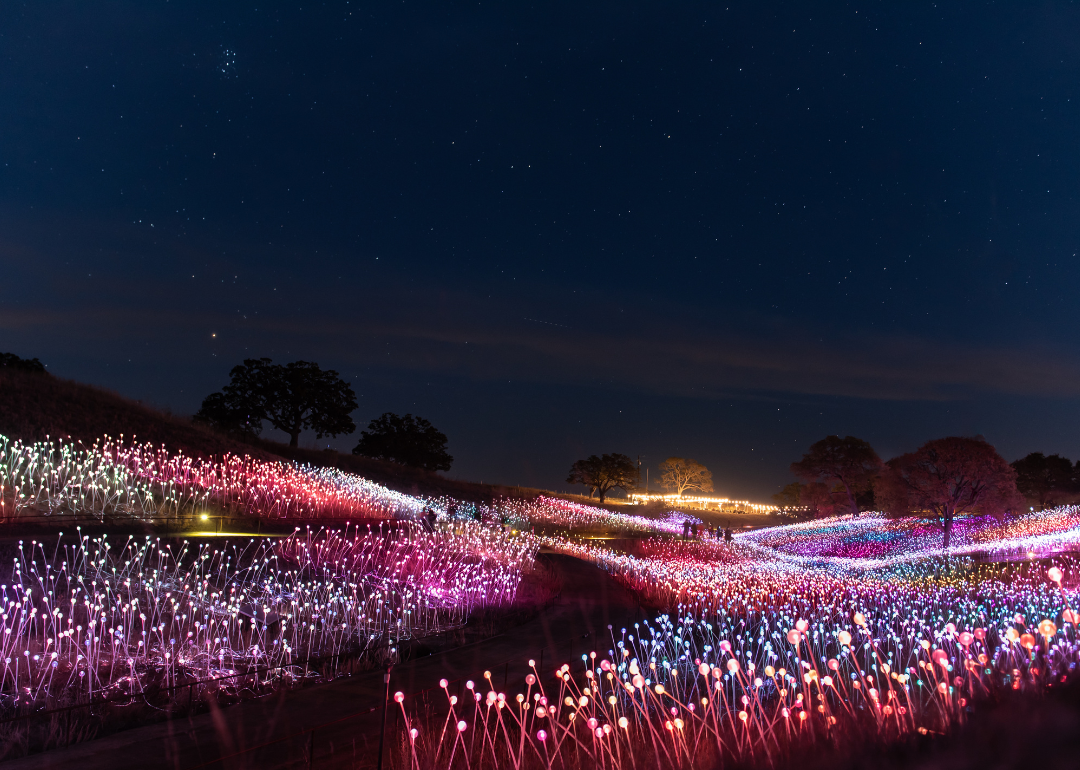 Jon Osumi // Shutterstock
Bruce Munro: Light at Sensorio in Paso Robles, California
Let there be light—and 15 acres of it. The mesmerizing light installations by Bruce Munro exist in a Central Coast city most known for its numerous wineries and vibrant classic car scene.
"Light at Sensorio" is a nighttime experience that consists of two attractions visitors experience via winding pathways: "Field of Light," a display of thousands of small sphere-topped reeds filling hillsides, and "Light Towers," columns positioned in a circular manner, each composed of stacked, glass bottles, with string lights. Tickets often sell out, so reserve your spot weeks in advance.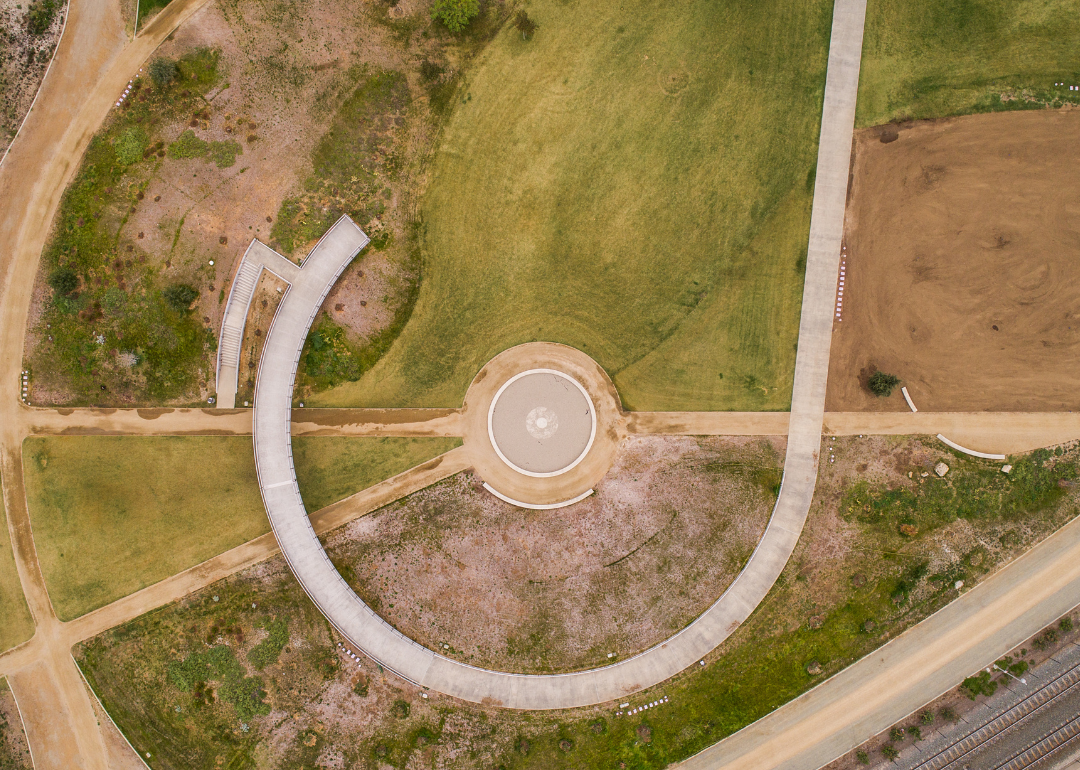 Canva
Los Angeles State Historic Park in Los Angeles
The spot where an art installation known as "Not a Cornfield" used to live nearly two decades ago is now one of the most treasured open green spaces in Los Angeles, located between Chinatown and the L.A. River.
In addition to hosting music festivals, artisan markets, outdoor movies screenings, and other special events all year long, the 32-acre park is home to one of the more unique public art projects in the city: the edible, living "Endless Orchard" of 32 orange trees by the collective Fallen Fruit, with each tree container decorated with the words of community members in different languages.
Other artwork on display in the park is Debra Scacco's concrete "Origins" sculptures and Anna Sew Hoy's bronze gazebo-like "Psychic Body Grotto." The park is also conveniently close to other downtown sights with outdoor public art, including Union Station, the Japanese American National Museum, and the Geffen Contemporary at MOCA in Little Tokyo.
gabriel12 // Shutterstock
The Noah Purifoy Outdoor Desert Art Museum in Joshua Tree, California
Beloved artist Noah Purifoy was one of the founding members of Los Angeles' Watts Arts Center and spent the last years of his life creating numerous large-scale works in the Mojave Desert, giving discarded materials new life in imaginative ways.
A trip to the Noah Purifoy Outdoor Desert Art Museum includes his charming "Ode to Frank Gehry," a mini architectural jewel of geometric shapes jutting out in different directions, and the unforgettable "From the Point of View of the Little People" installation, depicting just the lower bodies of 10 people standing in a row.
Purifoy's sculptures live on for the public to experience, spread out over 10 acres of the desert landscape from dawn to dusk. If you have the opportunity, chat with caretaker Pat Brunty during your visit, a friend of Purifoy who helped construct some of the works.