Strawberry season gets underway in late spring across the lower mainland, and this sweet time of year won't last forever.
One of the province's favourite crops, the B.C. Strawberry Growers Association says they have about four dozen growers in the fertile Fraser Valley, farming strawberries on a collective 600 acres. That's a lot of strawberries!
Many of these growers offer u-pick, which is a great way to get your hands on the freshest berries possible at a great price for just a little old fashioned sweat equity.
Some farms offer fun interactive experiences, too. Places like Emma Lea Farms in Delta on Westham Island are perfect destinations thanks to their amenities like a stand that serves up fresh berry shakes, smoothies, and sundaes, along with a kids' play area, food trucks on select days, and a farm shop.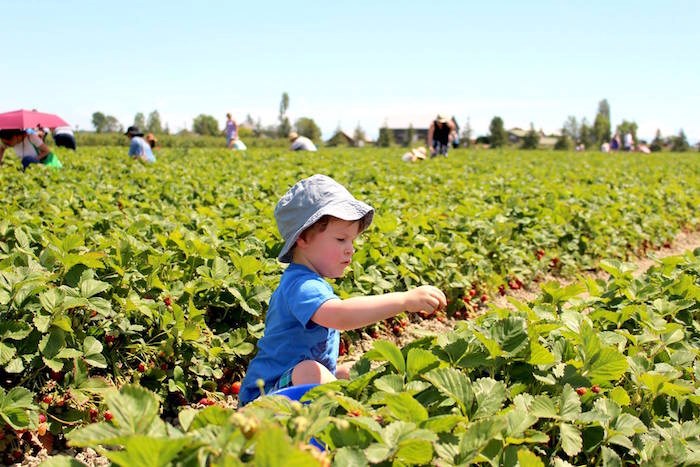 Head to Abbotsford for a great experience at Maan Farms. The family-run farm features not only plentiful fields of fresh strawberries in season, but they also have an incredible store packed with their food products from pies to chutneys and jams, along with their very own fruit wine. Plus they have a massive play area (with admission) and a petting zoo and tons of incredible activities on site. (PS, they also offer goat yoga classes!) Every weekend in June they are running a fun Strawberry Festival event.
Strawberry season in the lower mainland tends to hit its stride in mid-June and lasts until early July, however there will be variations based on weather and other growing conditions.
Here are 12 Metro Vancouver farms open for strawberry u-picking. Always check with the farm for current conditions, hours, and availability.
Abbotsford
Bumbleberry Farms: 31580 Huntingdon Road (604) 835-3416
J.K. Agro: 88 Clearbrook Road (604) 556-8280
KBF Farms: 40040 #3 Road (778) 552-7701
Maan Farms: 790 McKenzie Road (604) 864-5723
Willems Berry Farm: 33736 Vye Road (604) 864-1149
Delta
Emma Lea Farms: 2727 Westham Island Road, Ladner (604) 946-8216
Westham Island Herb Farm: 4690 Kirkland Road, Ladner (604) 312-1023  
Langley/Aldergrove
Driediger Farms: 23823 72 Avenue (604) 888-1685
Krause Berry Farms & Estate Winery: 6179 248 Street (604) 856-5757
Richmond
Birak Berry Farms: 4200 No. 6 Road (604) 325-1027 or (604) 328-9269
W & A Farms: 17771 Westminster Hwy (604) 278-5667
Surrey
Surrey Farms: 15454 Colebrook Road (604) 574-1390