Marrakesh, Morocco is an incredible imperial city full of sights, sounds and tastes, both ancient and modern. And that's exactly what makes this city so amazing; it's ancient and modern juxtaposition. During the day, you can get lost in a labyrinth of souks in the medina, visit historical sites or watch a snake charmer. In the evening, you can eat in a world-renowned restaurant, explore new art galleries or dance away in a chic nightclub. Marrakesh surprised me in so many wonderful ways—the dichotomy of old world charm and modern luxury made it the perfect escape to experience history, culture, adventure, great food, nightlife, shopping and relaxation, all in a five-day trip. It is an extremely liberal city where I felt completely at ease. Everyone was so friendly and it is now on my list as one of the top three cities I have ever visited.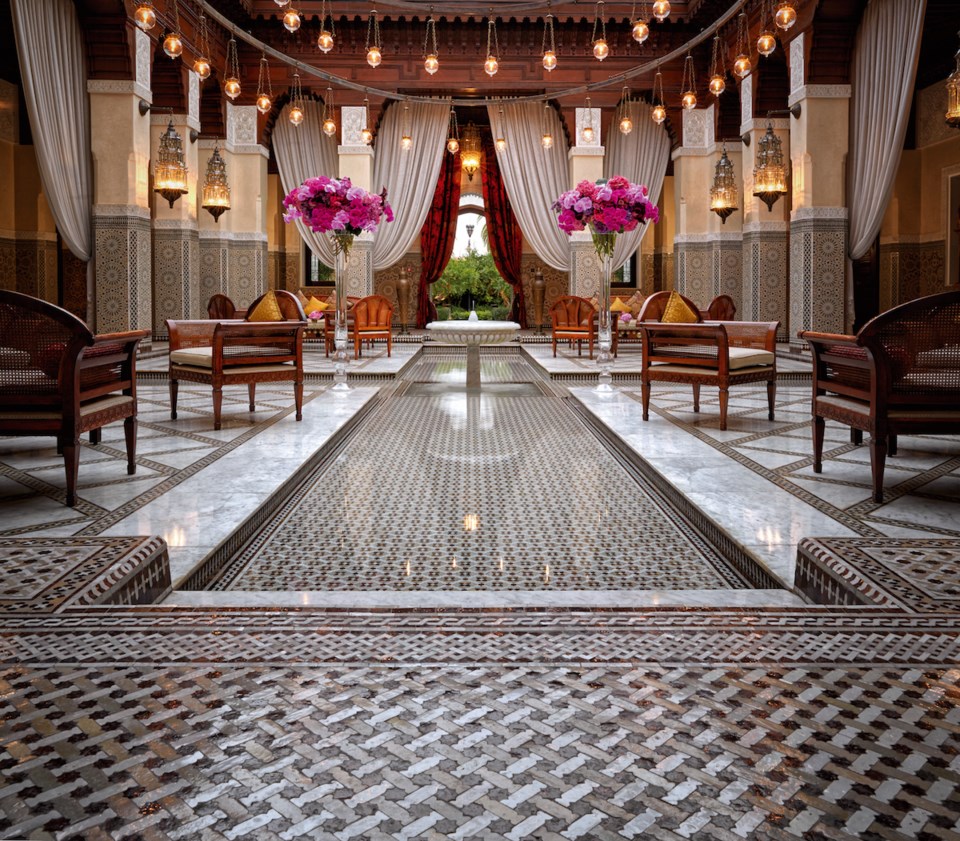 Stay
There are so many amazing luxury accommodations in Marrakesh that honour architectural tradition yet showcase contemporary design. Here are a few breathtaking five-star properties I fell in love with:
Four Seasons Resort Marrakesh: This gated 40-acre Moorish sanctuary is modern, elegant and lavish. Situated just four kilometres from Place Jemaa el Fnaa, it is conveniently located between the ancient walled, narrow, maze-like streets of the medina and the cosmopolitan Ville Nouvelle.
La Mamounia: Set on a former royal estate from the 12th century, this classic but luxe hotel is only a 15-minute walk from Jemaa el Fnaa market square and a five-minute walk from Koutoubia Mosque.
Royal Mansour: A masterpiece of Moorish-Andalusian architecture, the Royal Mansour features 53 lavish individual two-story traditional Moroccan homes (called riads) with courtyard patios, sitting rooms and roof terraces with plunge pools.
Amanjena: This premium resort offers modern but lavish one- or two-bedroom Moroccan-style villas surrounded by palm tree-shaded gardens.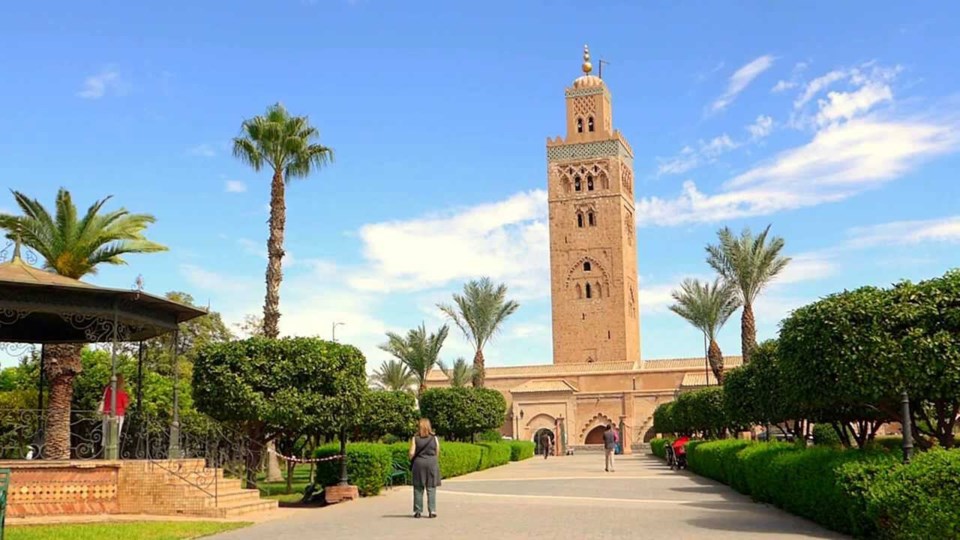 See
If you are visiting Marrakech for the first time, here are a few of my must-see landmarks that will leave you appreciating the Red City's rich history and culture:
Place Jemaa el Fnaa: This extraordinary square has been the heart of Marrakech for centuries. Every night the area fills with musicians, dancers, storytellers, fortunetellers and snake charmers—each drawing a crowd of astonished onlookers. It's an experience just to walk through it.
Medina Souks: Located in the winding alleyways of Marrakesh's ancient Medina, these souks are one of the world's most famous shopping destinations, and provide a wide range of exotic goods, including fabric, leatherwork and jewelry.
Koutoubia Mosque: The largest and oldest mosque in Marrakech, Koutubia is famous for its magnificent minaret. The tower was built in about 1150, and it is still a functioning mosque today.
Bahia Palace: A masterpiece of Moroccan architecture, this palace was built by two powerful grand viziers at the end of the 19th century, with the intention to be the great palace of its time. It took 14 years to complete.
Majorelle Garden: This iconic 12-acre botanical garden was created by the French painter Jacques Majorelle in the 1920s, and then magnificently restored by designer Yves Saint Laurent in the 1980s. It is known as an artist's landscape garden.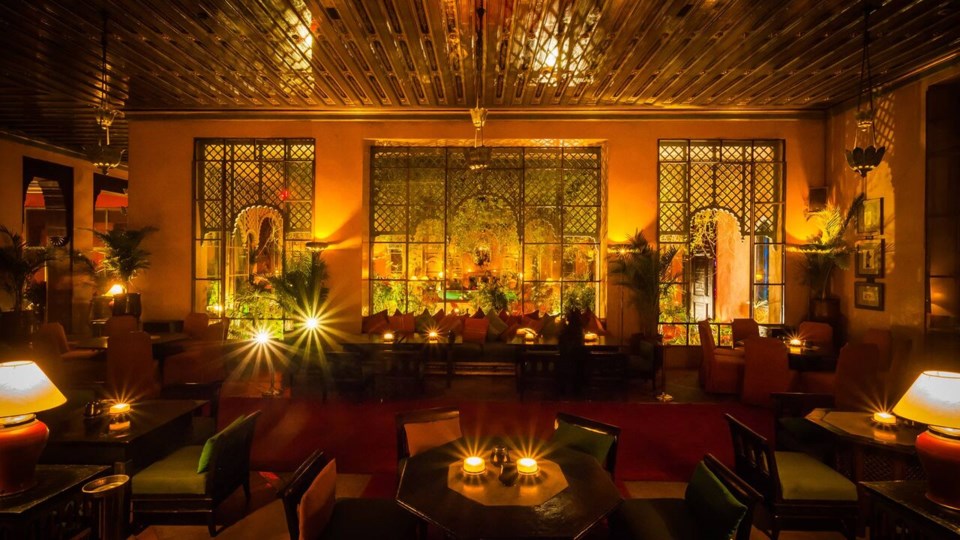 Dine
Discovering memorable places to eat is always important to me when visiting a new city. Marrakech certainly didn't disappoint. Here are a few restaurants you shouldn't miss:
Dar Yacout: A true Moroccan experience, Dar Yacout is set in an old grand traditional house with an enchanting setting, private lounges and an amazing panoramic view from the terrace of the medina and the Koutubia Mosque.
Café De La Poste: For a hint of French colonial Marrakech, this world-renowned restaurant is hard to beat. From Pergola to Mezzanine, this warm, retro and glamorous atmosphere will be sure to leave you impressed.
Palais Jad Mahal: This trendy Indian palace is both a restaurant and a club, with Moroccan and Thai cuisine also on the menu. After 11 p.m., the restaurant becomes a lounge-bar, with a live orchestra show and belly dancers, so be sure to go for a late dinner and carry on into the night.
Day-Trip
Morocco offers so many interesting cities and villages in very different landscapes—ranging from the Atlantic coast to the desert, mountains and valleys. Most are within just a few hours, and they can provide easy day trips from Marrakech. Here are a few worth considering:
Casablanca: This port city located three hours away from Marrakesh along the Atlantic coast is Morocco's main commercial center. Visit the world's largest mosque that stands partly over the ocean and experience the unique art-deco districts and French architectural influences.
Agadir: A two-hour drive from Marrakesh, Morocco's southwest coast boasts 300 days a year of sunshine, beautiful crescent beaches, a seaside promenade, golf courses and famous seafood.
Ourika Valley: Only a 45-minute drive from Marrakesh and providing cooler temperatures under the High Atlas peaks, this valley is a quiet contrast to the bustling city. Enjoy the calming river or numerous hikes, and from February to April, witness the almond and cherry orchards bloom.
If you're thinking of exploring Morocco but are hesitant because of the travel time, Lufthansa offers many same-day connection flights. These will only take you around 15 hours instead of the many 40-hour journeys out there. Additionally, Air Canada offers flights from Montreal to Casablanca that connect easily from any starting point in Canada. I would highly recommend experiencing this amazing city. There was so much going on … I can't wait to go back.
QUICK FACTS
Time zone: GMT
Language(s) spoken: primary are Arabic and French; services often available in English, Spanish and French.
Electrical system: Local voltage is 220 to 240 volts AC.